New Zealand (July 2022)
Kia Ora, Aotoeroa! 9 days around South Island in a campervan.
---
We went on a family trip to New Zealand in July 22 to check campervan-ing off our bucket lists, hike, and to get away from Singapore after the Covid-19 pandemic.
New Zealand's lush winter mountainscapes, beautiful scenic trails and friendly locals completely won us over — at the end of it all — we agreed it was the best trip we'd ever had.
Itinerary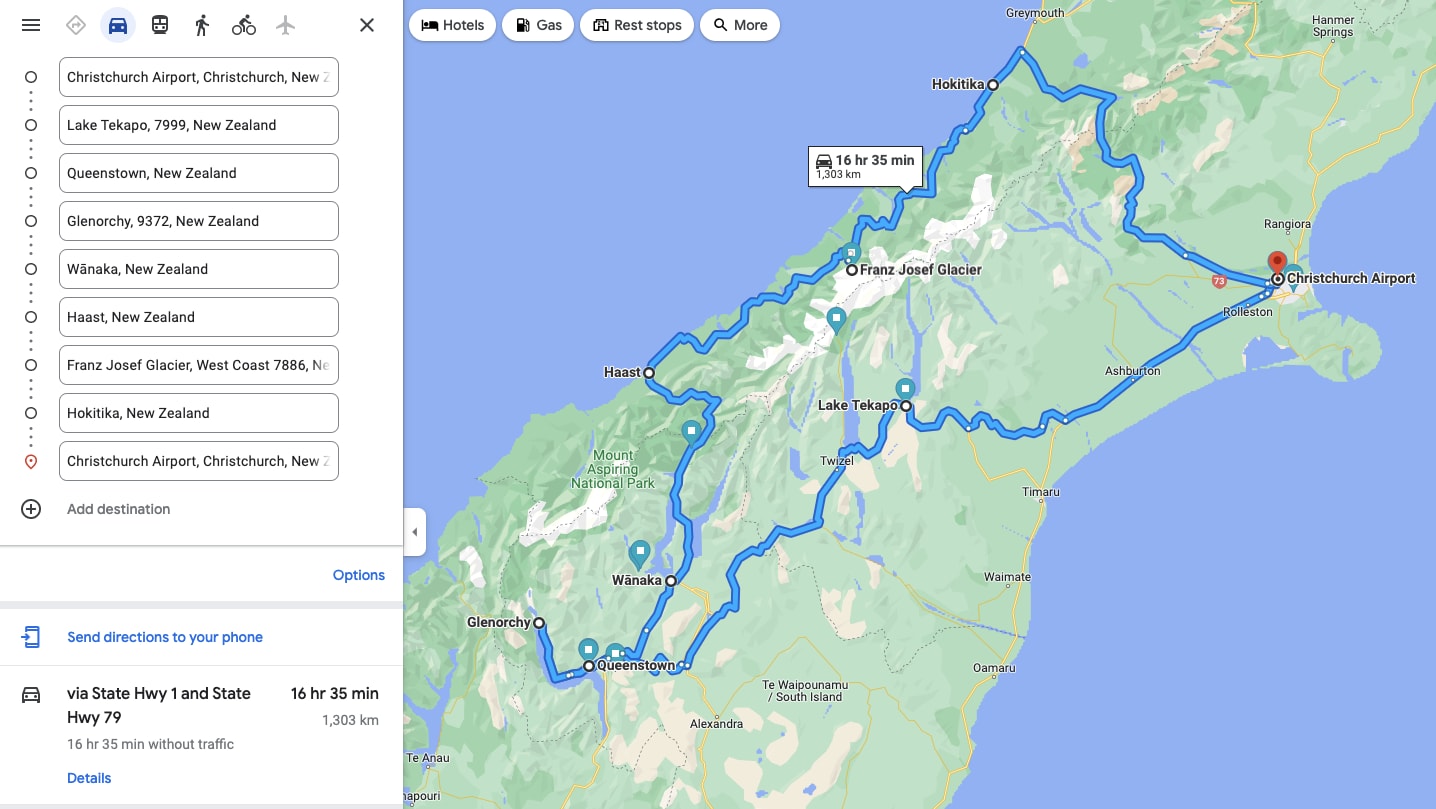 Day 1 - ✈️ Christchurch, collected car, bought groceries, Lake Tekapo.
Day 2 - Queenstown.
Day 3 - Dart River Adventures.
Day 4 - Wanaka, Rocky Peaks trek.
Day 5 - Salmon farm, wine tasting.
Day 6 - Fox Glacier, Franz Josef, Callery Gorge.
Day 7 - Franz Josef Glacier Helihike, Hokitika.
Day 8 - Hokitika Gorge, Castlehill.
Day 9 - Back to SG. 🥲
Day 1 - Lake Tekapo
Departed from Singapore around 8pm SGT. First trip since Jan of 2020. Exciting! 9 hour flight meant arriving in Christchurch at around 10am — also meant that we were able to capture the lovely sunrise in flight.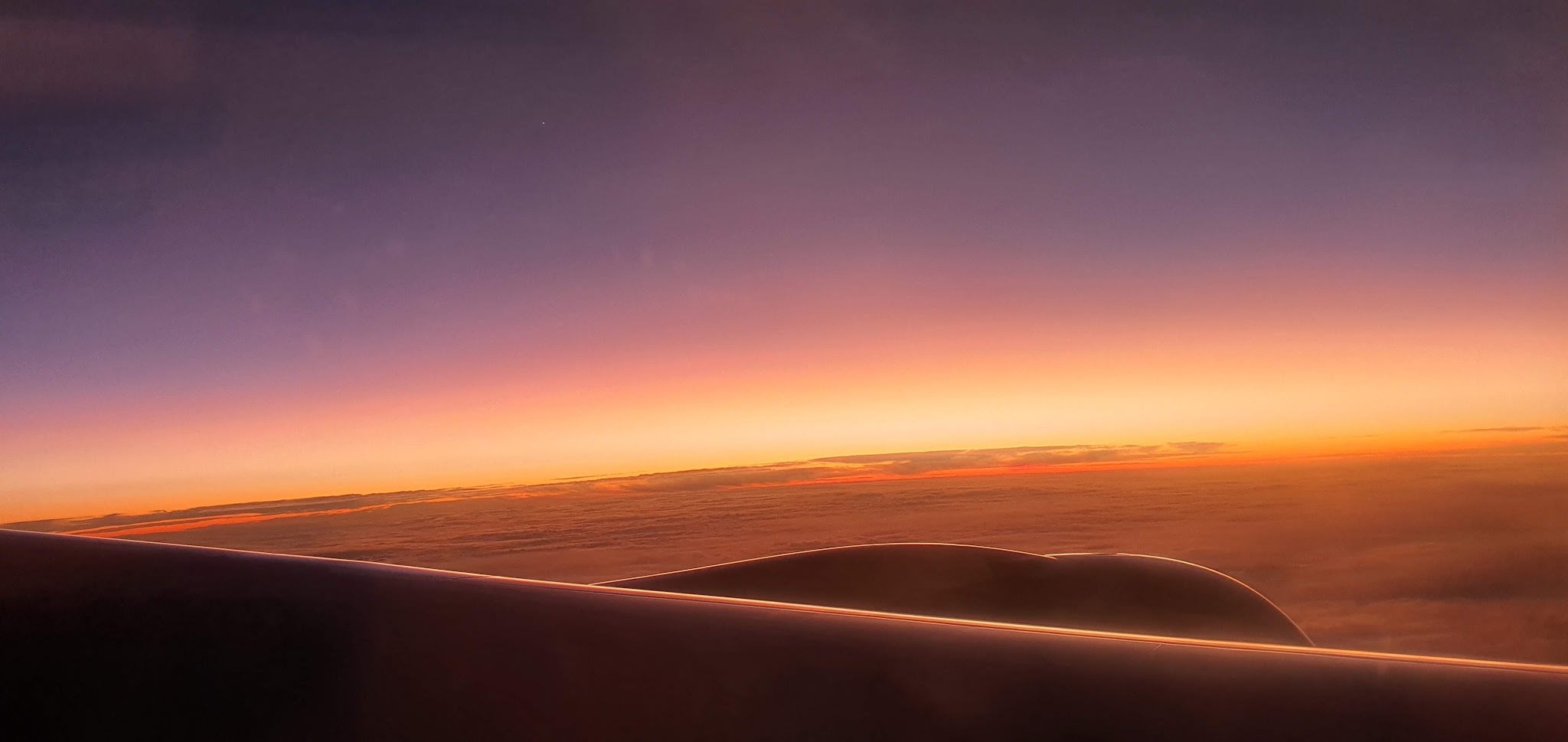 Beautiful sunrise over the horizon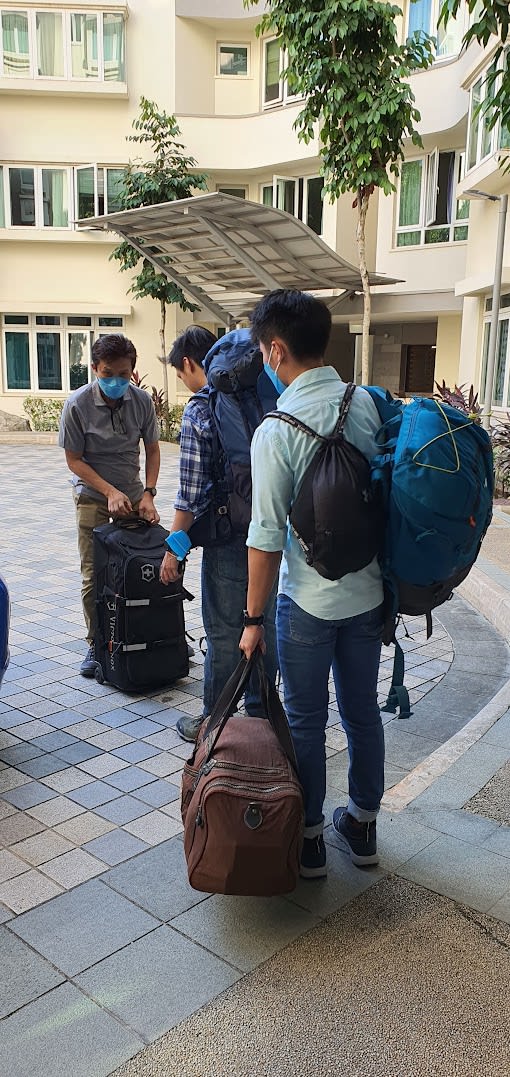 Leaving home
Headed straight to the car rental. Got a taxi driver pissed off because she waited 3 hours in line at the airport, only for us to pick a destination only 2km away... it was still $17 though which was an absolute rip-off, but we didn't protest because we felt bad.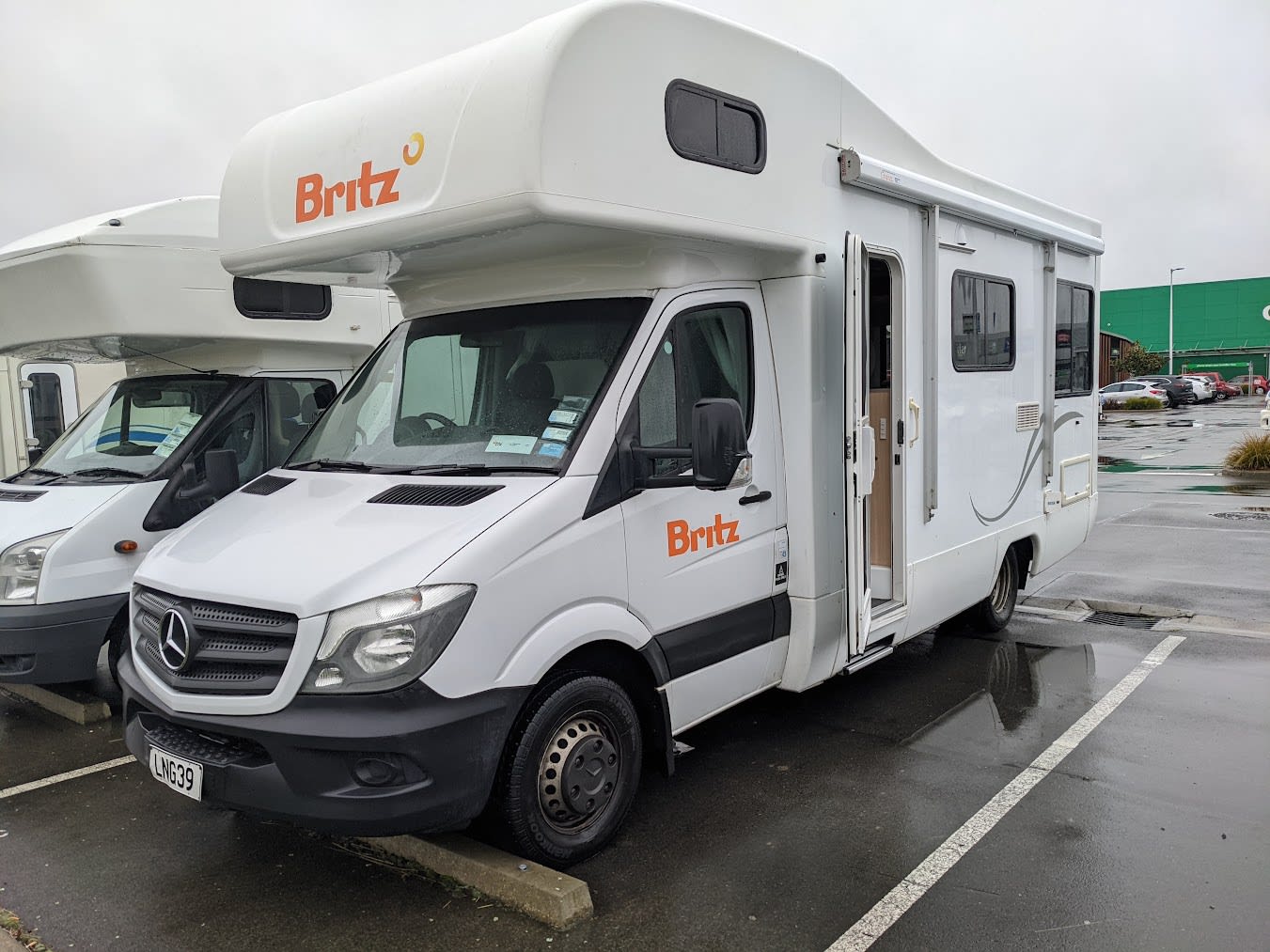 6-Berth Campervan: our home for the next 9 days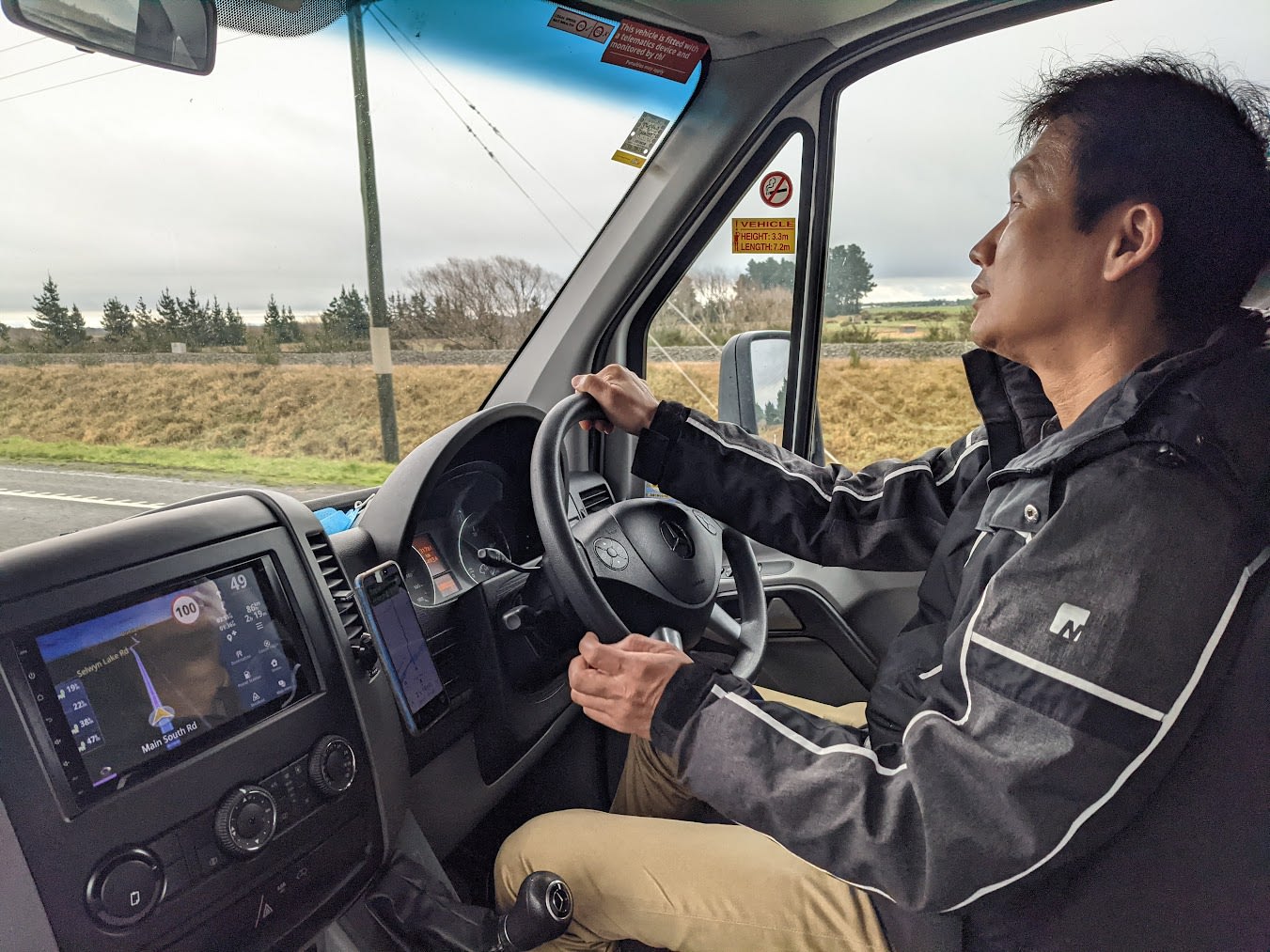 First day driving: feat. dad, financier of trip.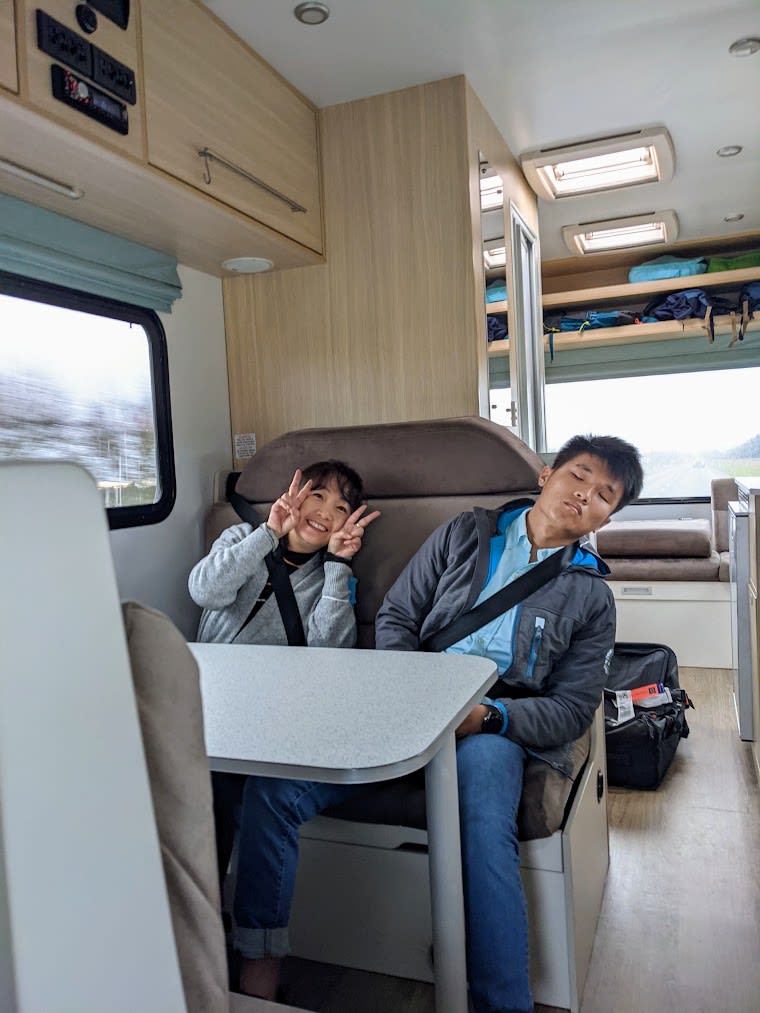 Caleb toh-ing balls as per usual.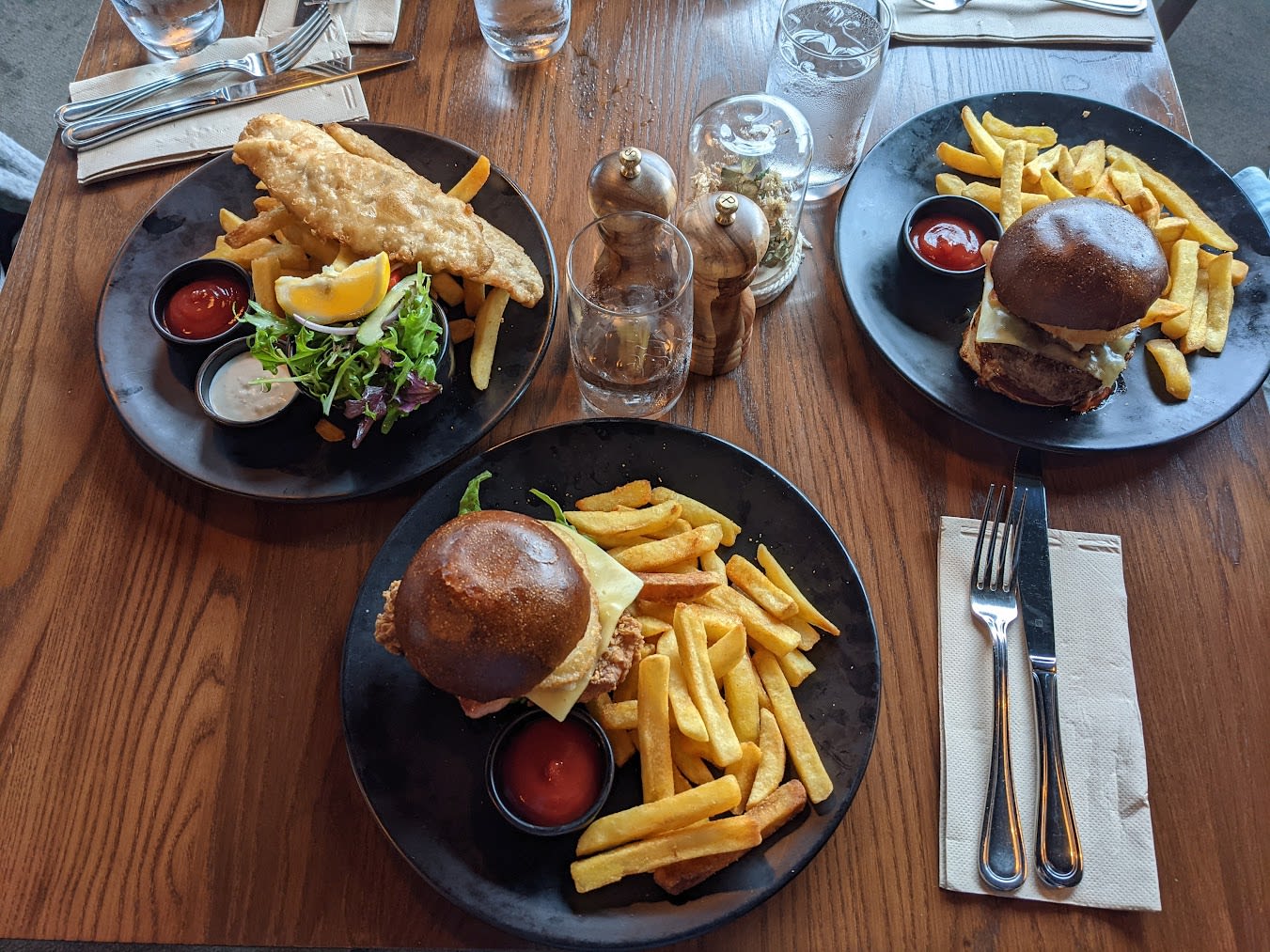 Cleavers Corner in Ashburton: food was good, albeit expensive.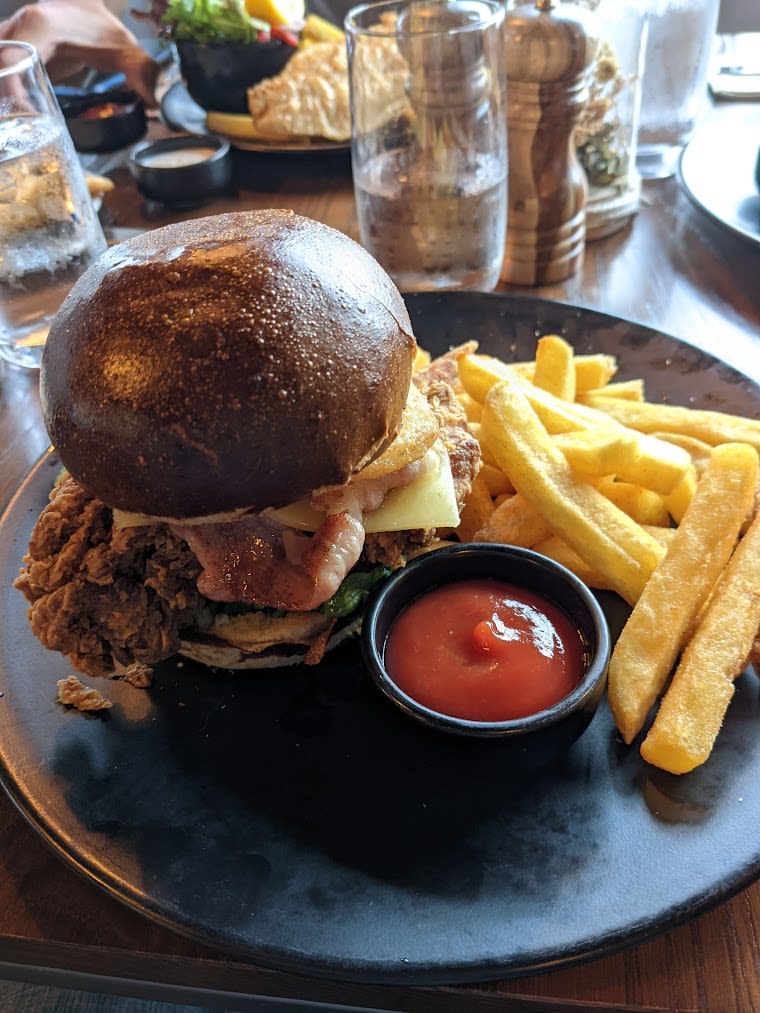 Fried Chicken burger costed 28NZD
Got a free upgrade to a 6-Berth which was more spacious but a little bit older. No complaints! Headed straight for a Countdown (a local supermarket) before beginning our drive down to Lake Tekapo, stopped at a restaurant in Ashburton called Cleaver's Corner — first meal was solid!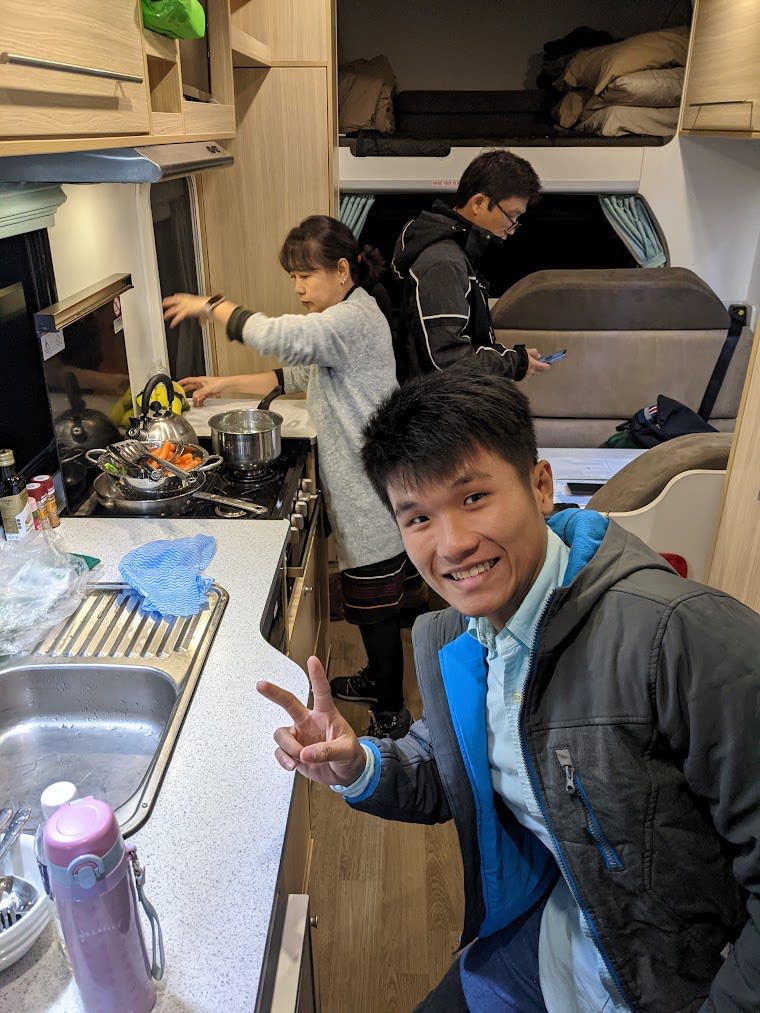 First meal cooked in the campervan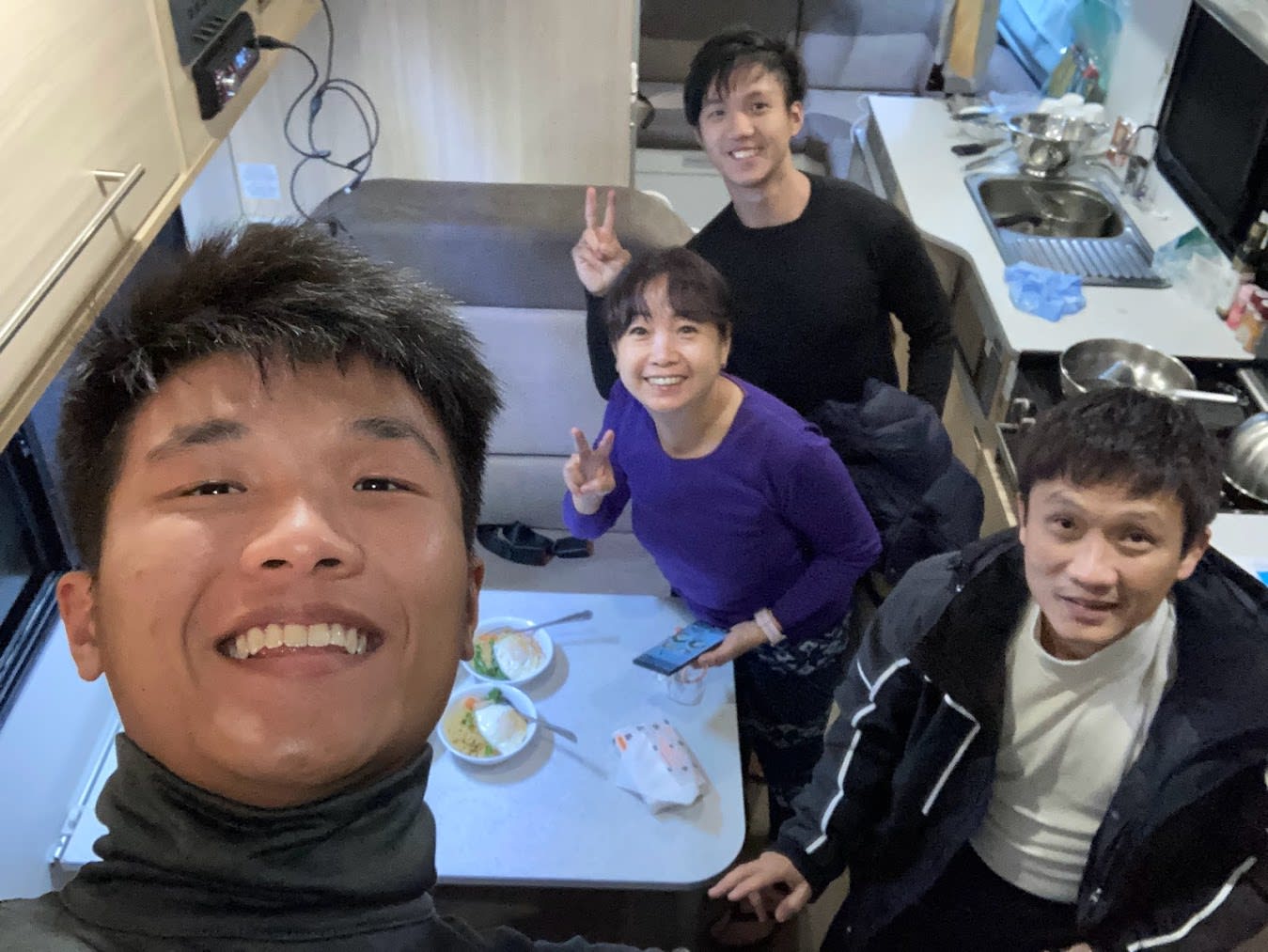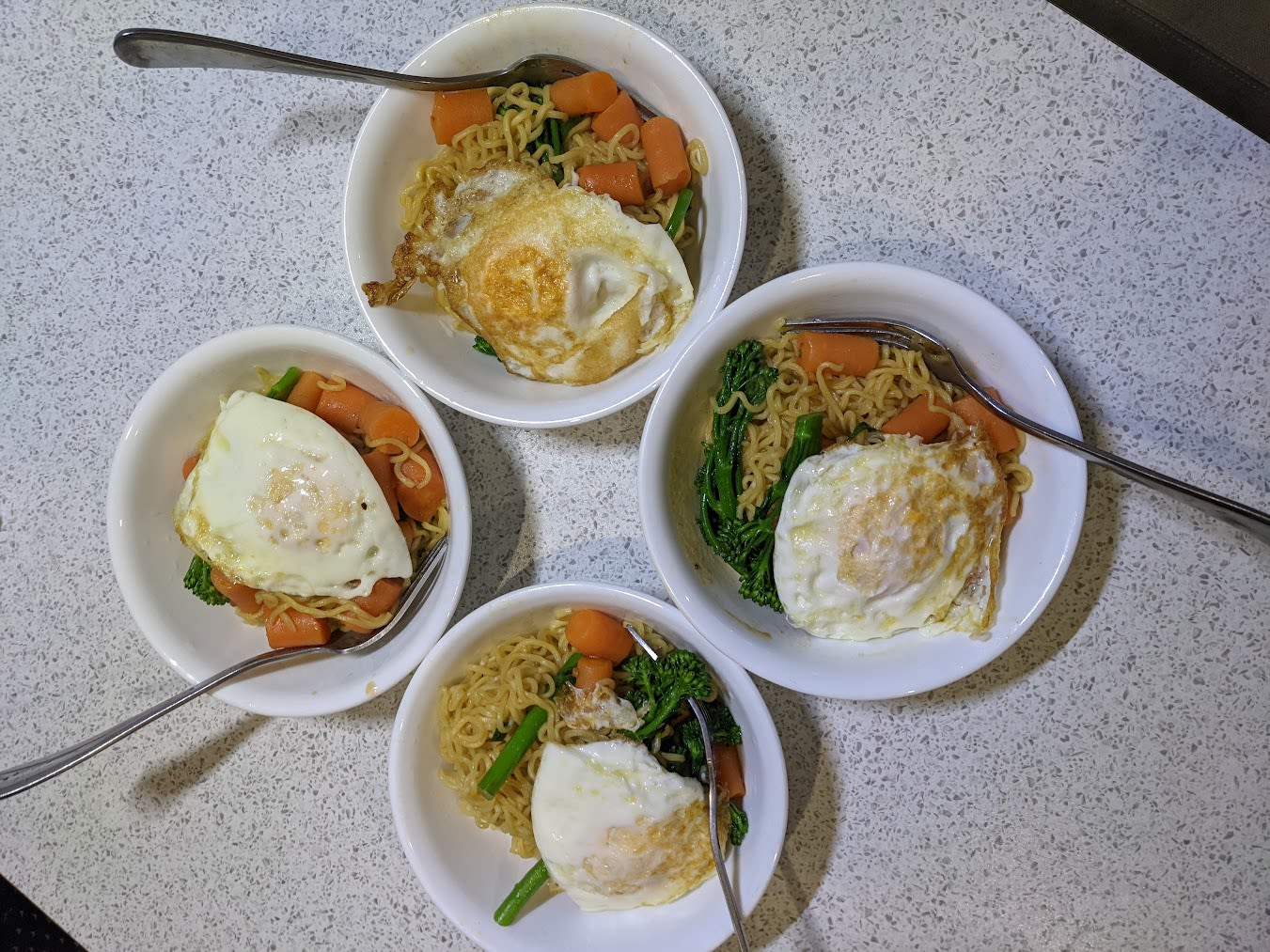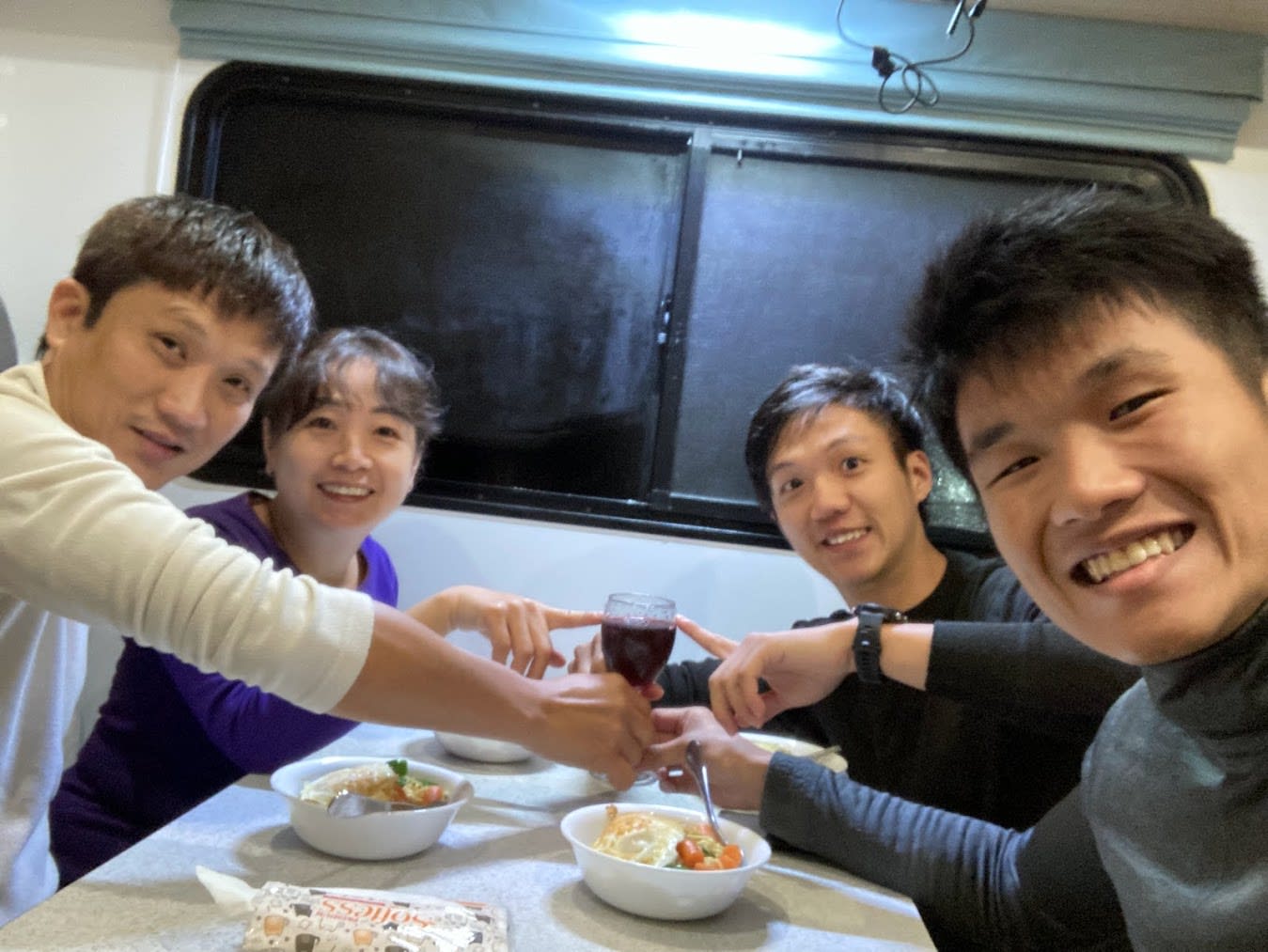 First night was spent at Lake Tekapo Holiday Park, where we ate a simple meal in the campervan and learnt campervan basics 101: how to plug in the power, use the water pumps, make the bed.
Sidenote: the reception and data speeds in NZ were really quite spotty — waiting for the tutorial videos on campervans to load was painful.
We spent every night at one of these powered campsites, so facilities like toilets, laundry & kitchens were available.
Day 2 - Driving down to Queenstown
Waking up to a clear winter morning in Lake Tekapo was absolutely beautiful. Gorgeous skies framing the mountains in the horizon and the mirror-like lake really struck me in the holiday-vibes.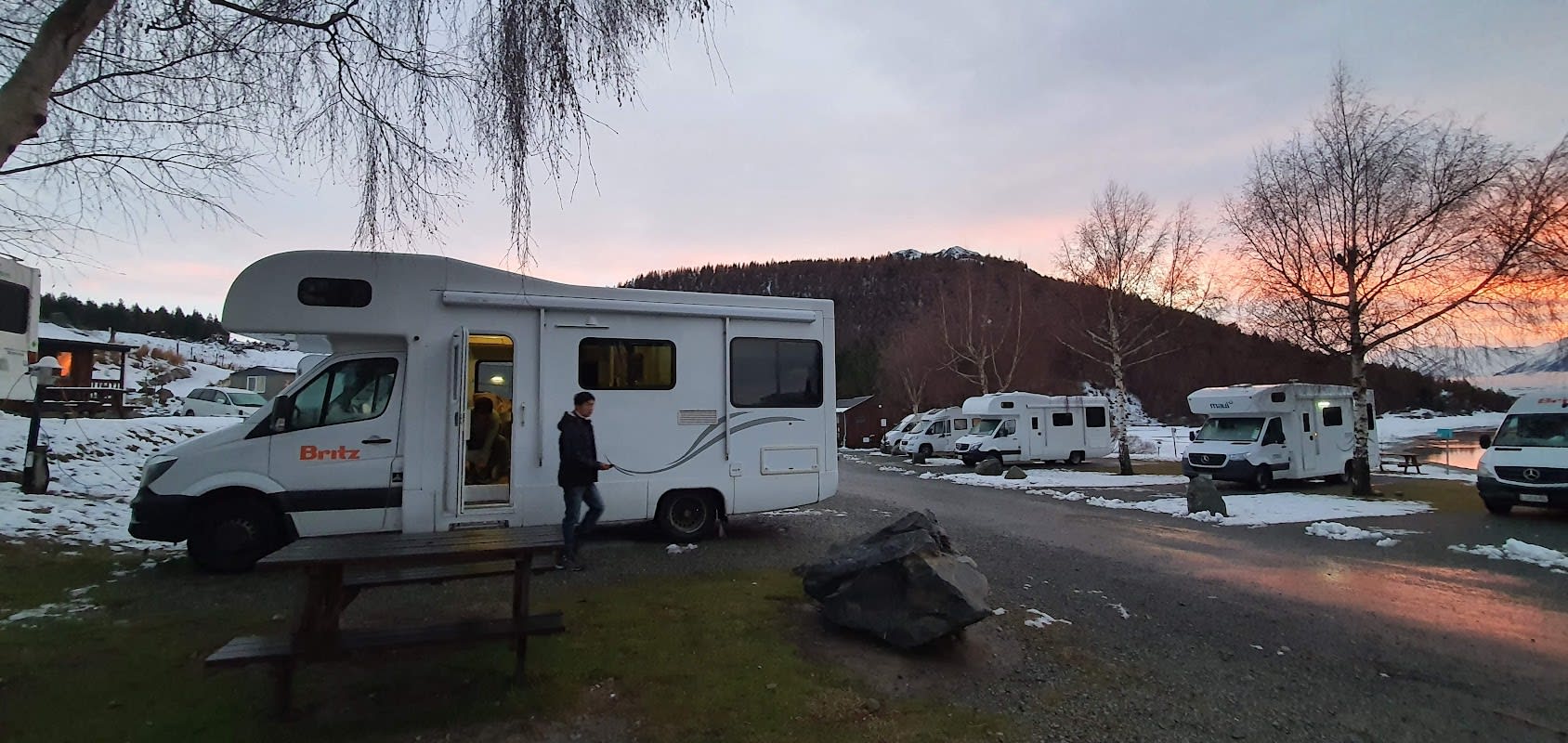 Crisp morning in Tekapo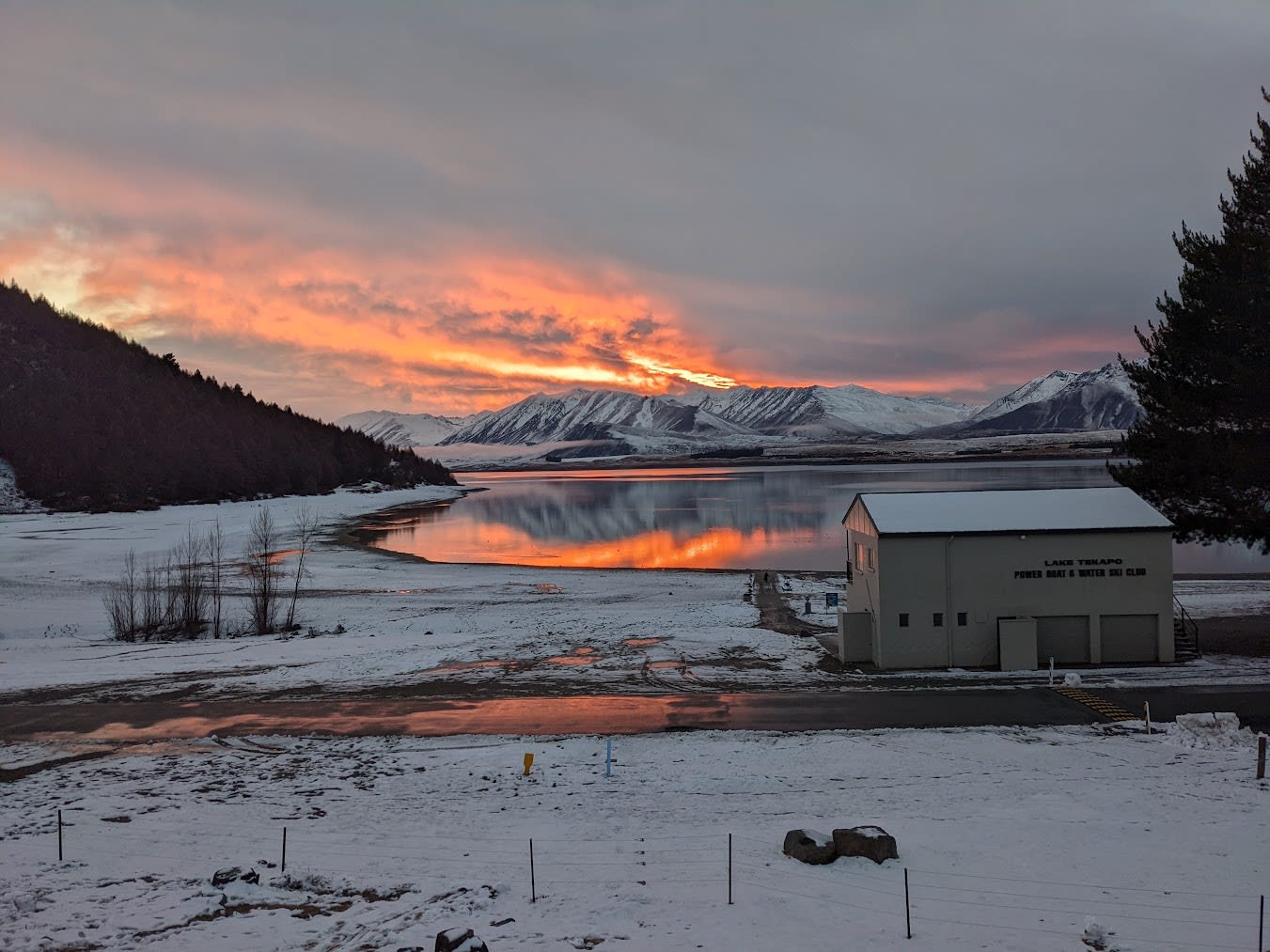 The holiday park was right by the lake and gave us some amazing sunrise views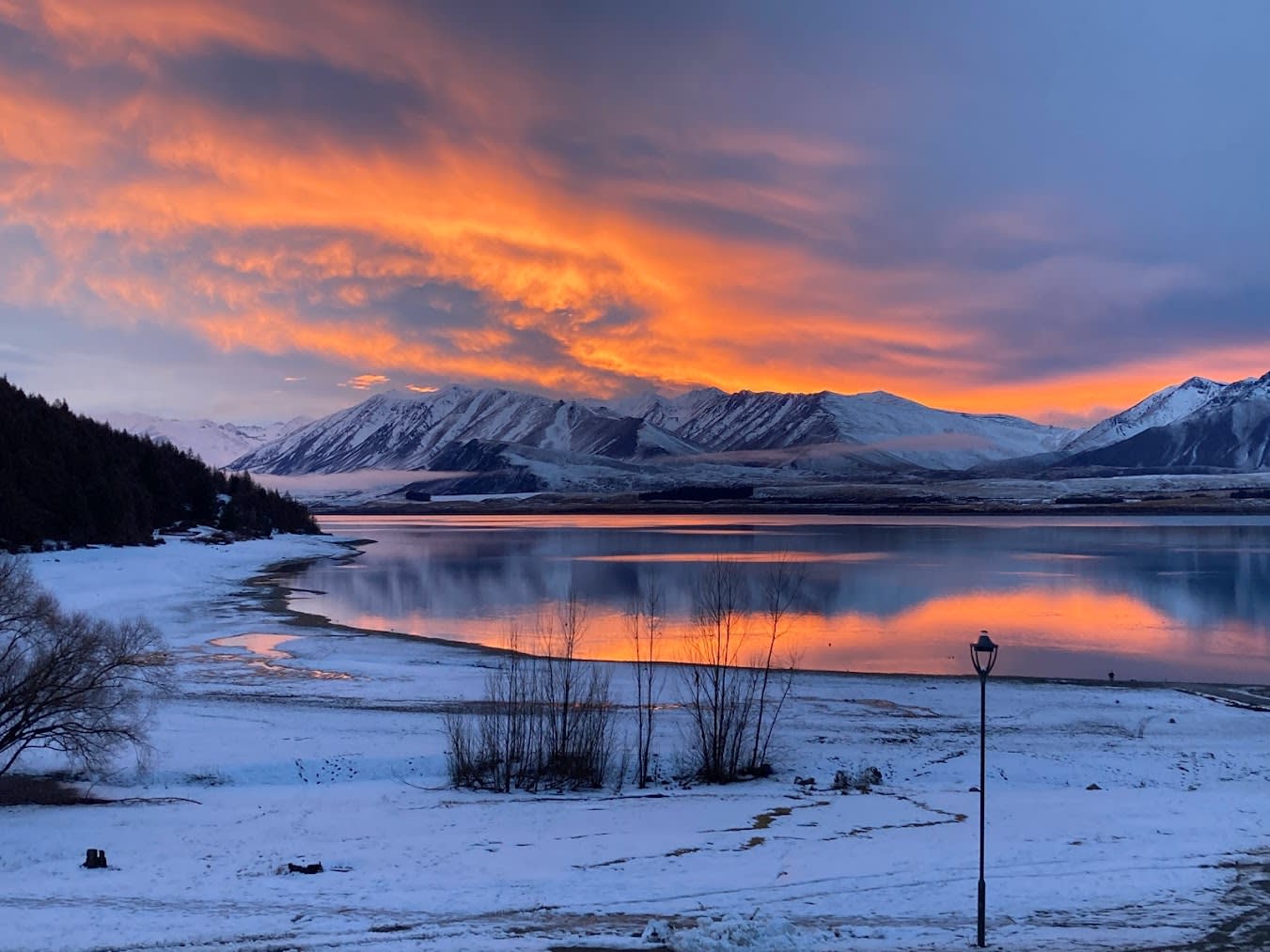 #NoFilter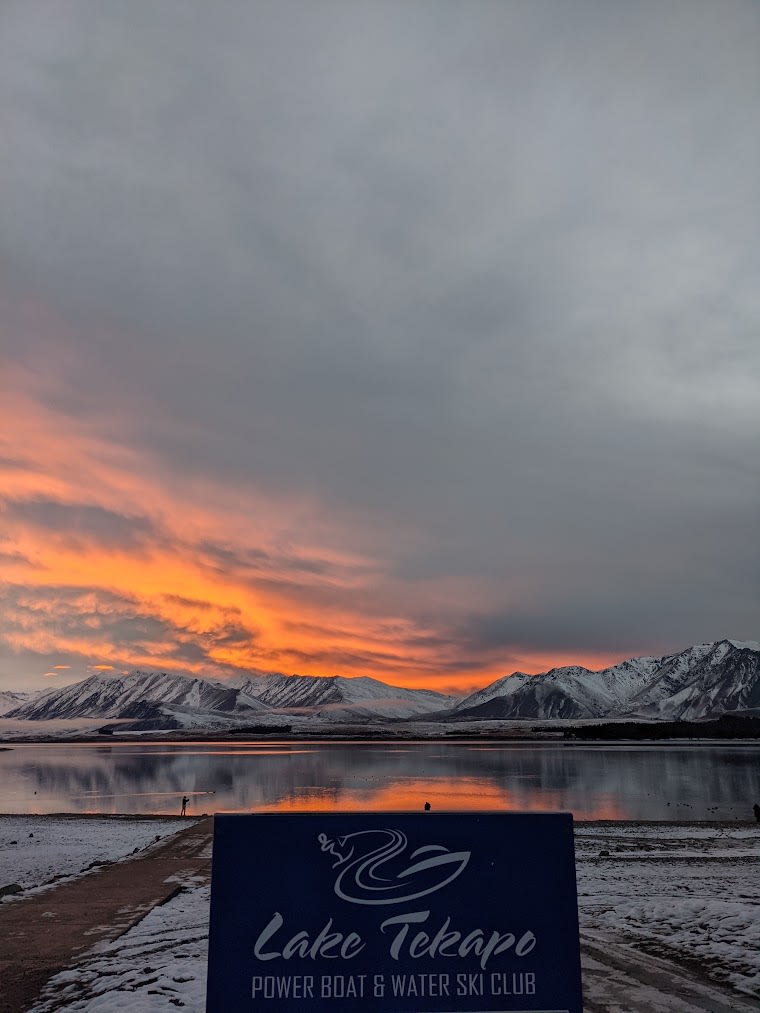 After that we packed up and learnt how to top-up our water tank and dispose of the waste. Then we started off the drive to Queenstown, a ~380km drive.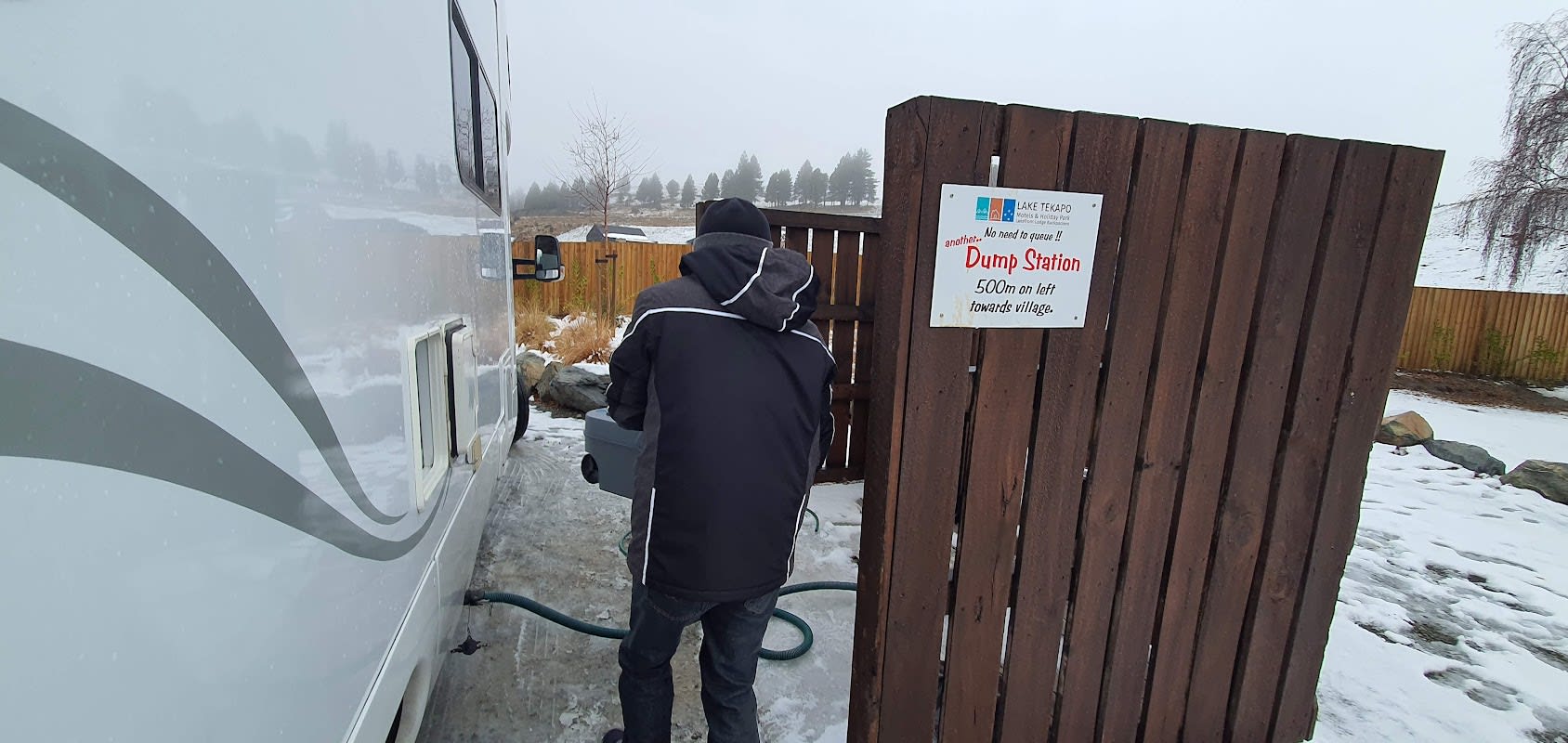 Figuring out how to dump the waste.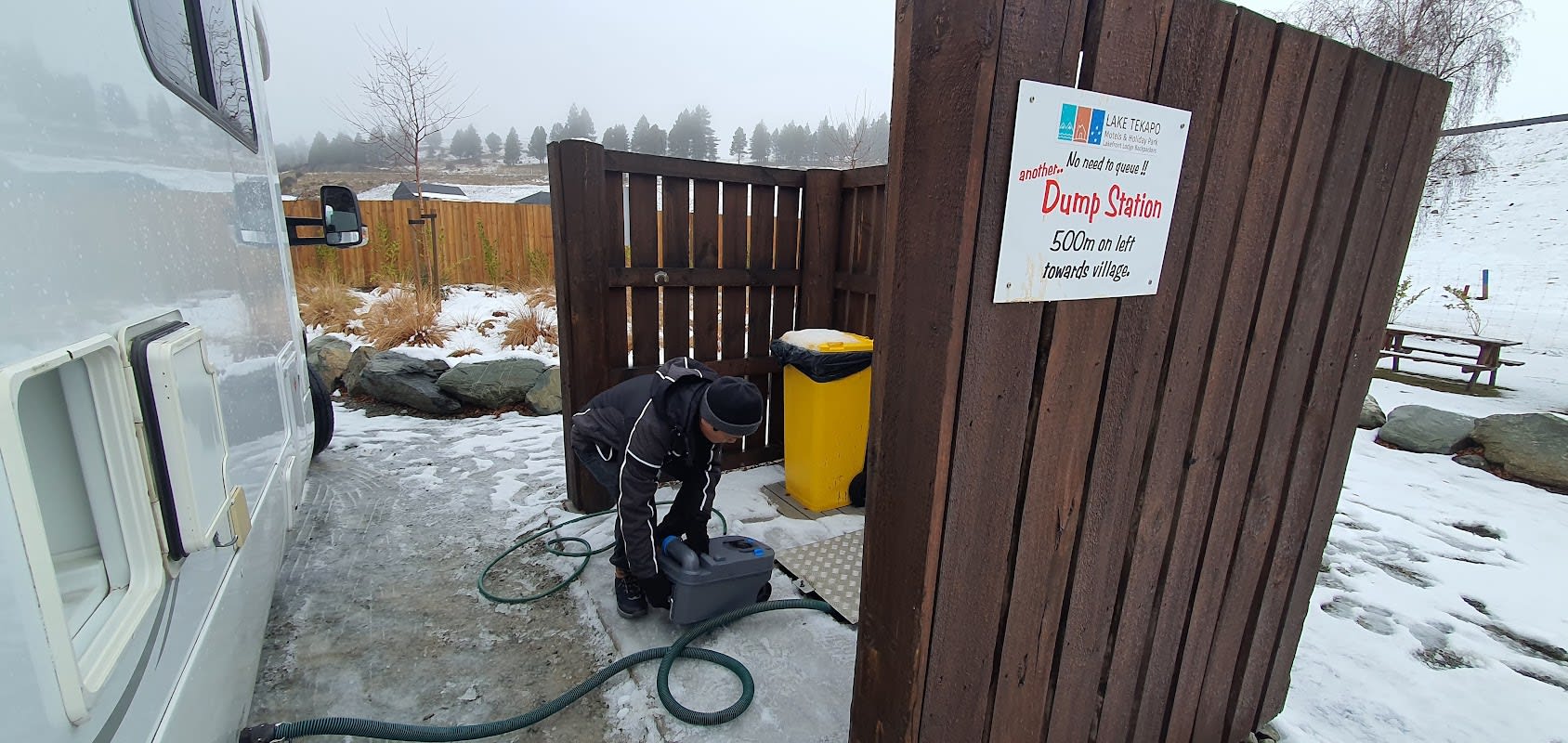 It was actually easier and less gross than we expected.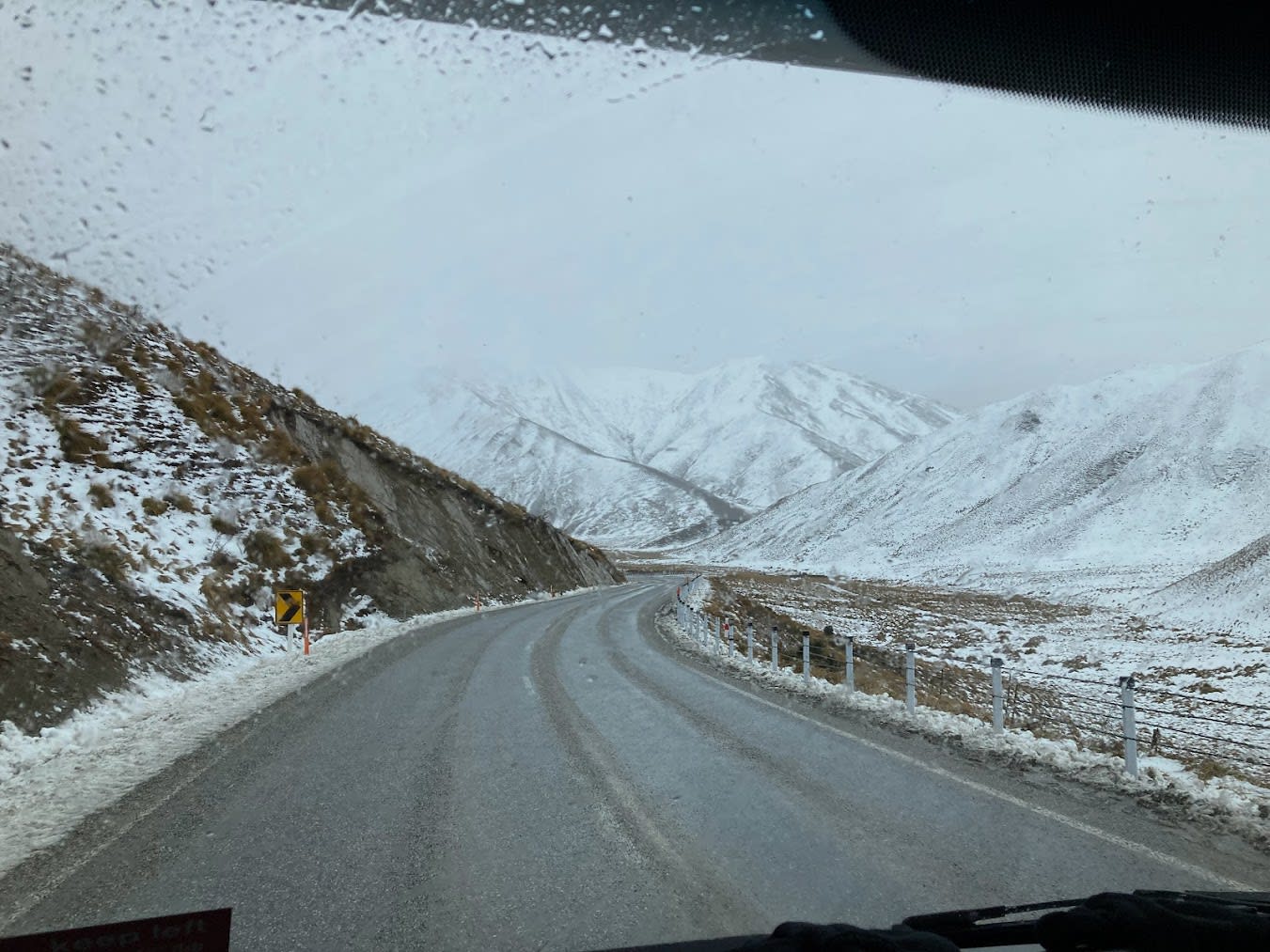 We took a break in High Country Salmon in Twizel to take a look and having a break for lunch.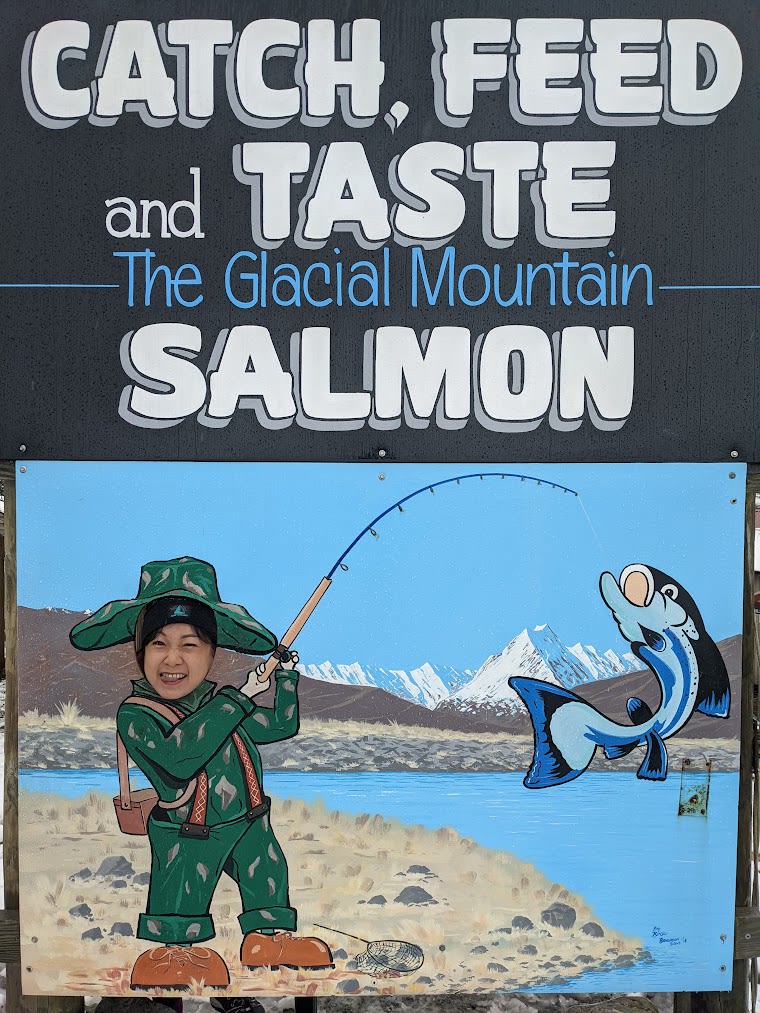 Pit stop at High Country Salmon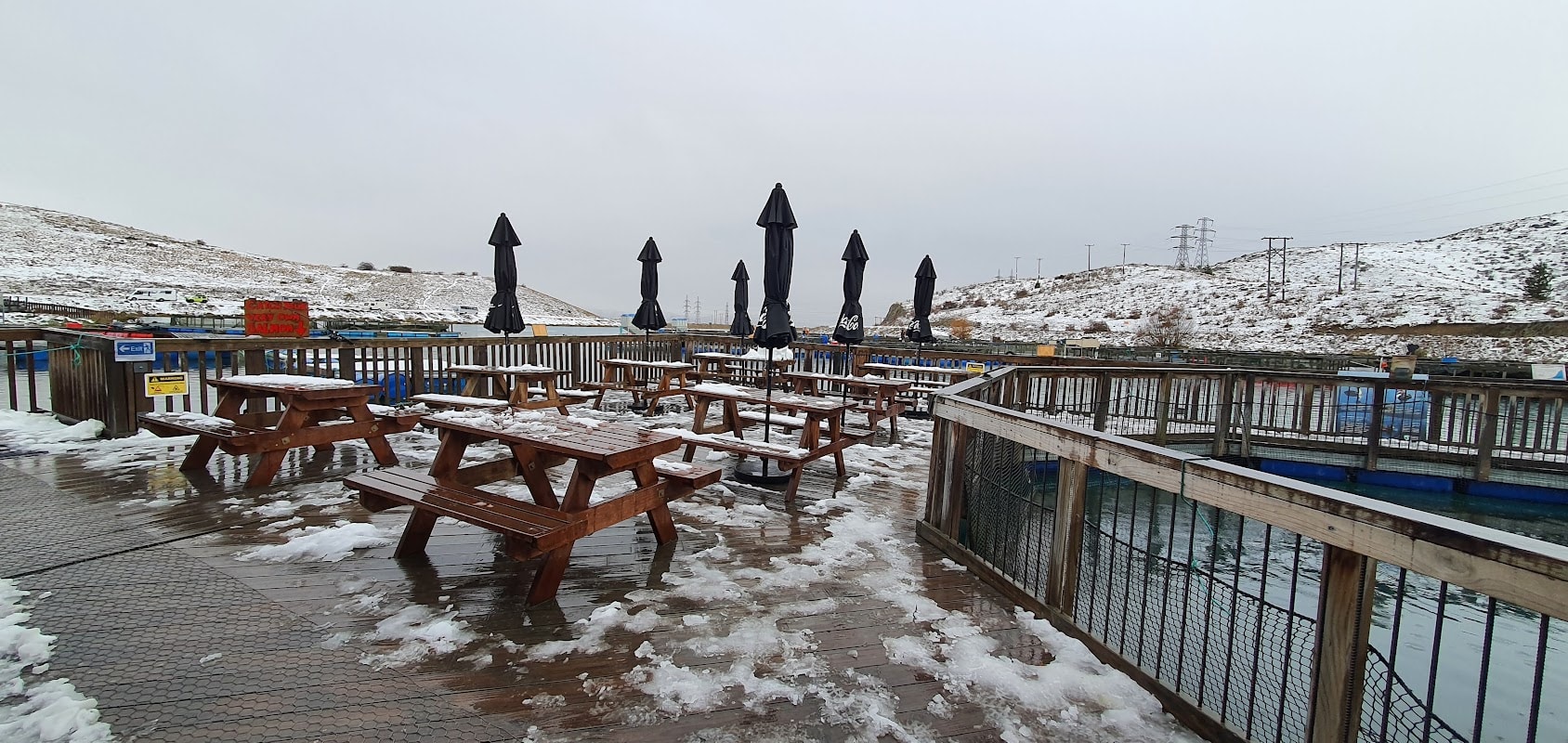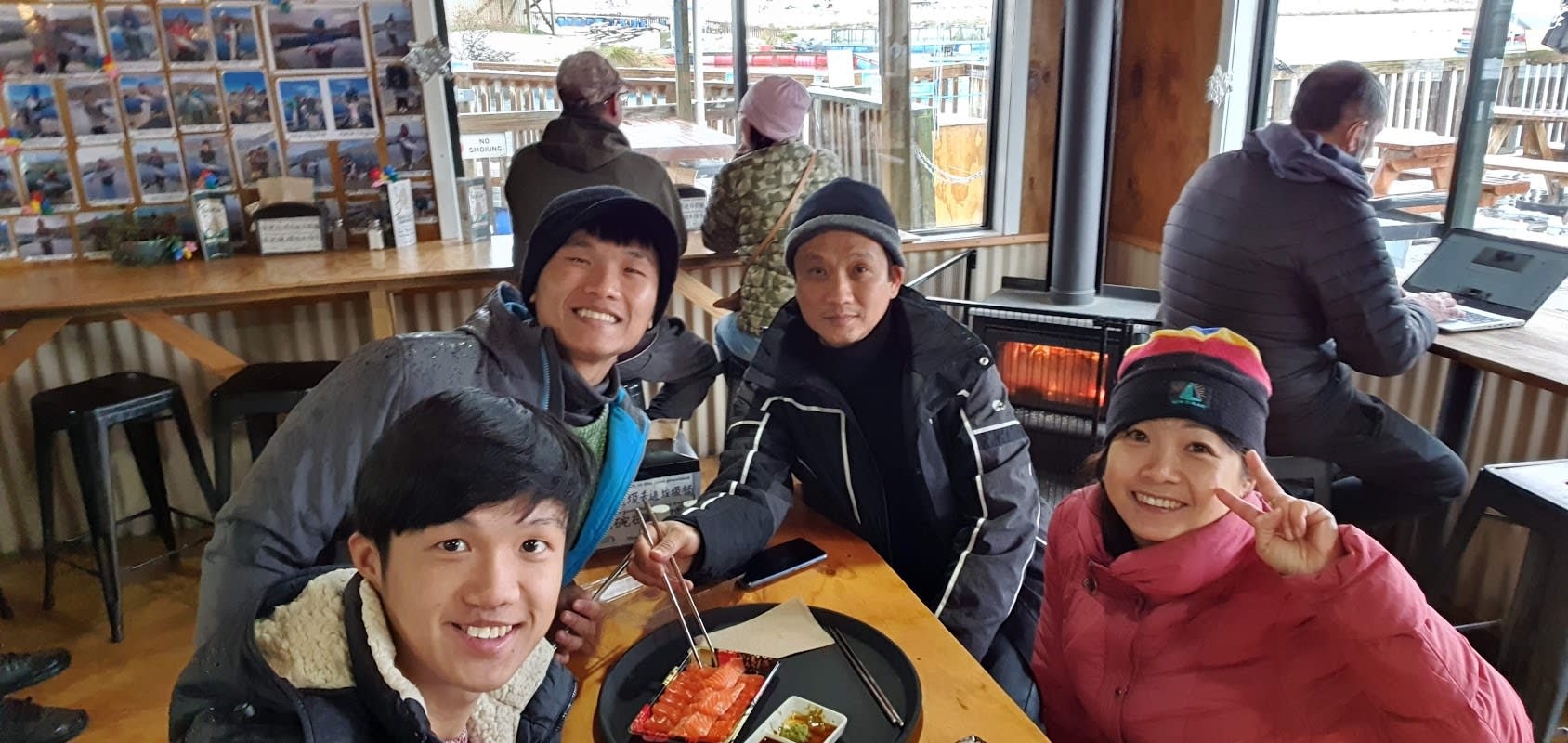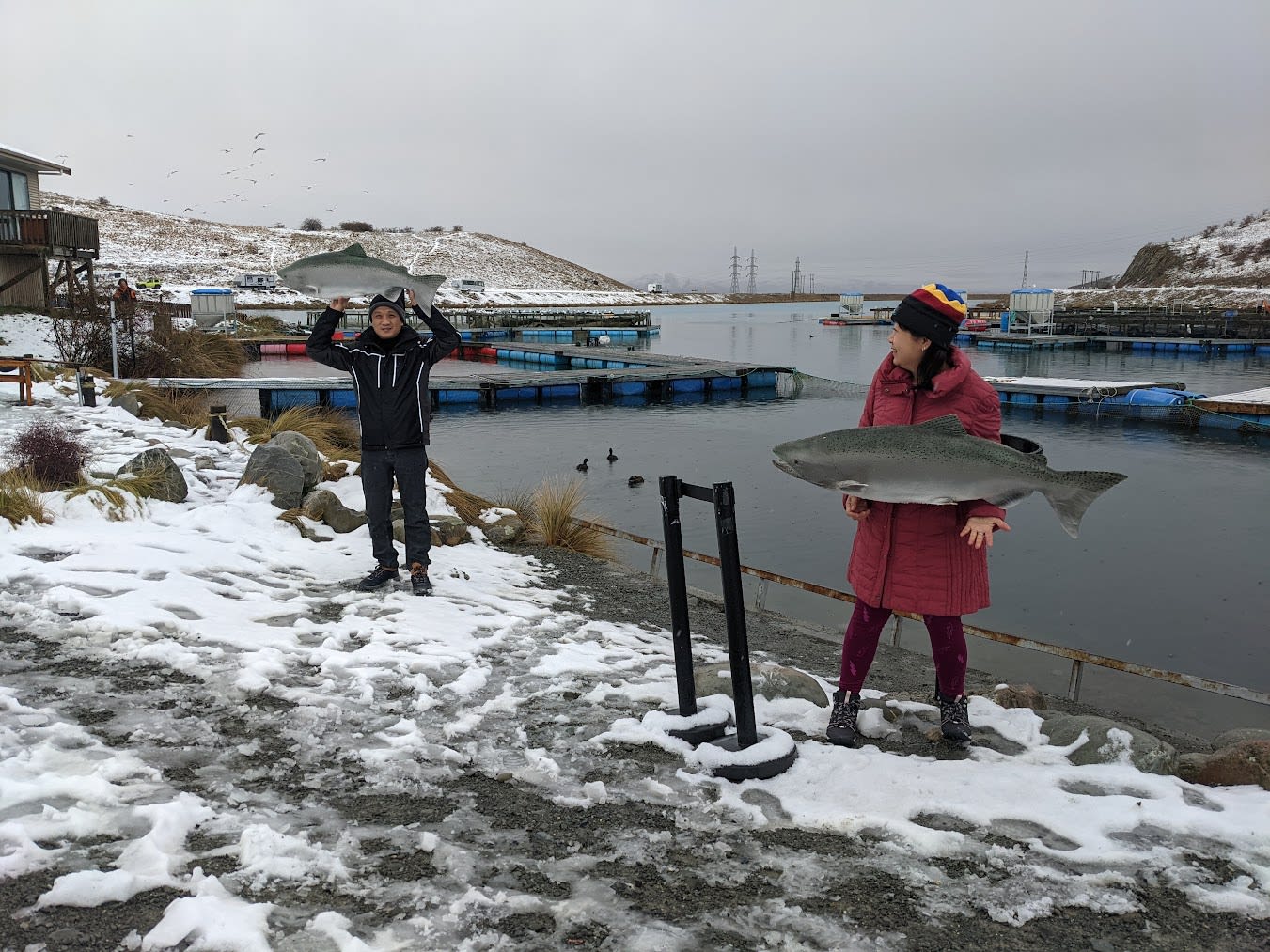 From Twizel to Queenstown we took one last pit stop at Tarras to get moving, change drivers and take some pictures. New Zealand is truly beautiful — you can basically pull over anywhere and find photogenic scenery.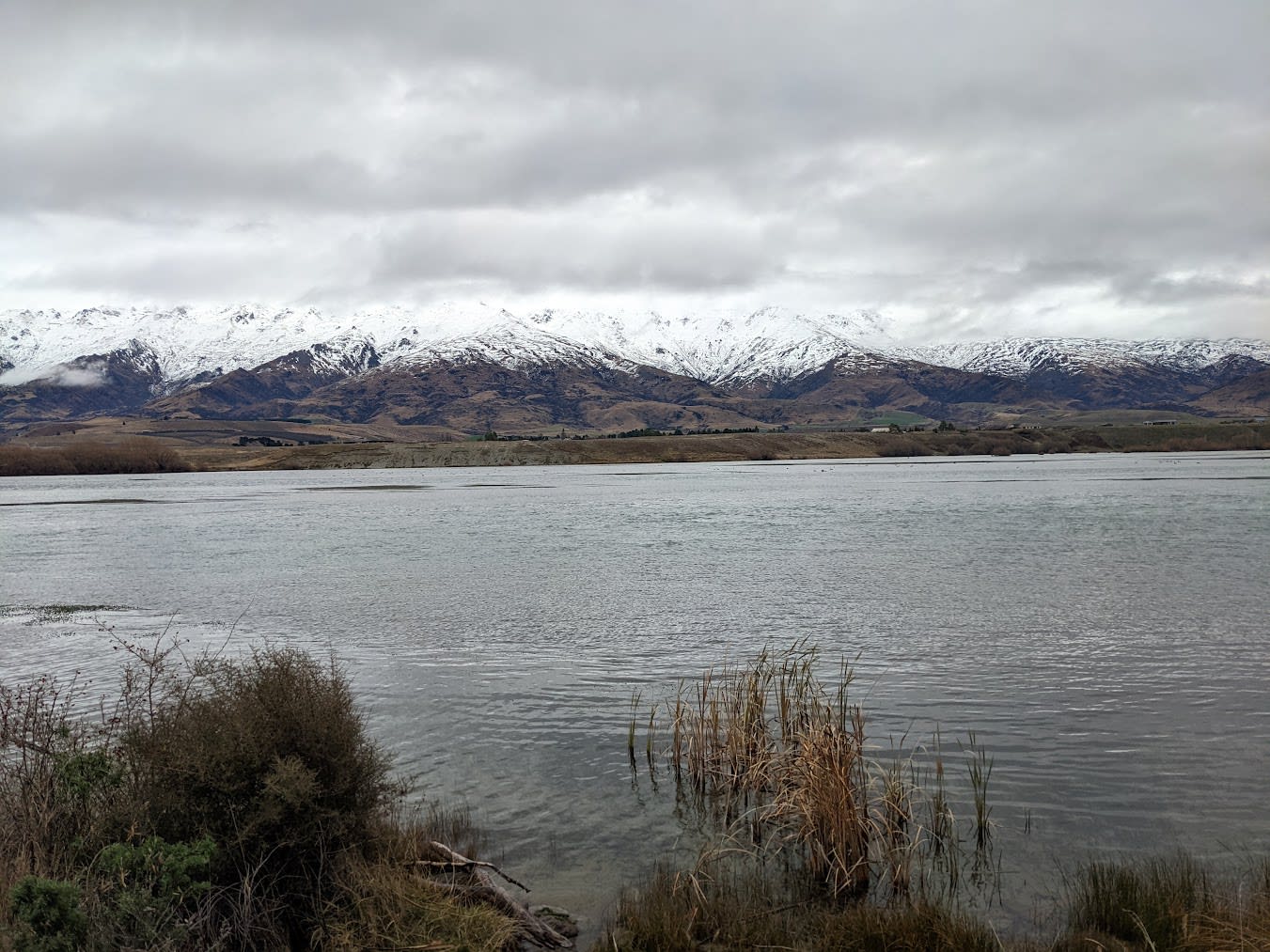 Last stop at Tarras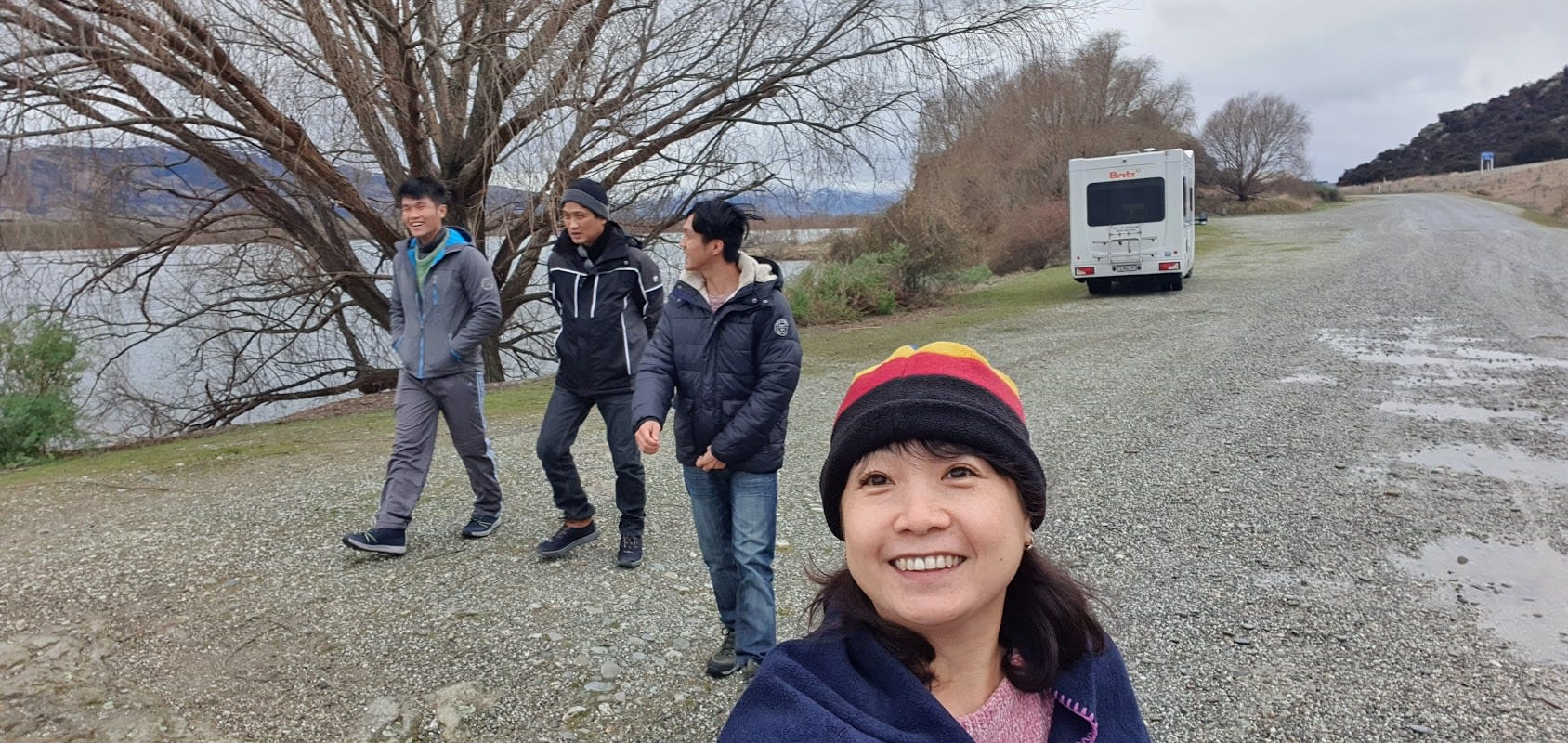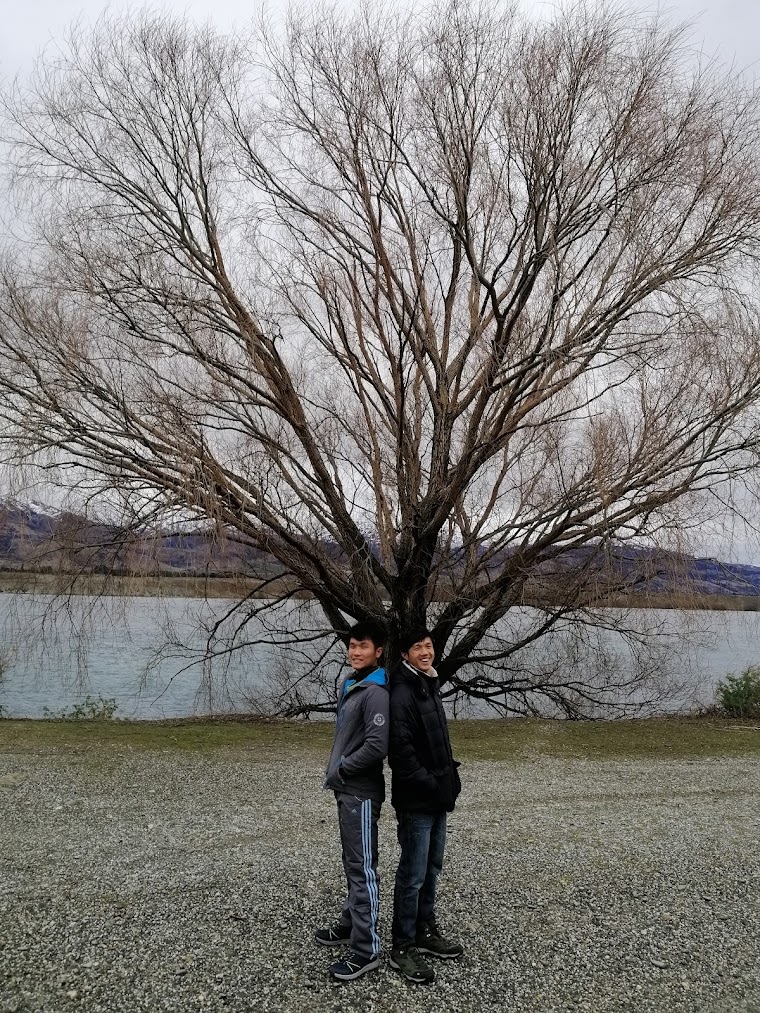 Queenstown
We arrived at Queenstown around 4pm and checked into Queenstown Holiday Park Creeksyde — which would turn out to be our favourite holiday park.
Went to the reception to get ideas for what to do tomorrow; our original plan was to arrive in Queenstown the next day and spend today at Mt Cook, but the weather didn't look promising and we gave Mt Cook a miss.
We ended up choosing River Dart Adventure's Funyak — more on that later.
And we had dinner at the legendary Fergburger, probably the most famous burger in New Zealand. We were absolutely stuffed after dinner and had a walk around Queenstown to aid digestion. Queenstown was beautiful, bustling but not crowded, with the buzzing undertones of adventure, youth, and became a top contender for my favourite city.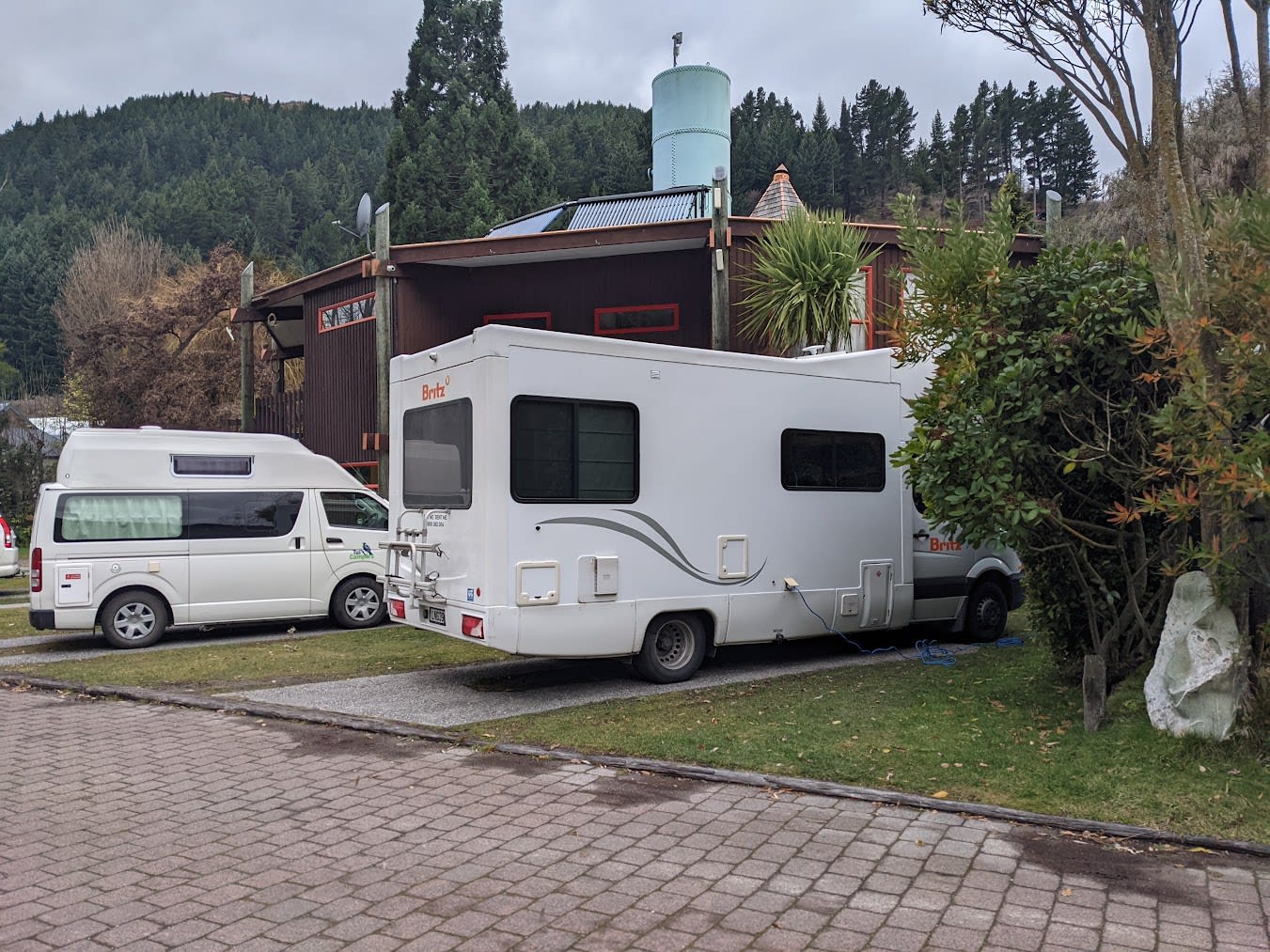 Creeksyde Holiday Park - cozy, home-y and my favourite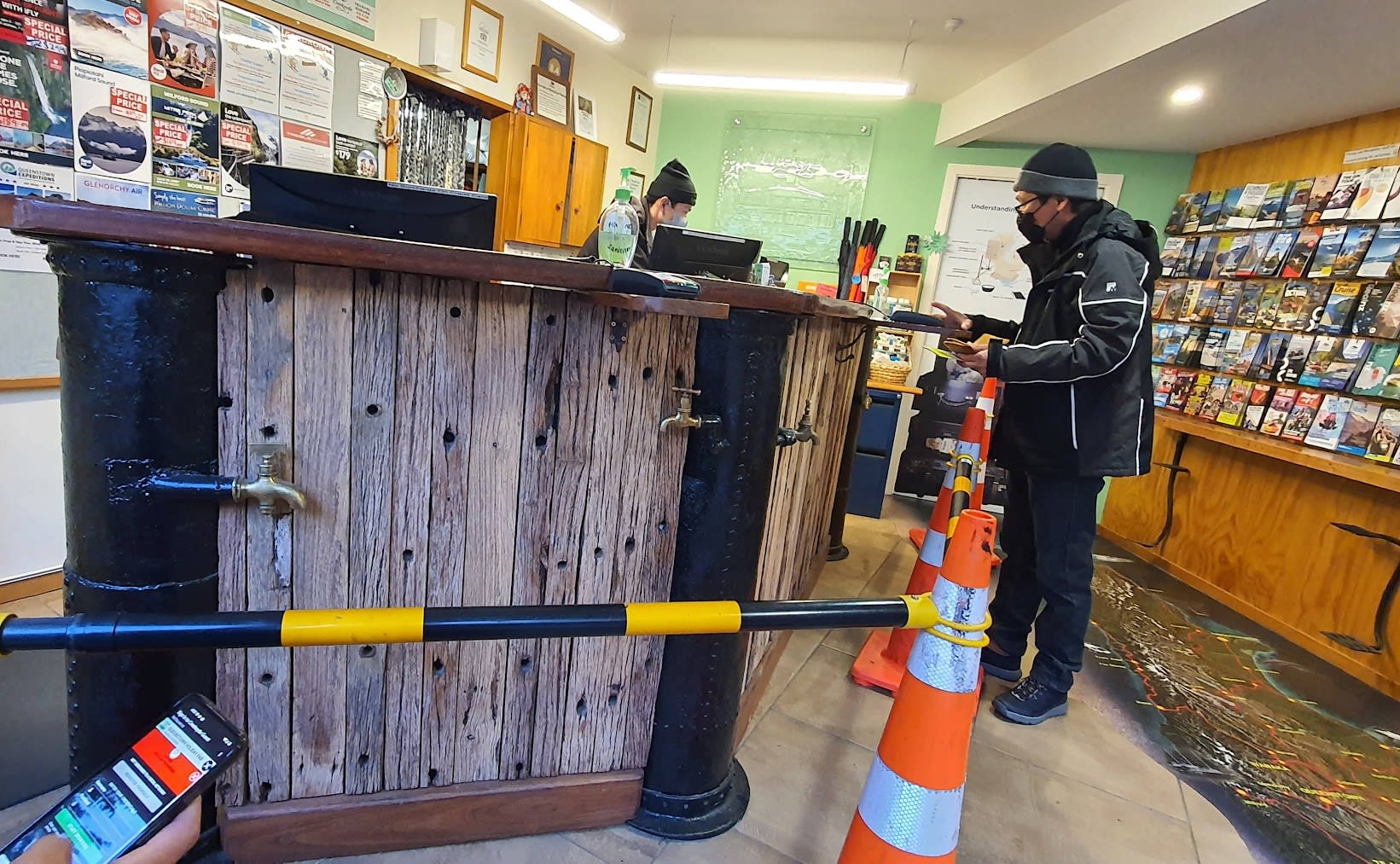 Booking tomorrow's Funyak at the reception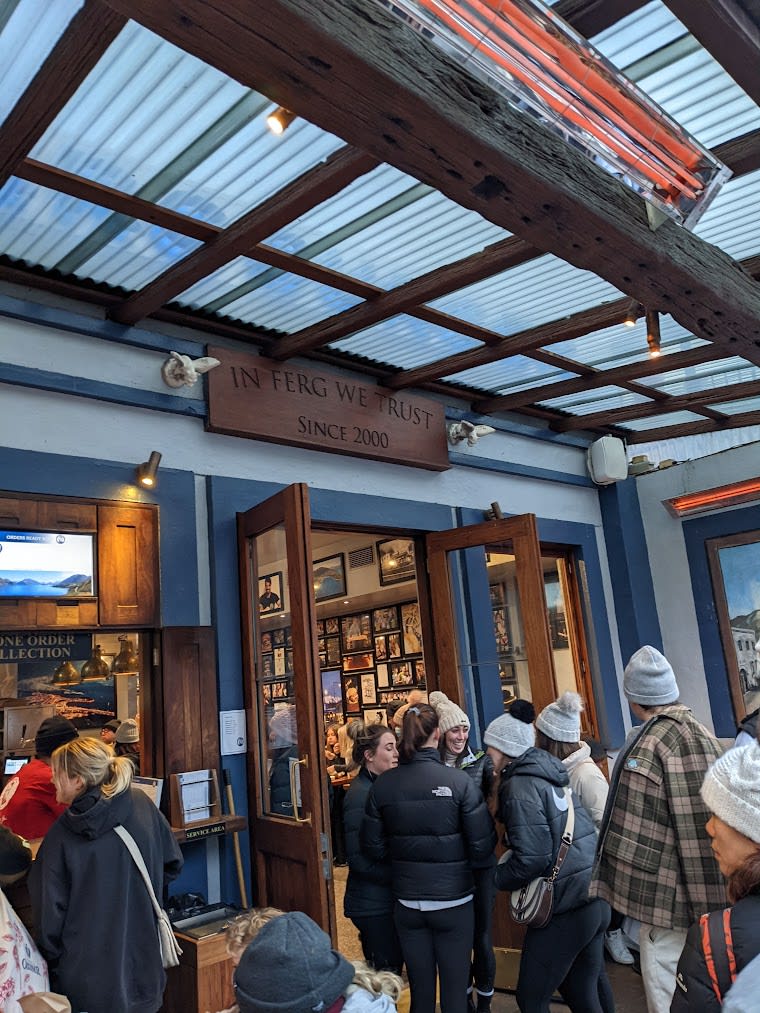 IN FERG WE TRUST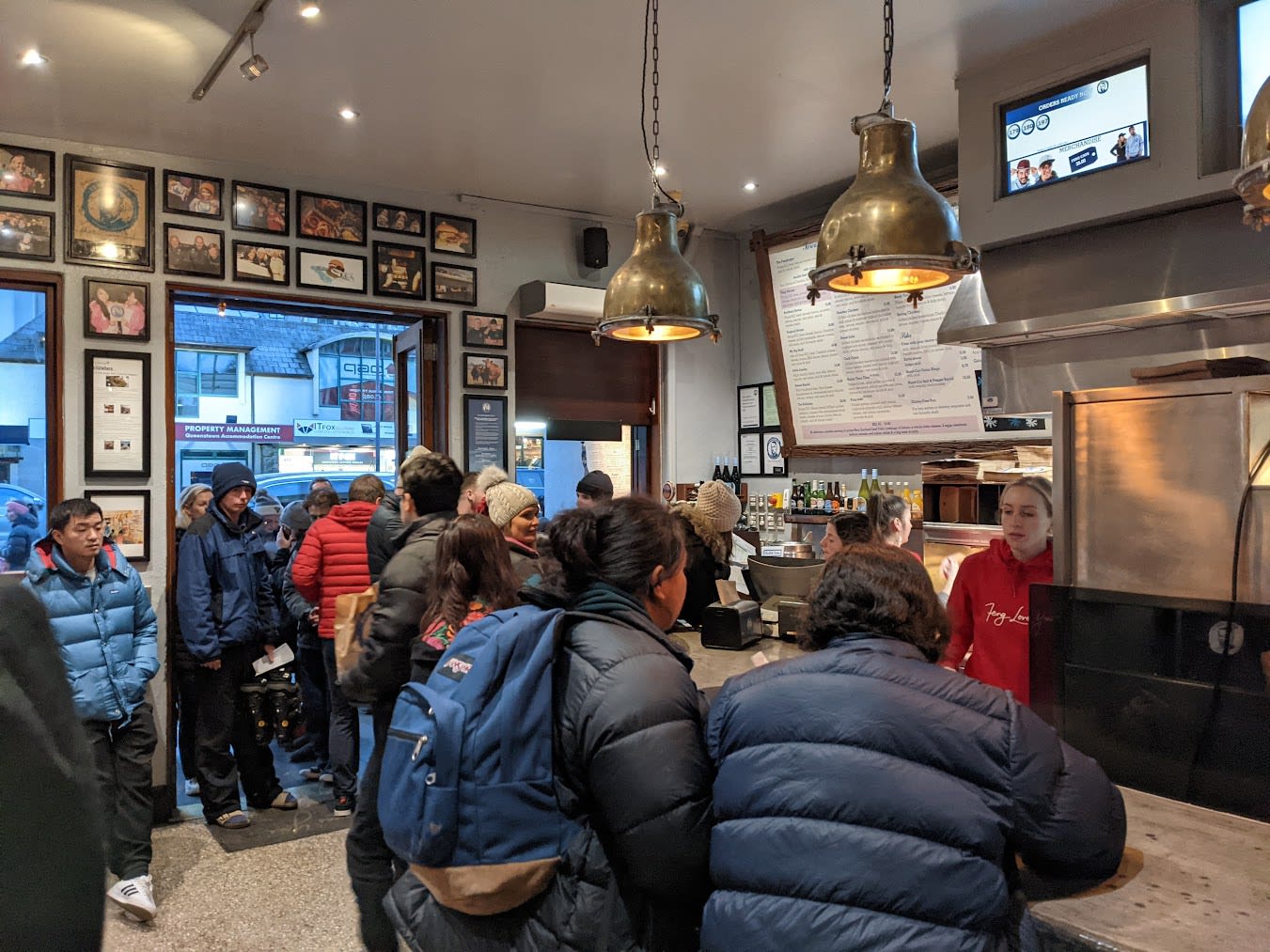 It was around 5pm and the place was already packed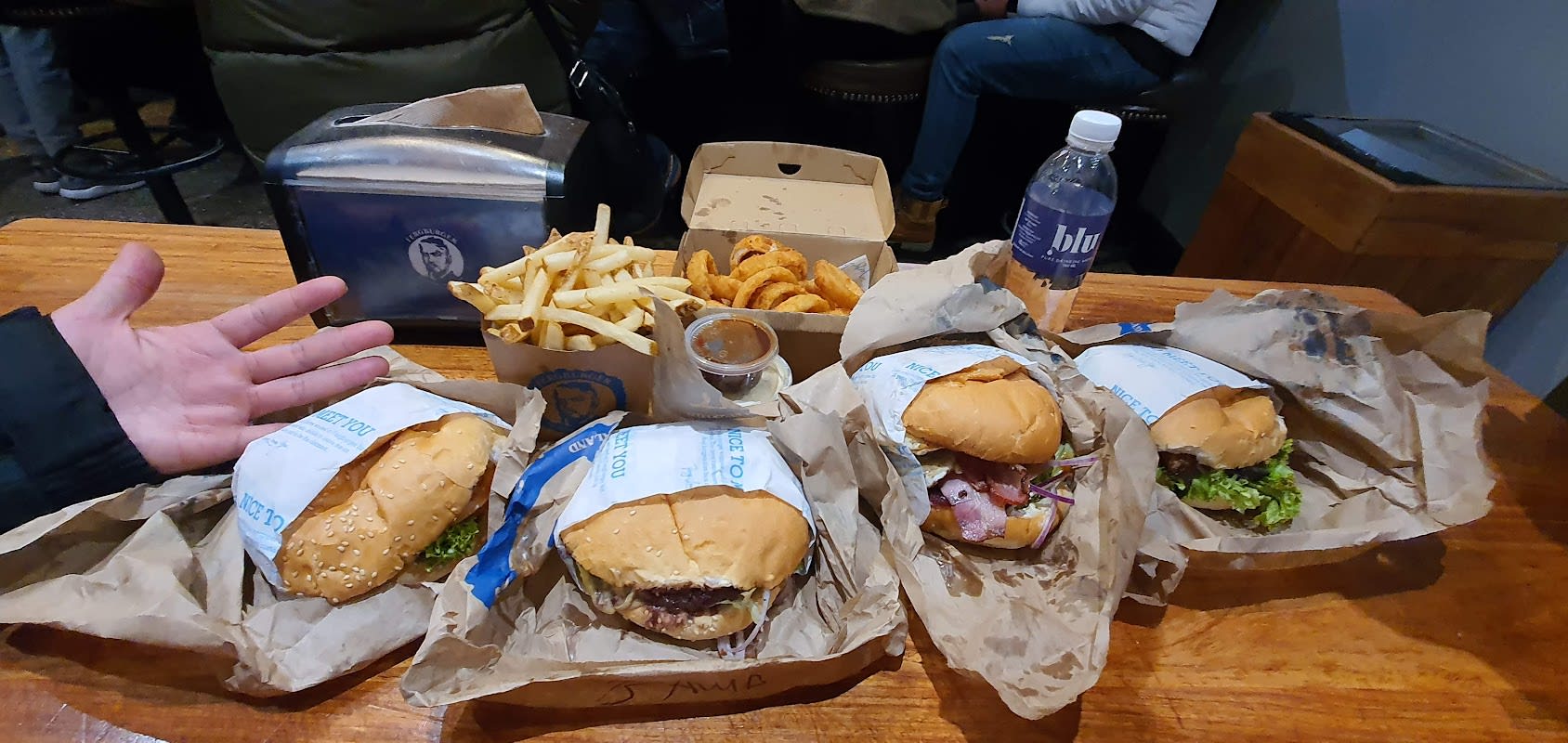 Hand for scale — didn't manage to capture the heft of these chonky bois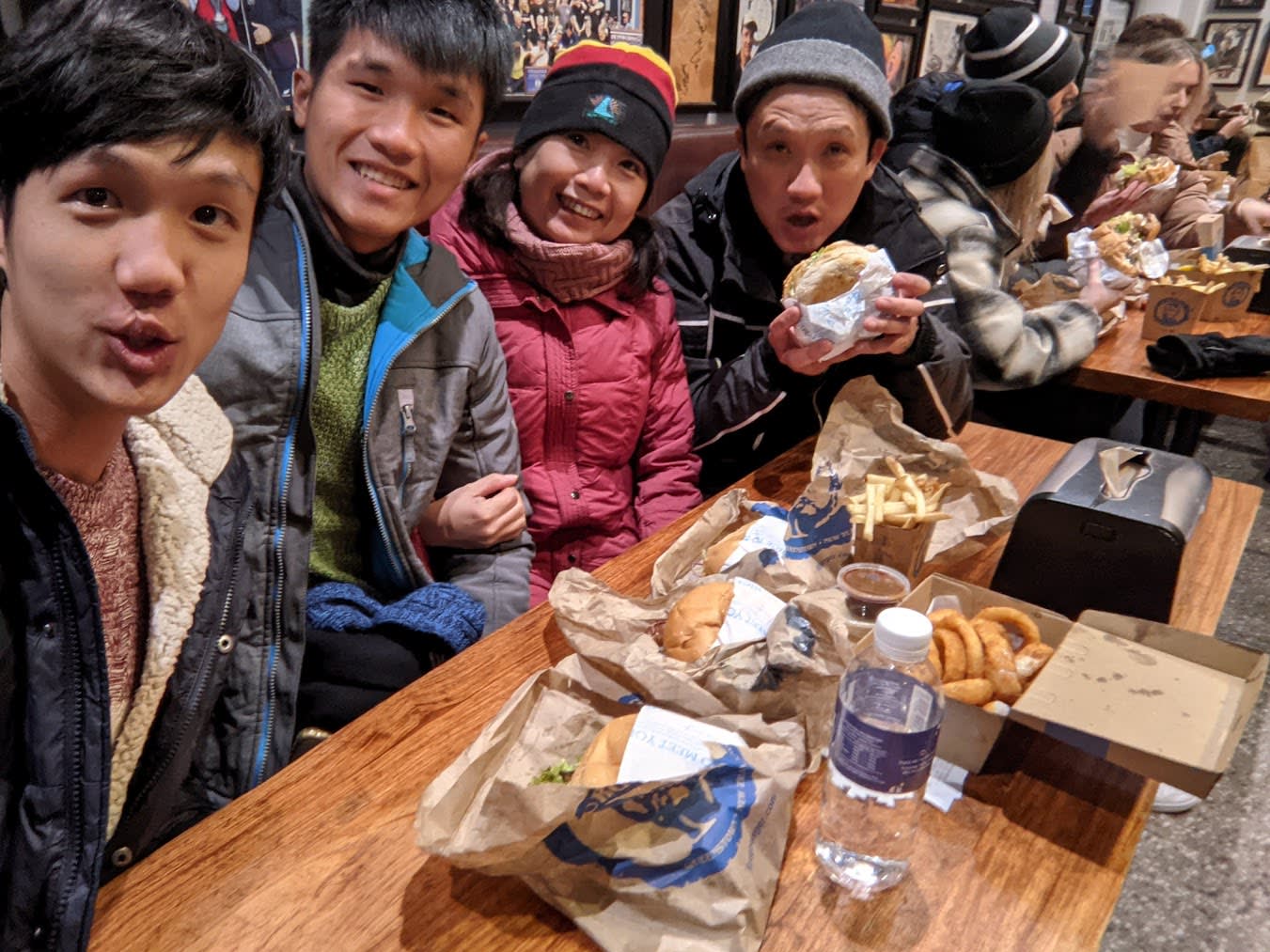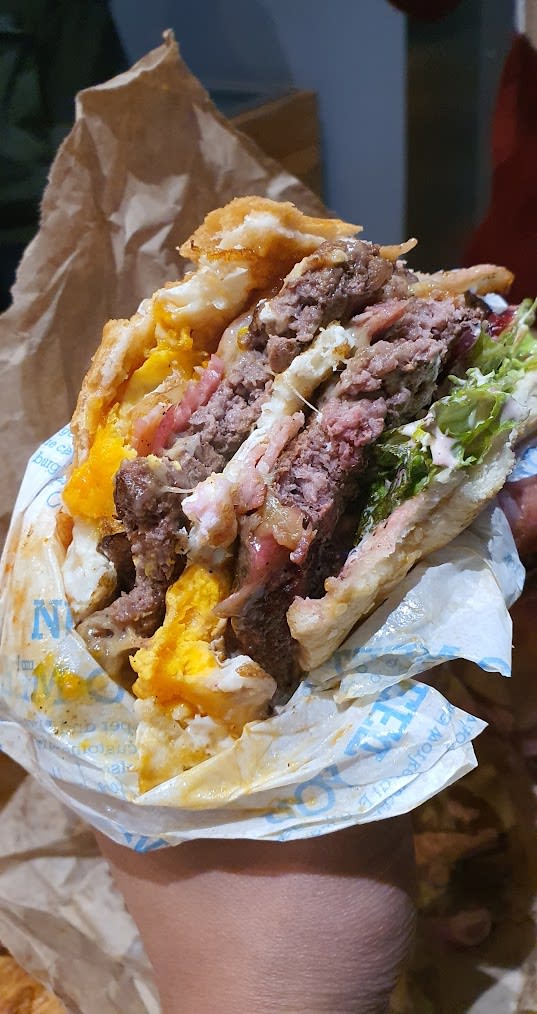 Caleb's Big Al was indeed big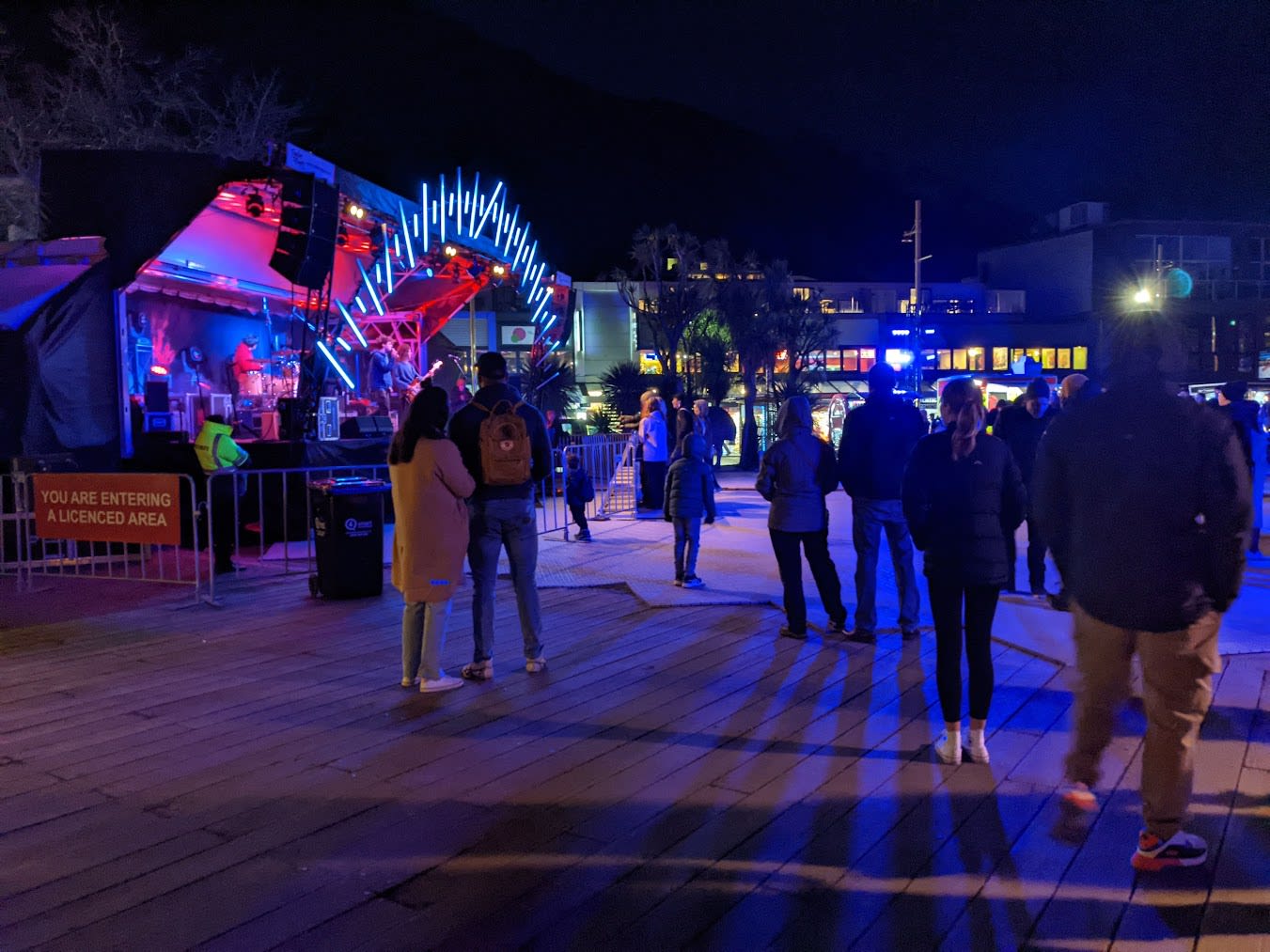 Short walk around Queenstown.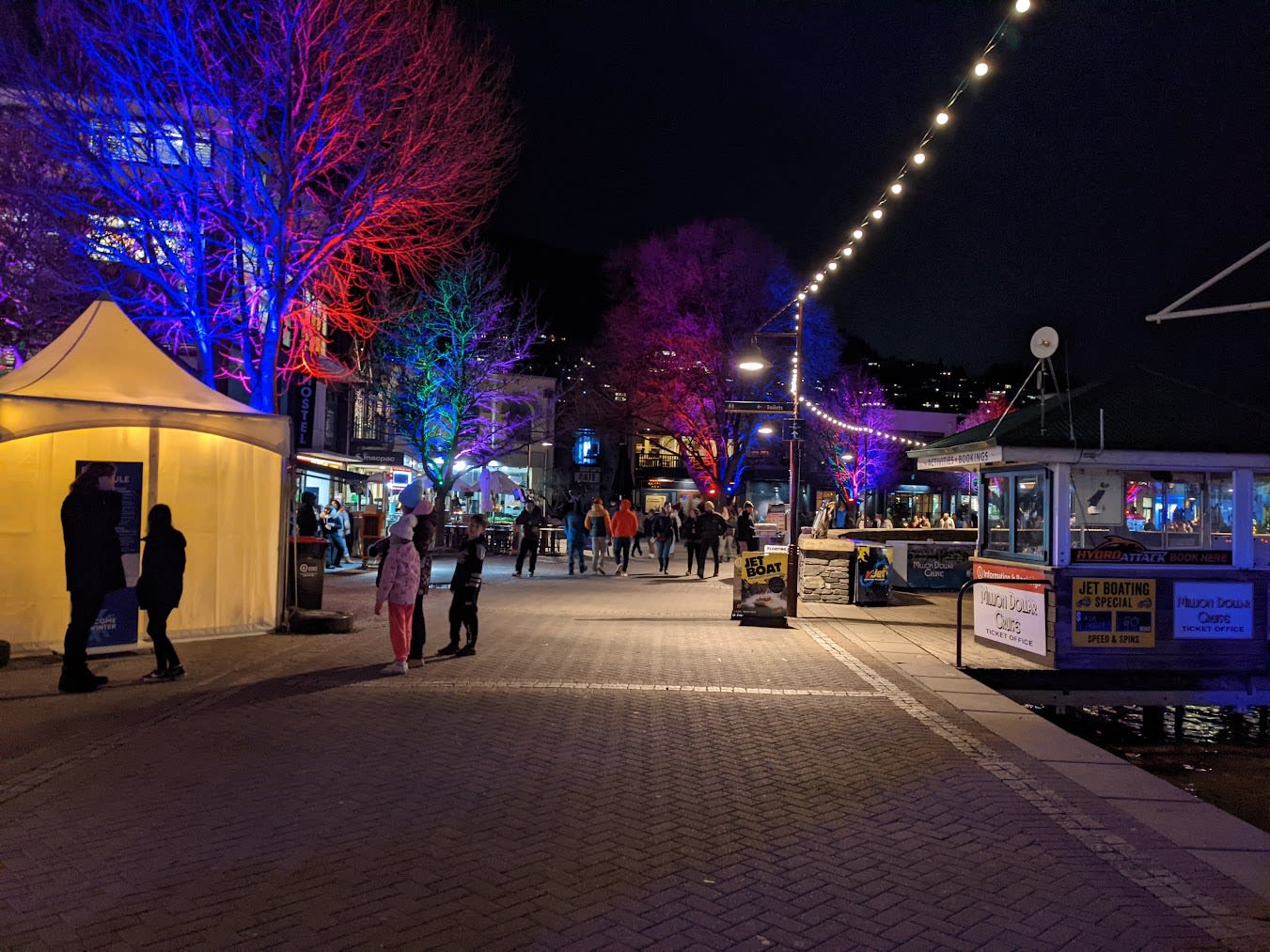 Winter vibes in a bustling city with lights — don't think it gets better than this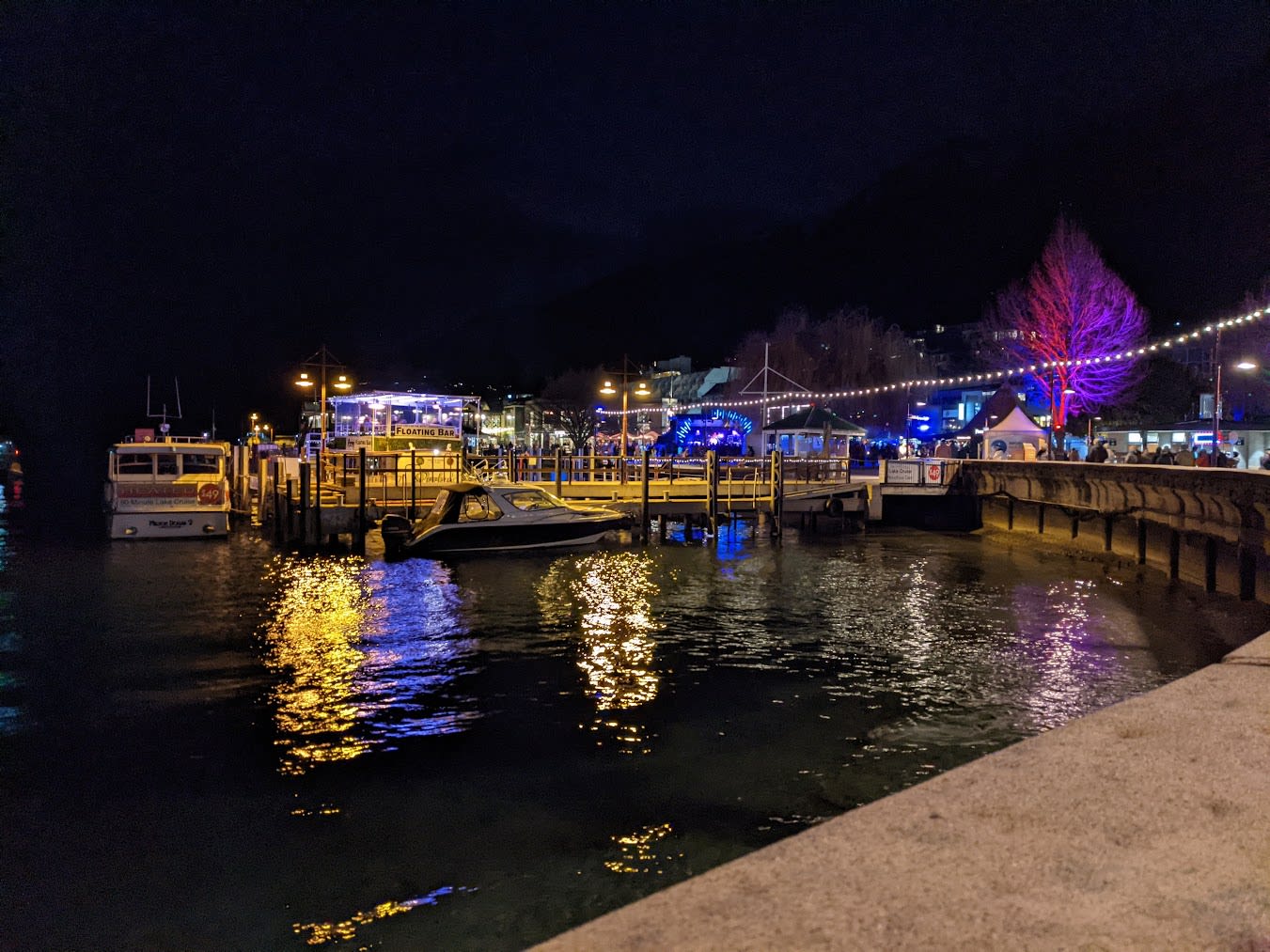 Day 3
Had a cooked meal in the morning at the holiday park, courtesy of Chef Mother, before walking 10 minutes to Queenstown town centre to wait for a van to bring us west to Glenorchy for our Funyak Adventure.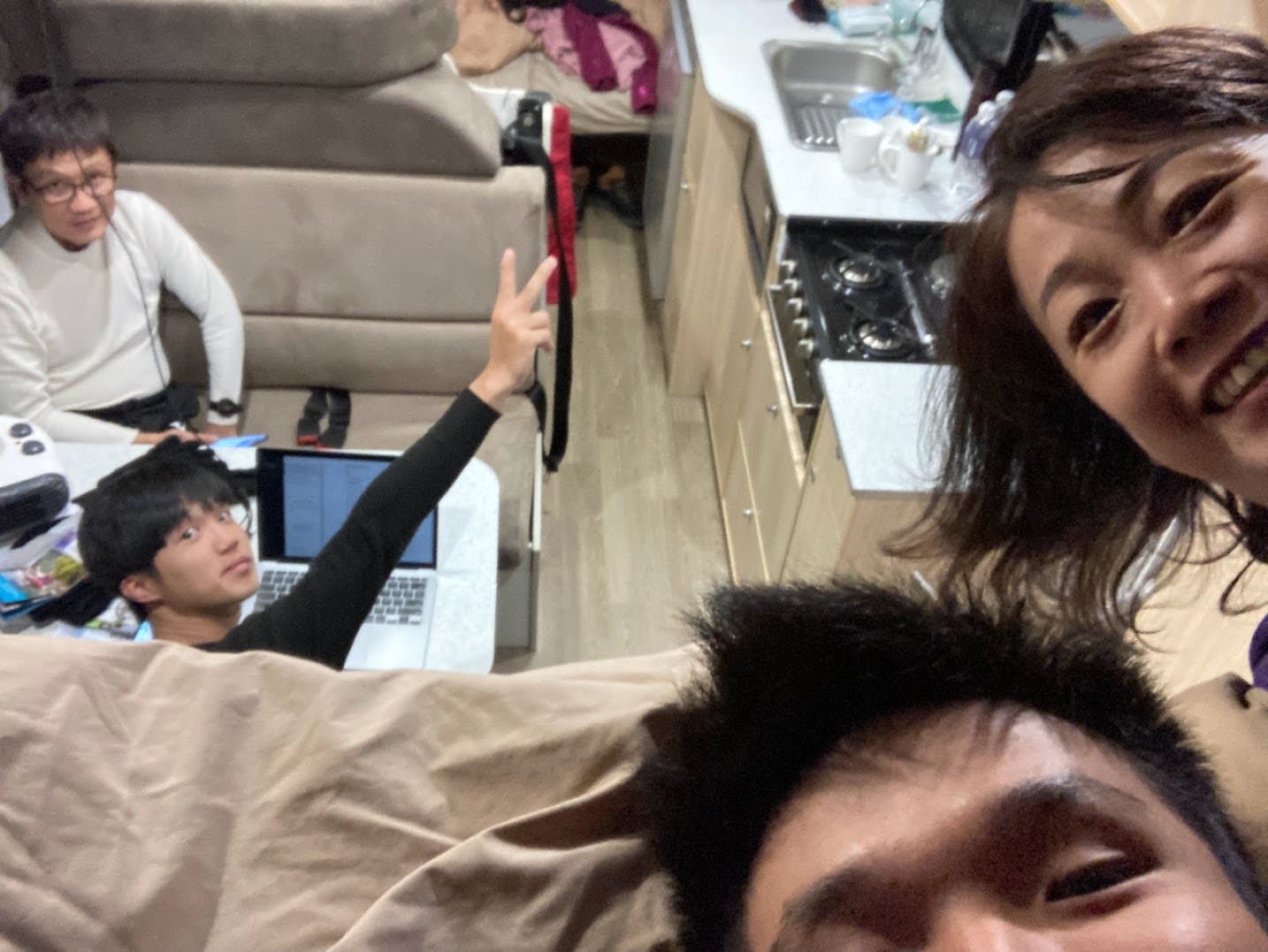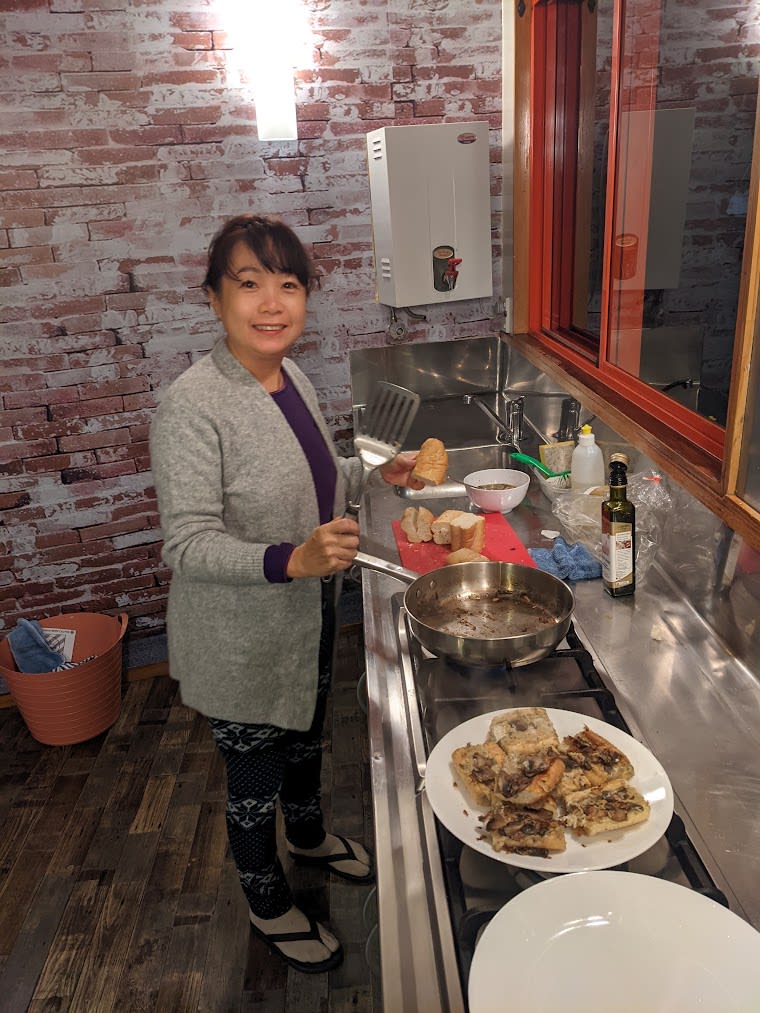 Motherchef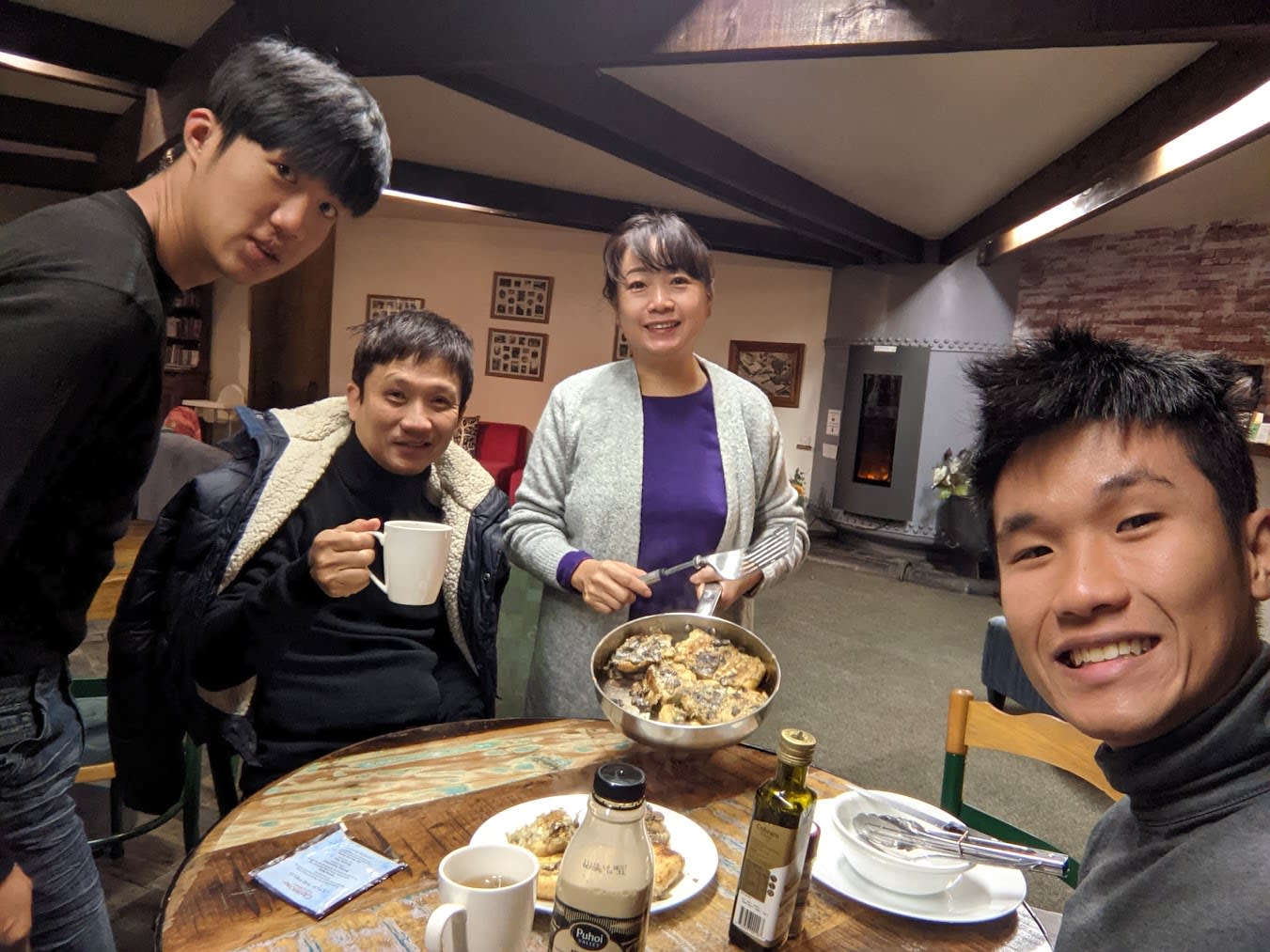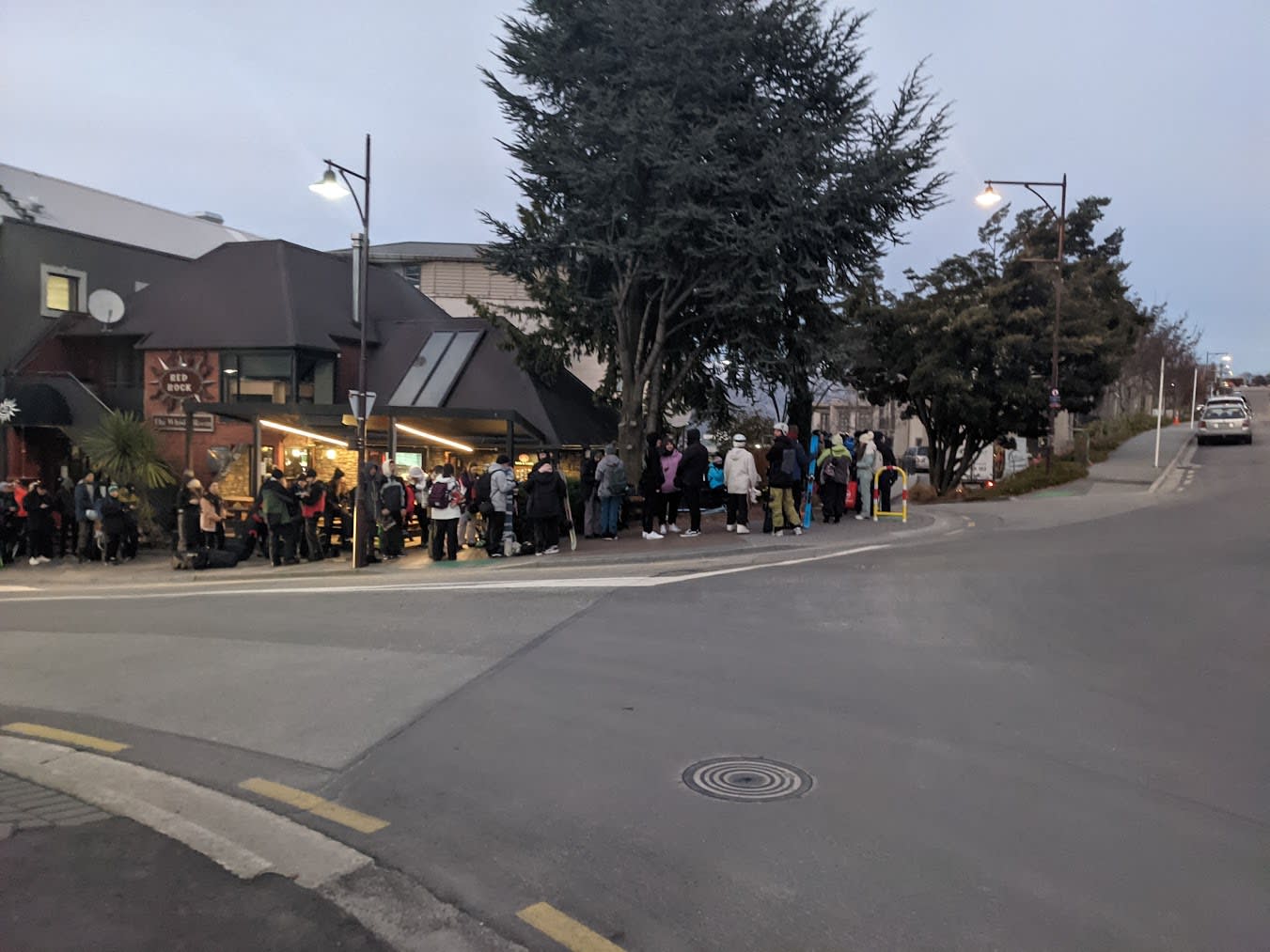 Town centre of Queenstown — this line was for the people waiting for transport to the ski slopes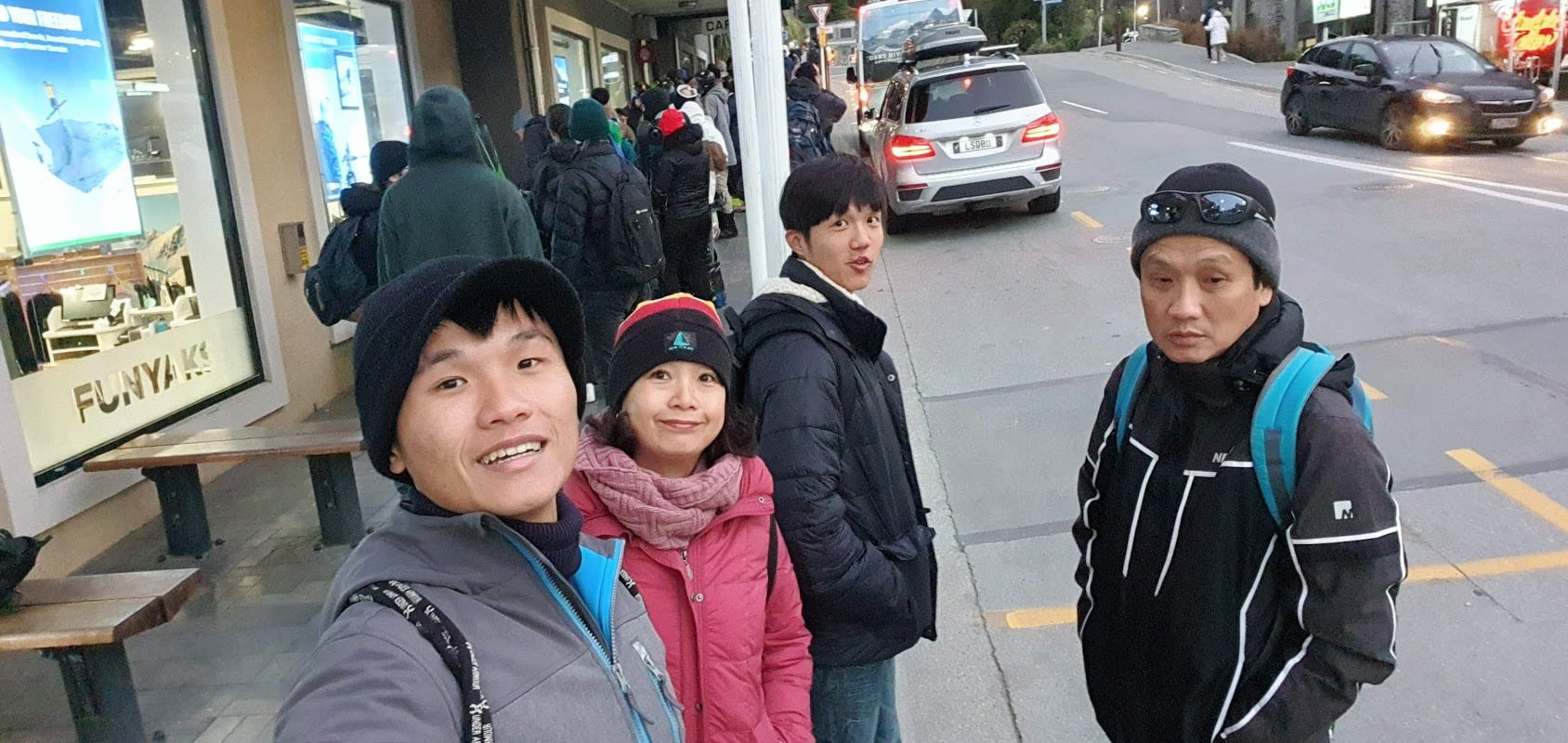 Waiting for our transportation!
River Dart Adventure's Funyak
The highlight of day 3 was the River Dart Adventure's Funyak, a half day guided trip where we took a jetboat up a river, took Funyaks down (inflatable, rubber, 2-man kayaks), docked halfway for lunch and to visit a chasm, before heading back down the river.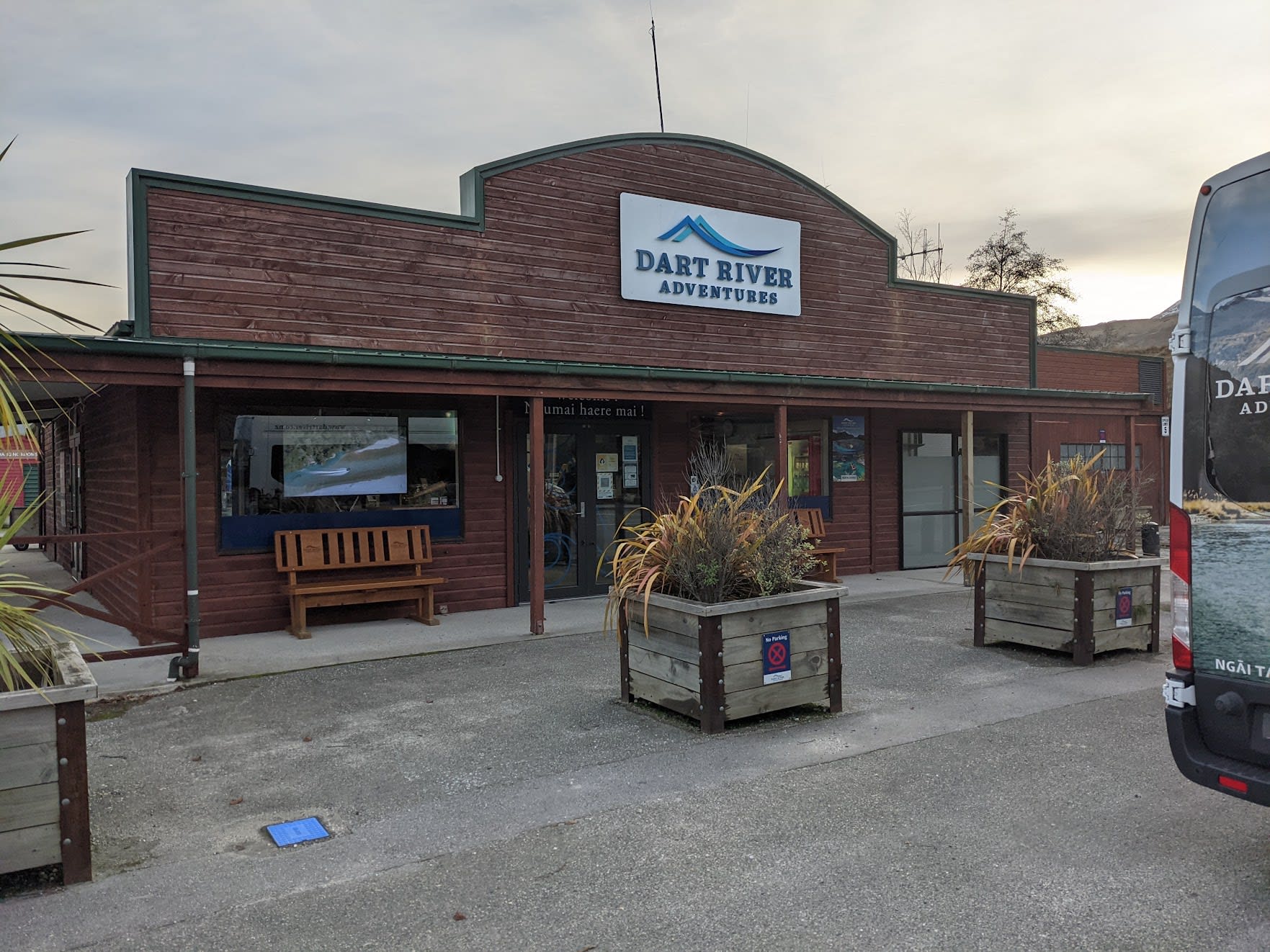 Dart River Adventures in Glenorchy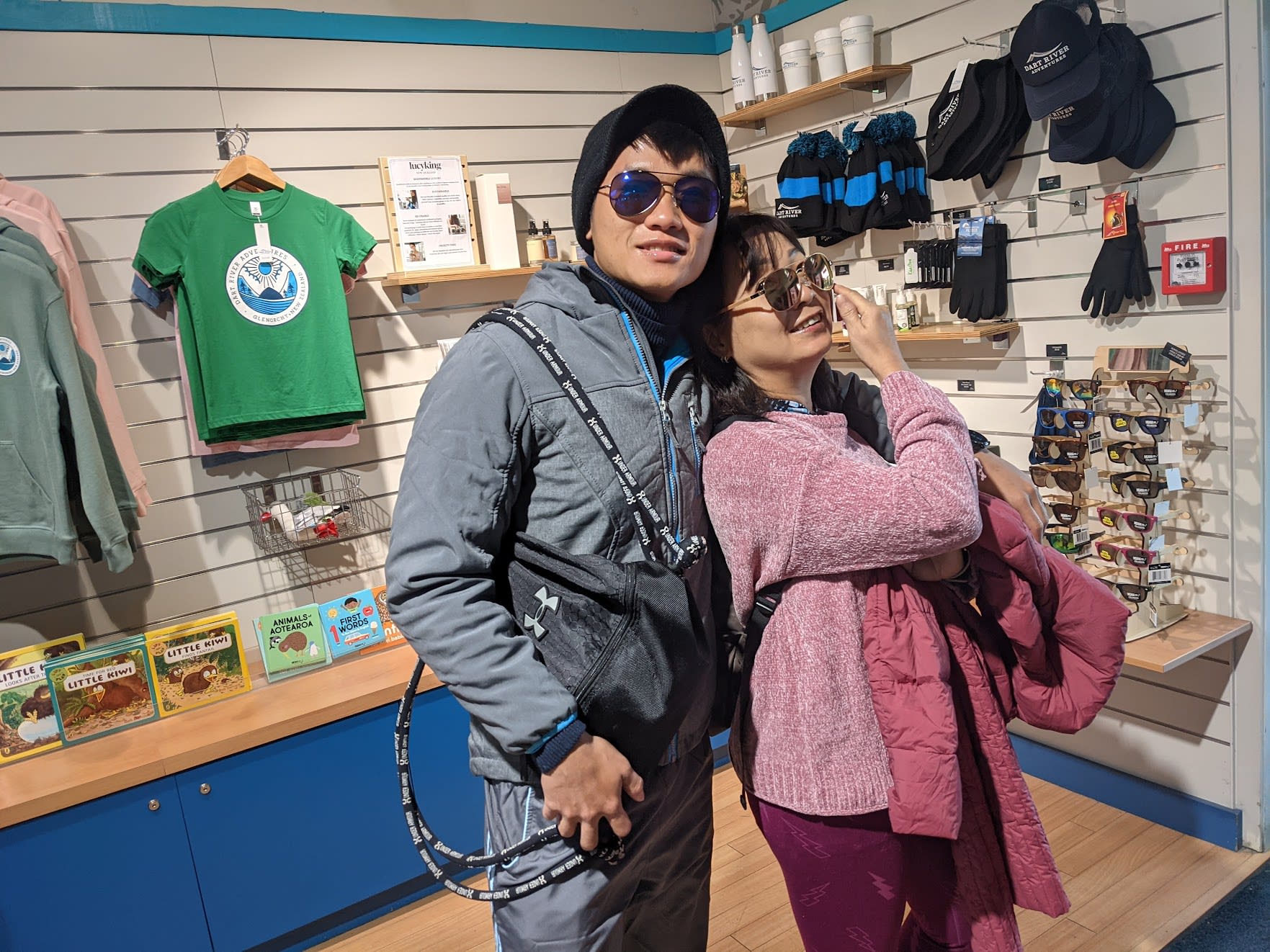 Trying to act cool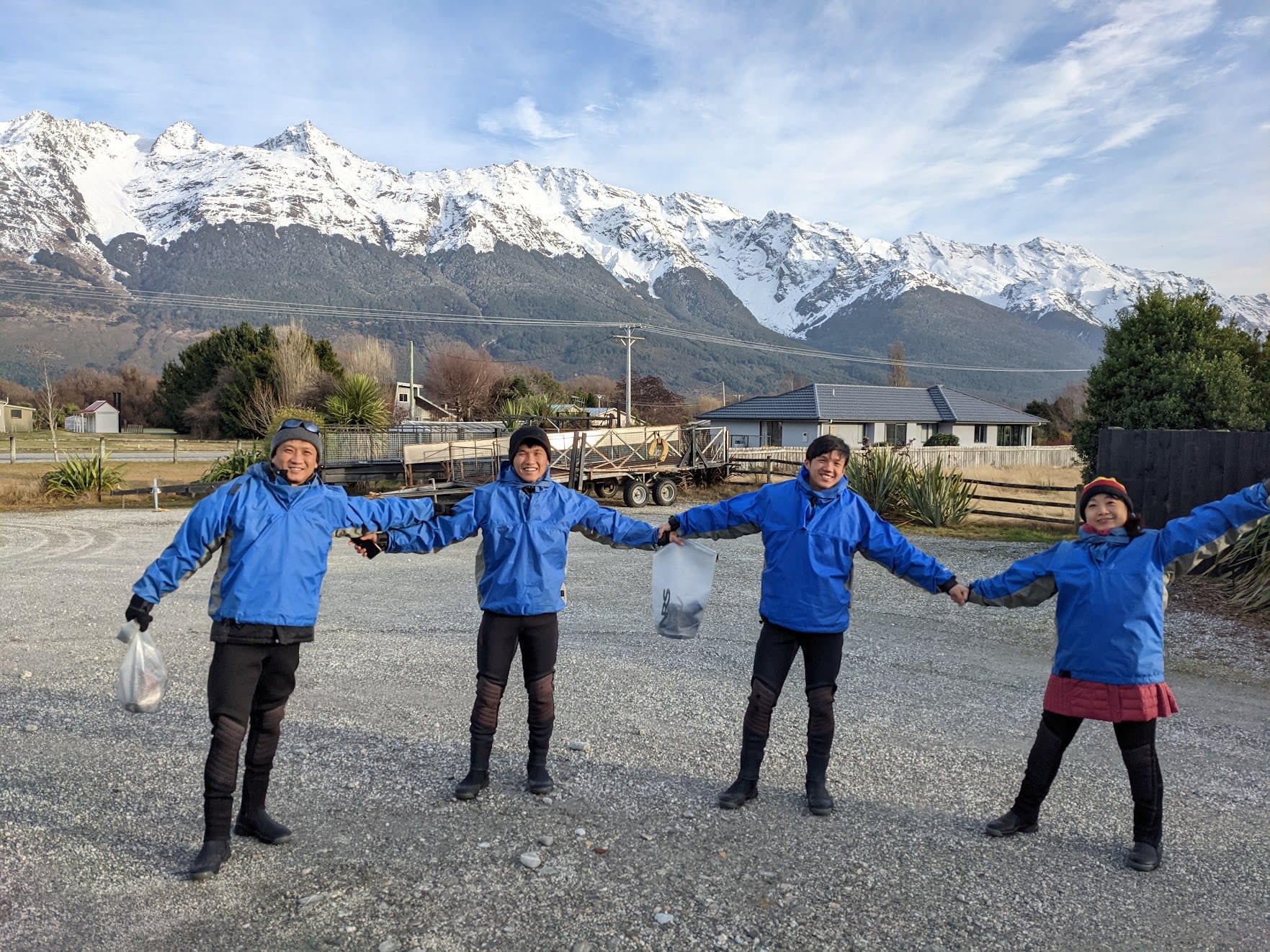 Suiting up was probably the hardest part — we're wearing about 5 layers: thermal, 2 fleeces, jacket, windbreaker, splash jacket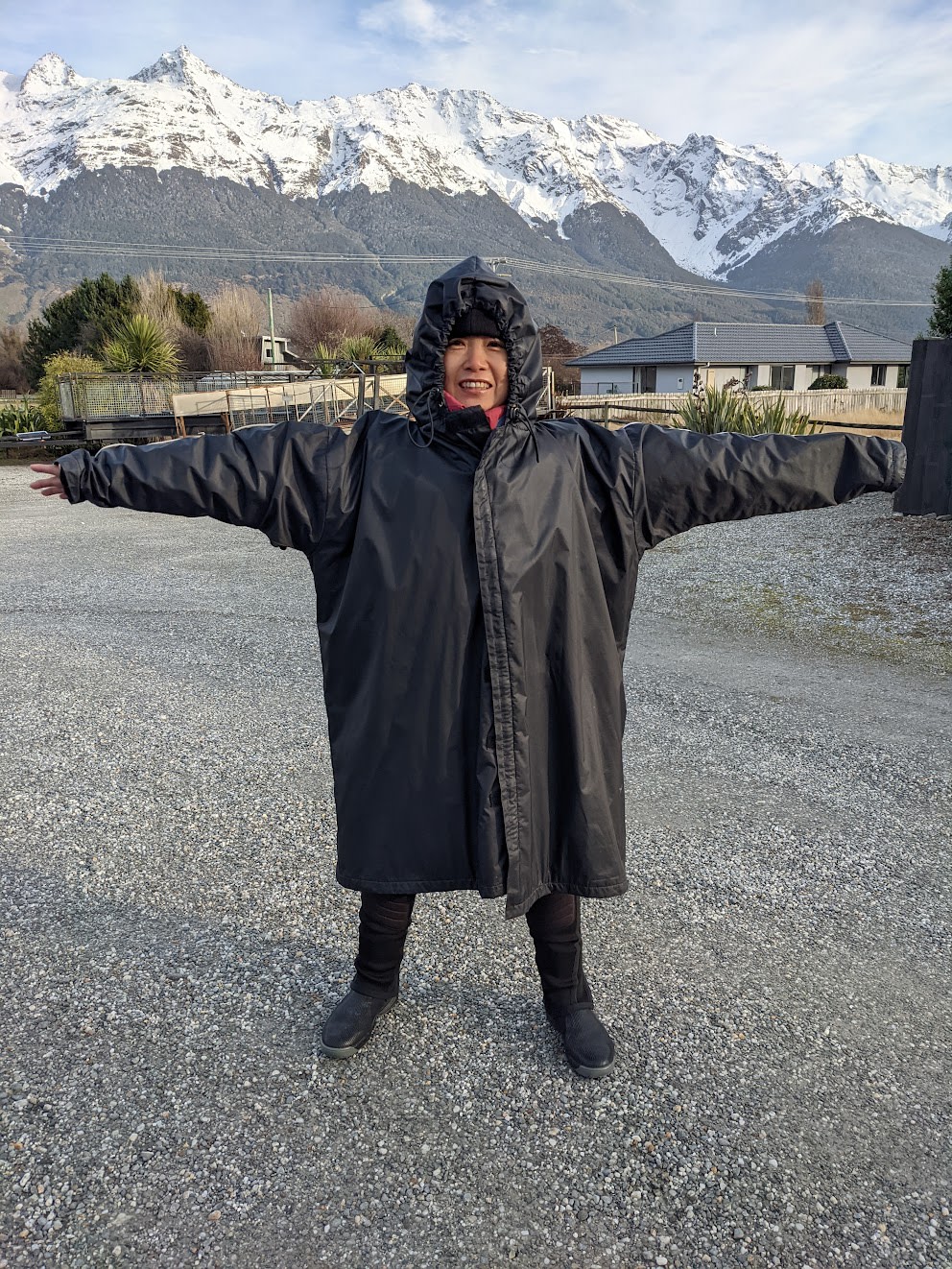 Anyone order a marshmallow?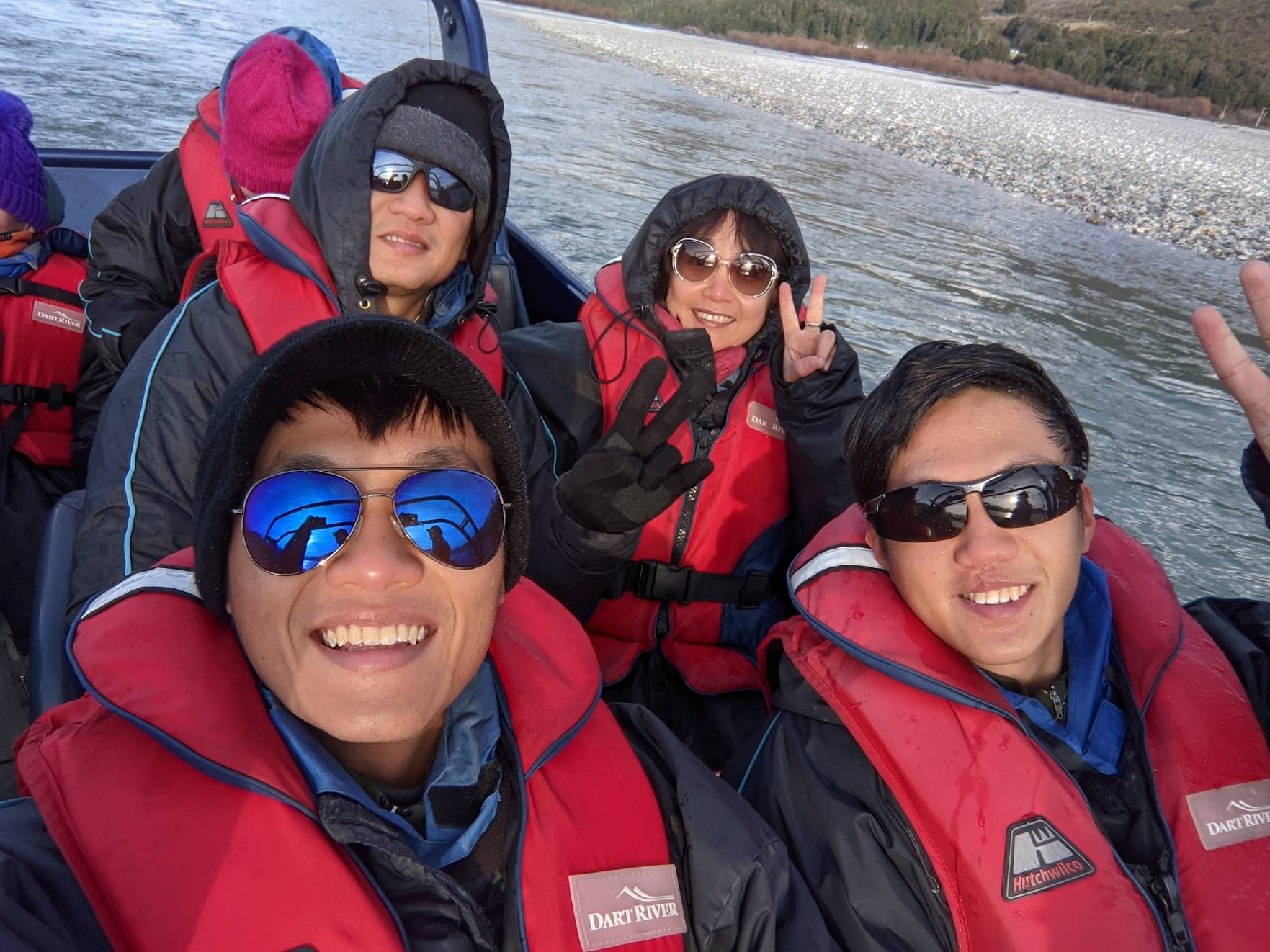 Start of jetboat ride: you can tell because we're still dry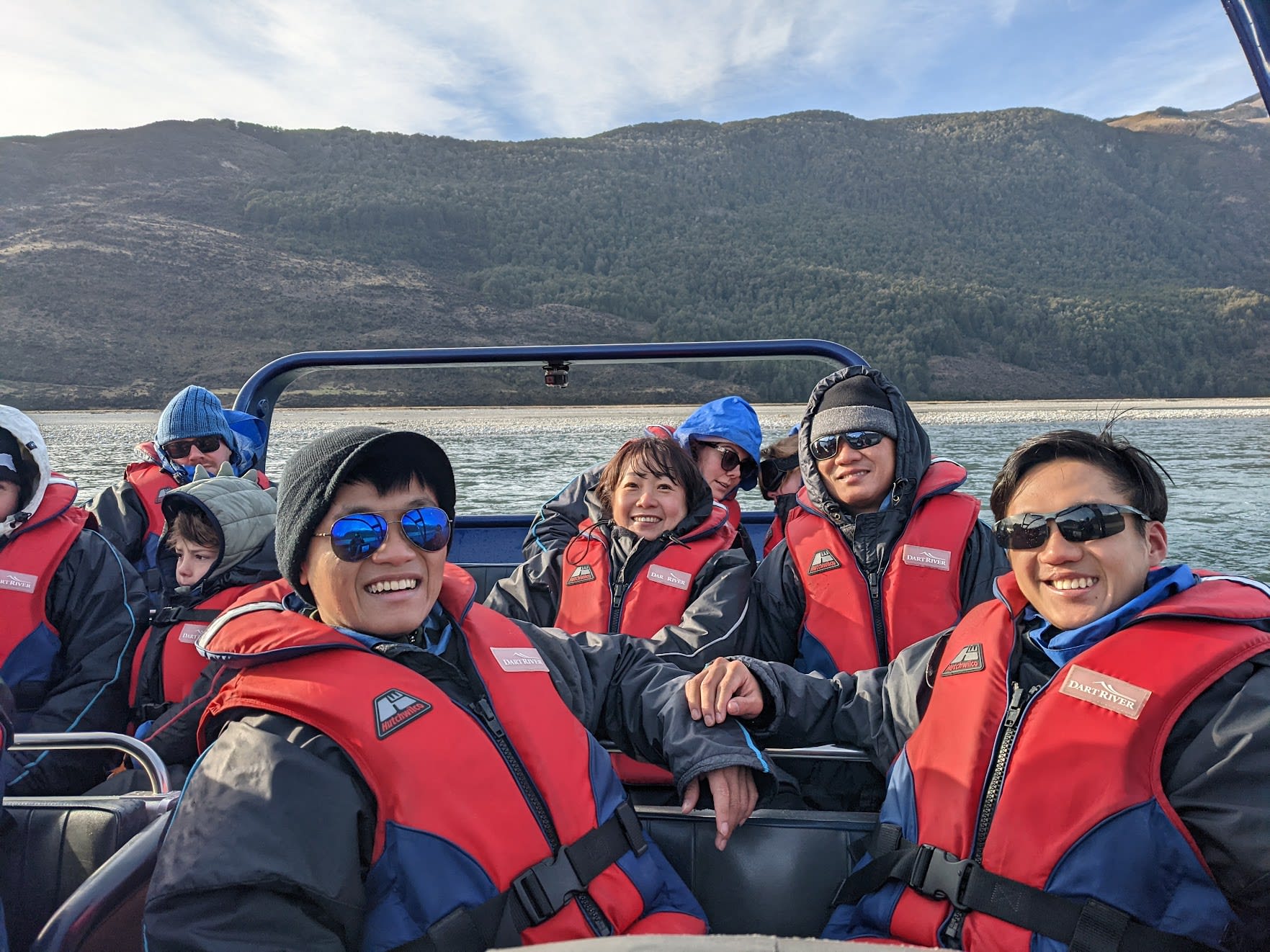 Sped down the river in this 700hp jetboat — doing 360 spins every once in awhile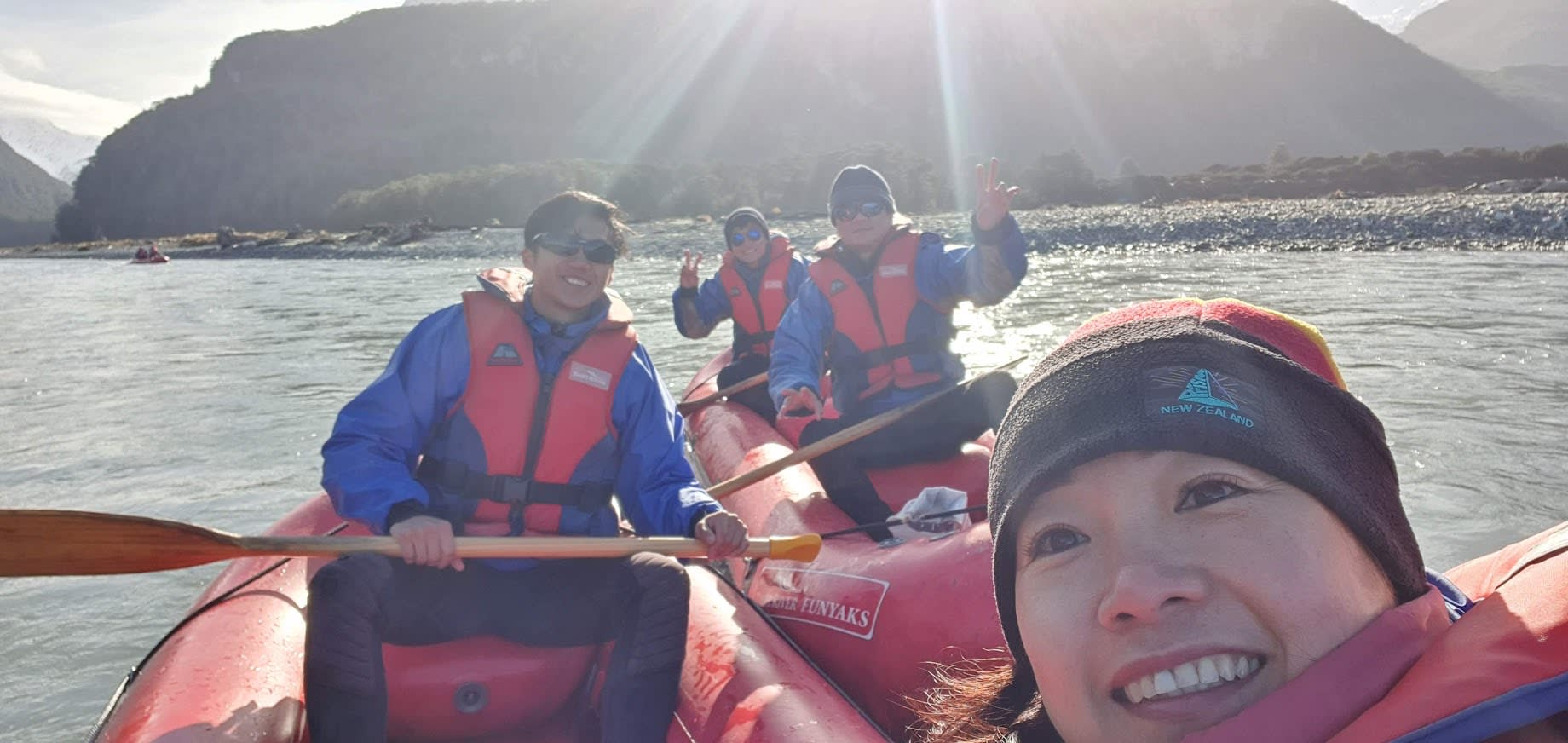 End of jetboat ride — transition to the Funyaks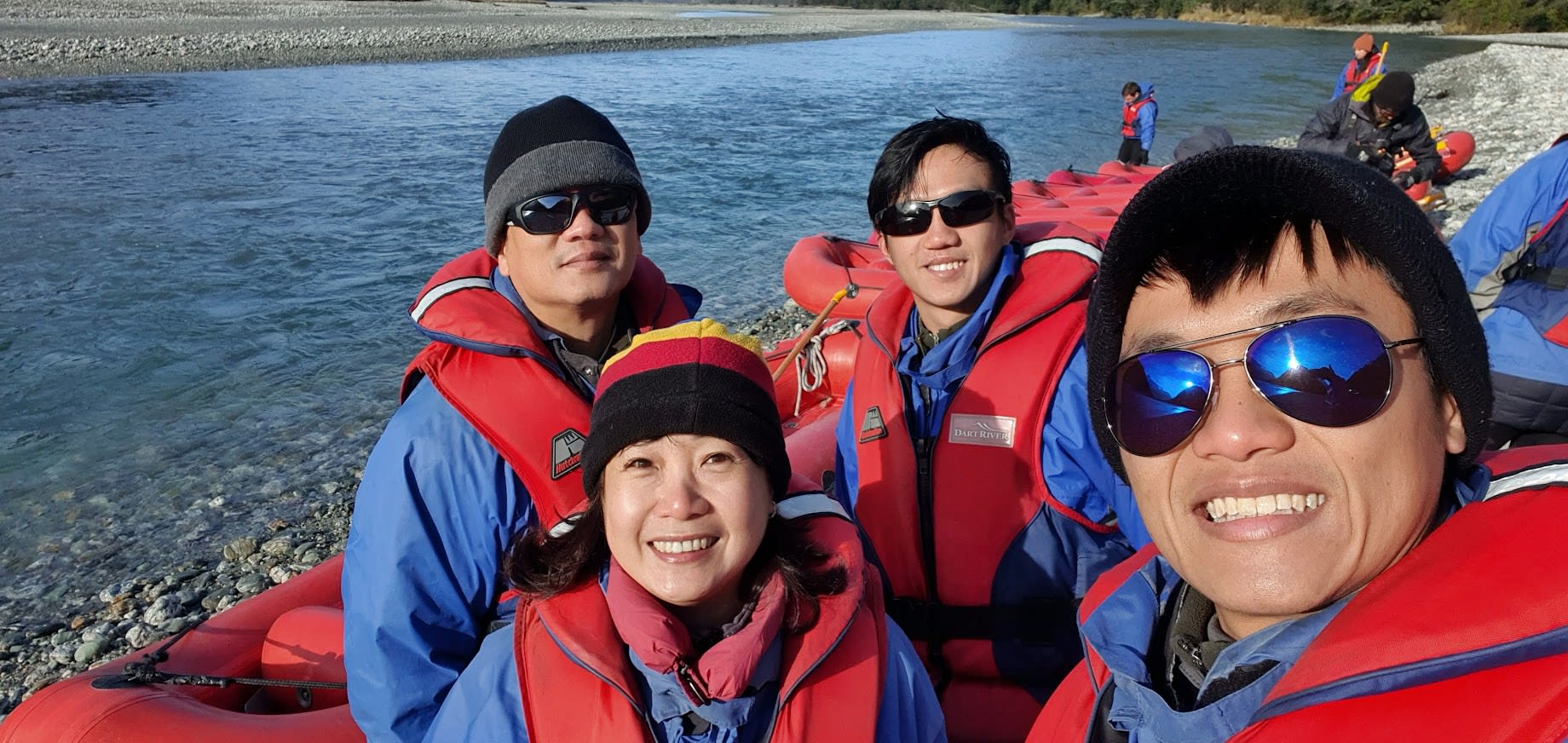 Beautiful views, extremely scenic all around, as you're surrounding by lush mountain landscapes and framed by a beautiful lake. We also stopped and hiked about 30 mins into the forest to a clearing that led out to a chasm.
(Also learnt the difference between a canyon and a chasm, the former is caused by running water carving out stone, a chasm is caused by earthquakes or tectonic movement, I always thought a chasm was just a smaller canyon).
Stopped there for lunch as well, before heading back to the kayaks. The place felt super exclusive and was really serene, with nobody here but us.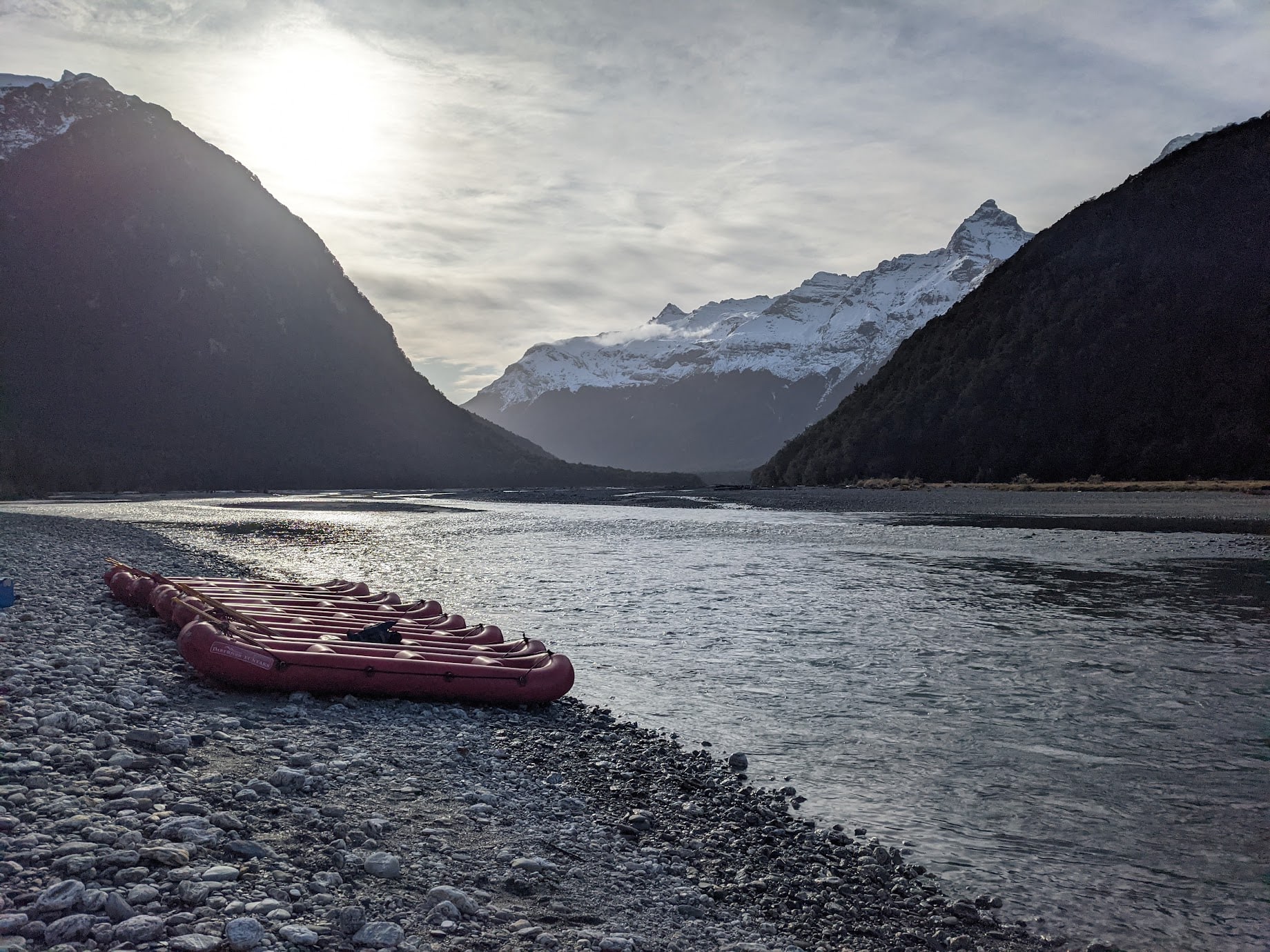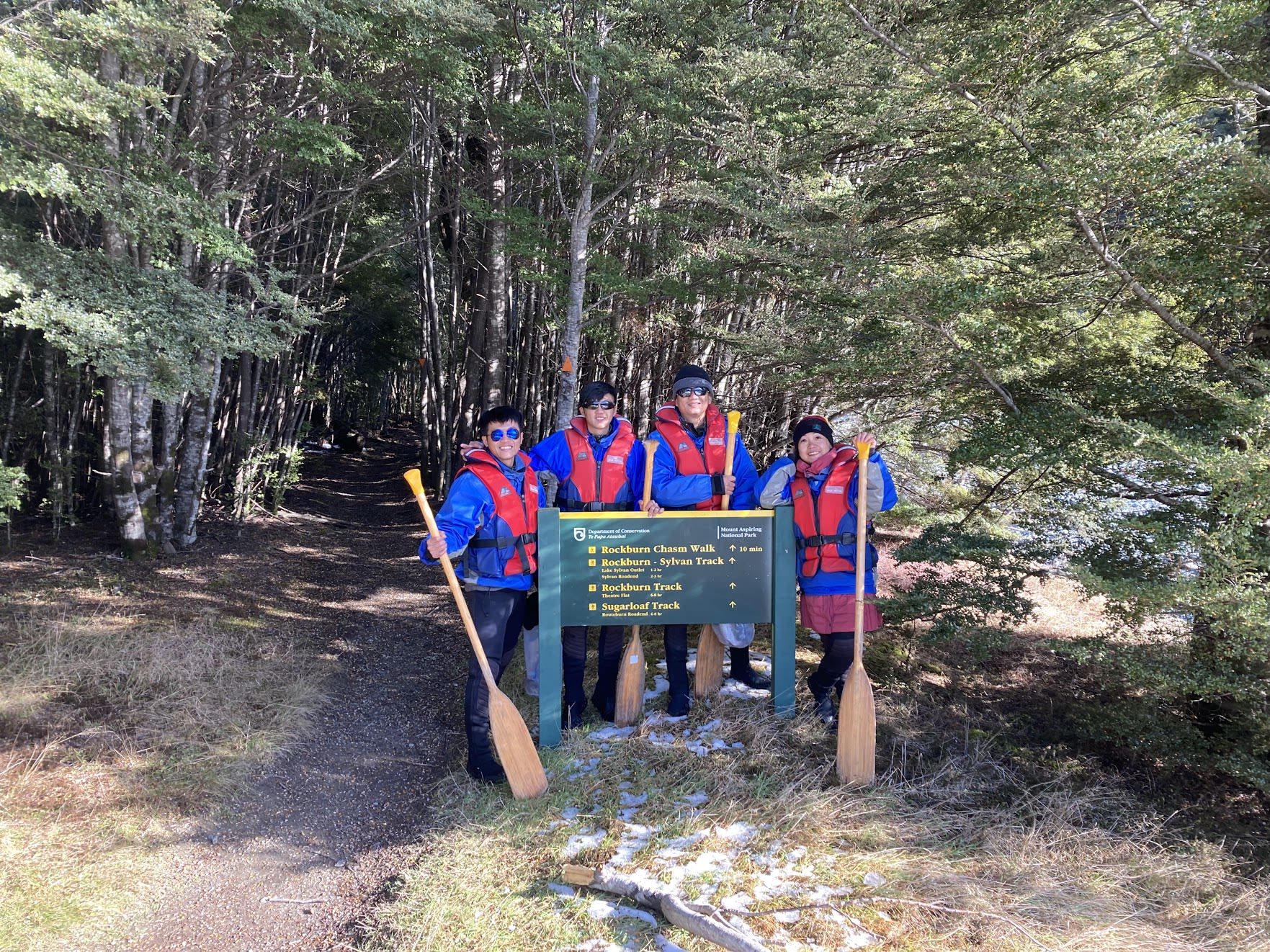 Docked the Funyak's for the Rockburn chasm walk — had to carry paddles, equipment and navigate rocky terrain — luckily it was all worth it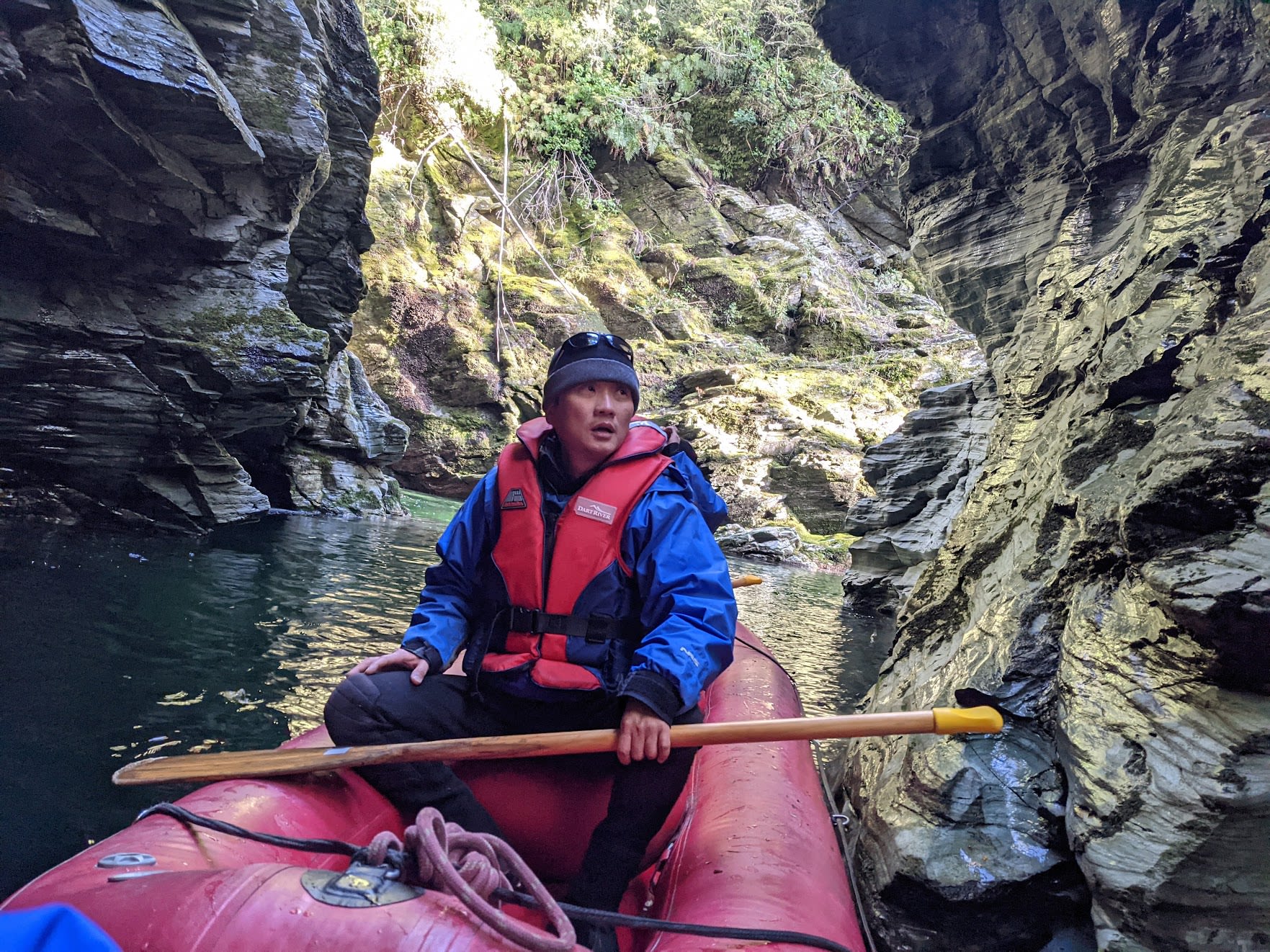 Inside the chasm!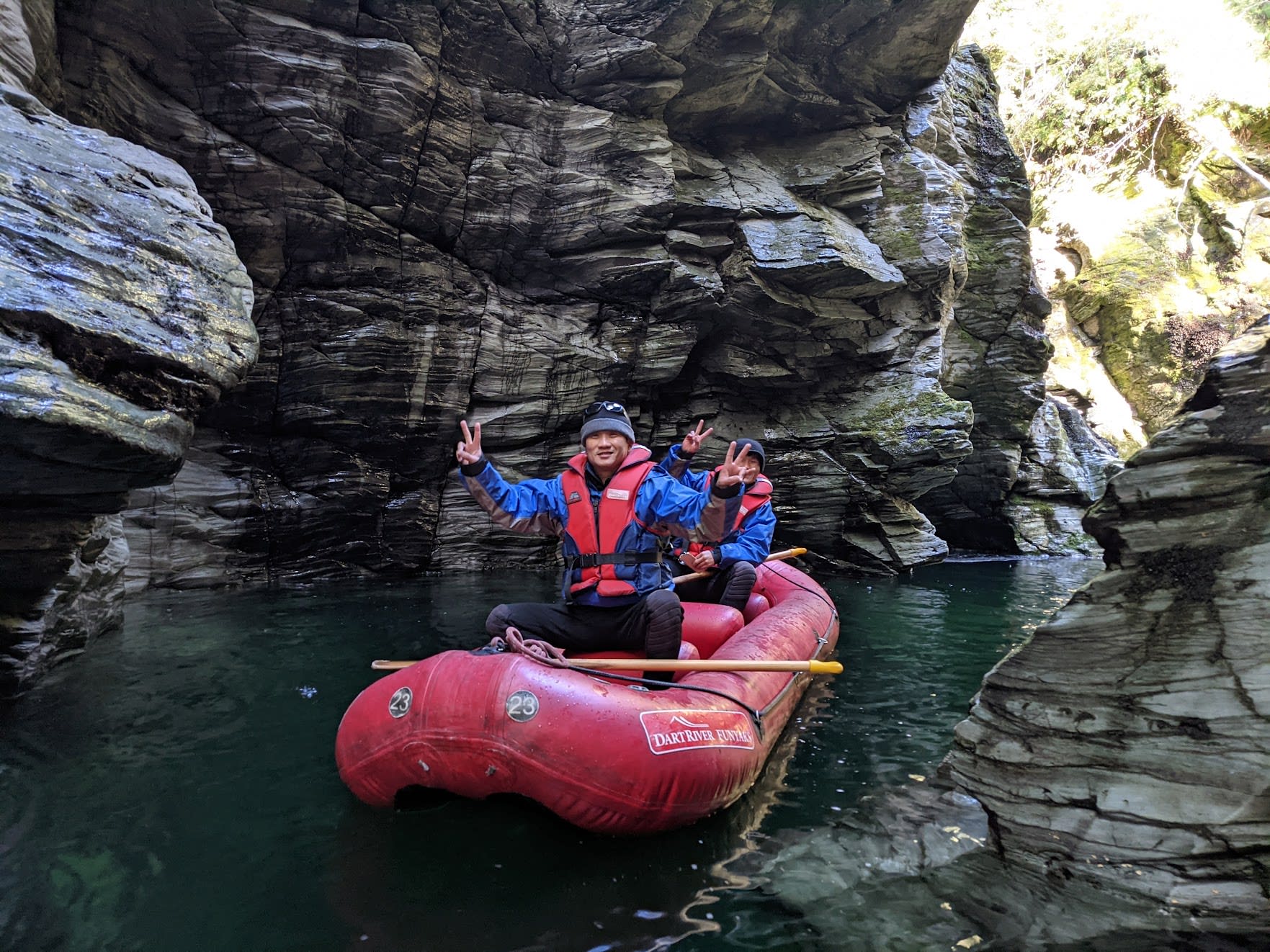 The water is around 10m deep and stays around 3 degrees celsius year-round, fed by melting glaciers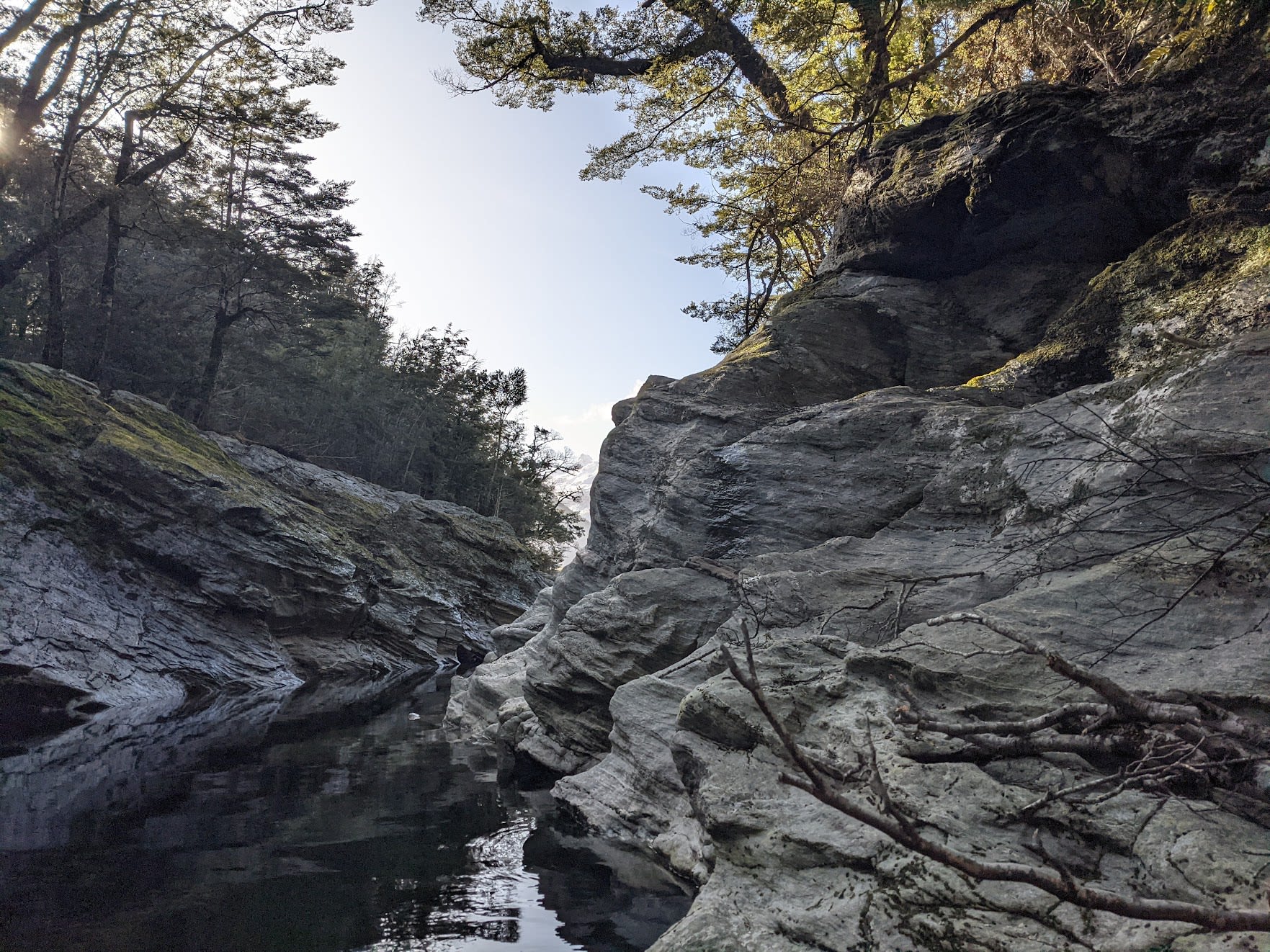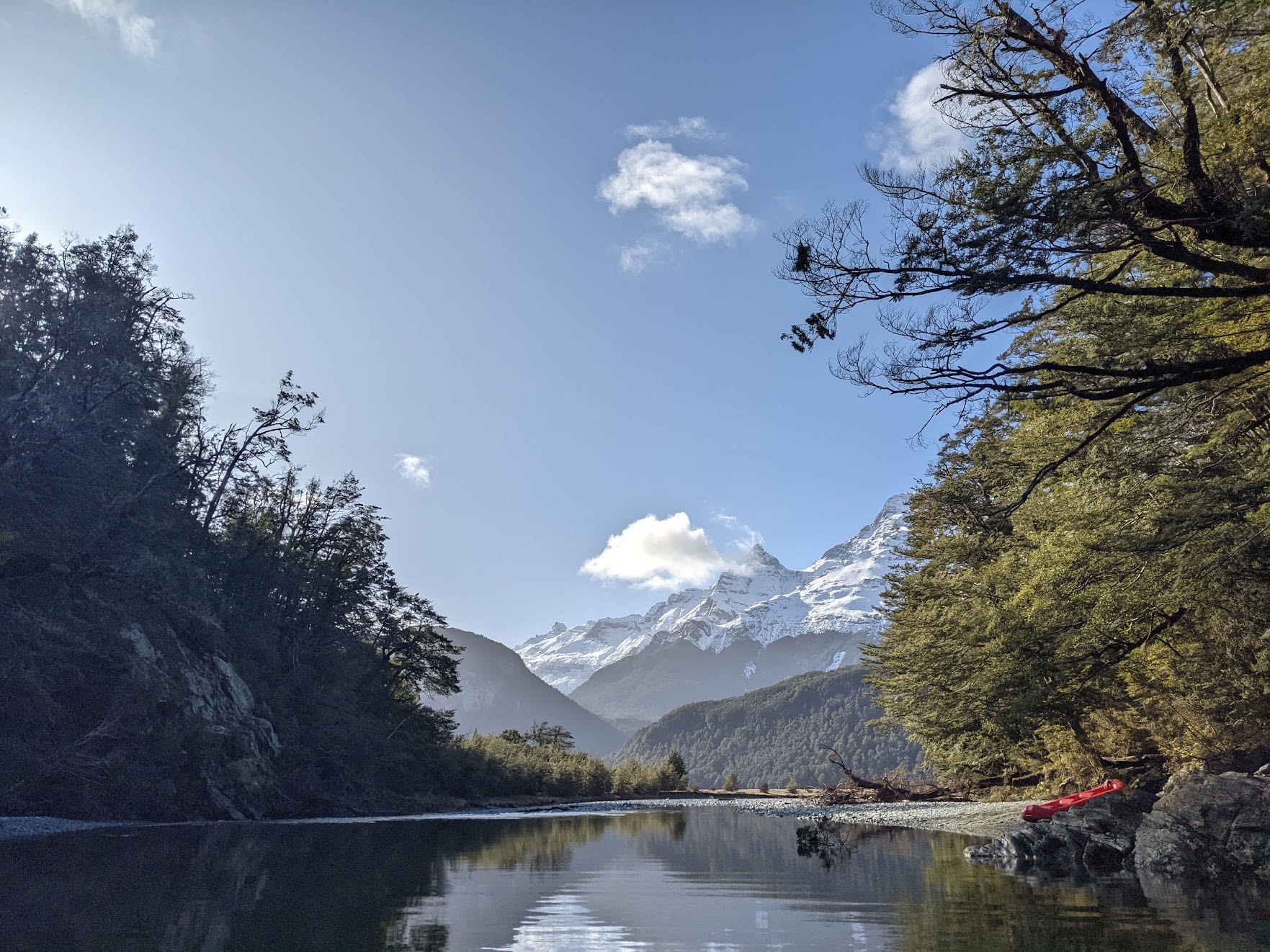 The views!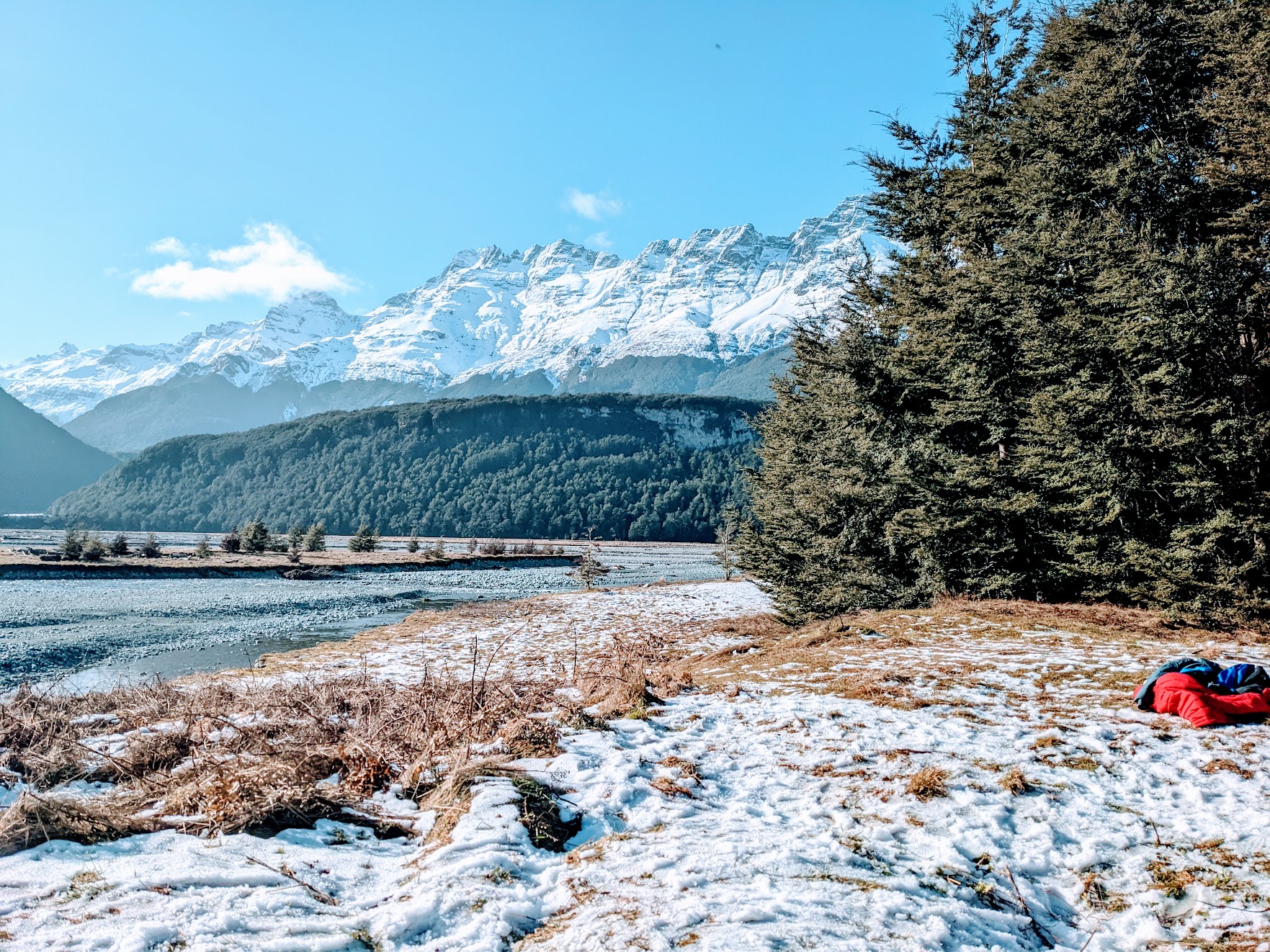 Where we stopped for lunch
Found out later that the land actually belong to a Maori tribe and that only this tour group was allowed to operate here. Explained the exorbitant costs as well - the tour was about 300NZD per pax.
Overall the tour was exceptional — good views, fast boats, chill paddling — would recommend!
Ended the day off with dinner in Queenstown.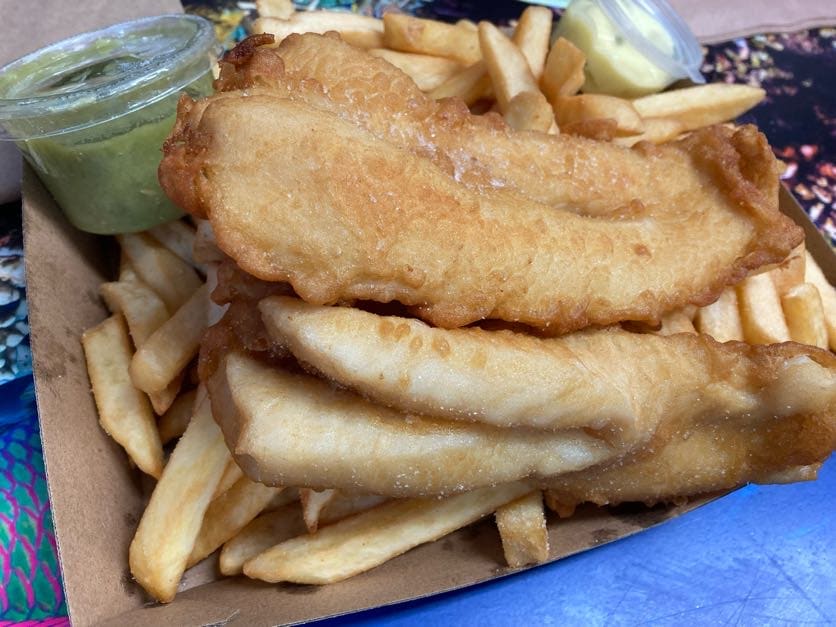 Day 4 - Wanaka + Rocky Peaks
Spent the morning exploring the holiday park. Super quaint and cute little place.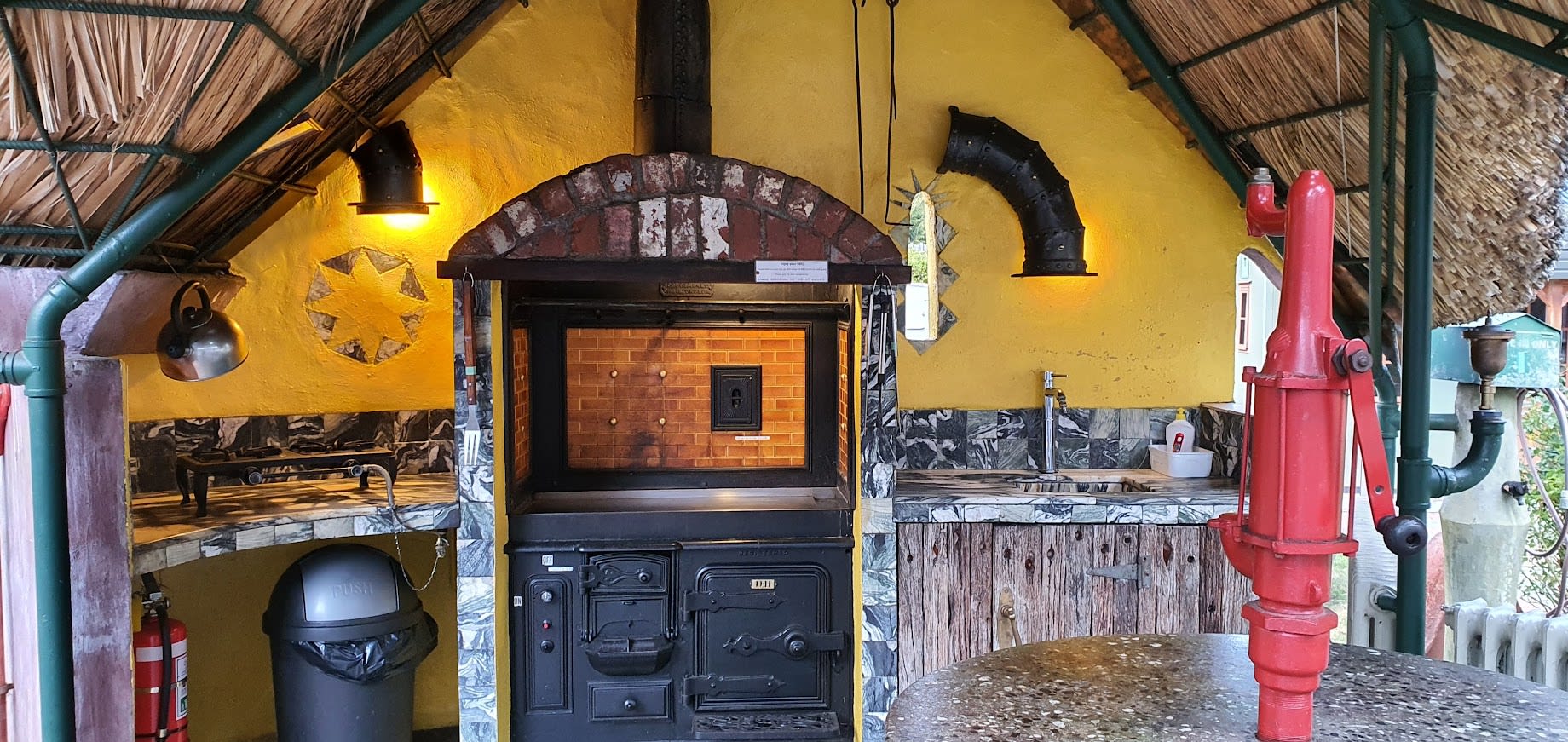 Alfresco BBQ area that was too cold to realistic use to cook so we ate indoors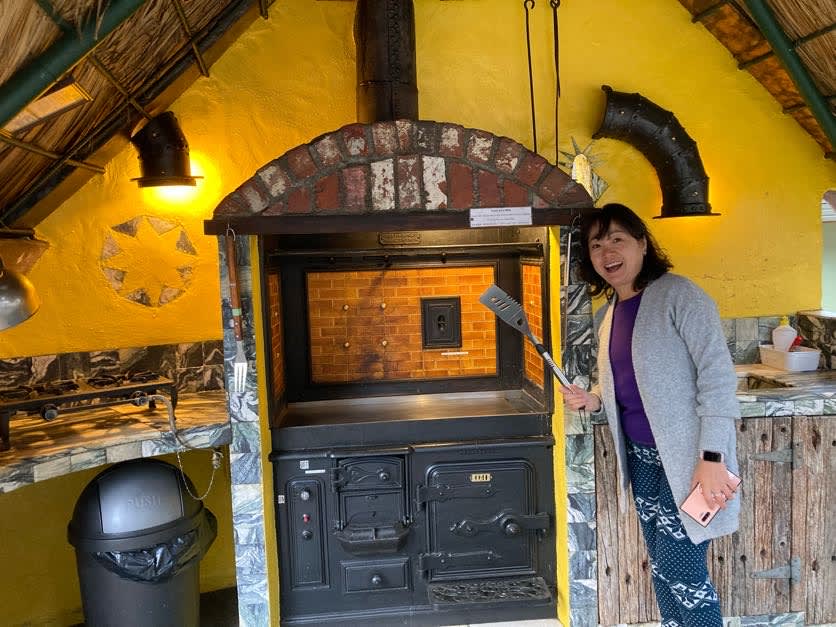 The Masterchef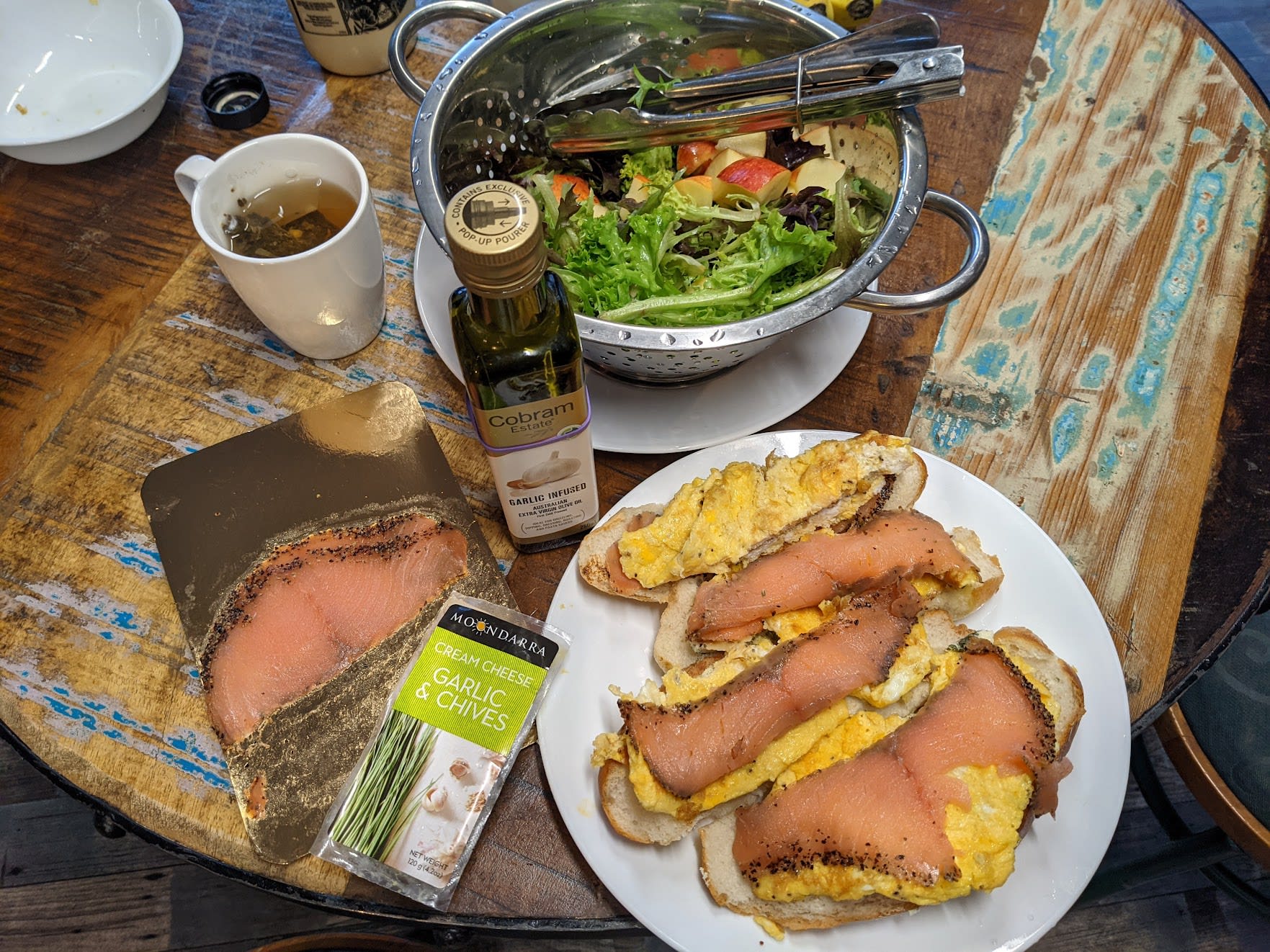 Light & healthy breakfast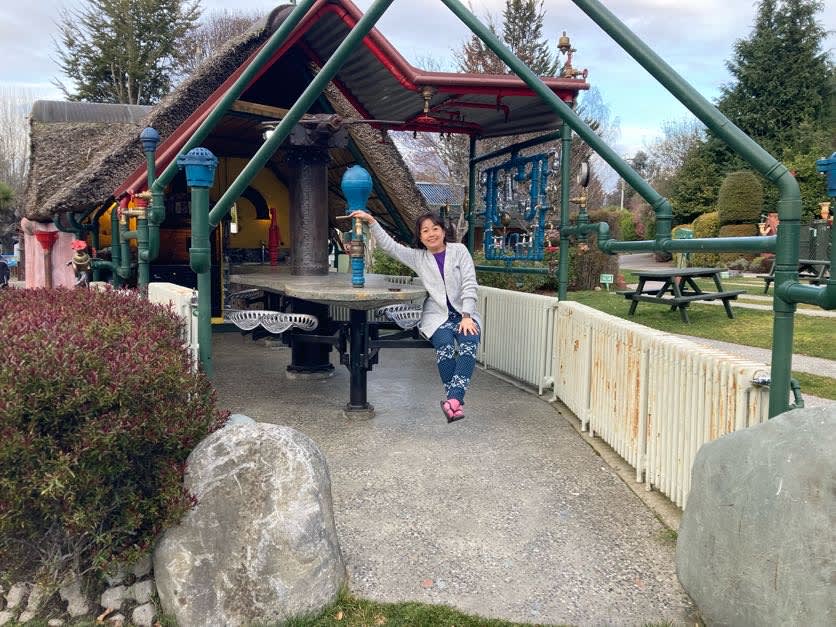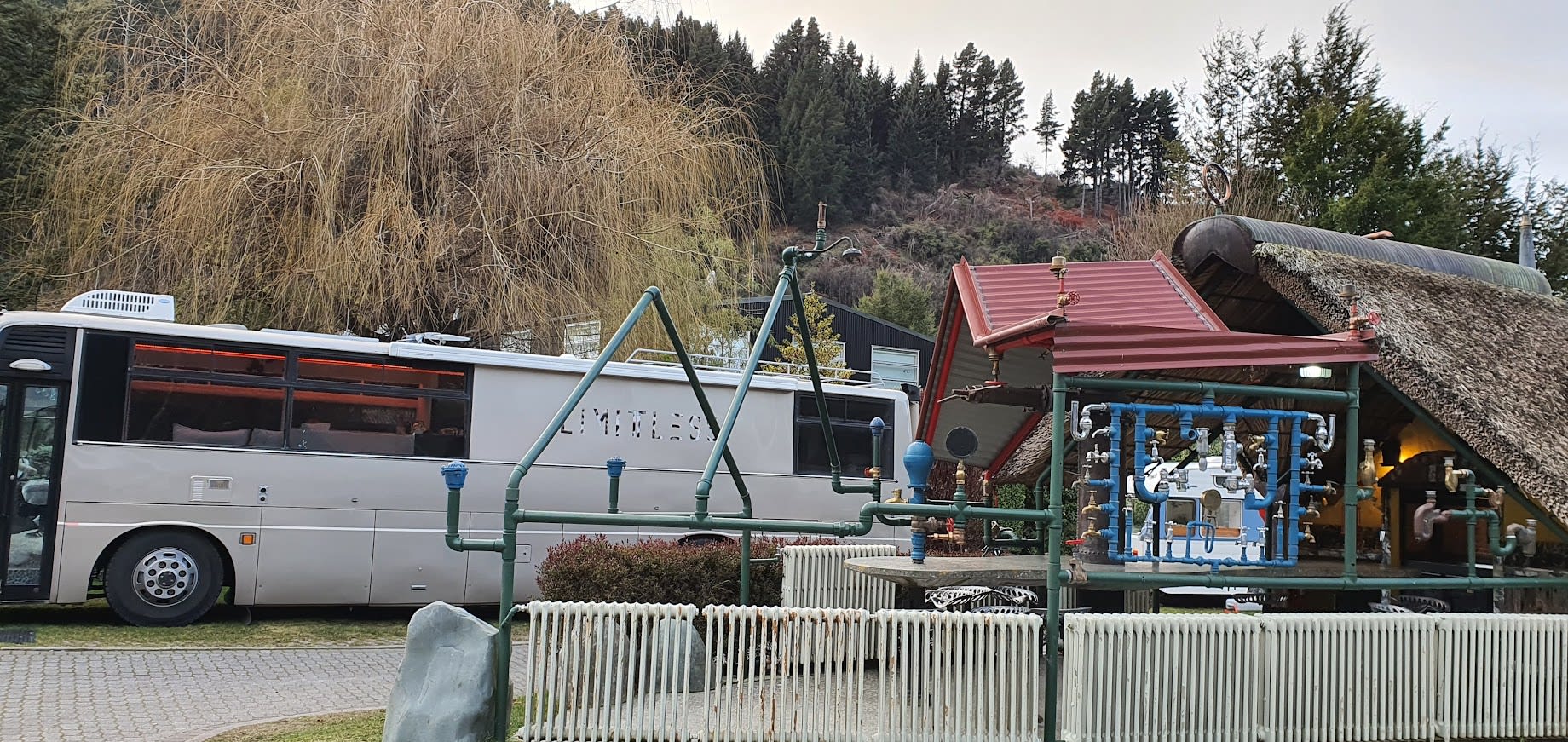 This motorhome was a refurbished bus — it was extravagant, filled with pillows, cushions, carpets & a friggin chandelier above the drivers' head. I don't think that's very practical...
Set off for Wanaka, stopping by Kawarau Suspension Bridge, where we saw people with bigger balls than us do bungee jumping. Maybe next time.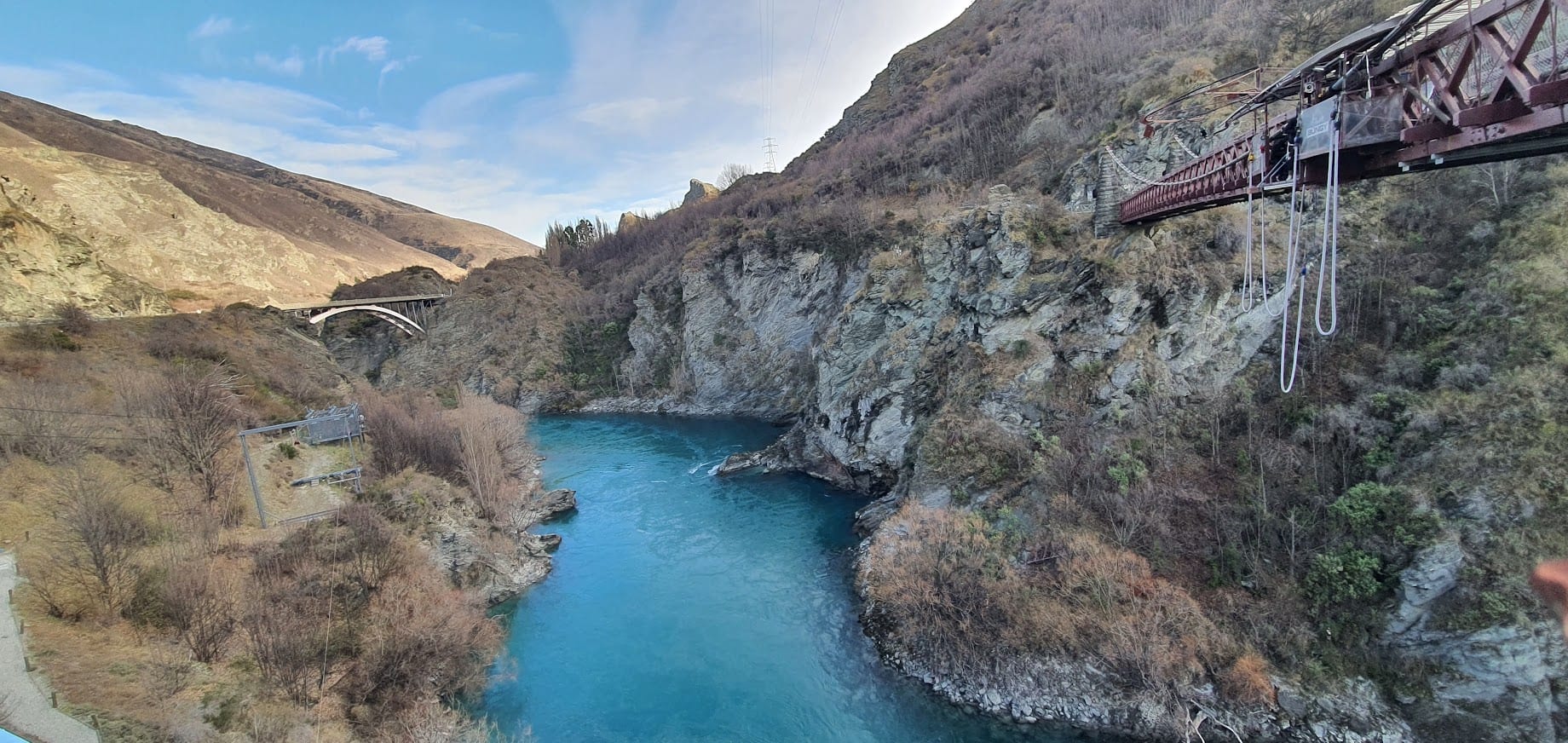 Rocky Peaks Trail
The highlight of the day was the Rocky Peaks trail in Wanaka. The most famous trail in Wanaka was the Roy's Peak trail, but that was much longer, and was a whole-day activity that required significant time investment. So we settled on this trek instead, which was supposed to be 8km in total and would take around 3hours. Boy were these underestimates.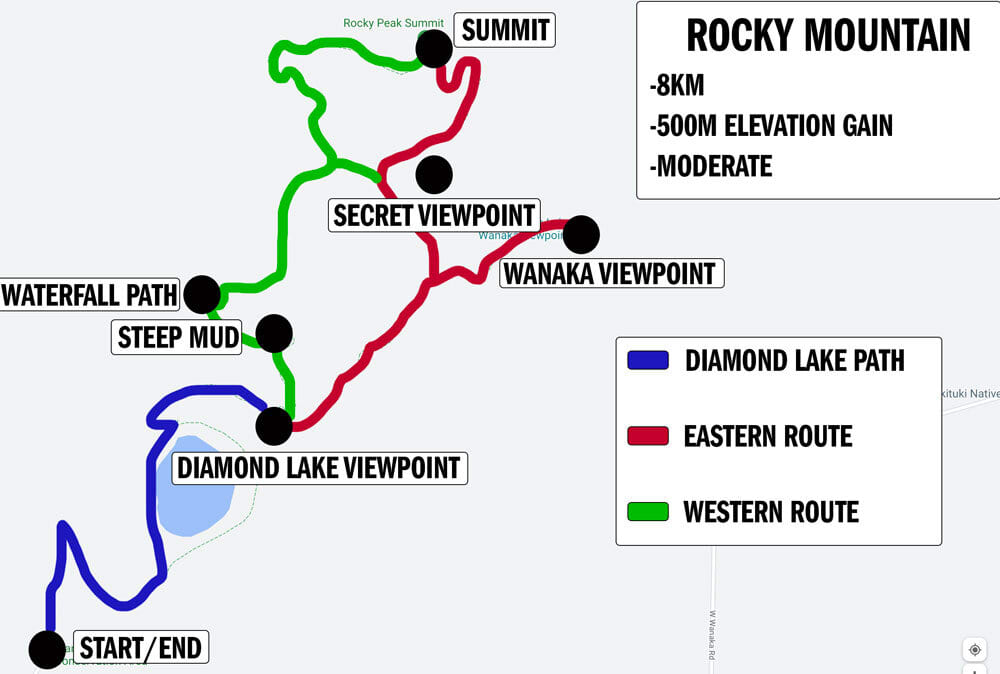 We took the Western trail up but only made it up about 40% before heading back down and towards the Eastern trail for the Lake Wanaka lookout.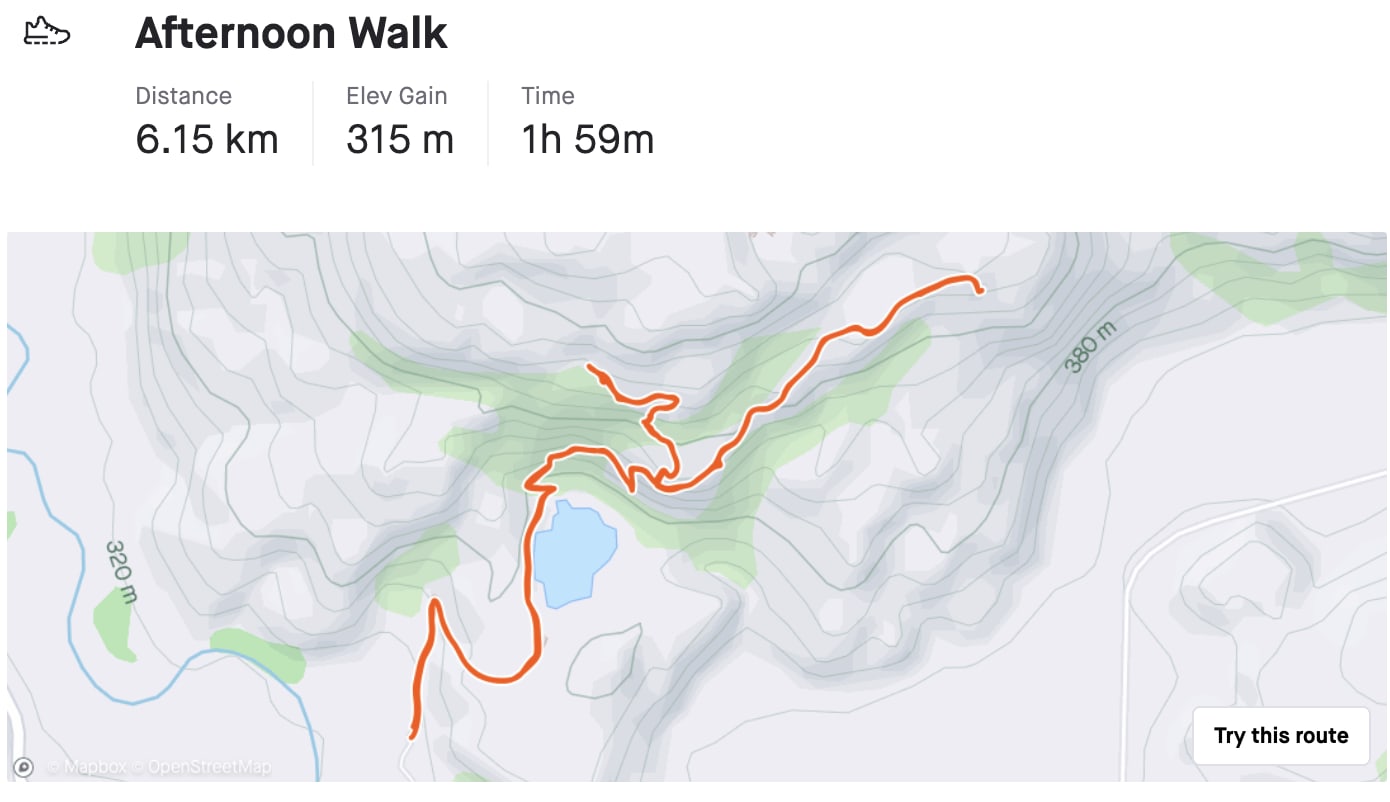 It had rained the night before, and trek was steep, challenging and extremely slippery. In the end, we couldn't reach the peak and called it quits halfway as we were afraid of nightfall. Did make for good photos, though.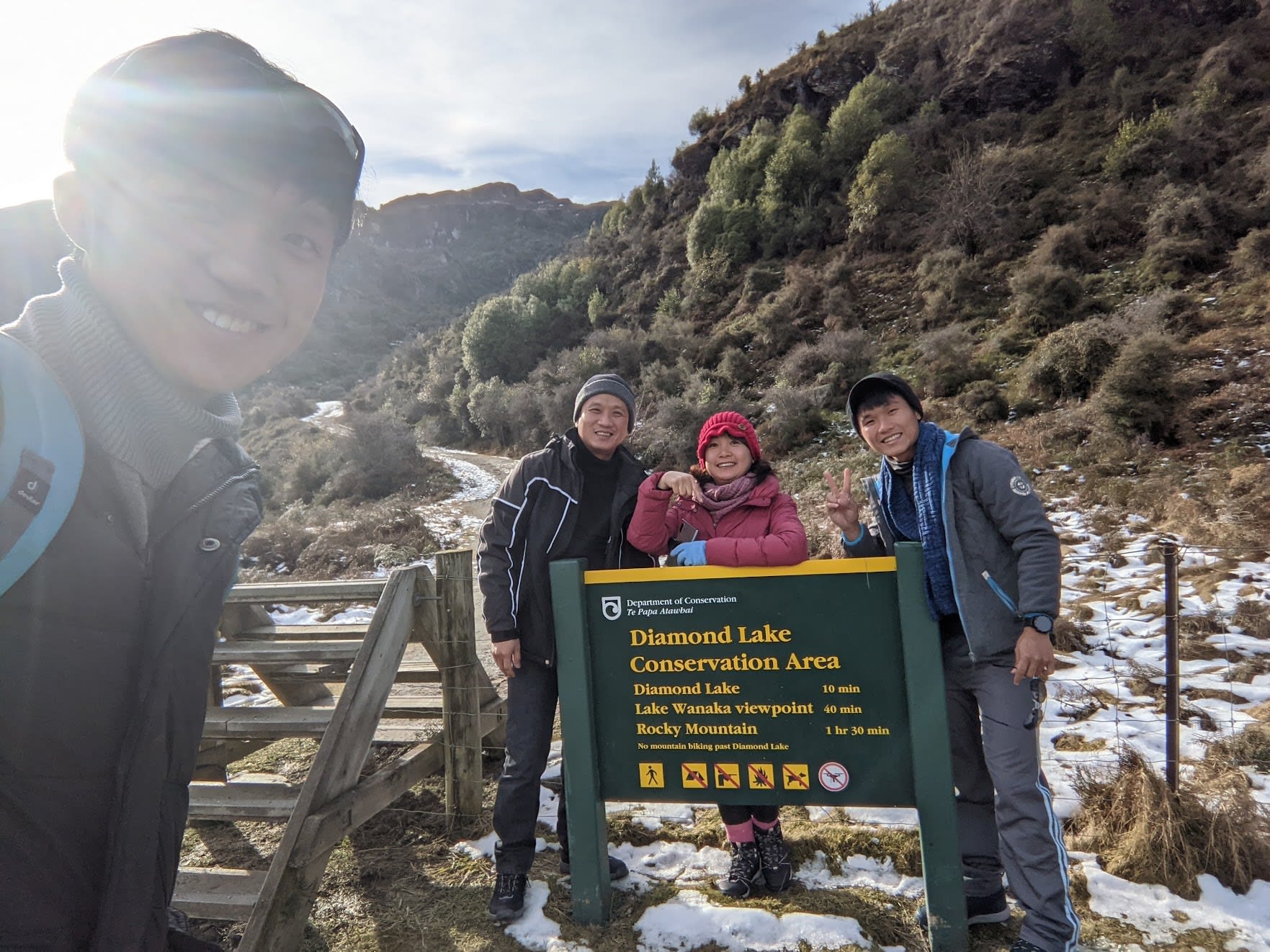 Start of the hike! The time estimates were... a little bit optimistic...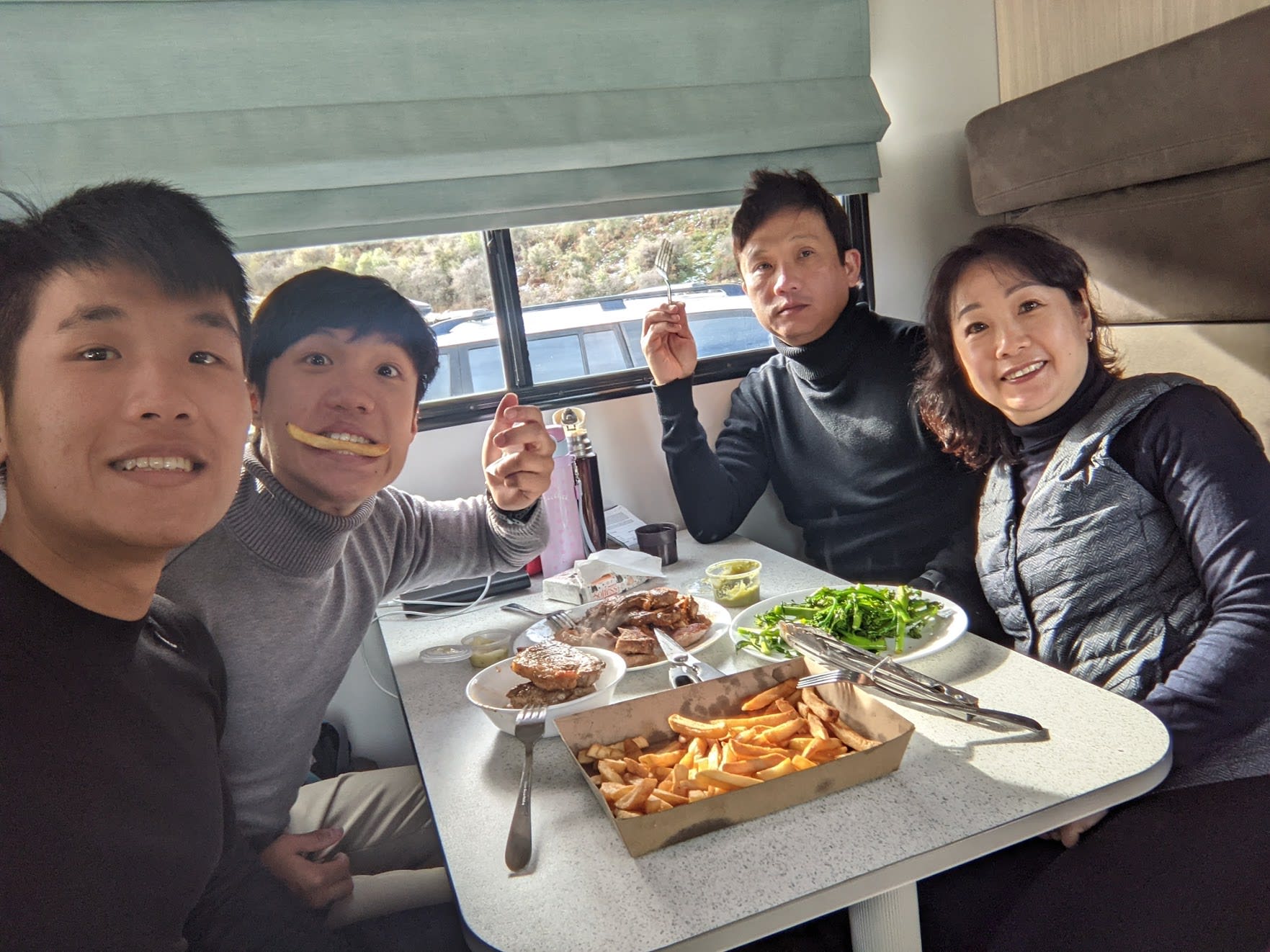 Quick fuel up before starting the hike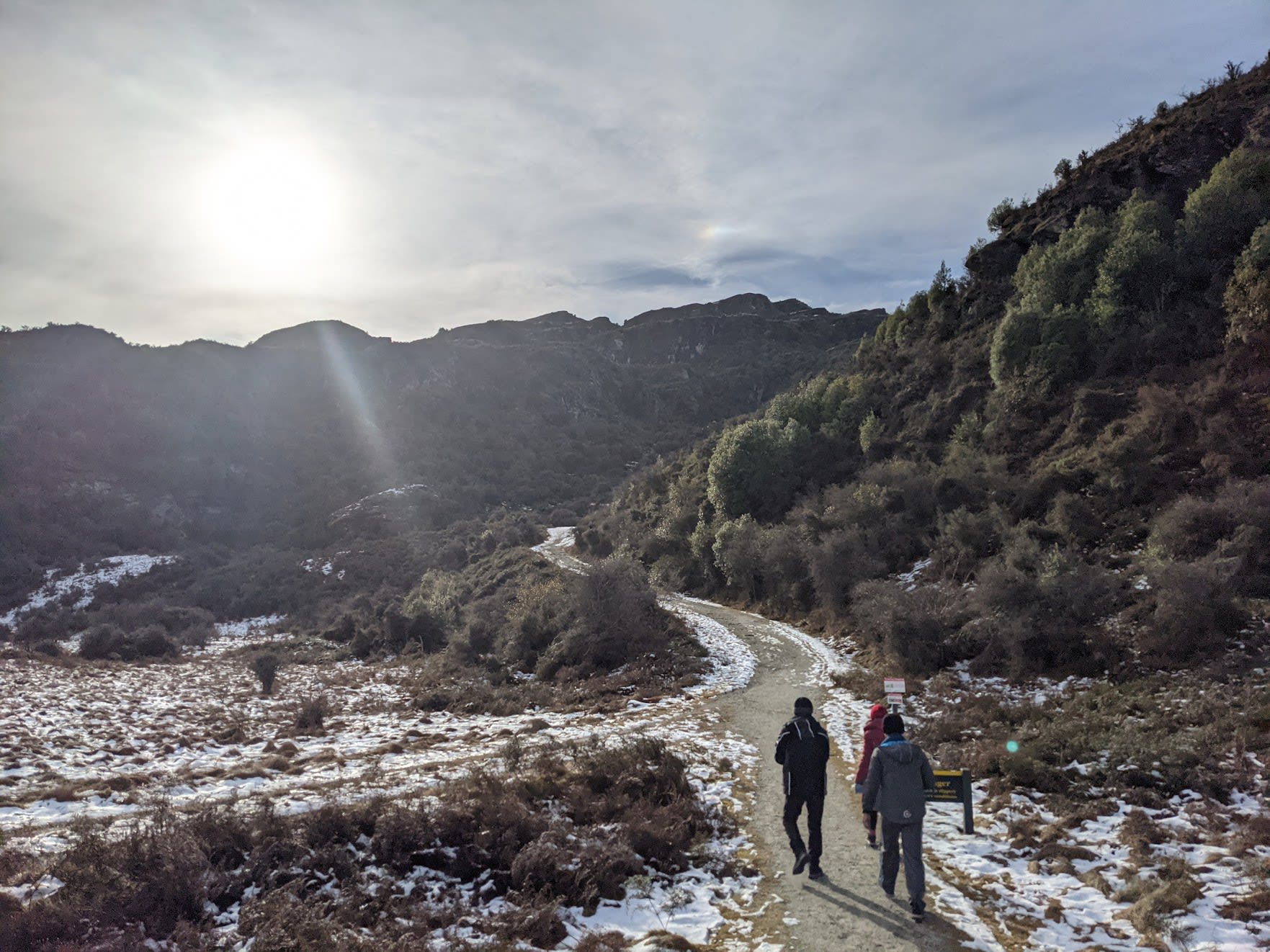 Nice weather and easy going at first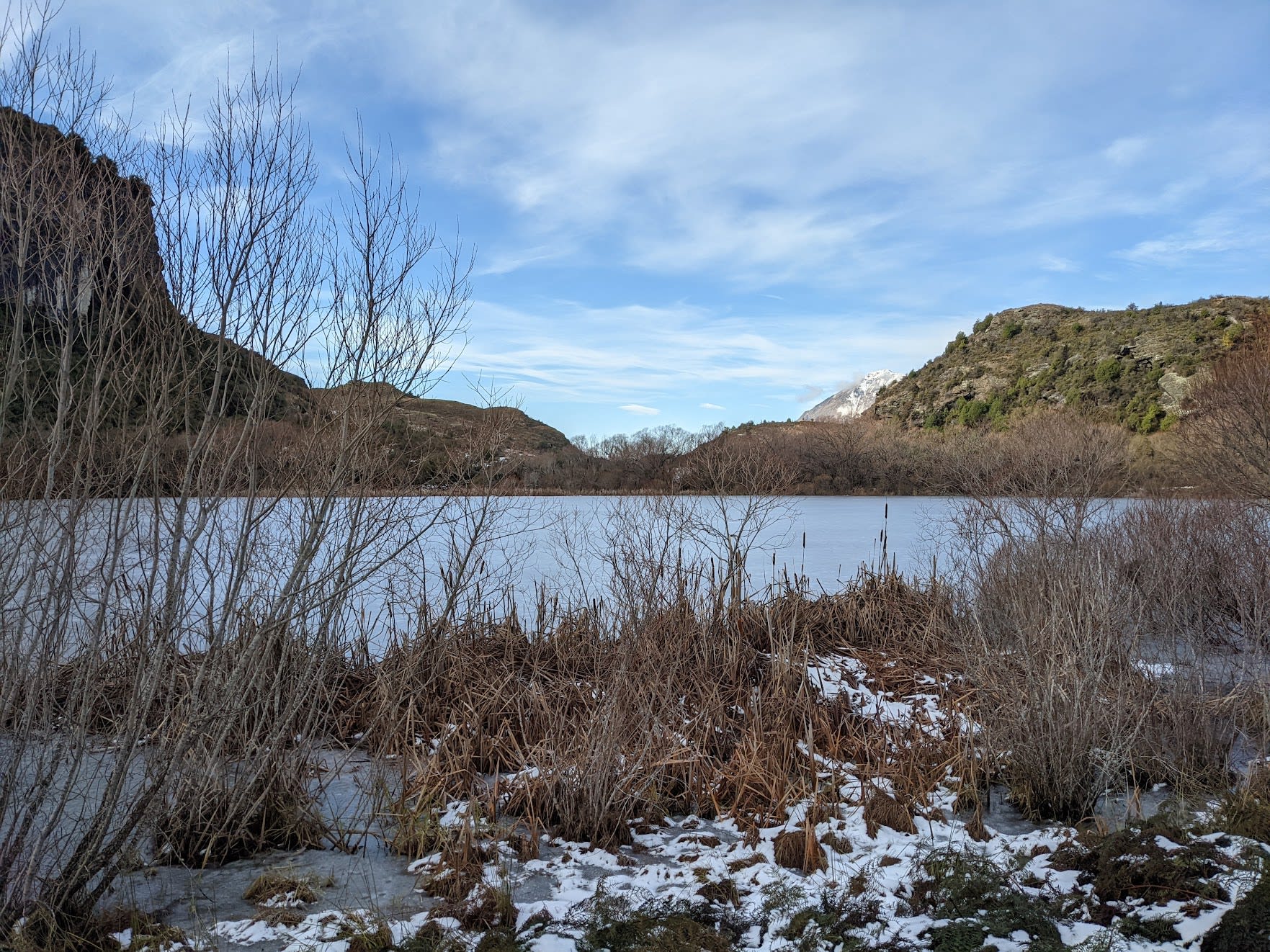 Diamond Lake! Frozen up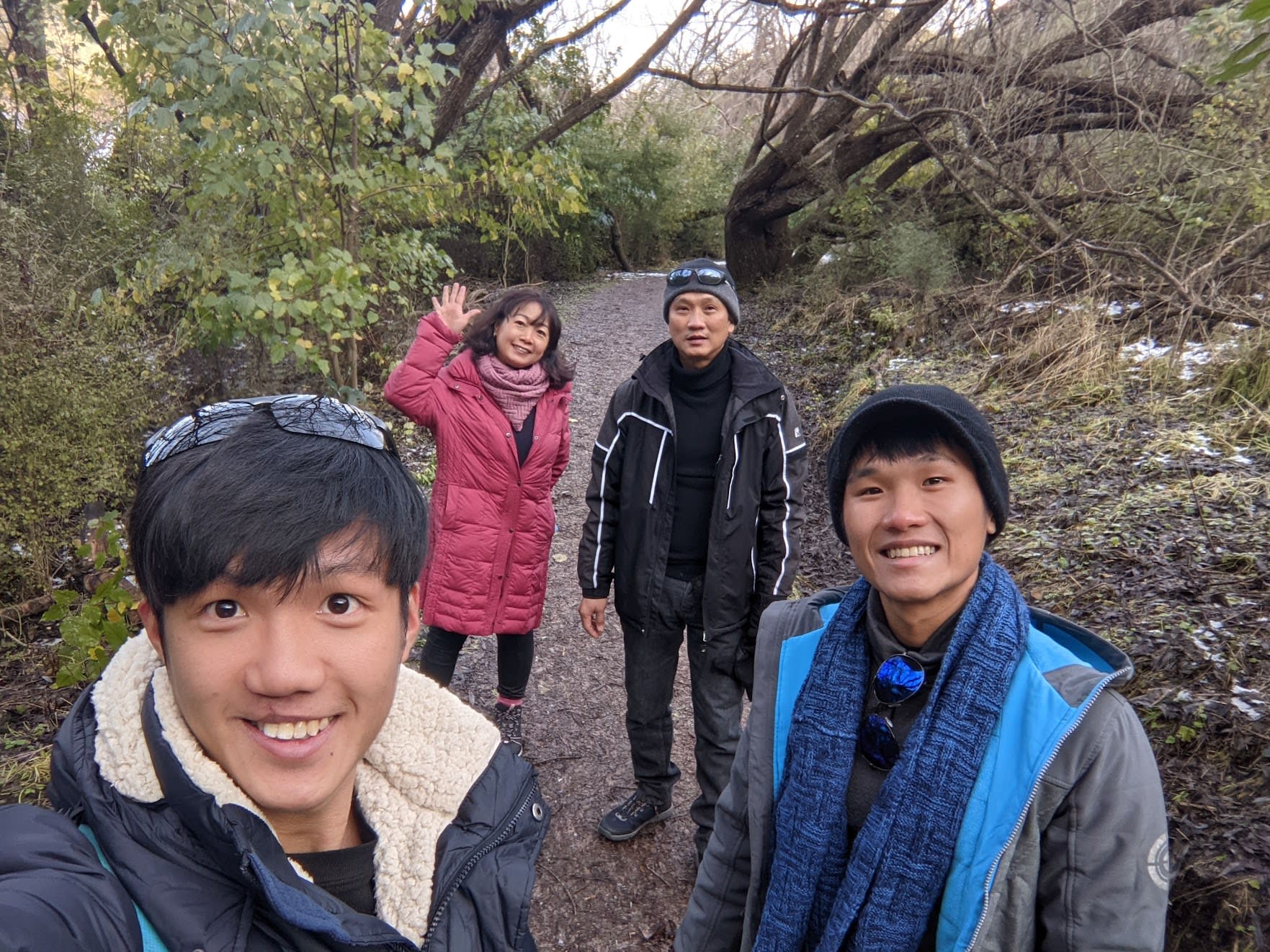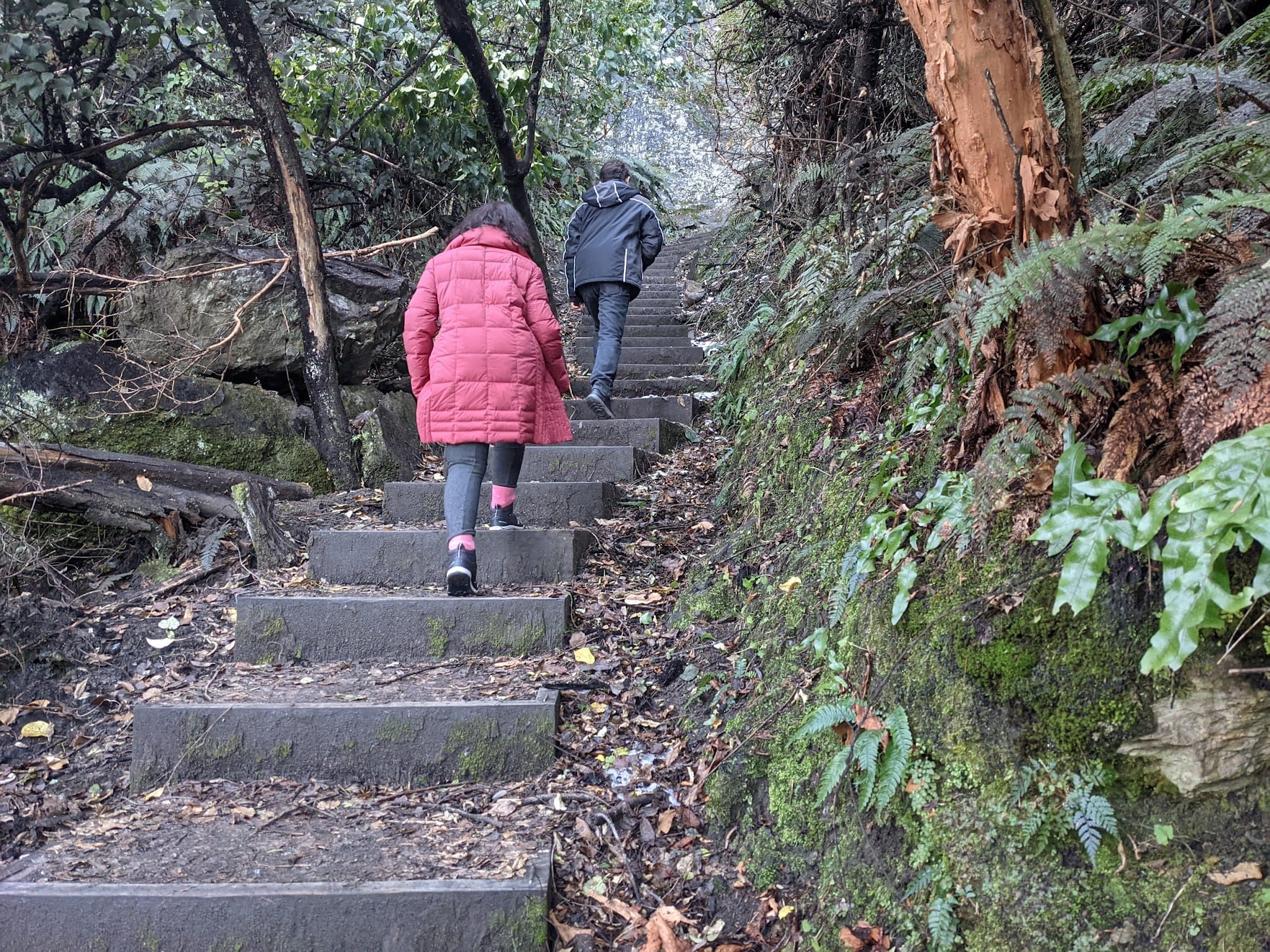 Uh oh... stairs...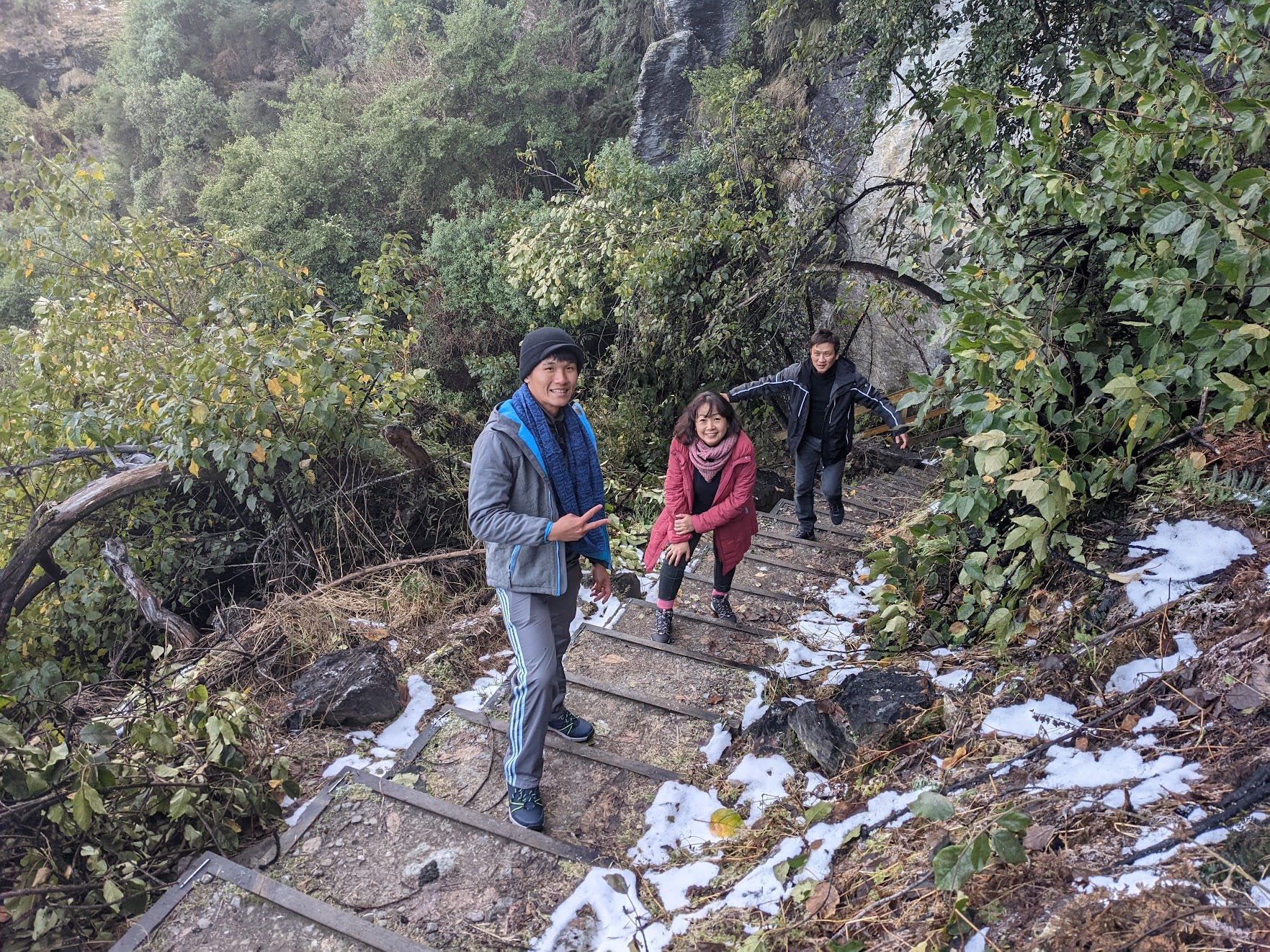 Still all smiles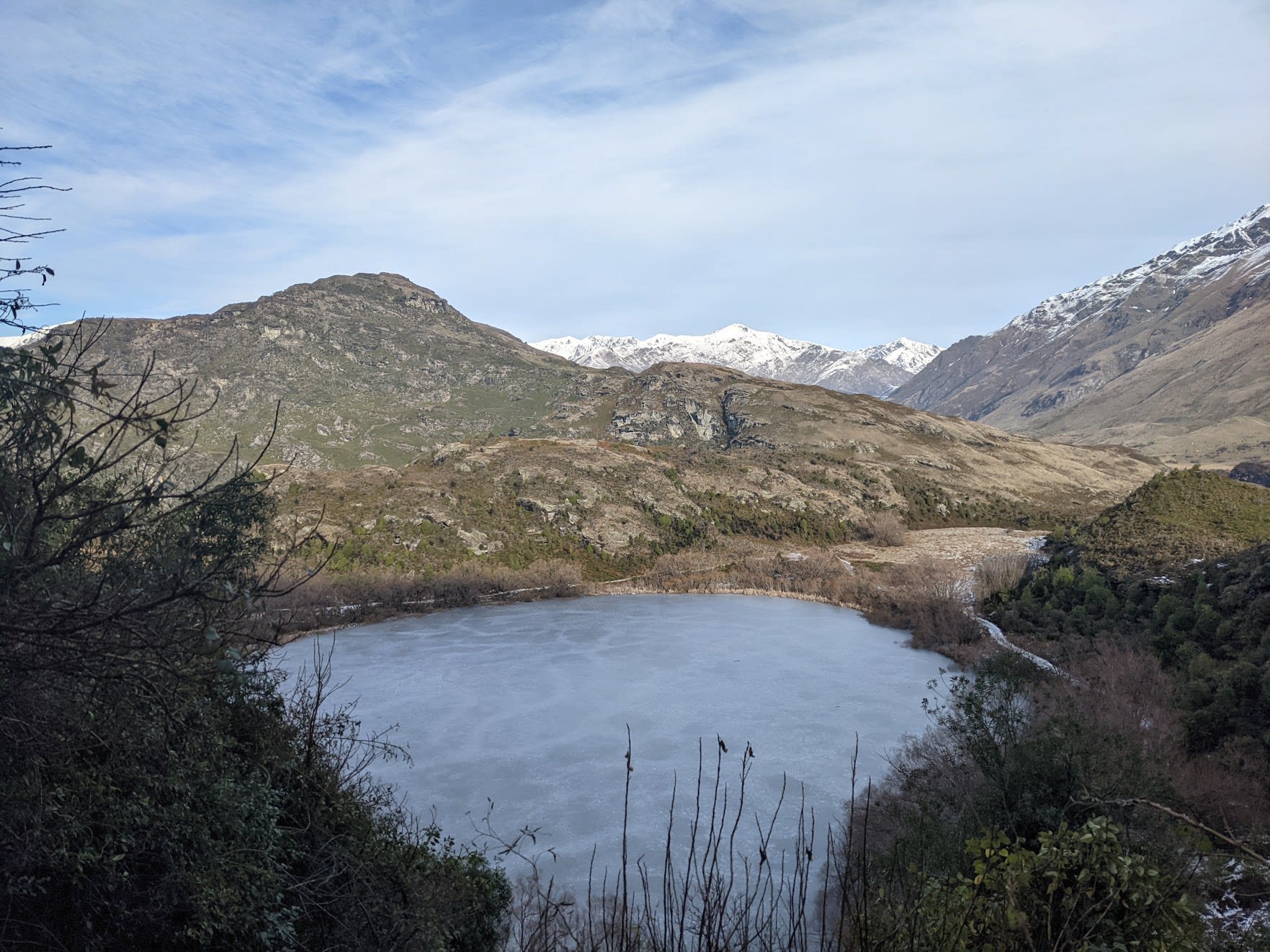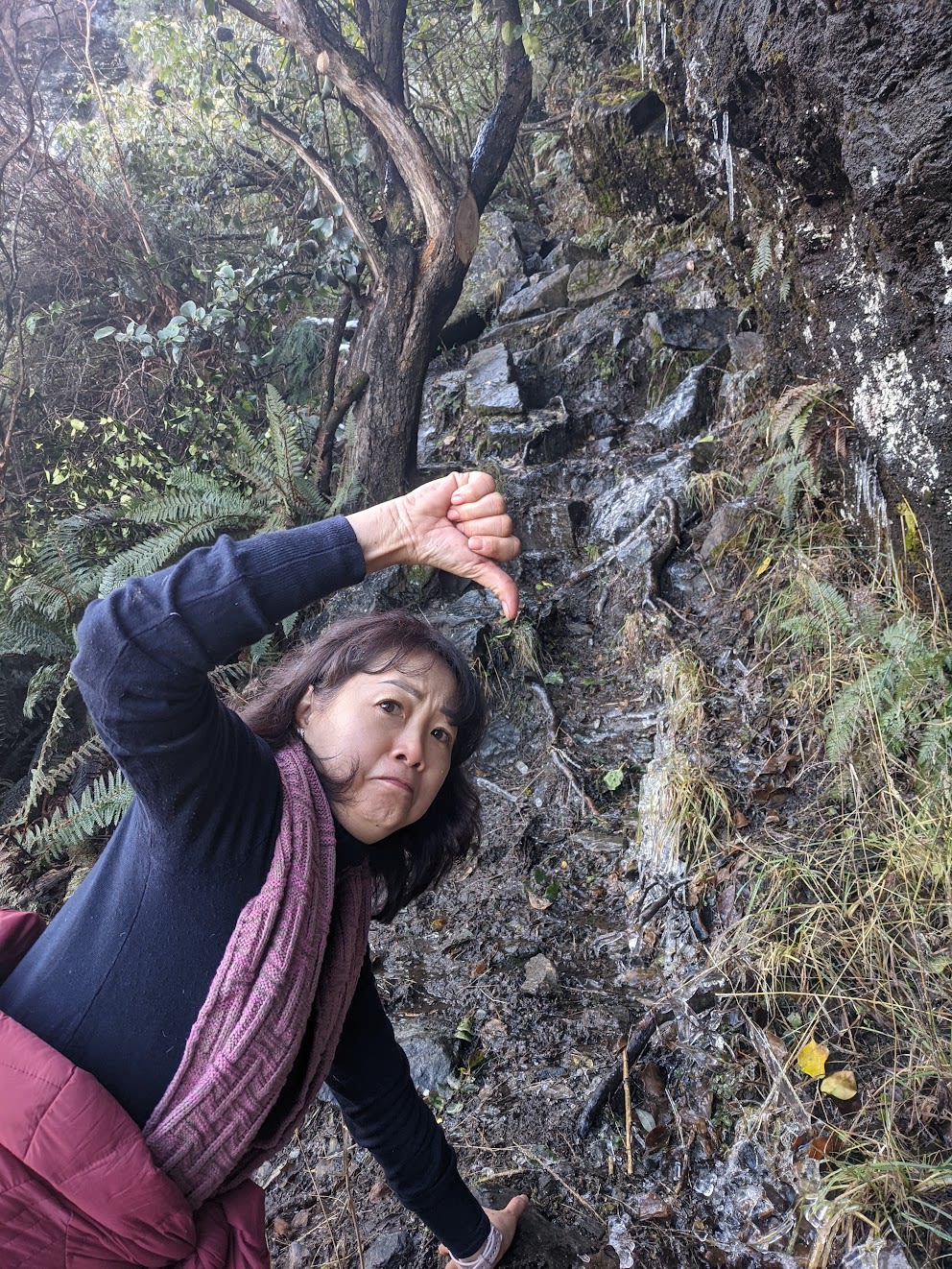 Where we turned back. I'll come back next time and finish what we started.
The Eastern hike up to the lookout point was decidedly nicer. We set off with the goal of reaching Lake Wanaka Lookout.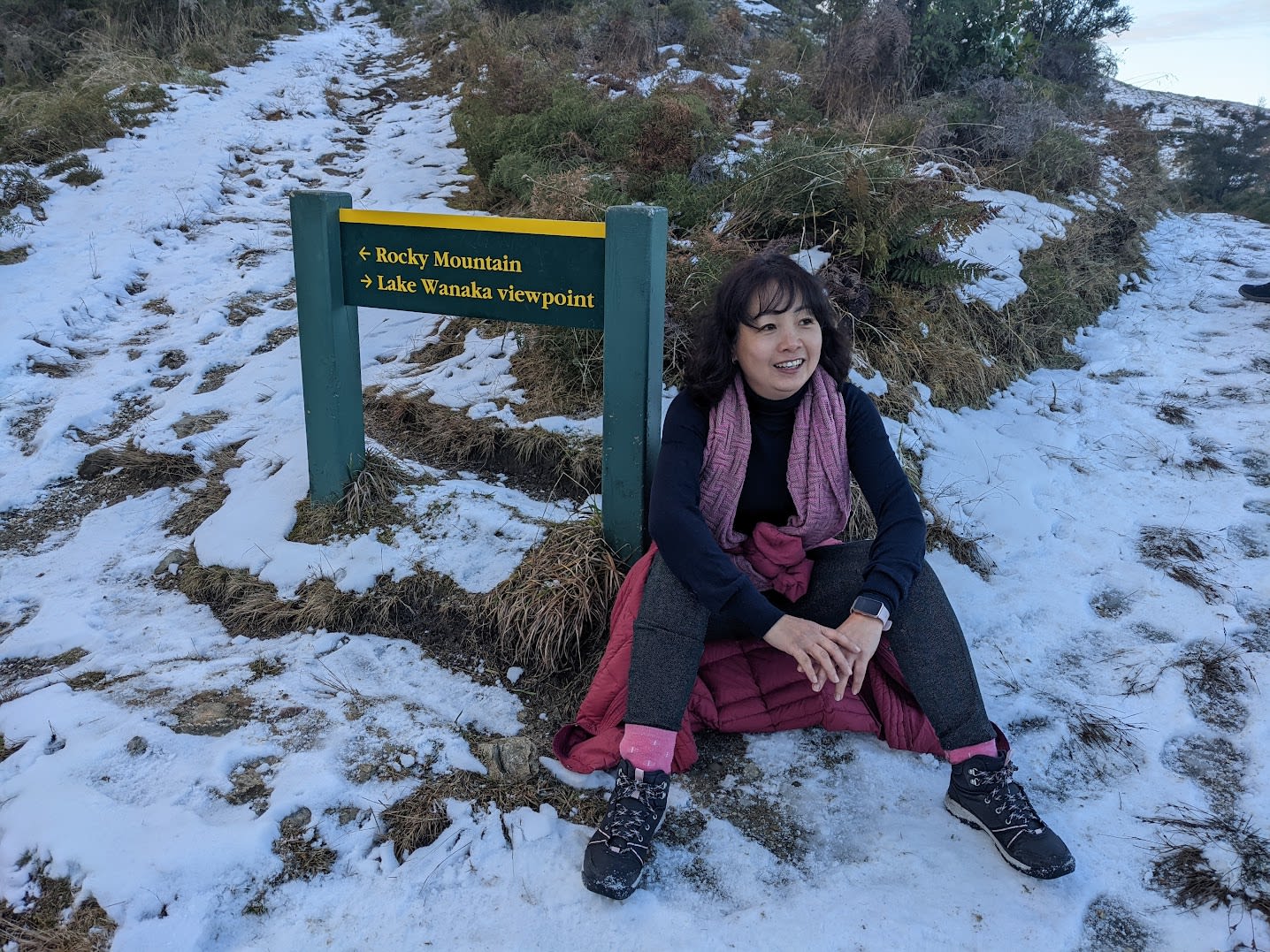 Back at the fork — this time we went up the right path to reach Lake Wanaka Viewpoint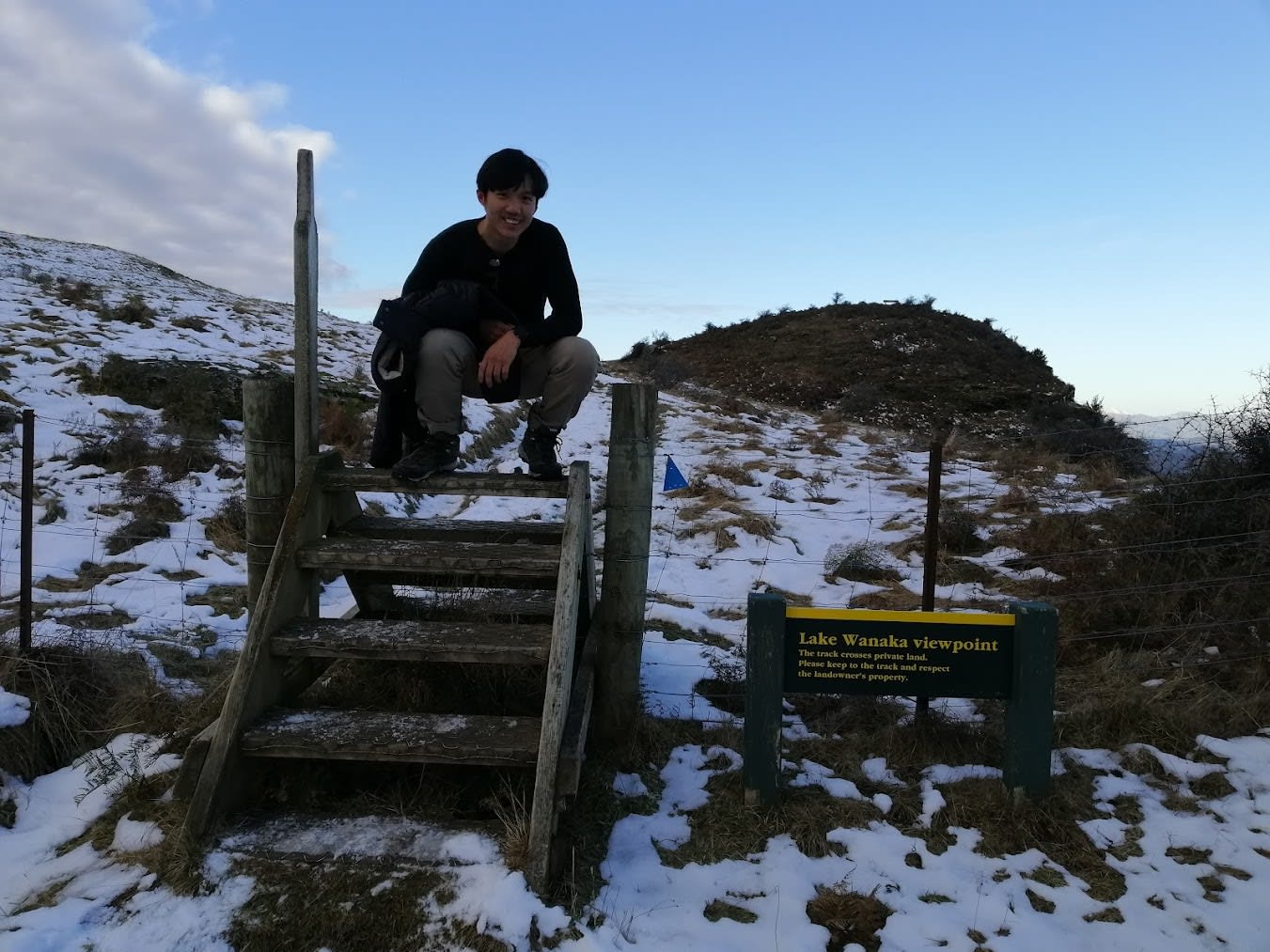 Reached! This part wasn't too bad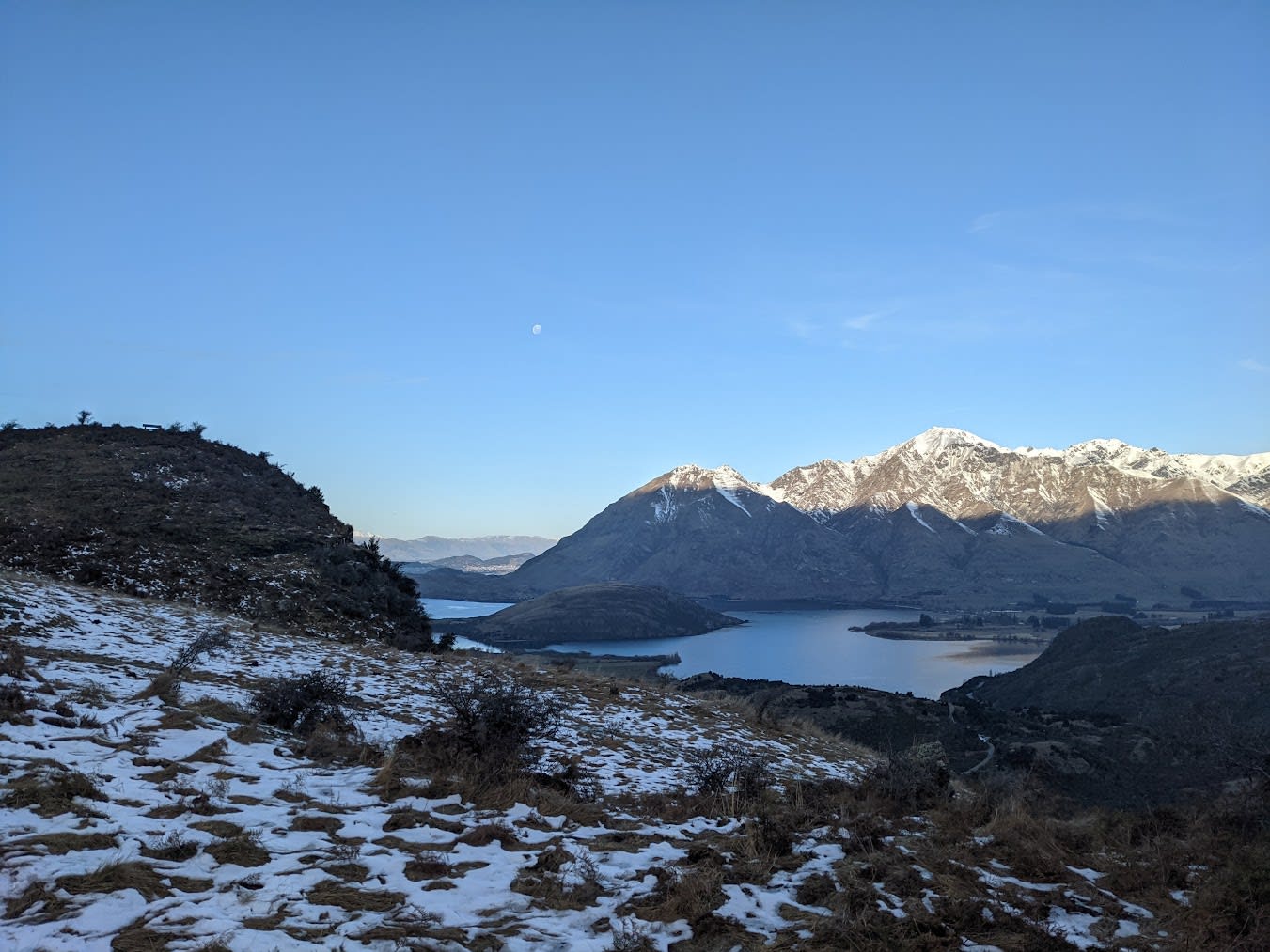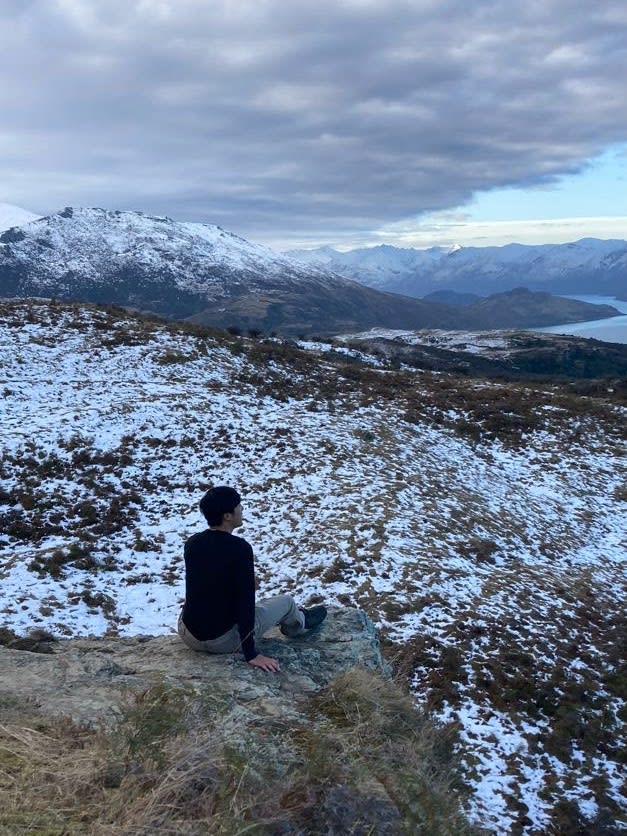 Didn't quite have that edge-of-the-world feeling but views were nice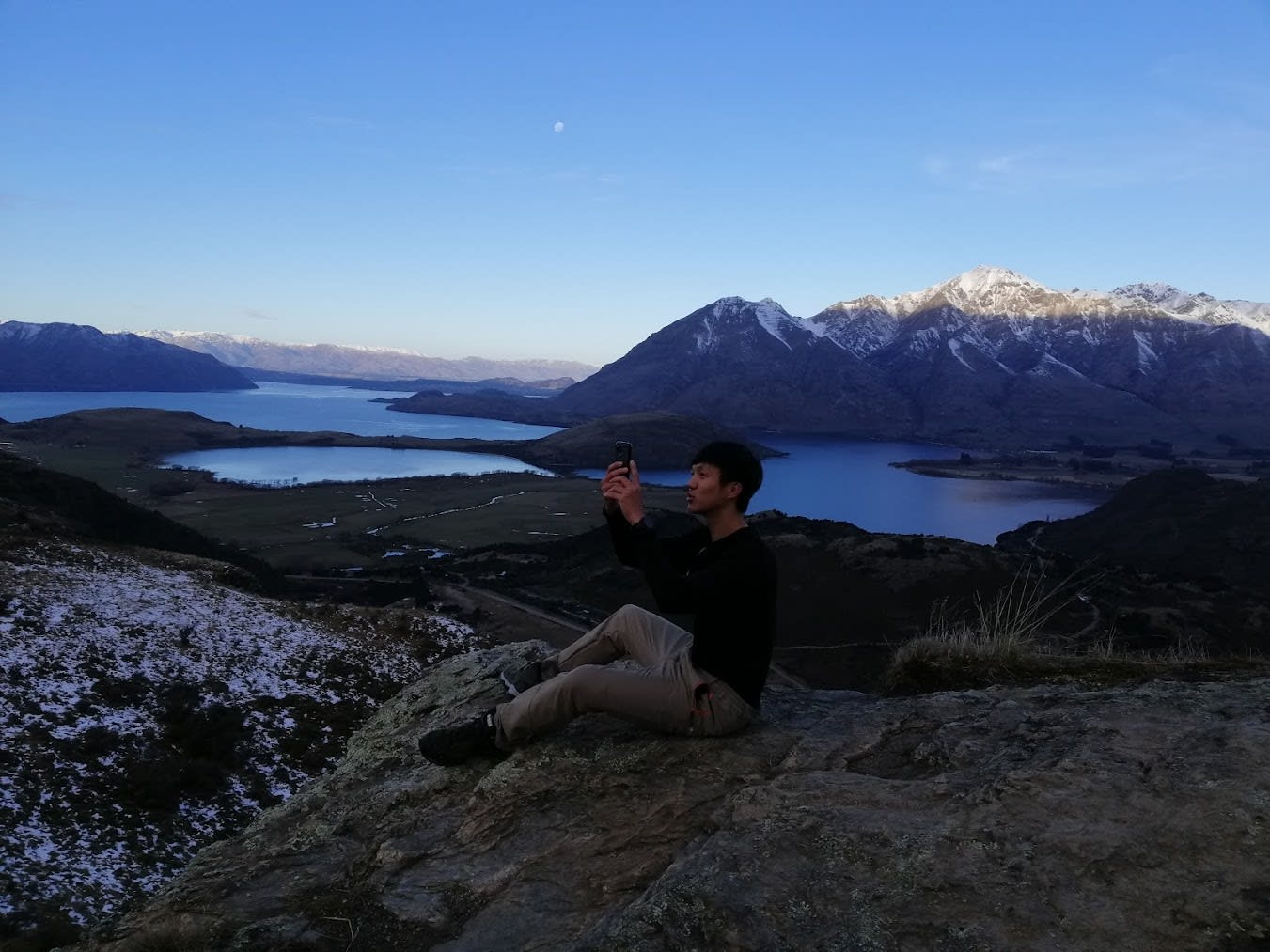 A photo of a photo

Smiles cause we're going back down after this!
Back down safe & sound, we headed back to Wanaka and looked for something to eat, which was harder than we expected. The good restaurants were either criminally expensive or completely out of seats.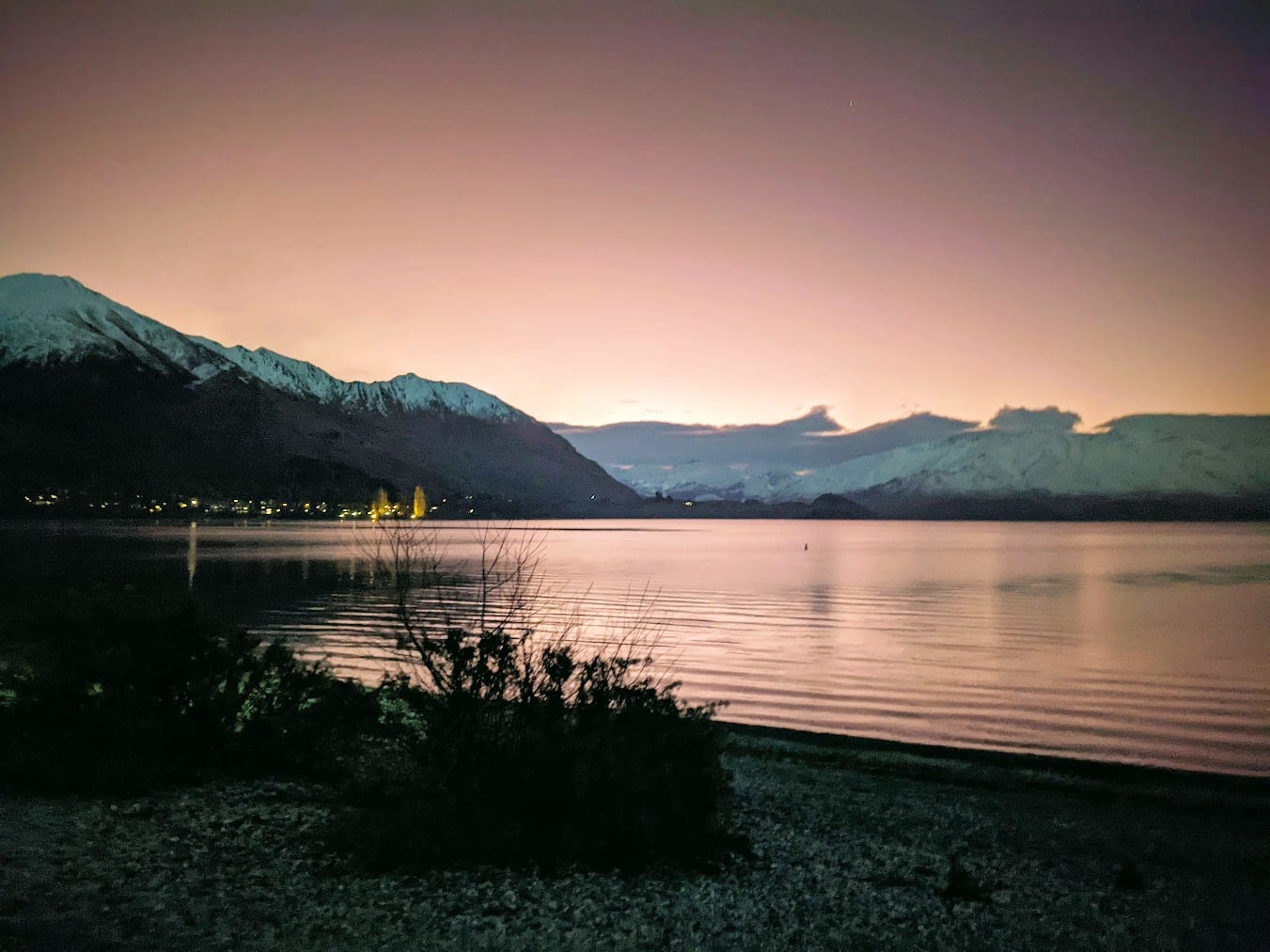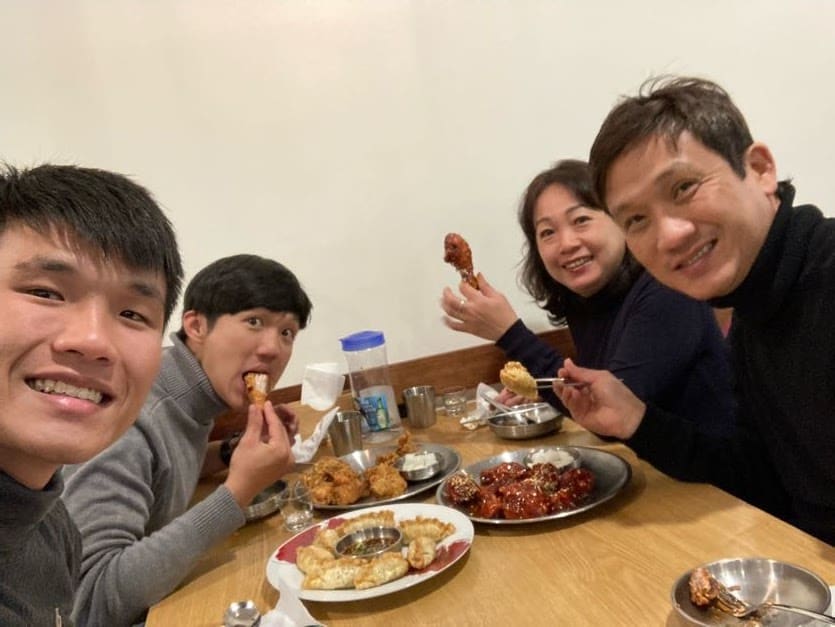 Day 5 - Chill kinda day
Day 5 was a relaxed, unplanned kinda day, letting ourselves recover from yesterday's trek before we headed up North. We thought about leaving early and driving up, but the snow had caused some roads to close and we decided not to risk it.
Started the day off at Glendhu Bay Track, to see Lake Wanaka in the day and of course, the famous #ThatWanakaTree.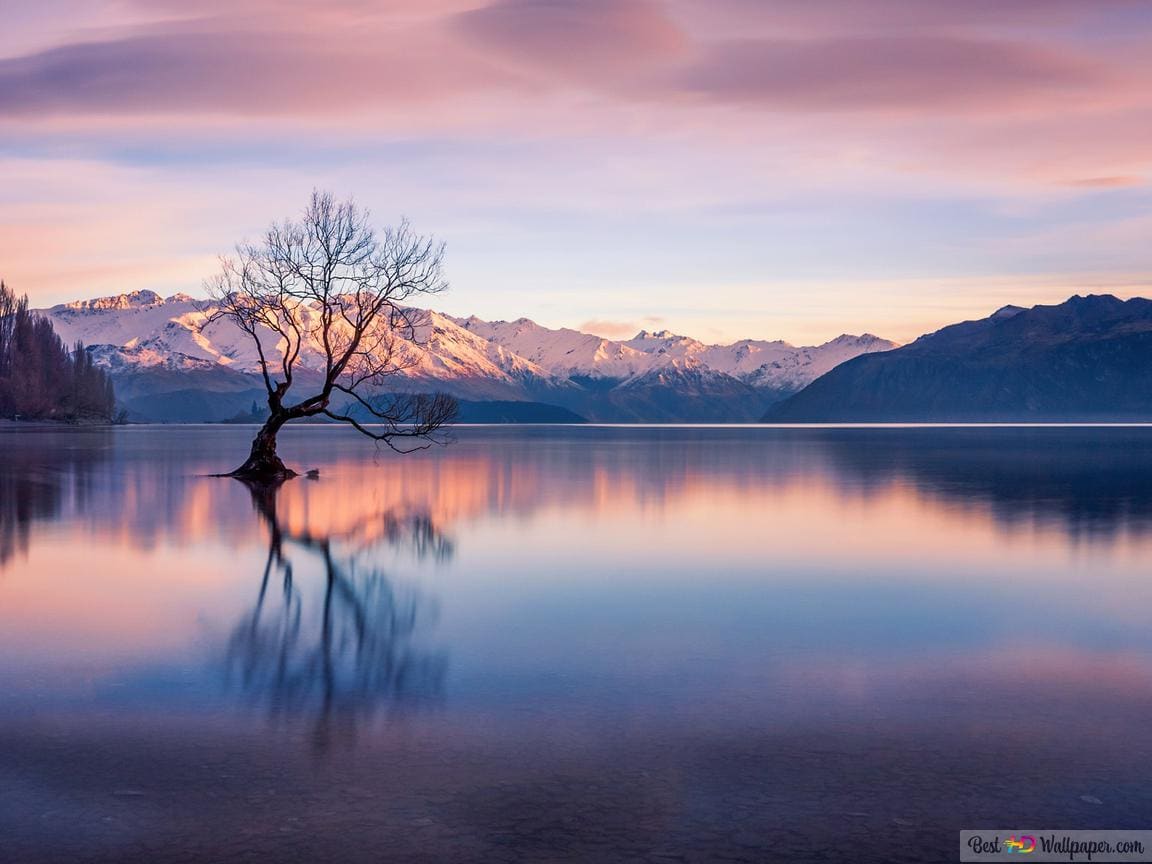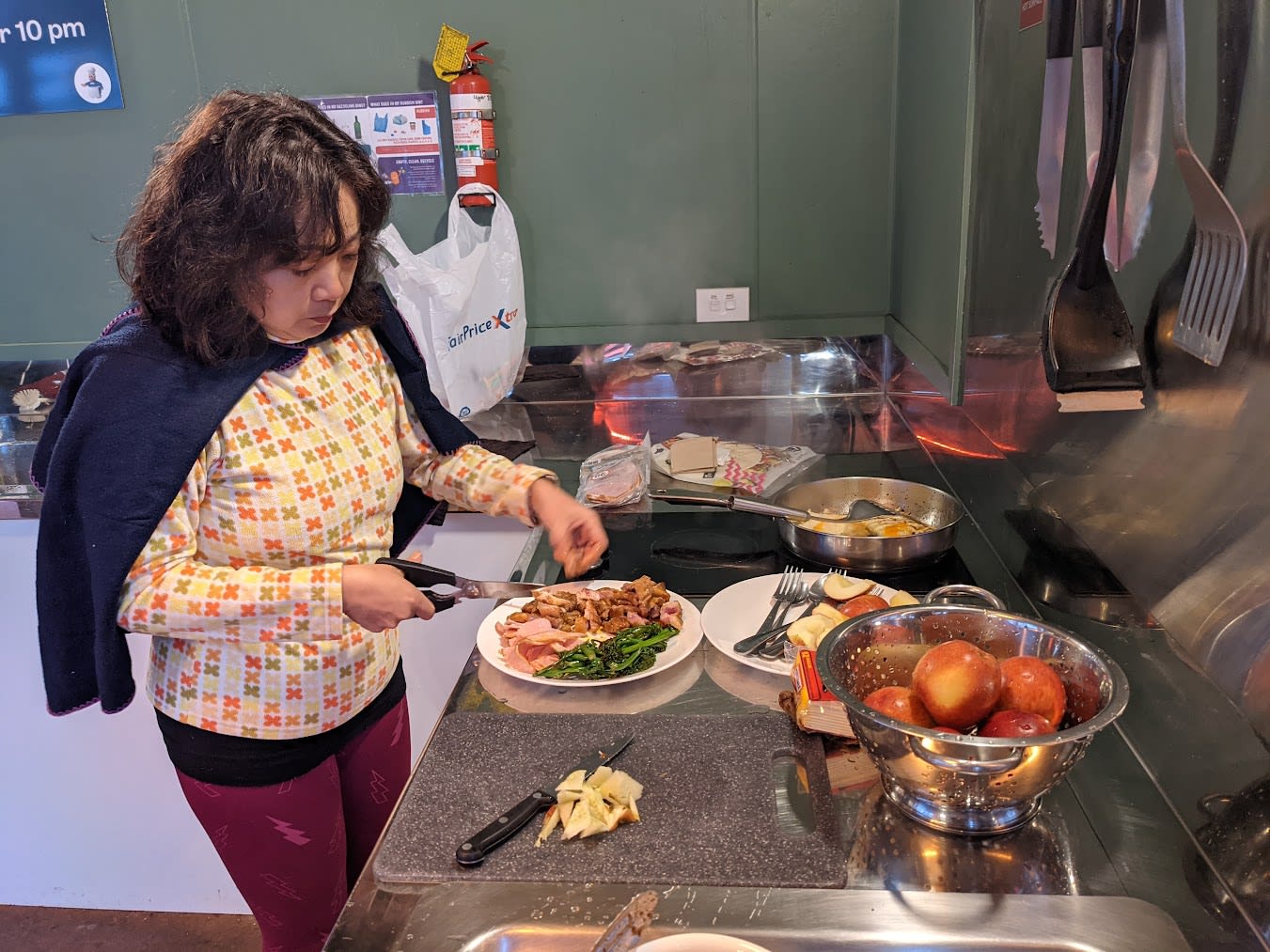 Breakfast at the holiday park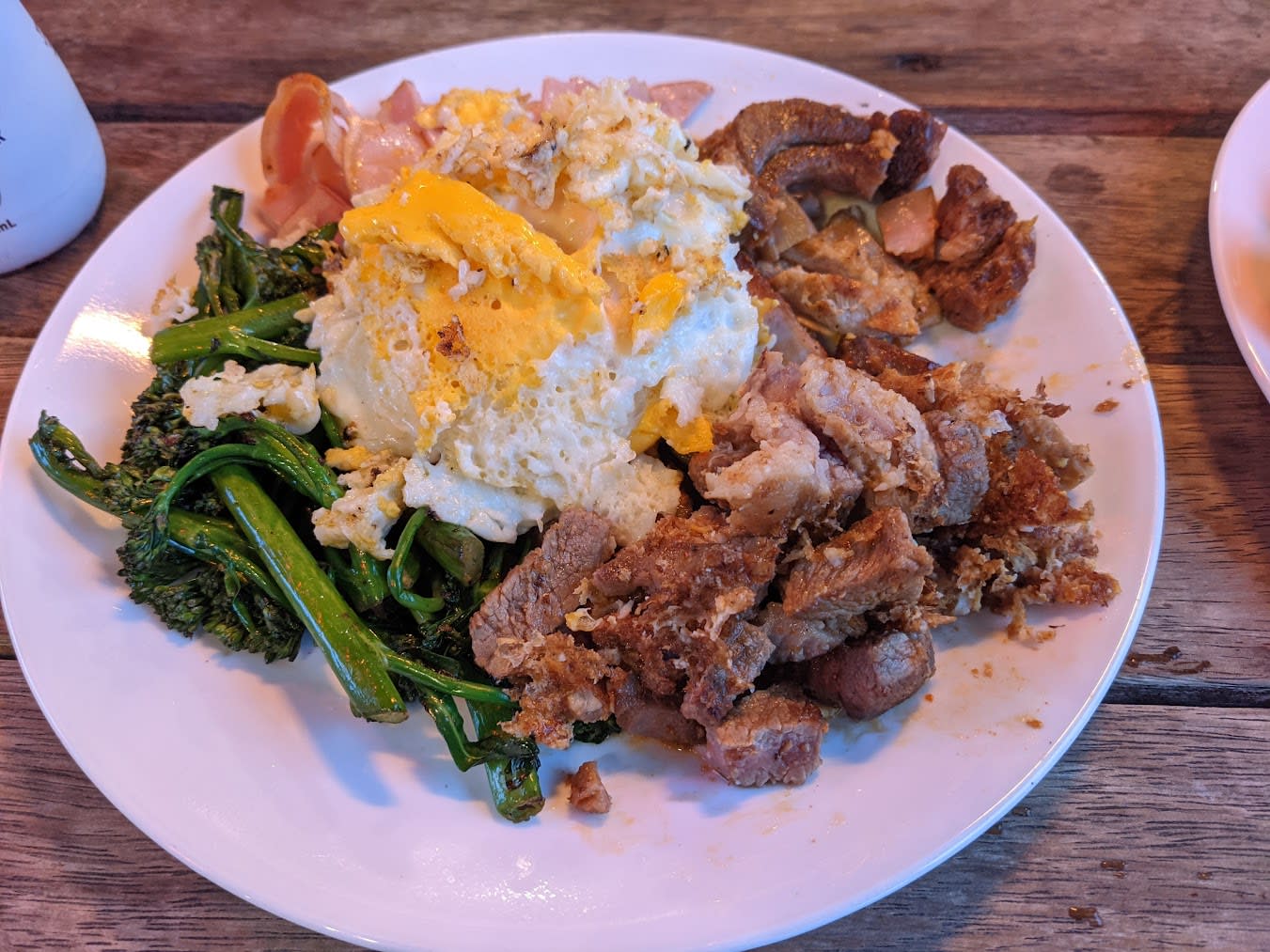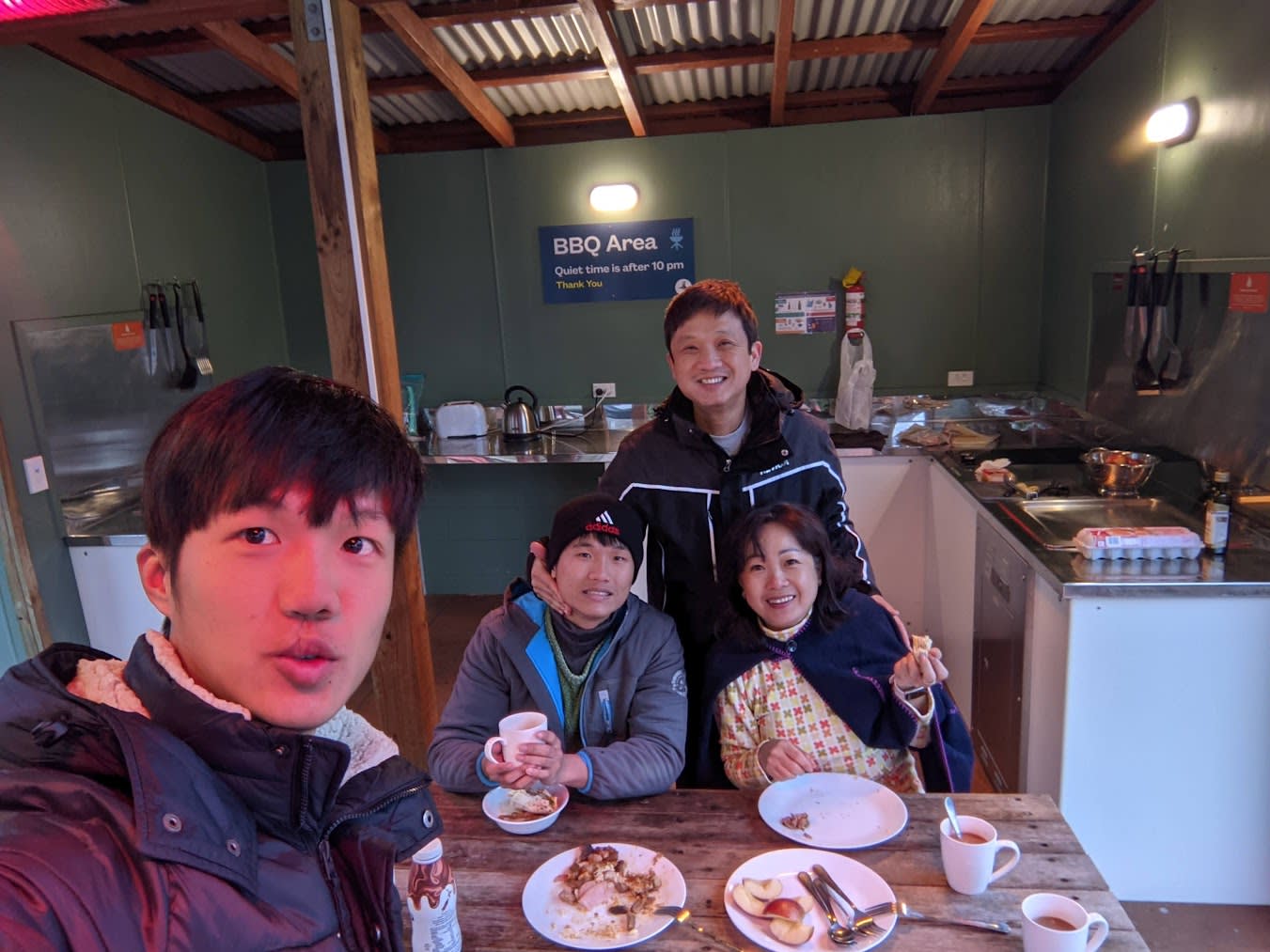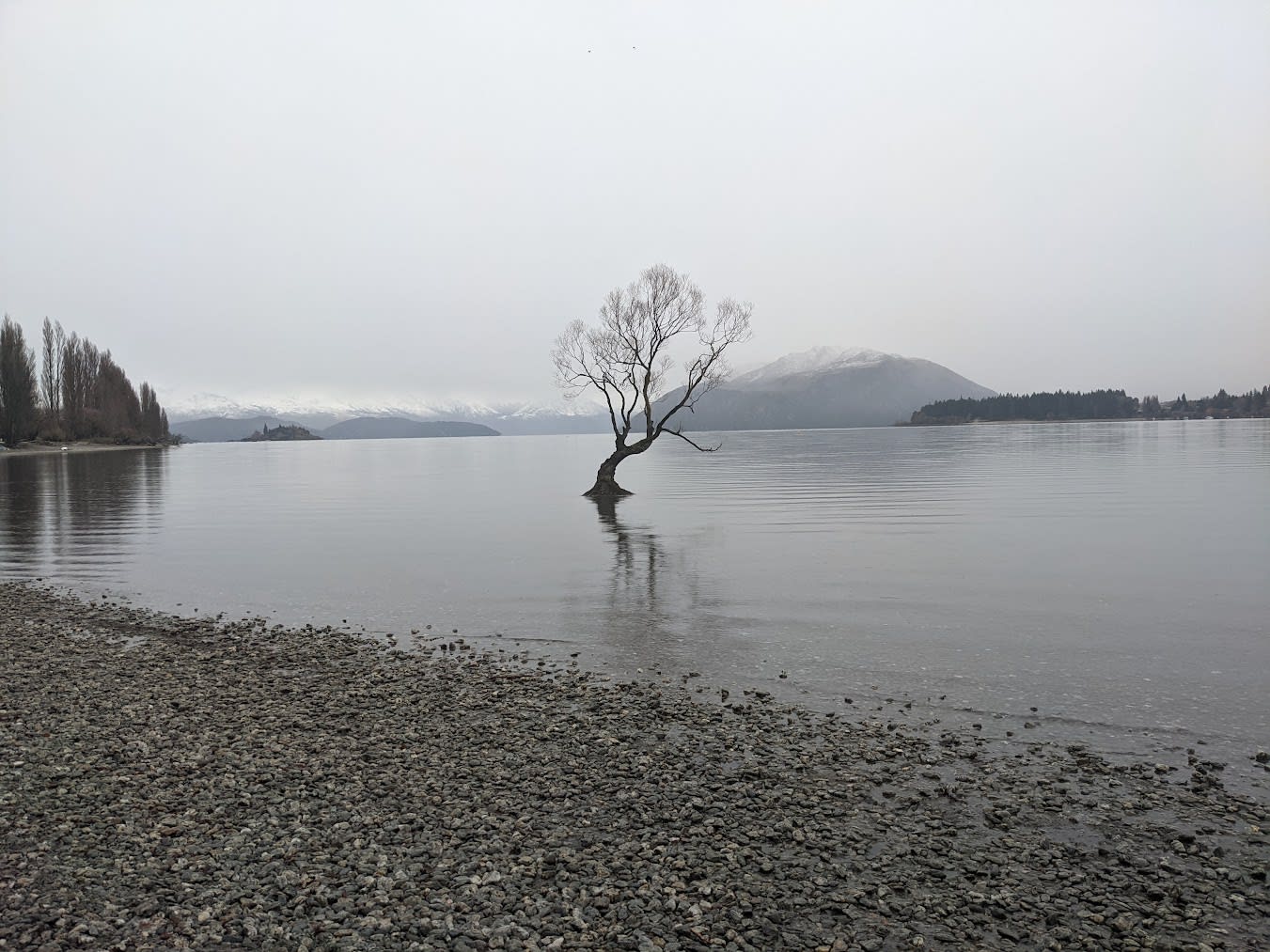 Looked better online ngl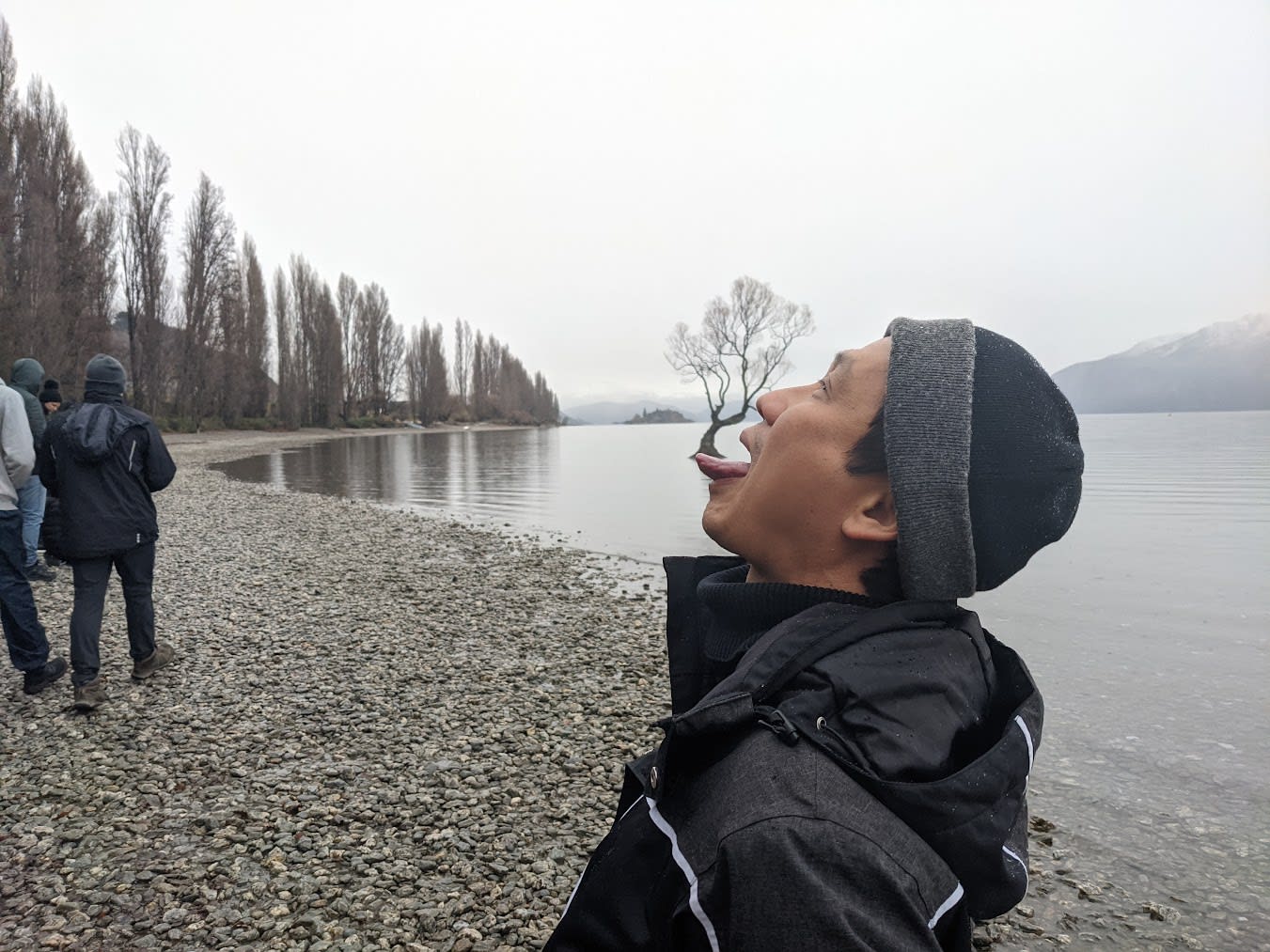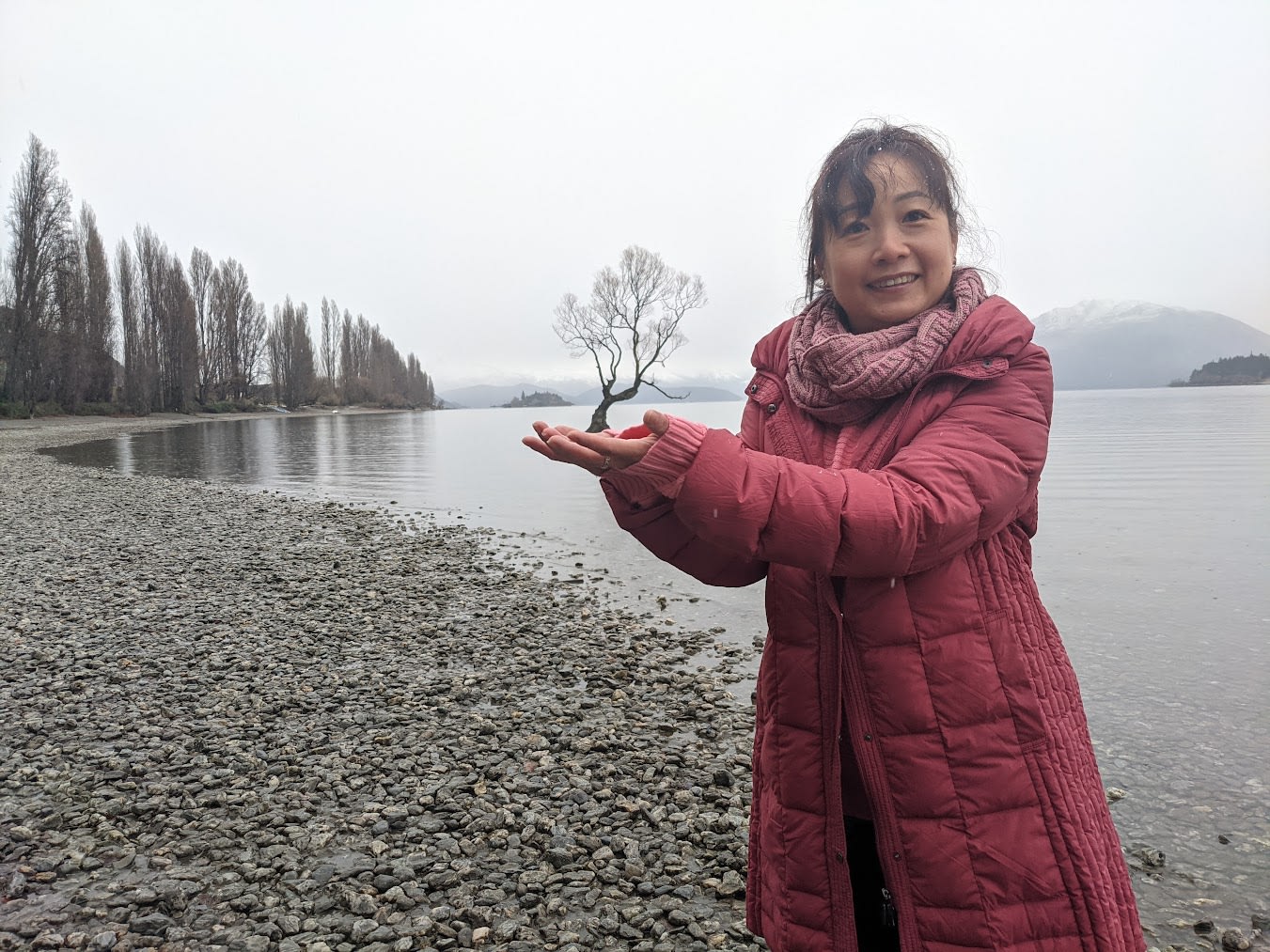 For the rest of the day, we took it easy and visited another Salmon farm, Hook, and had short little wine tasting session, before heading back and taking an early night. This was the last night in Wanaka, before heading off to Franz Josef which was a long drive.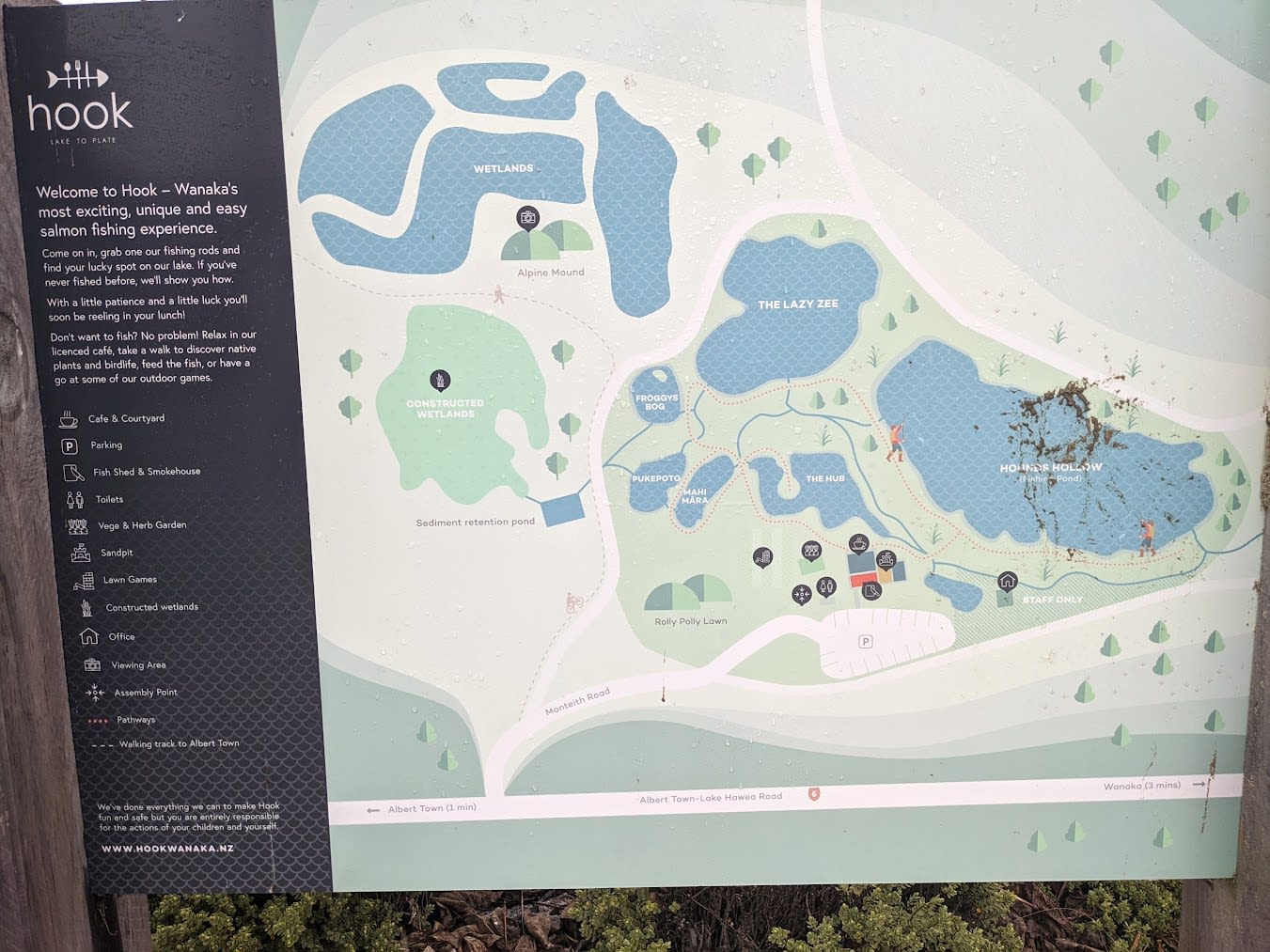 Hook — lake to fish: we caught a 1.6kg salmon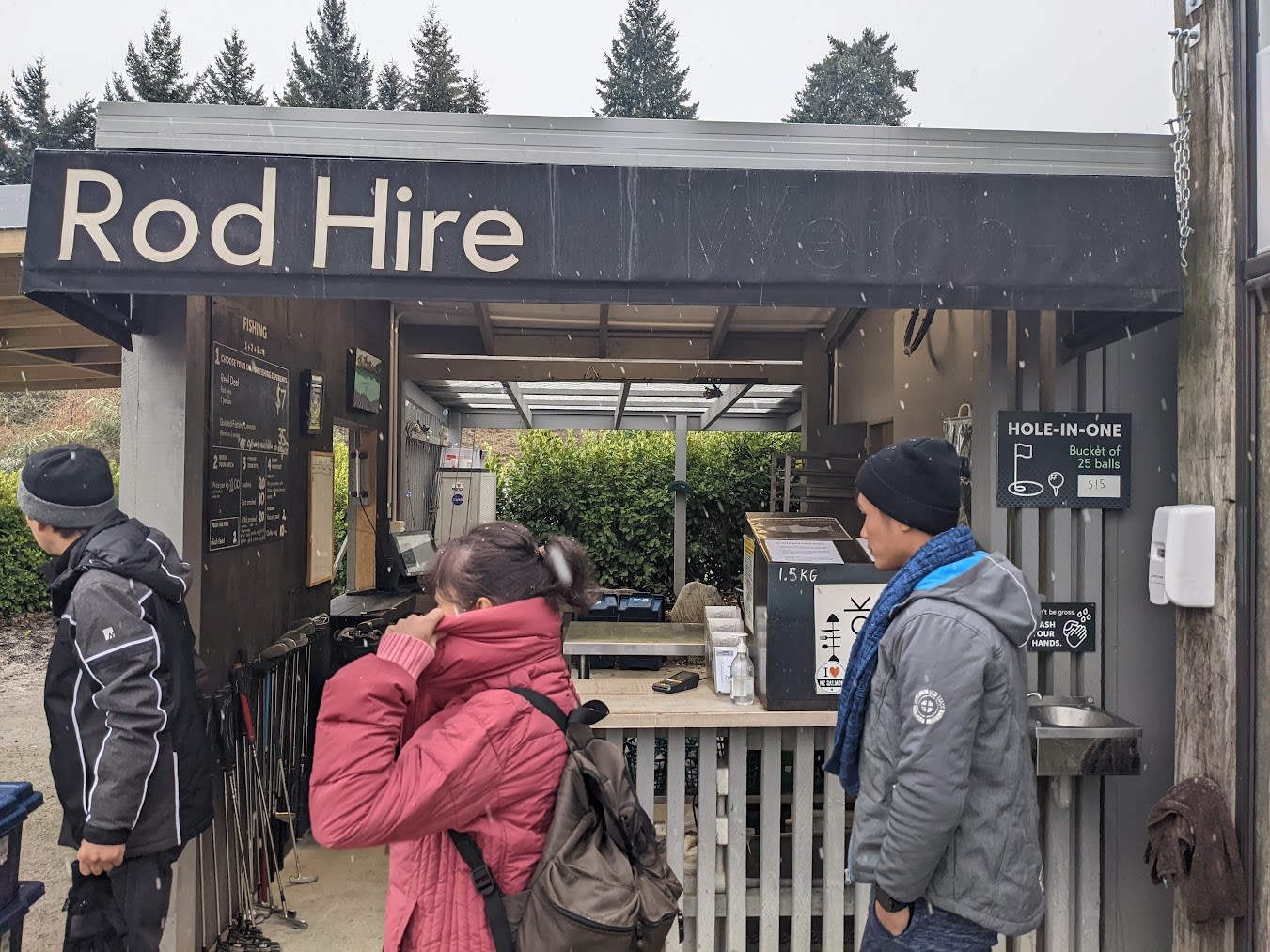 The prices were quite exorbitant, at 33NZD per kg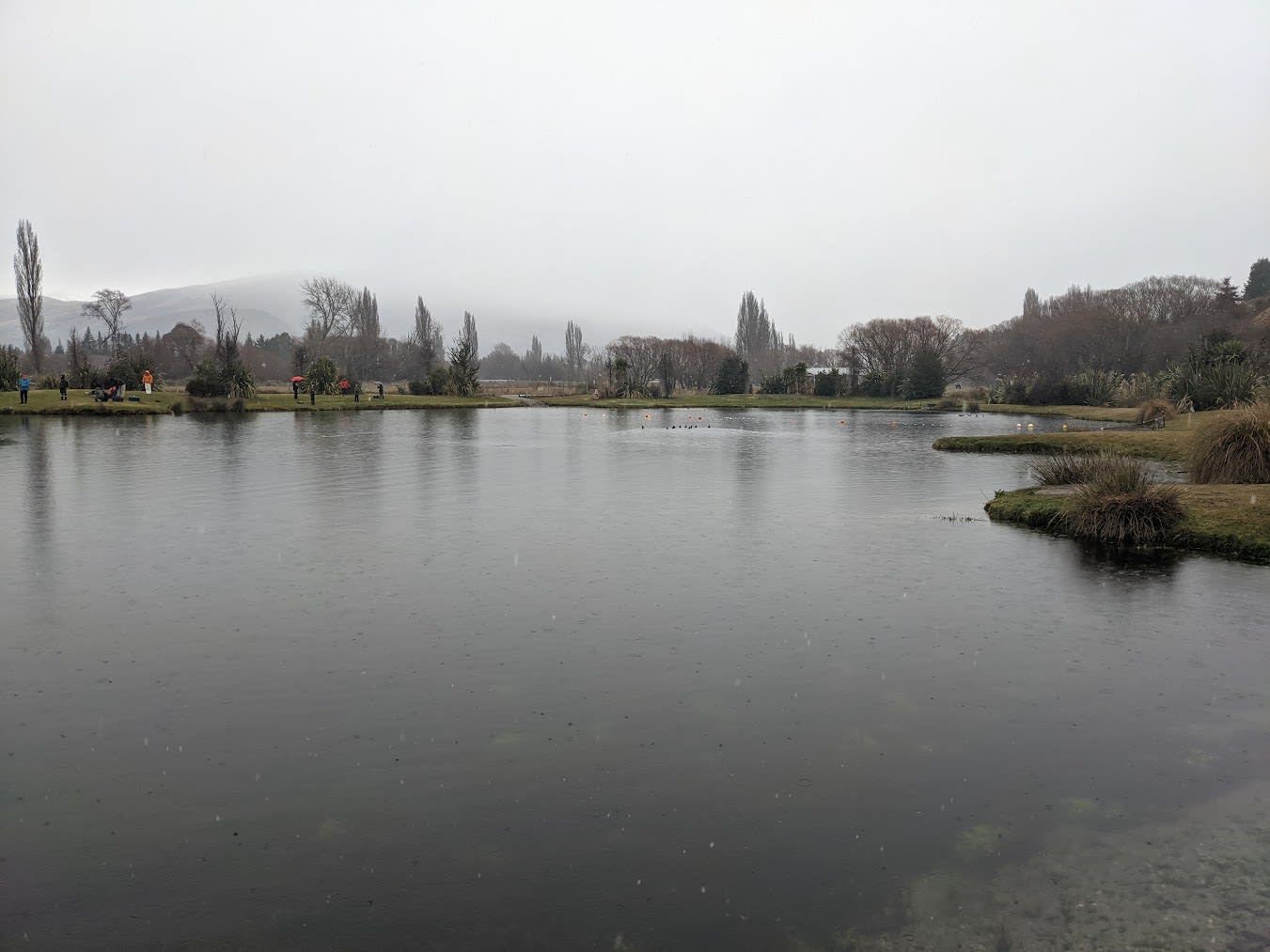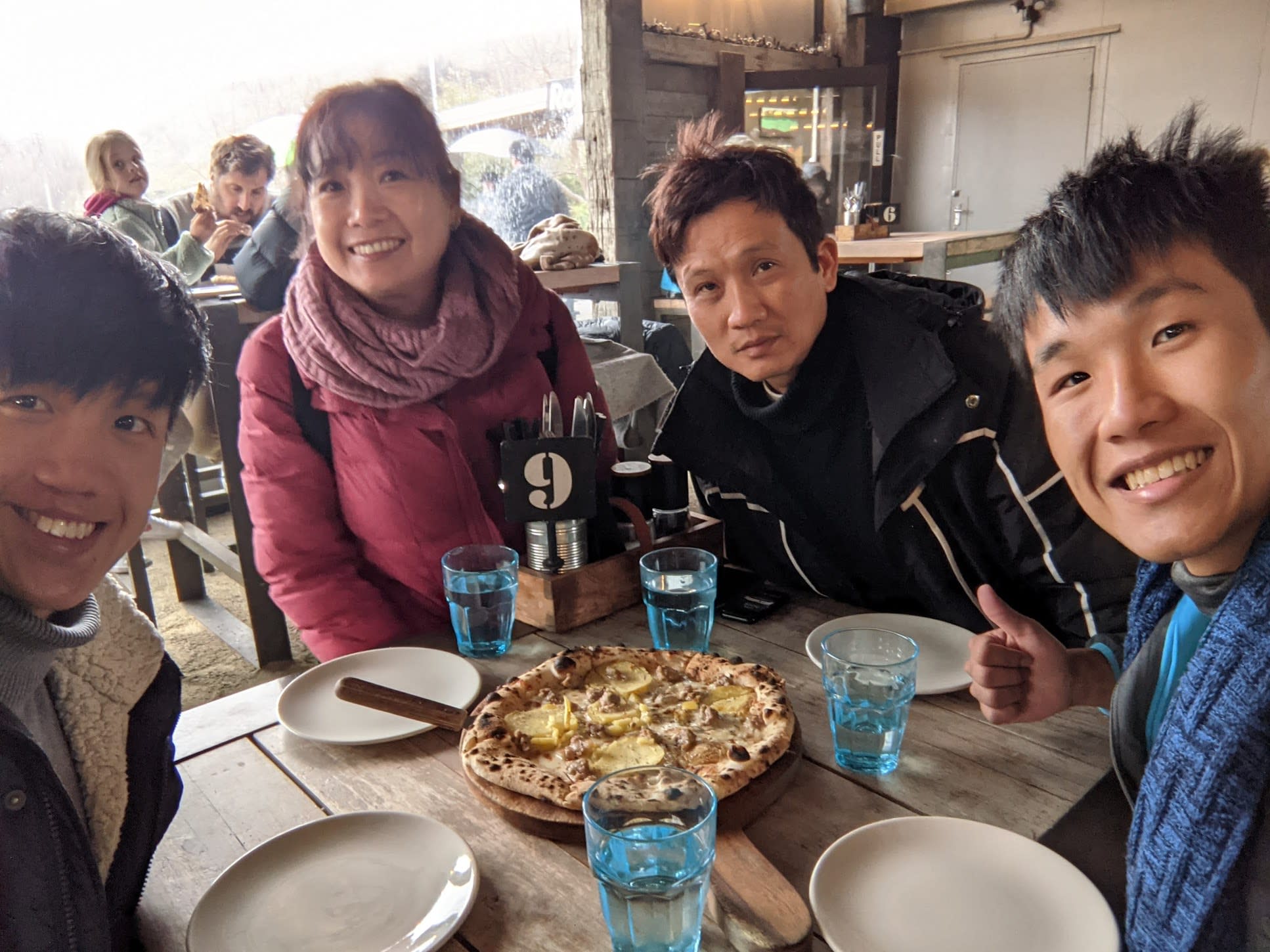 Pizza while waiting for them to prepare our salmon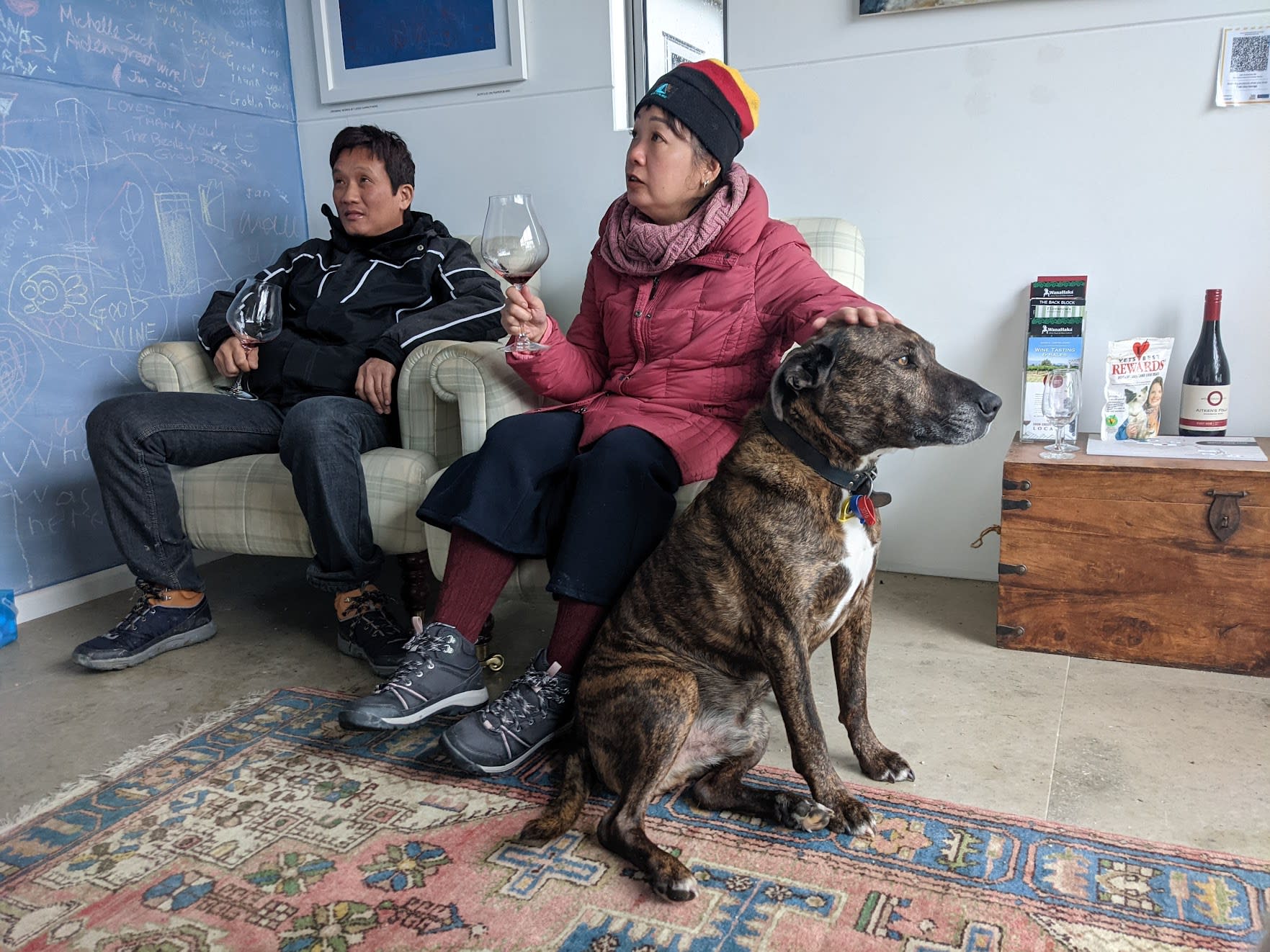 Wine tasting after — we made some fur friends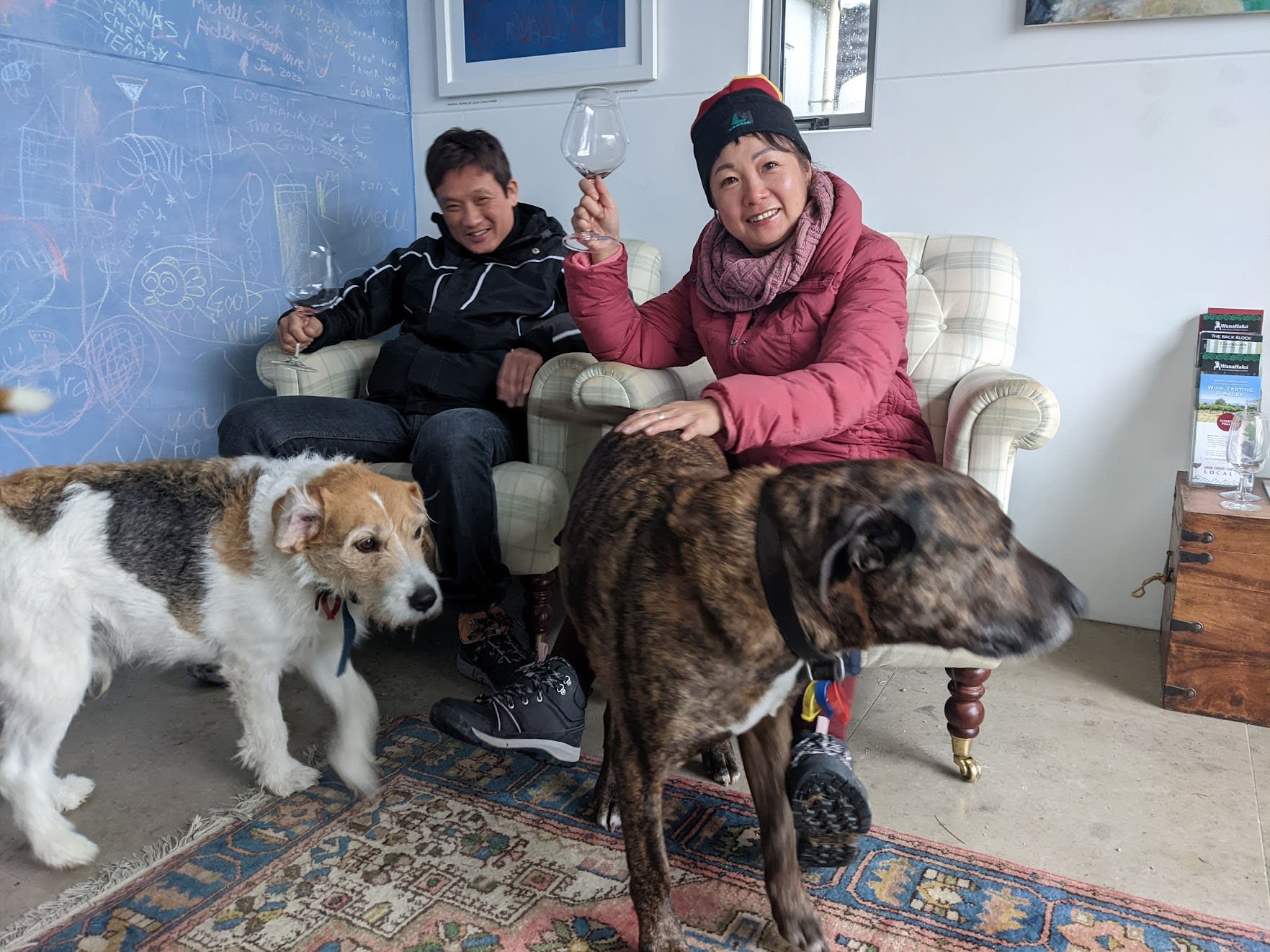 Another one, they were really friendly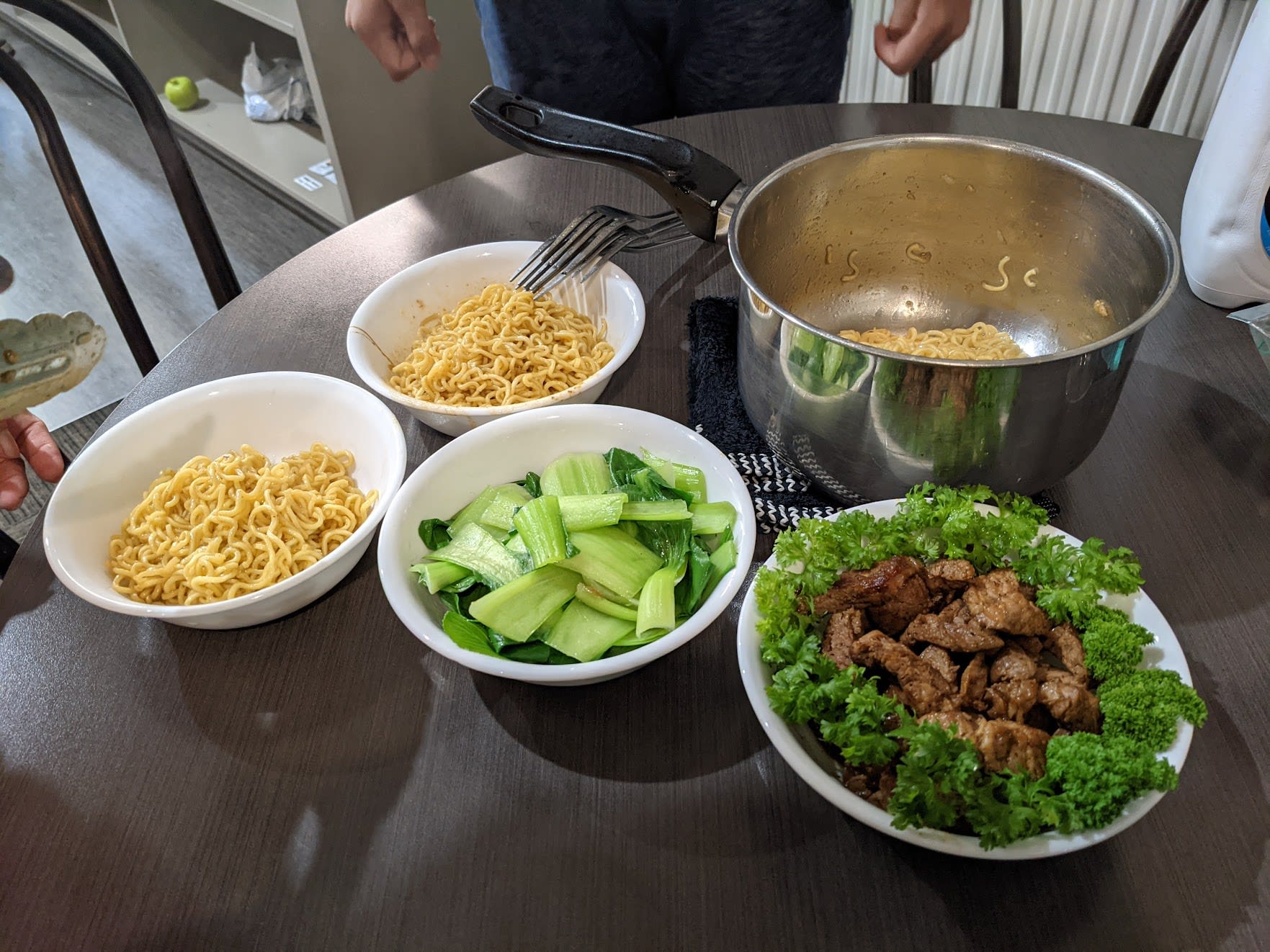 A simple home-cooked meal to finish the day
Day 6 - Drive to Franz Josef
It was a long drive, so we made several pit stops along the way, Blue Pools (which we unfortunately didn't trek), and a lovely Cafe.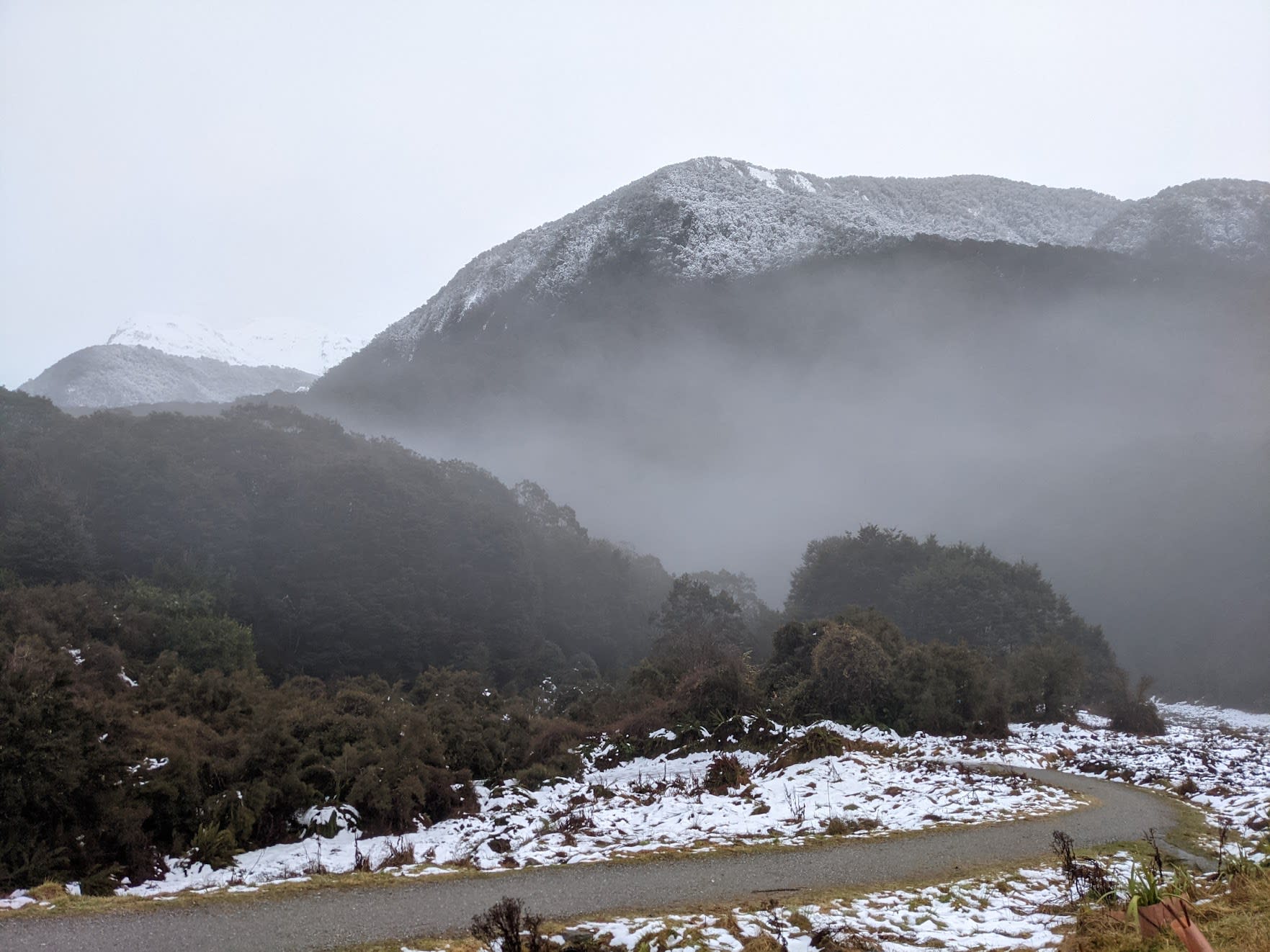 Quick stop at Blue Pools track. Didn't end up walking it :(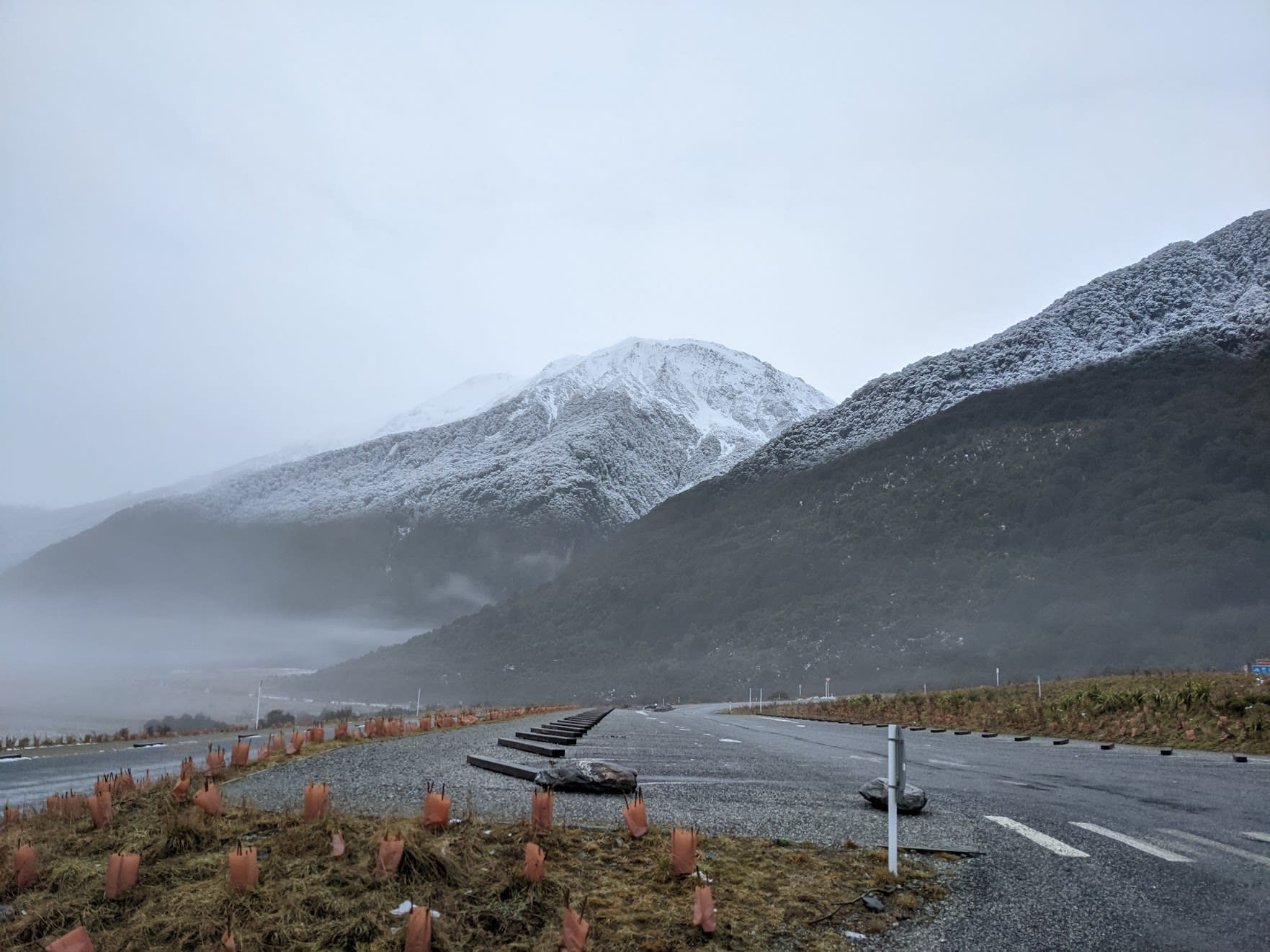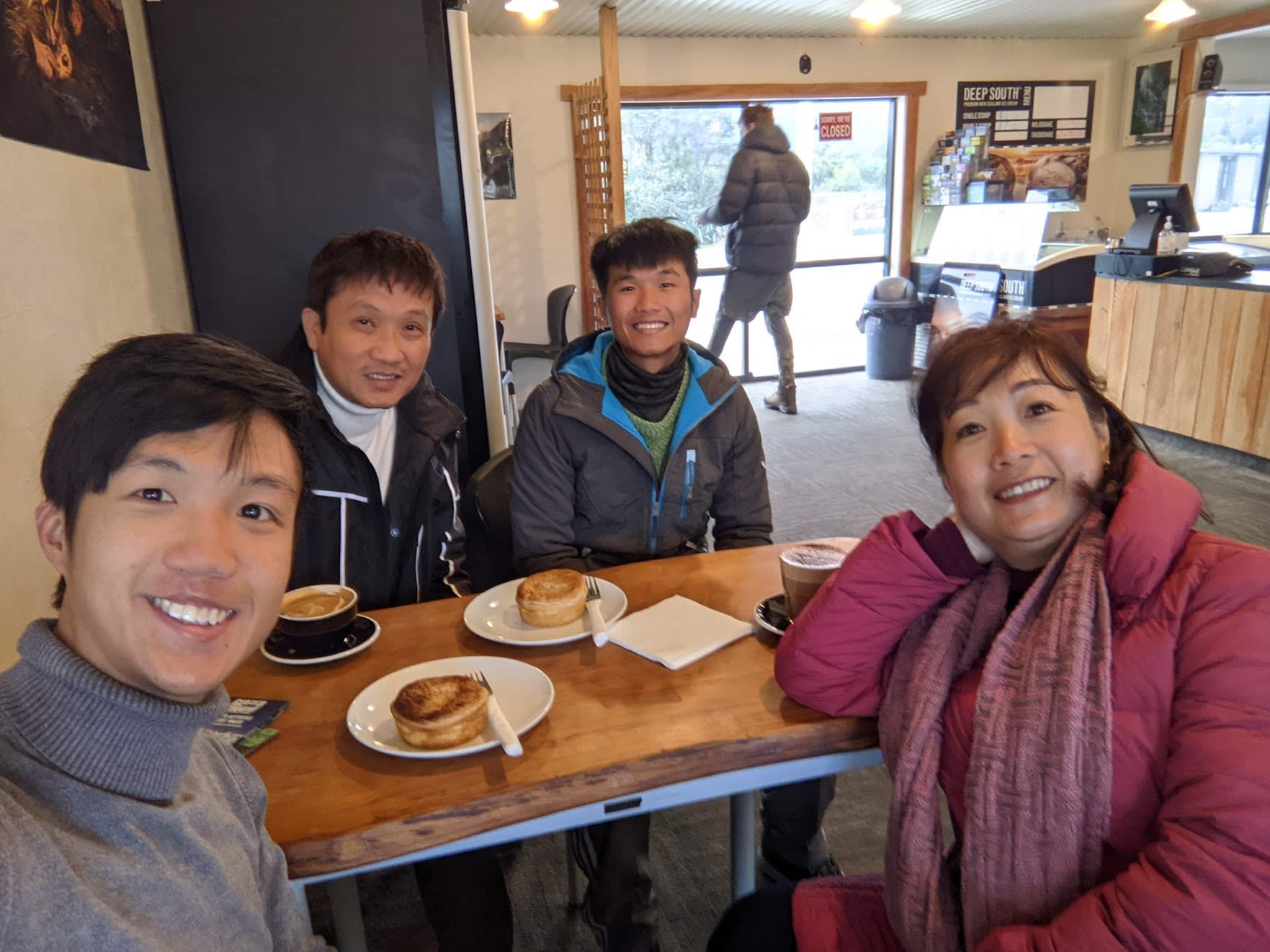 Brunch in Haast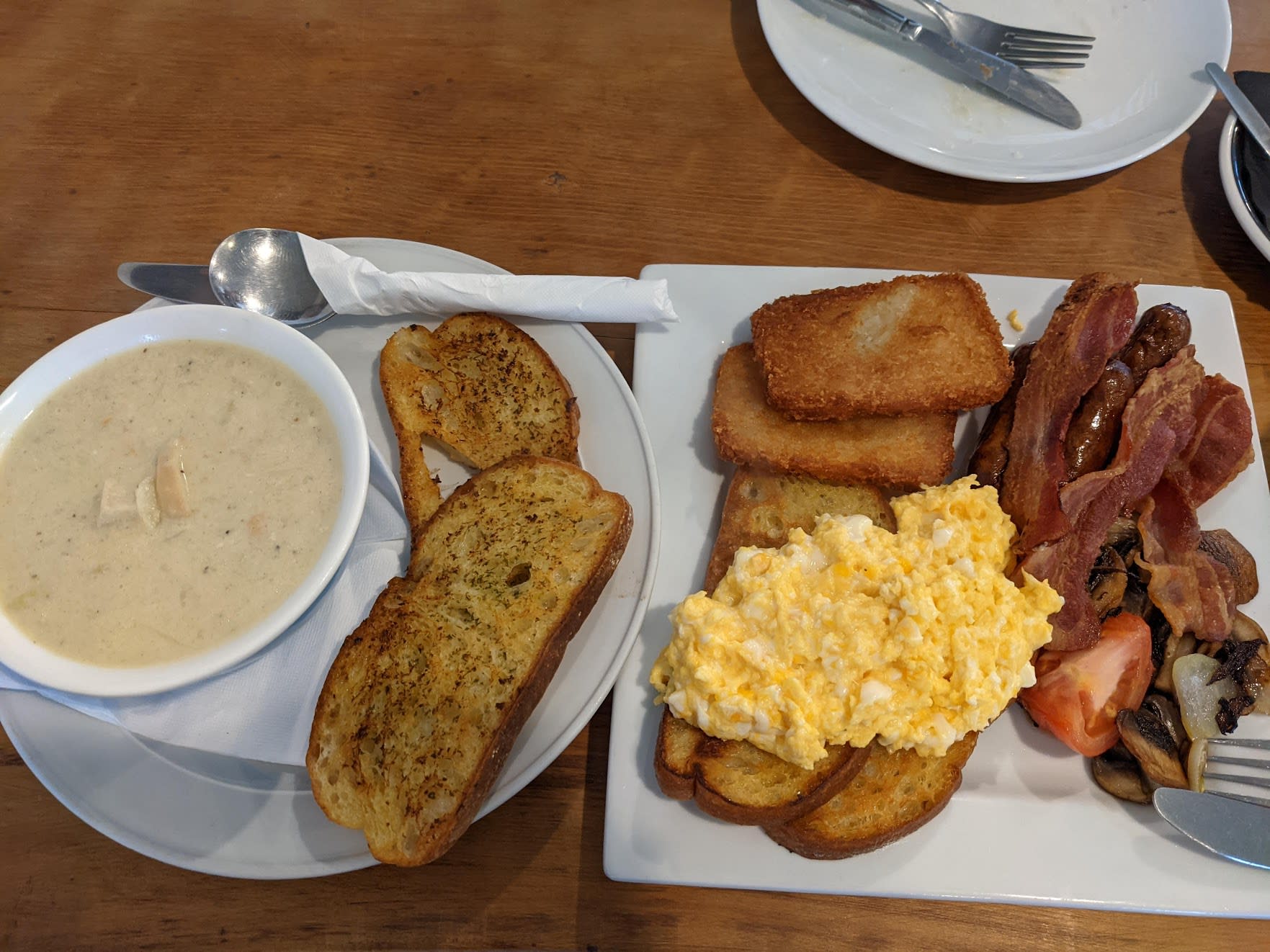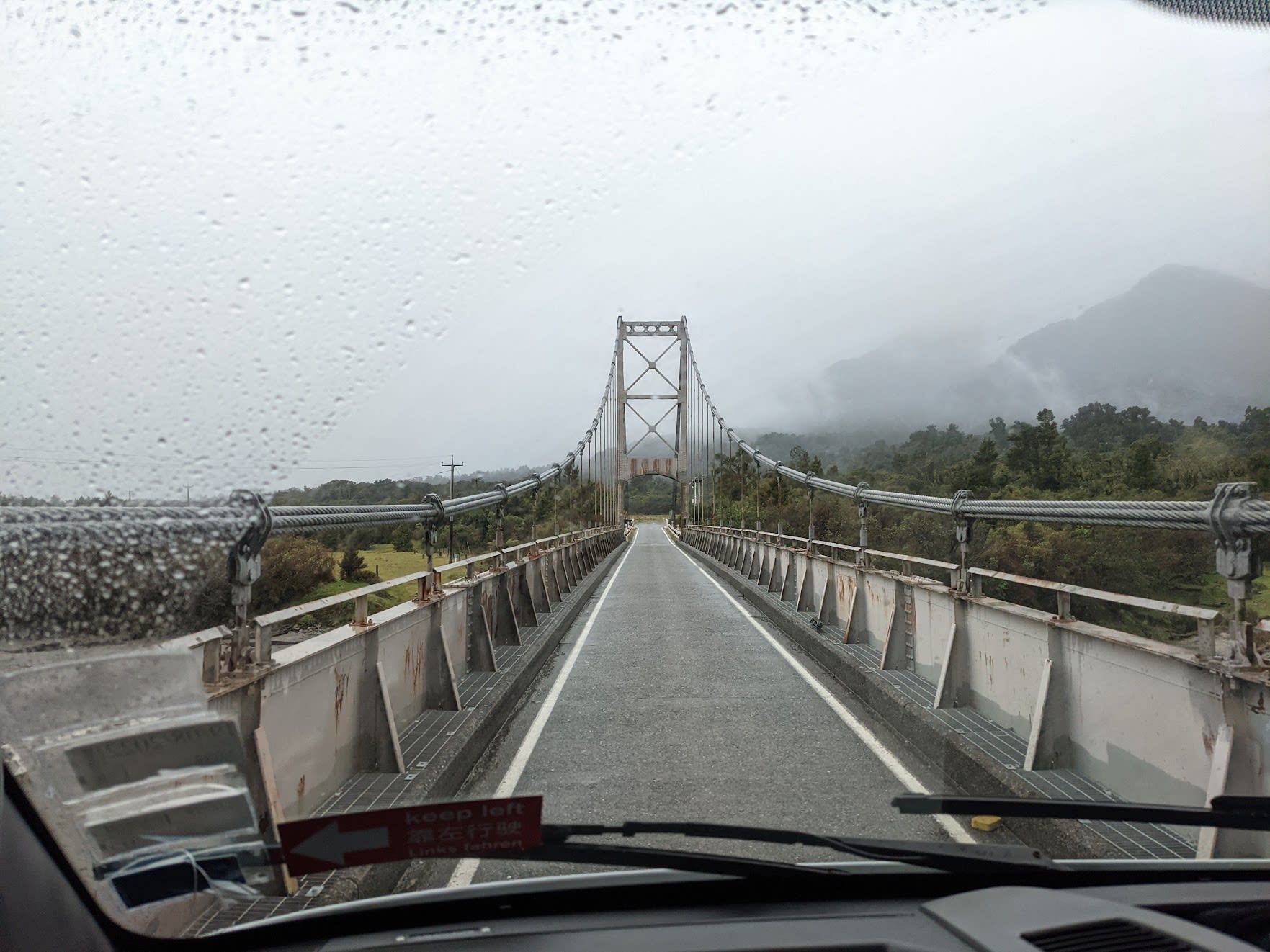 Many bridges en-route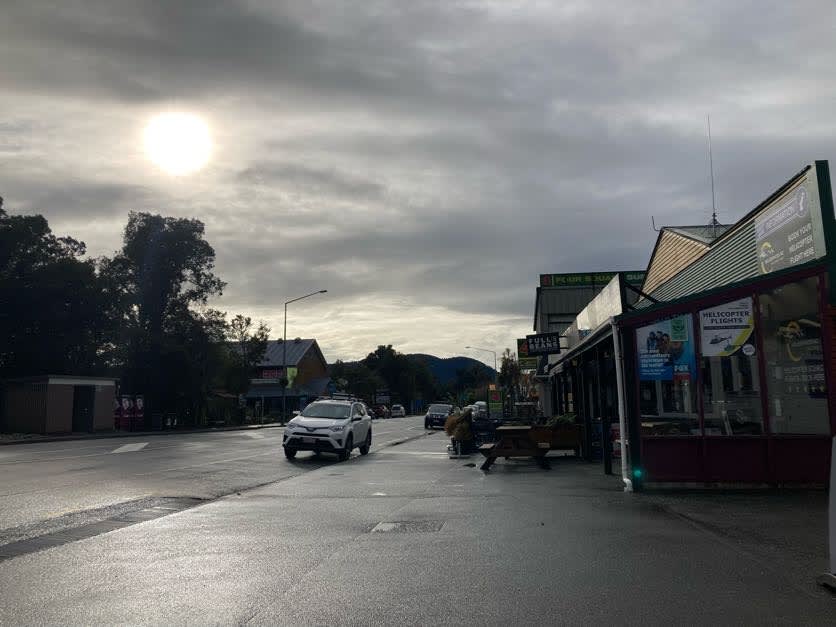 Reached Franz Josef around 2:30pm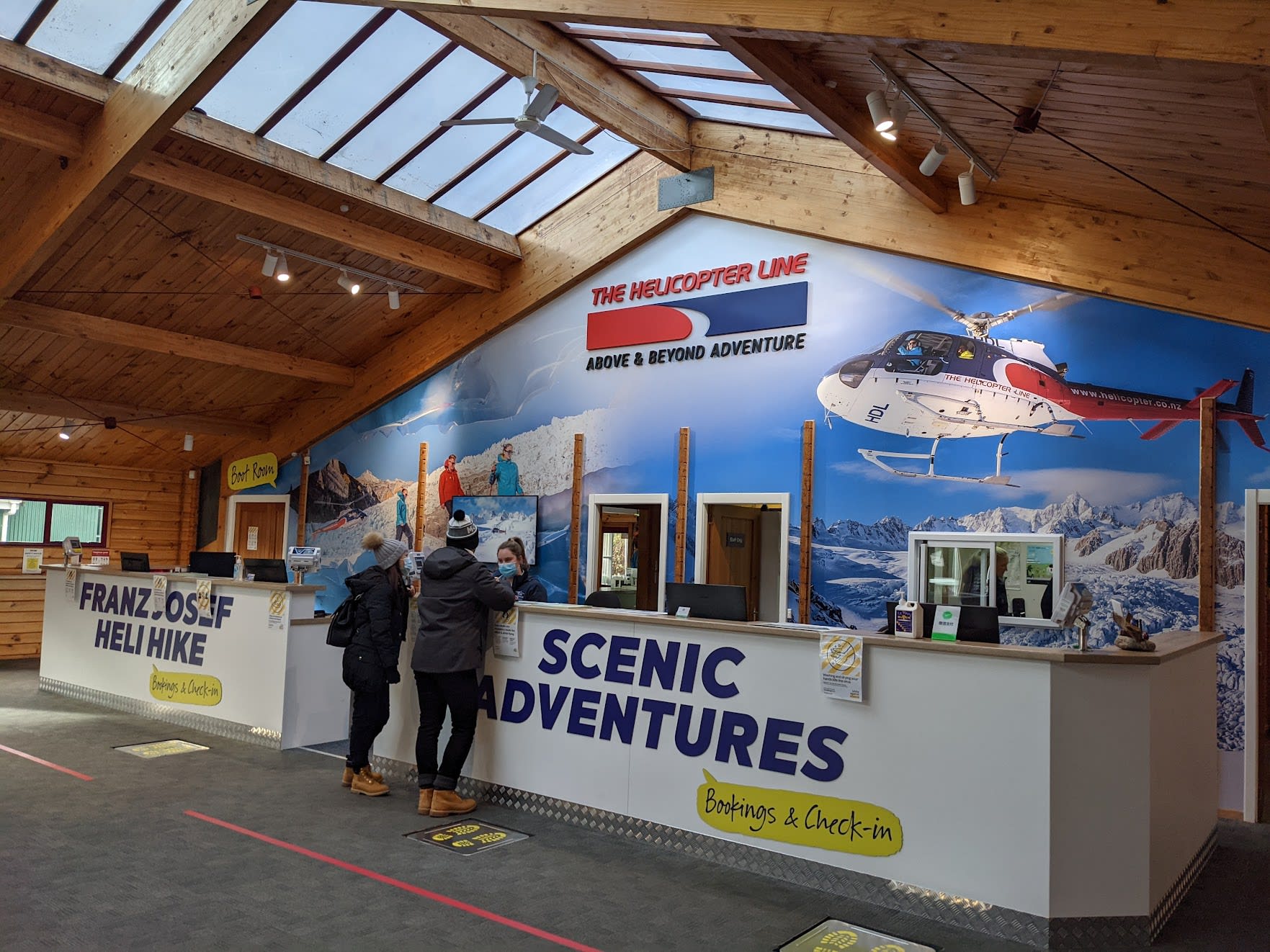 Booking the HeliHike for tomorrow! 300 per person but definitely one of the highlights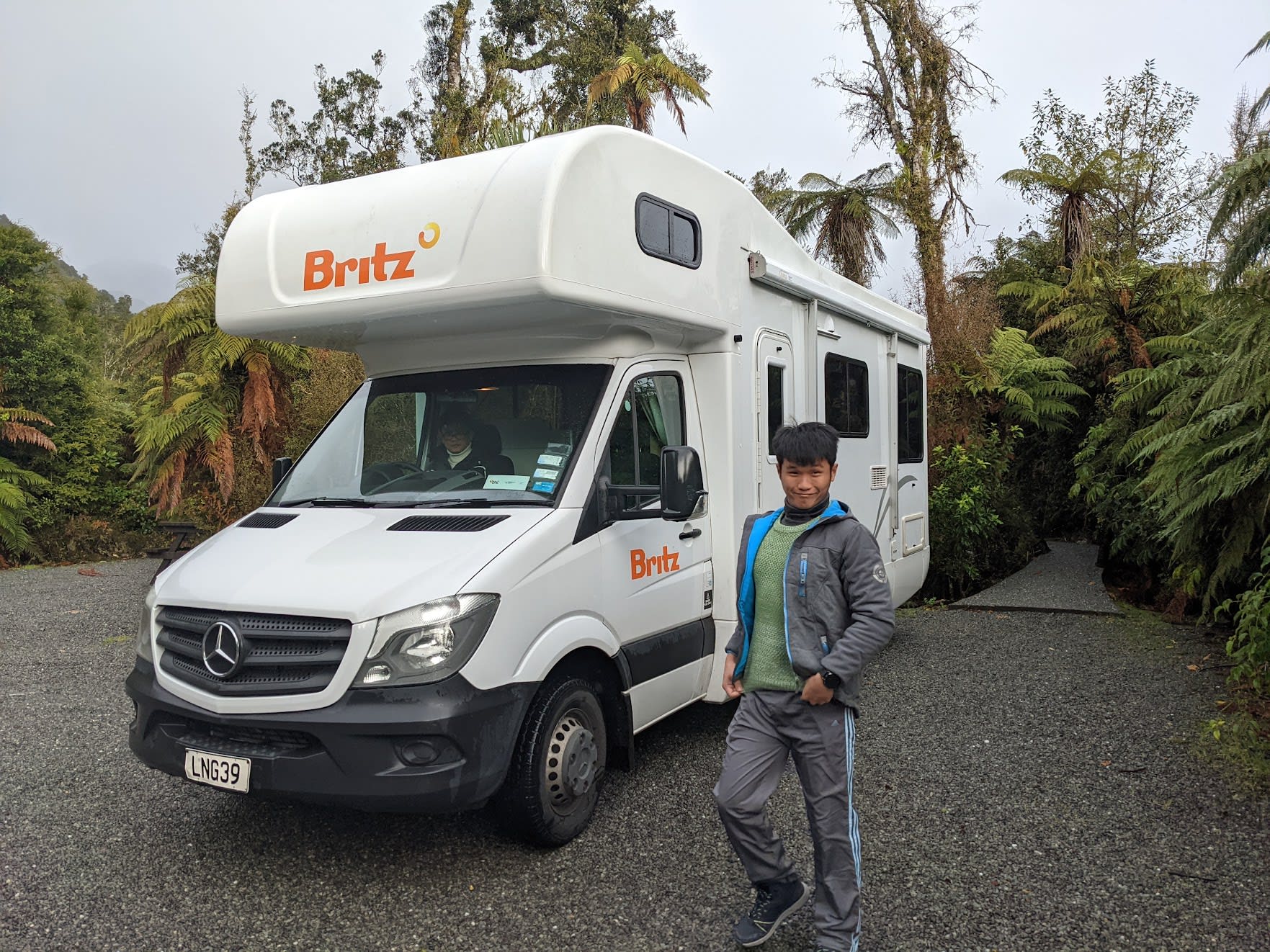 Our location for tonight was the Rainforest holiday park — one of the best & most affordable ones throughout our holiday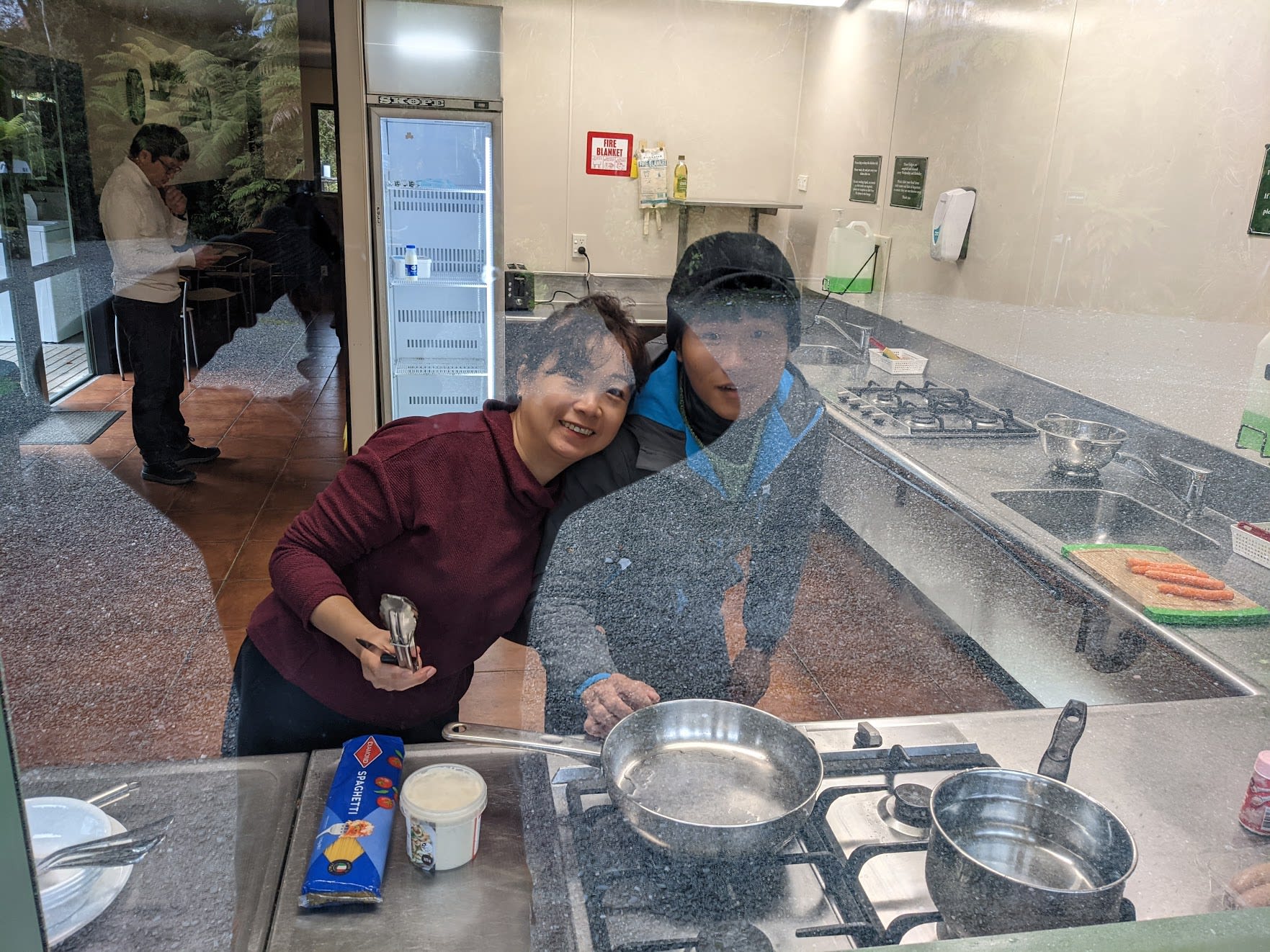 Super late lunch (?)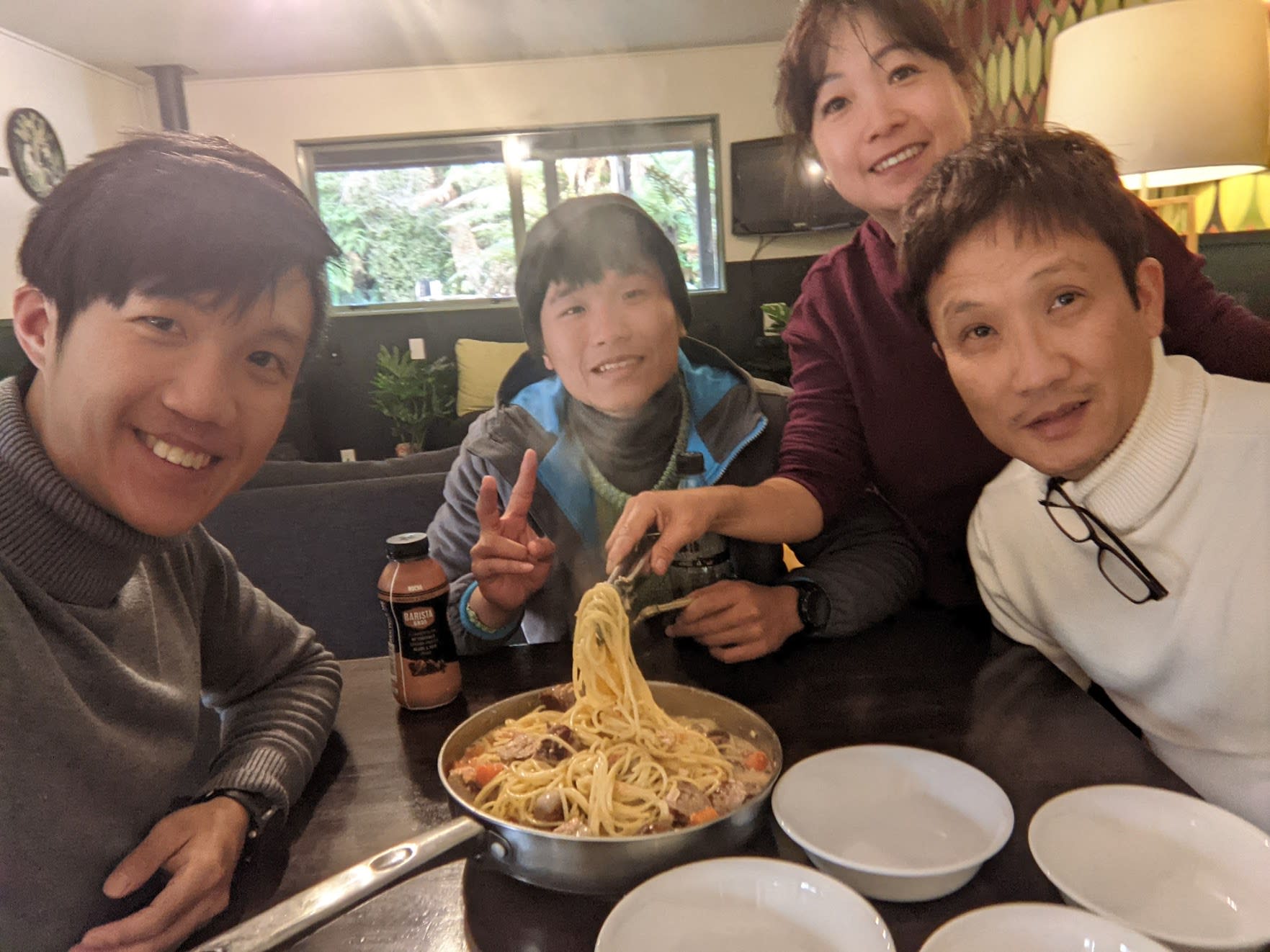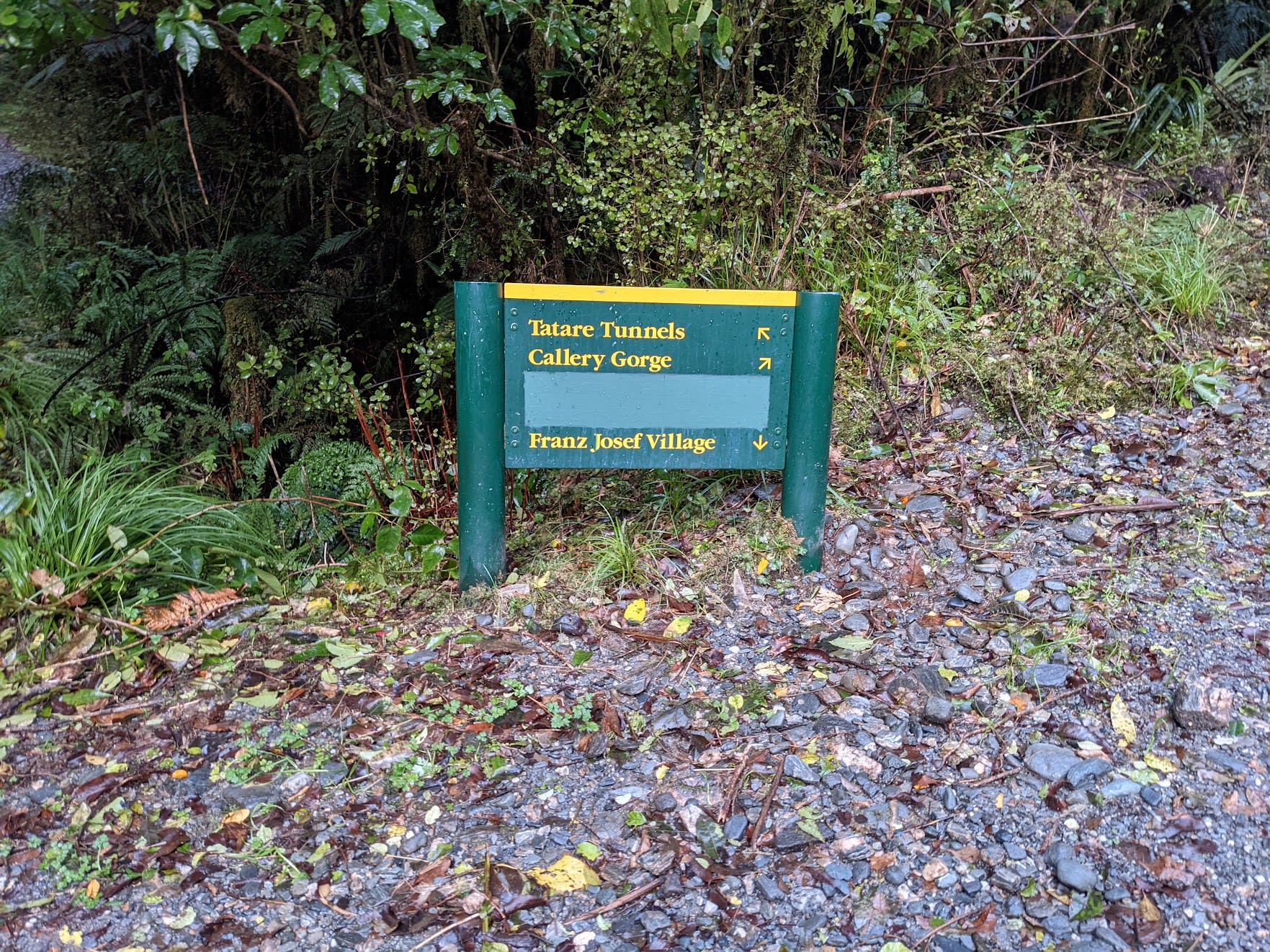 Trek through Callery Gorge before the sun sets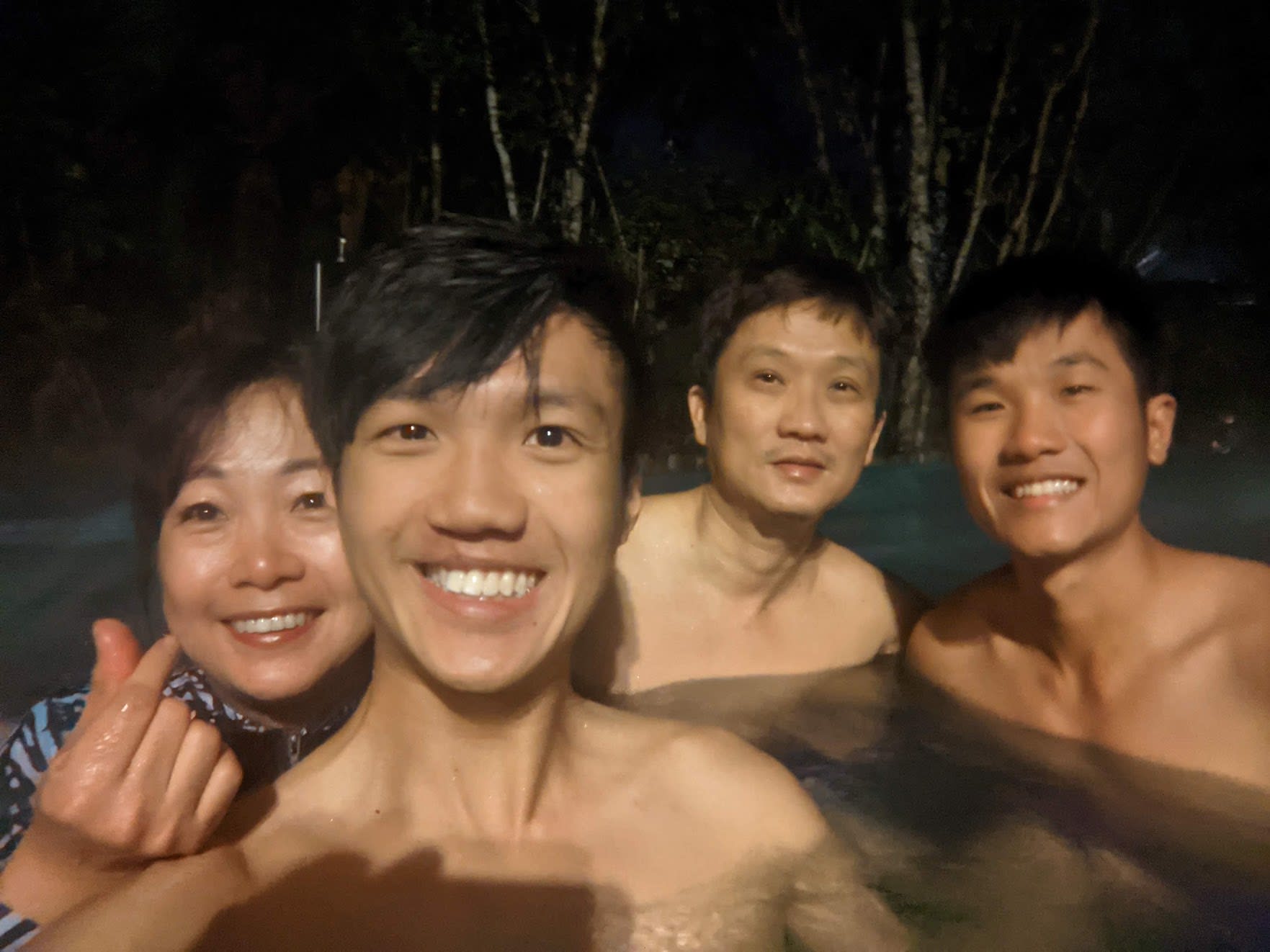 Soak in the jacuzzi to try out their facilities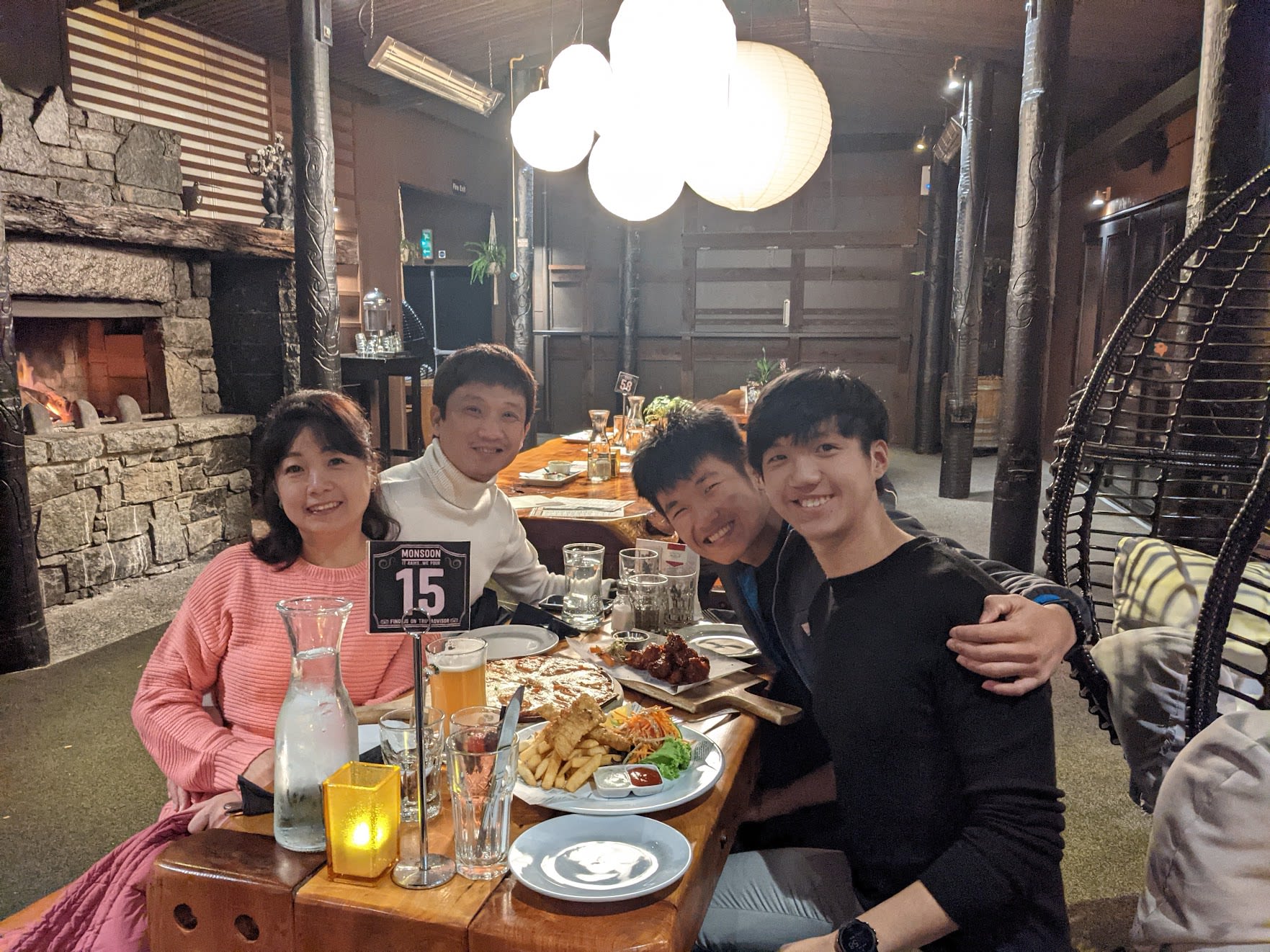 Dinner at the in-house restaurant — super cozy ambience and solid food
Day 7 - Franz Josef Glacier Heli-hike
Day 7 was definitely a highlight of the trip. We booked a tour with The Helicopter Line in the town of Franz Josef for the 11am slot and we couldn't be luckier with the weather — it had been snowing/raining the last couple of days but we were met with beautiful clear skies and the green-light to go ahead.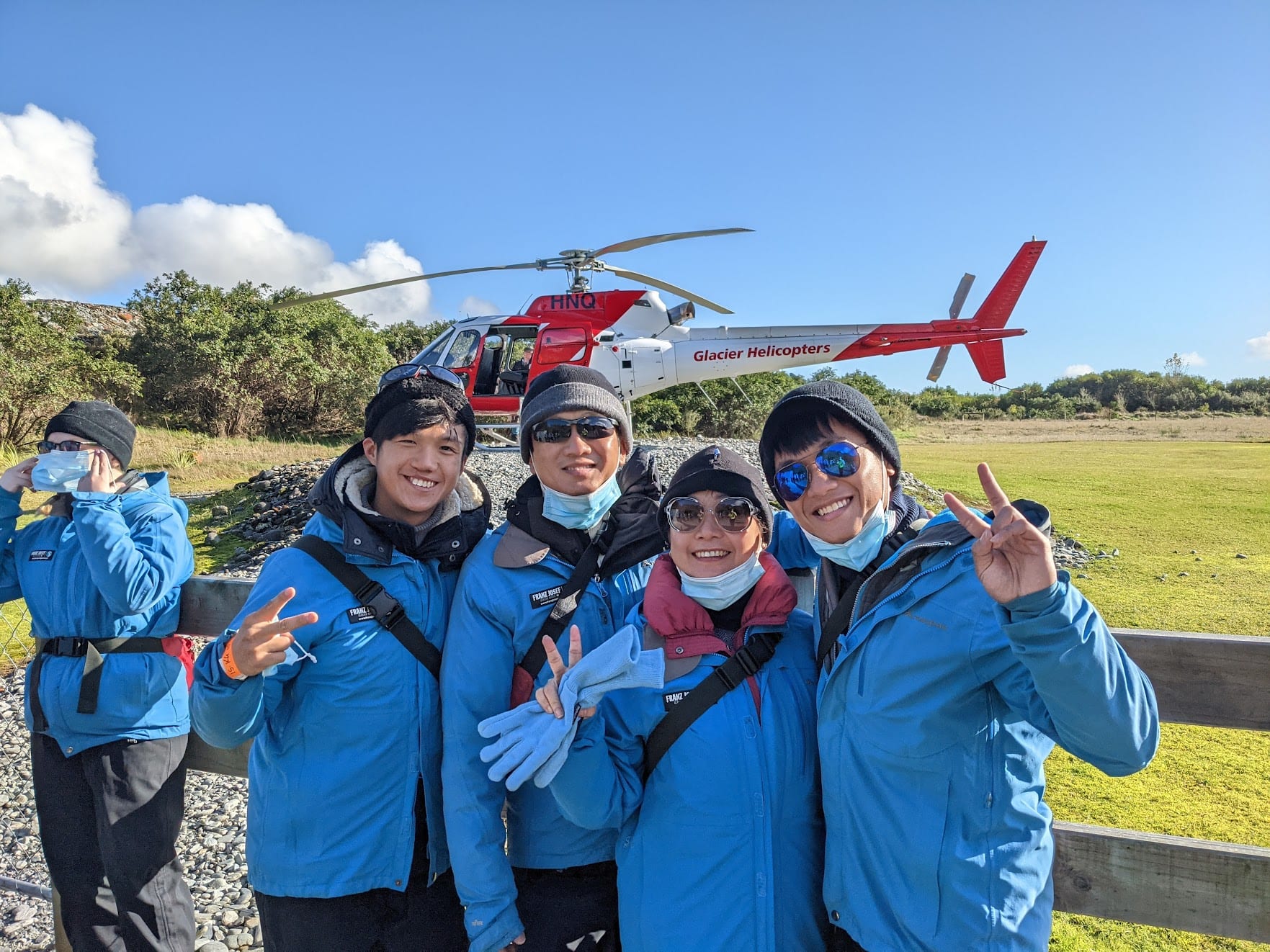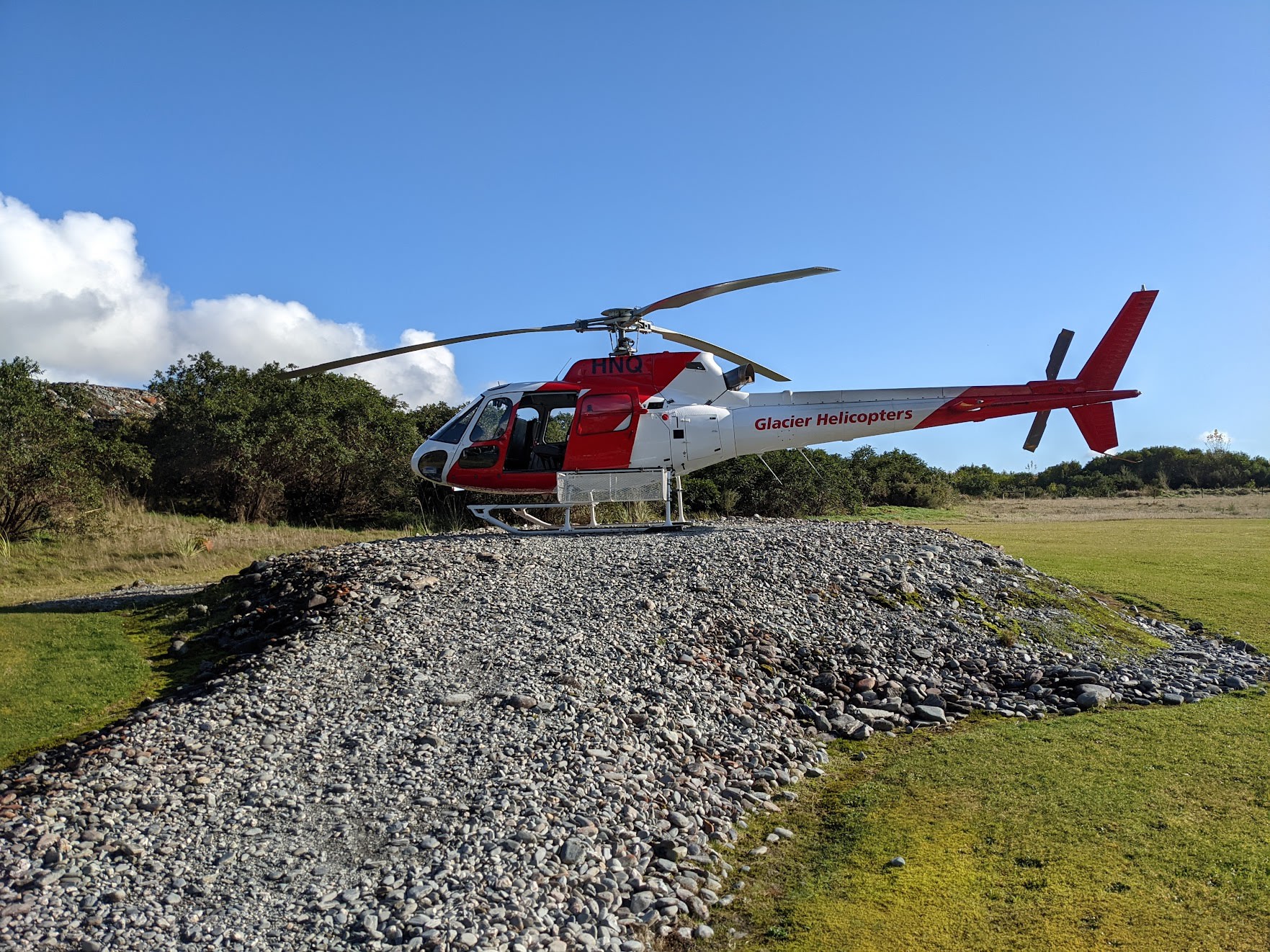 The beauty waiting to take us up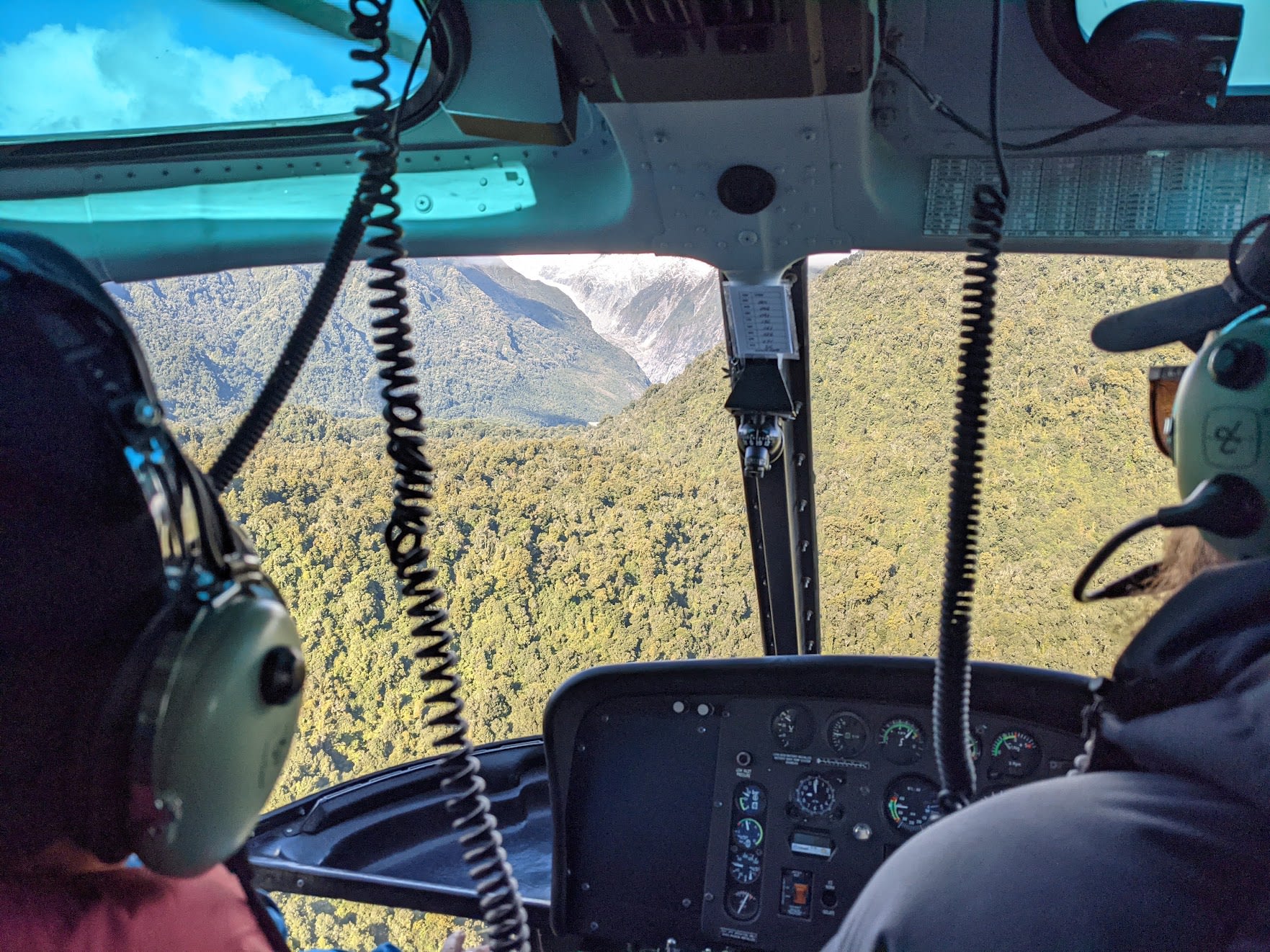 Bro & Mom were allocated the frontseat — lucky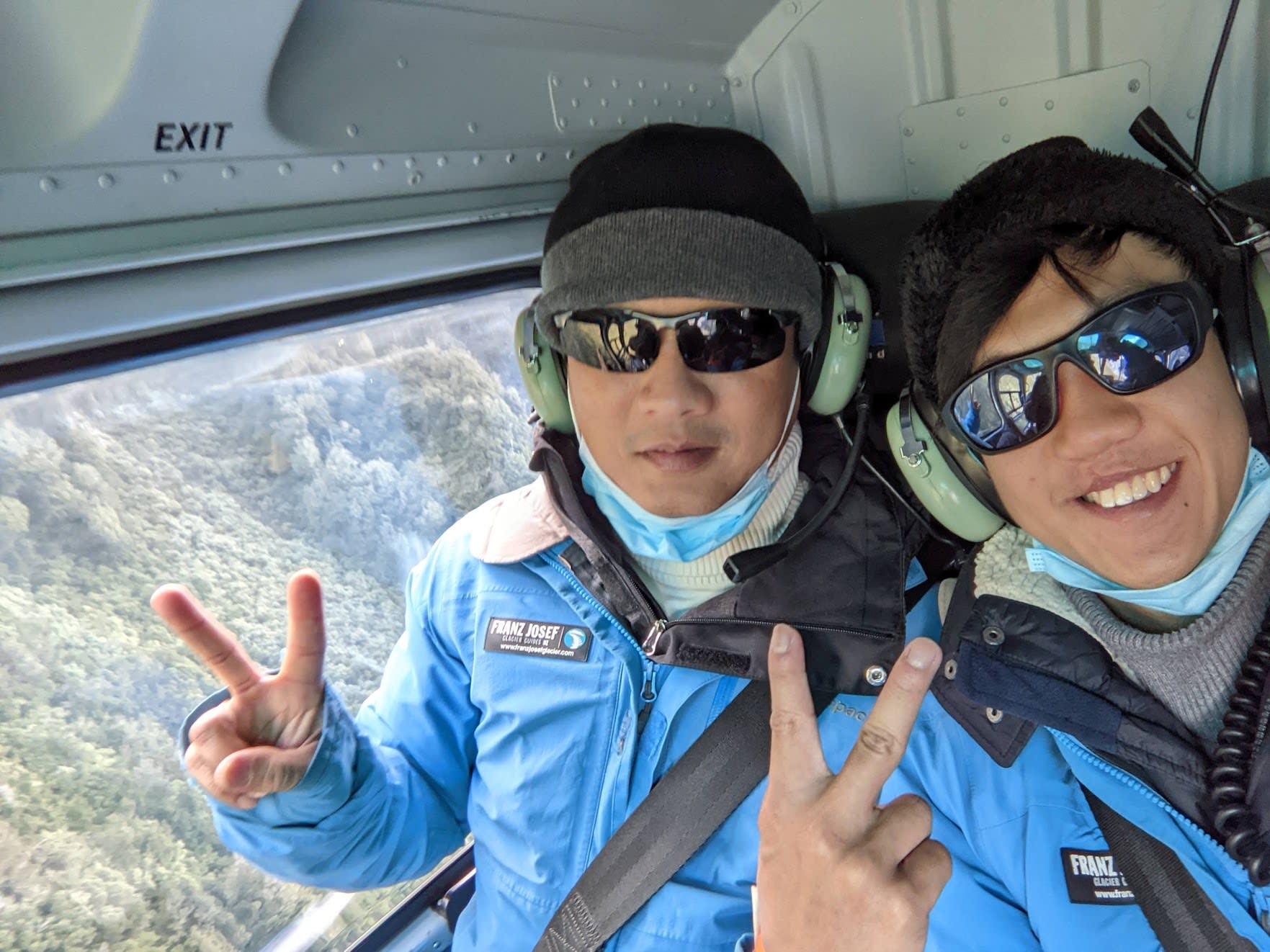 Cool pilots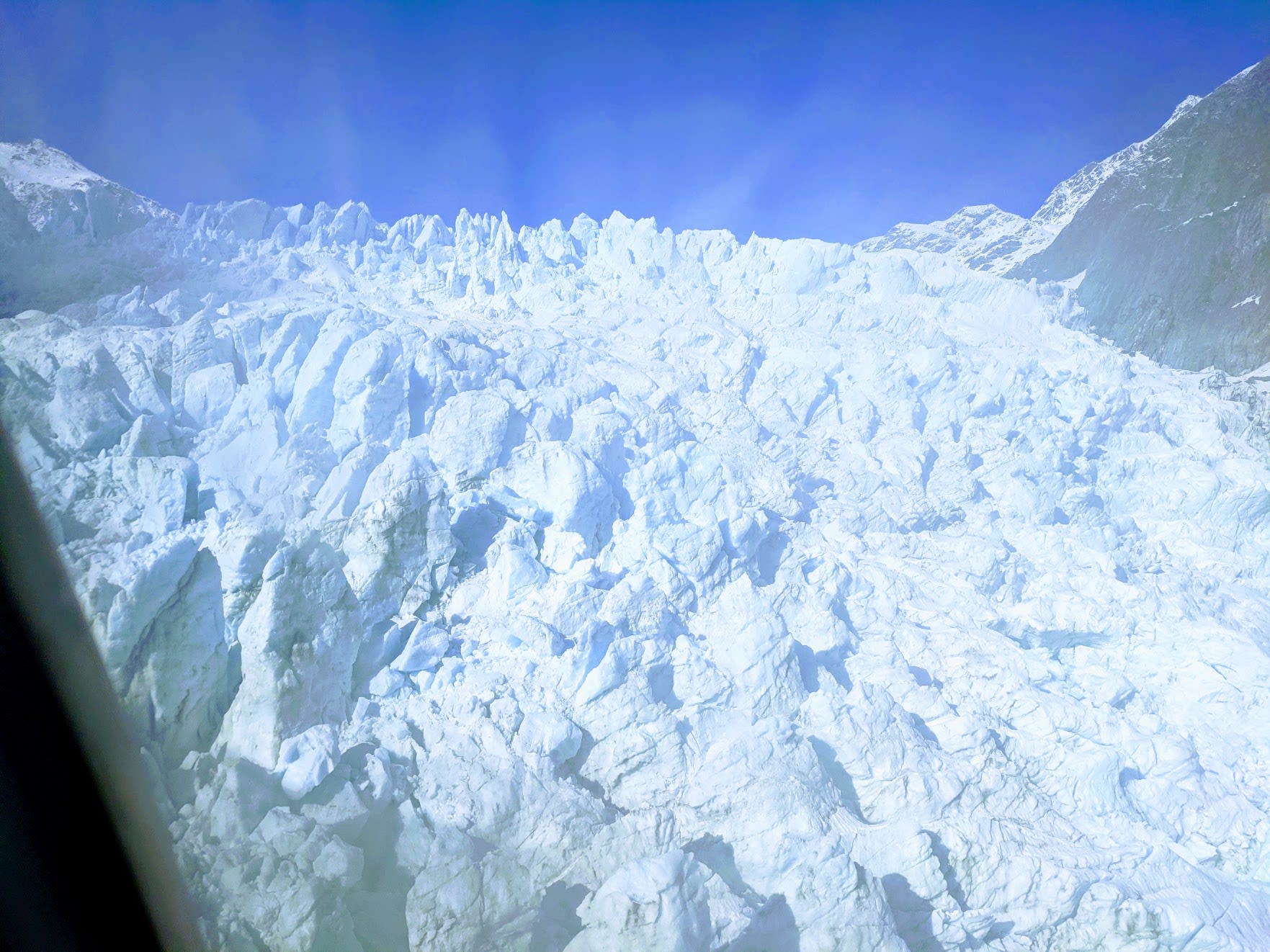 Franz Josef Glacier!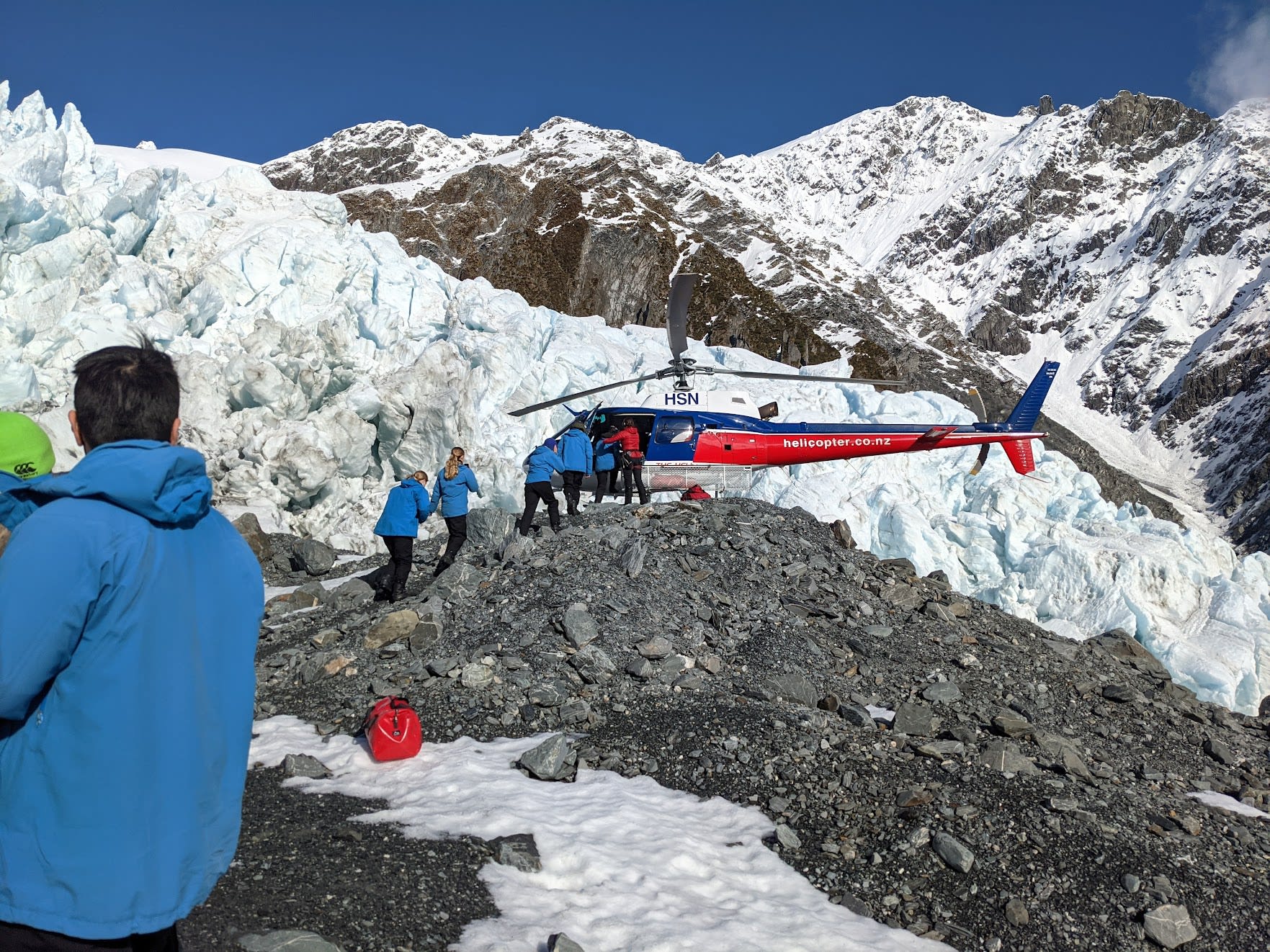 Landed on the glacier
Once up on the glacier, we found a guide there waiting for us, who took us through the equipment we had to wear: crampons, helmets, harness and a trekking pole.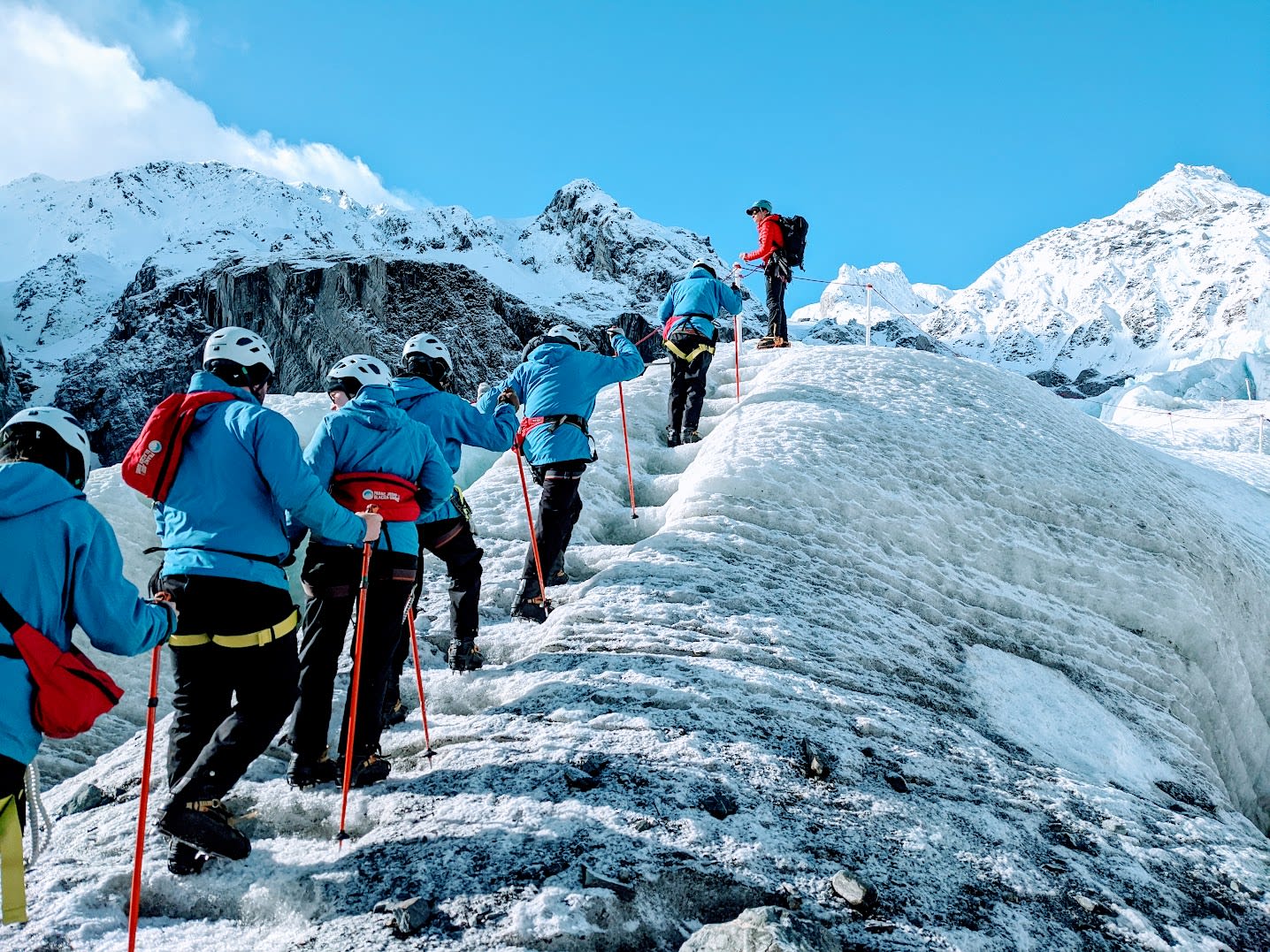 We spent about 2 hours on the ice, following tracks carved from footsteps before us or the guide's pickaxe.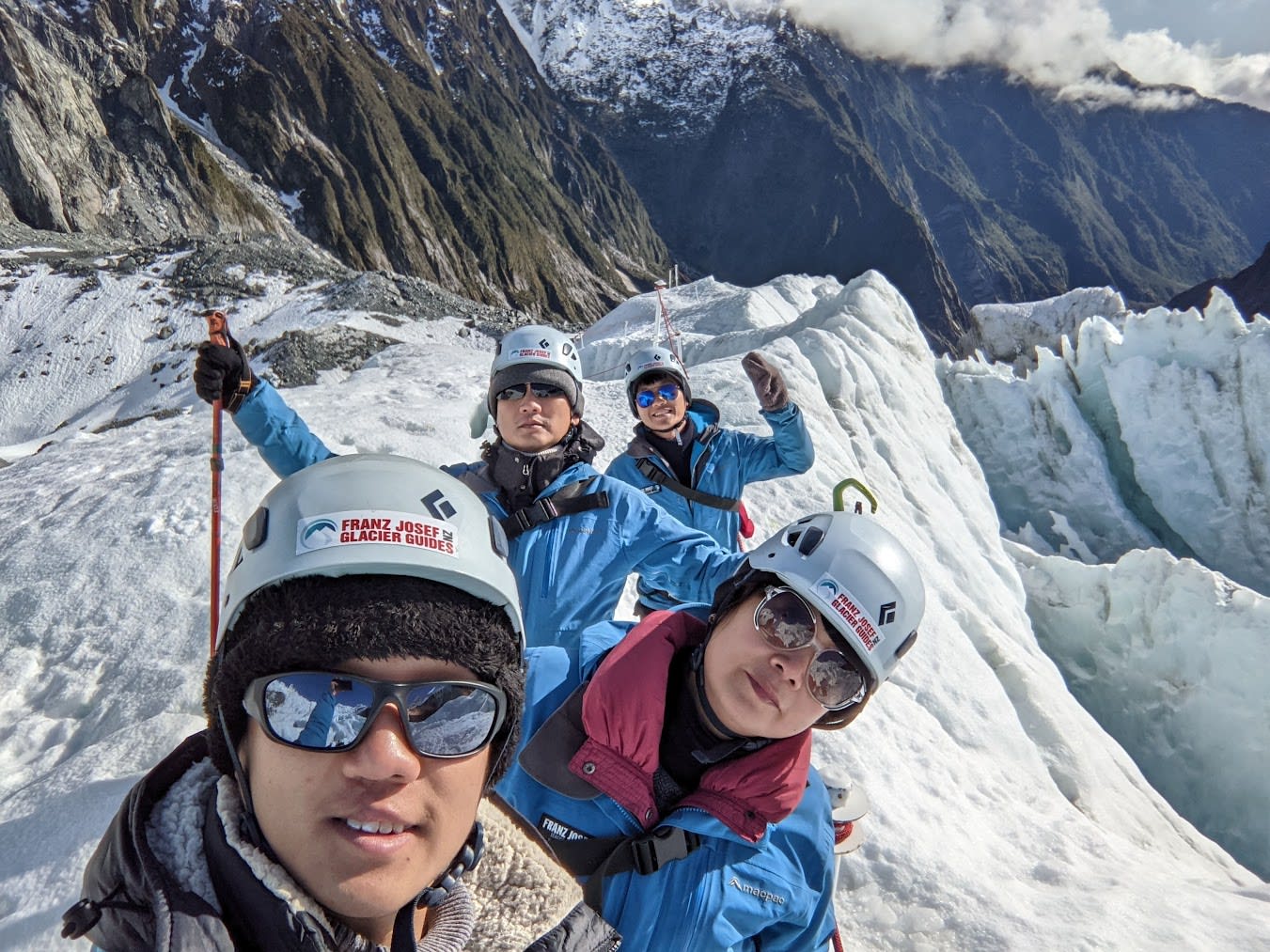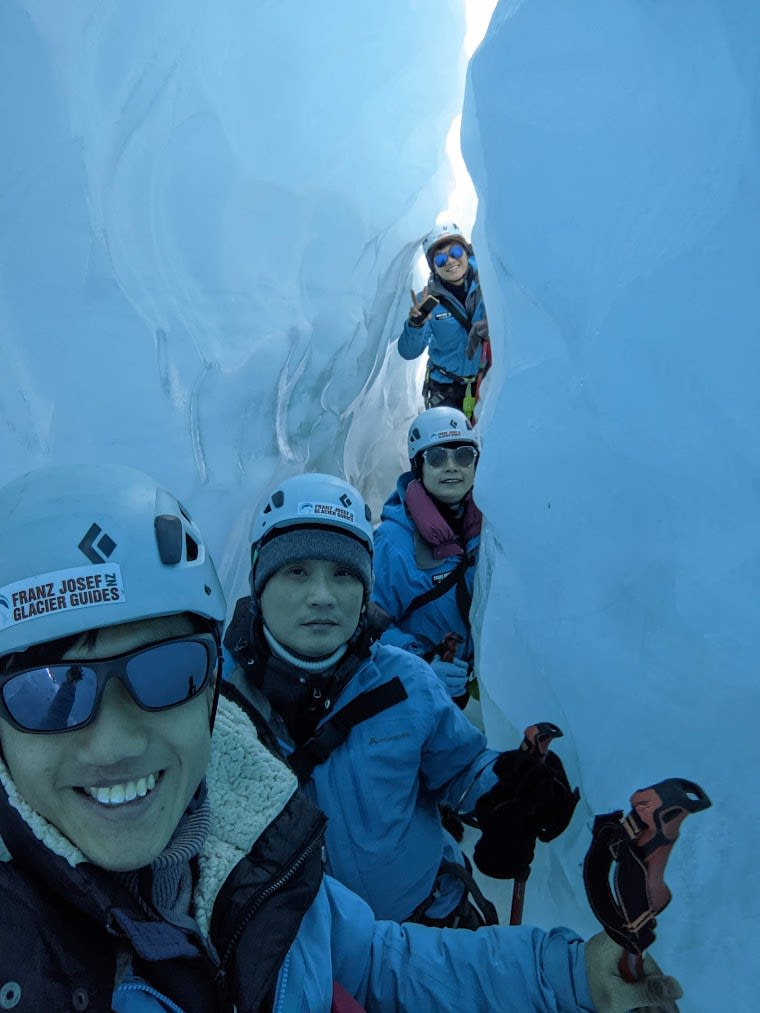 Blue ice! Absolutely stunning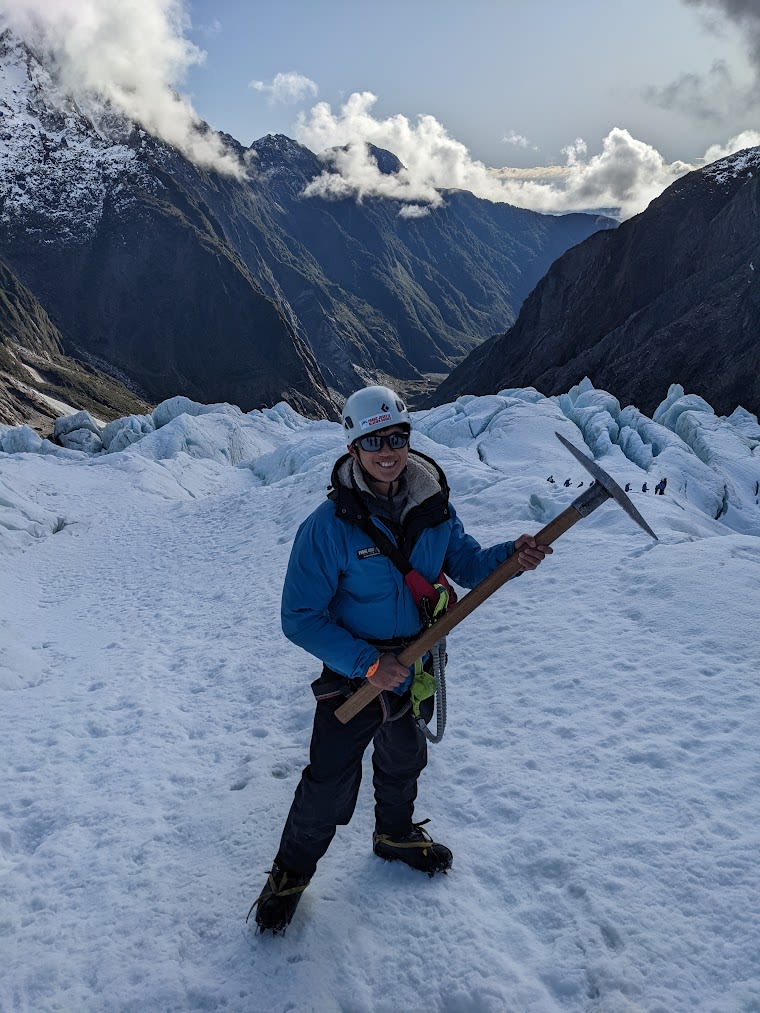 Pick me!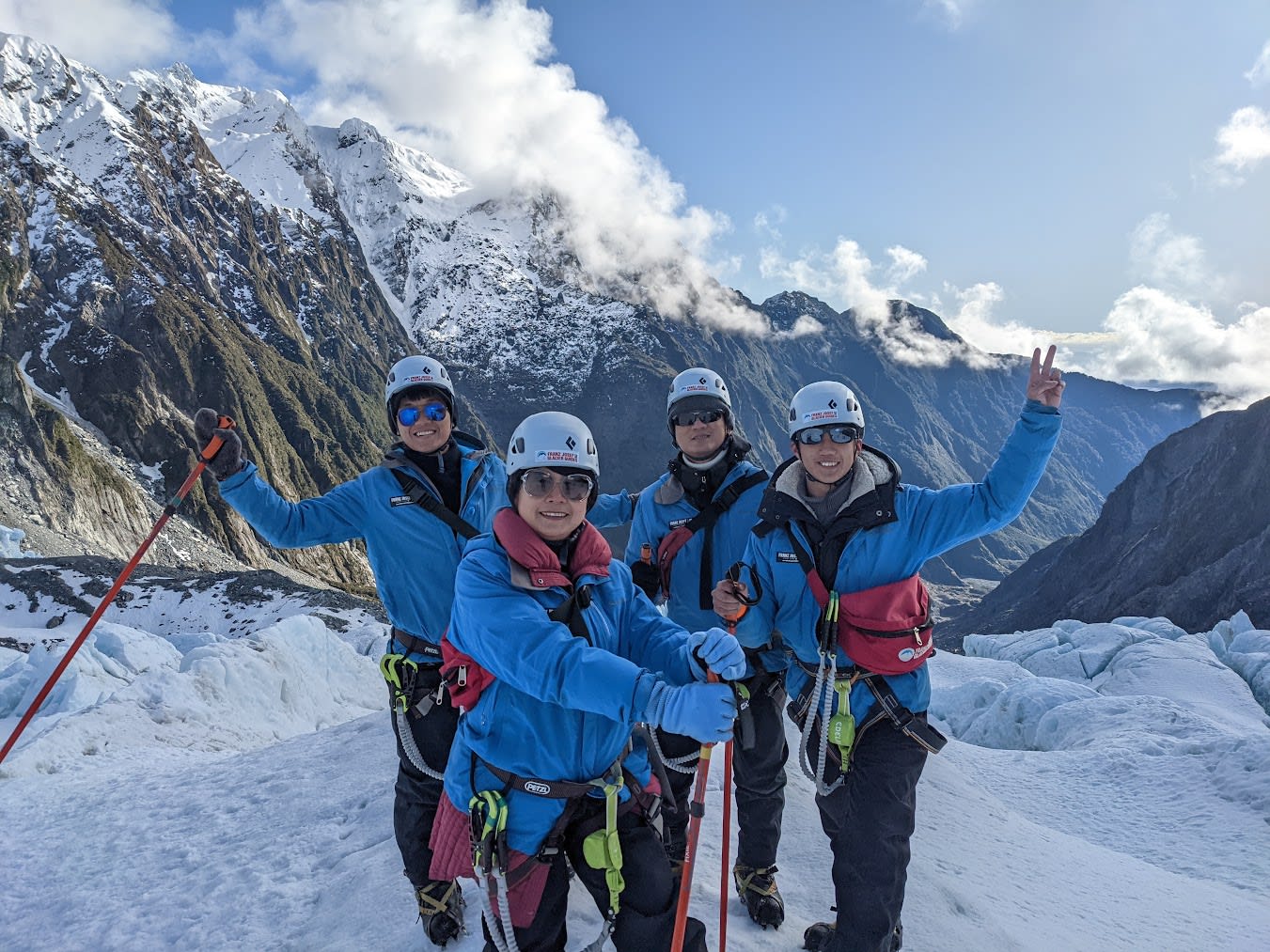 We're basically Sir Edmund Hillary
Franz Josef Glacier was absolutely gorgeous and I'm very thankful we got to see it. Apparently the glacier recedes at about 3km per year recently — who knows when it'll be gone.
Finished the hike at around 3pm and had lunch at SnakeBite brewery before making the drive up north to Hokitika, where we stopped to checkout some glowworms at Hokitika Glow-worm Dell and stayed the night at Hokitika Holiday Park.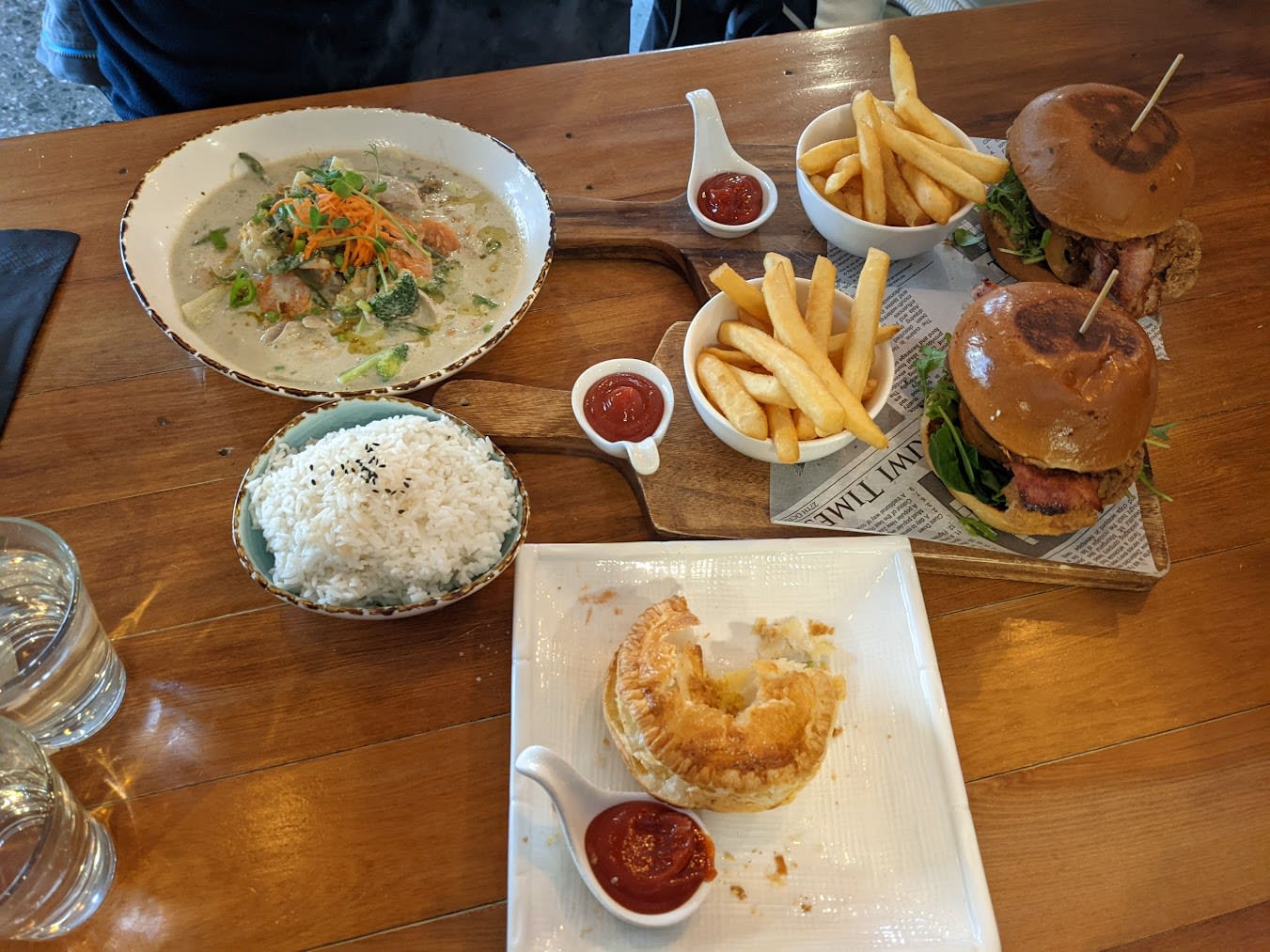 Late lunch/ early dinner at SnakeBite Brewery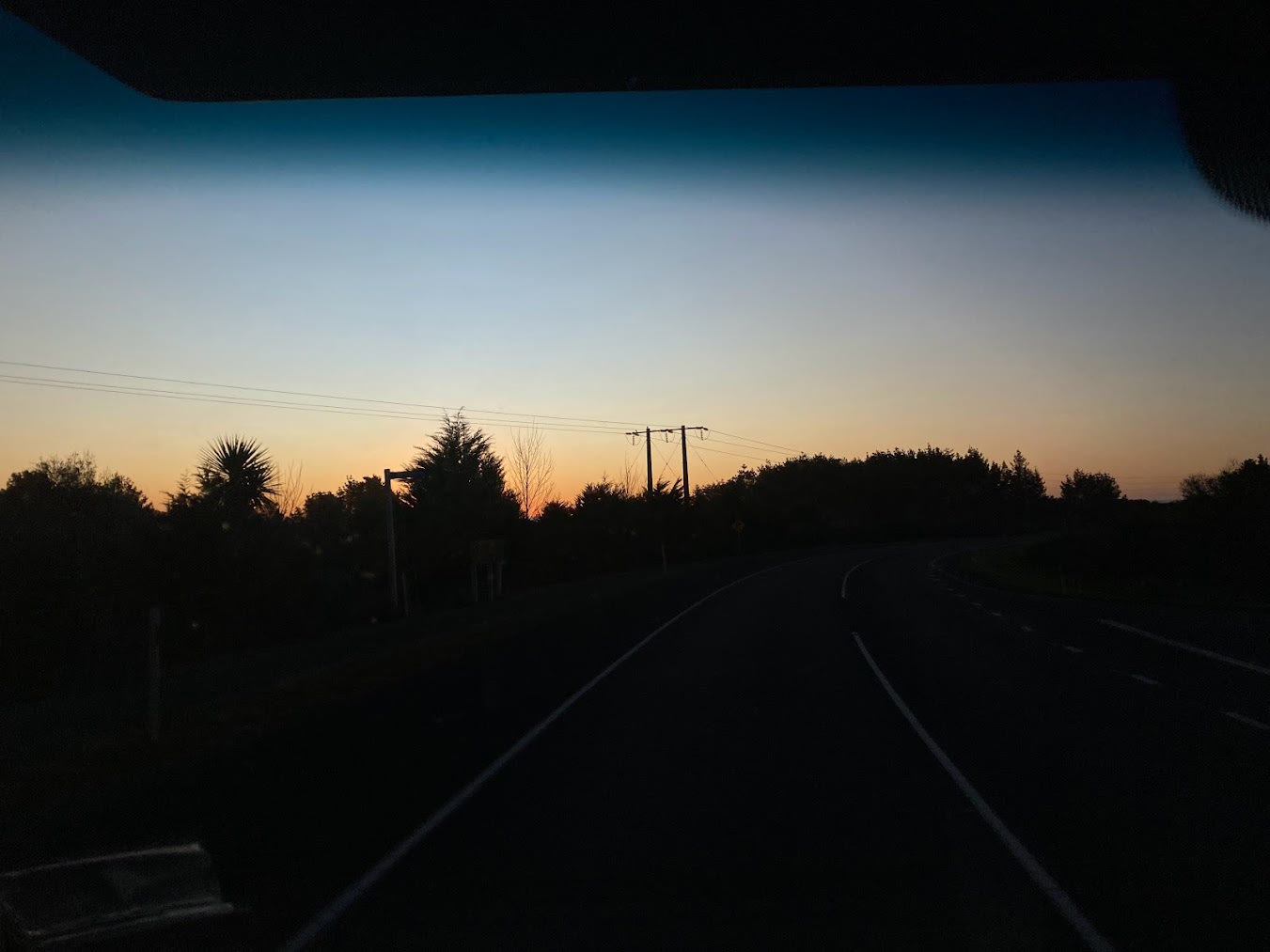 Late night drive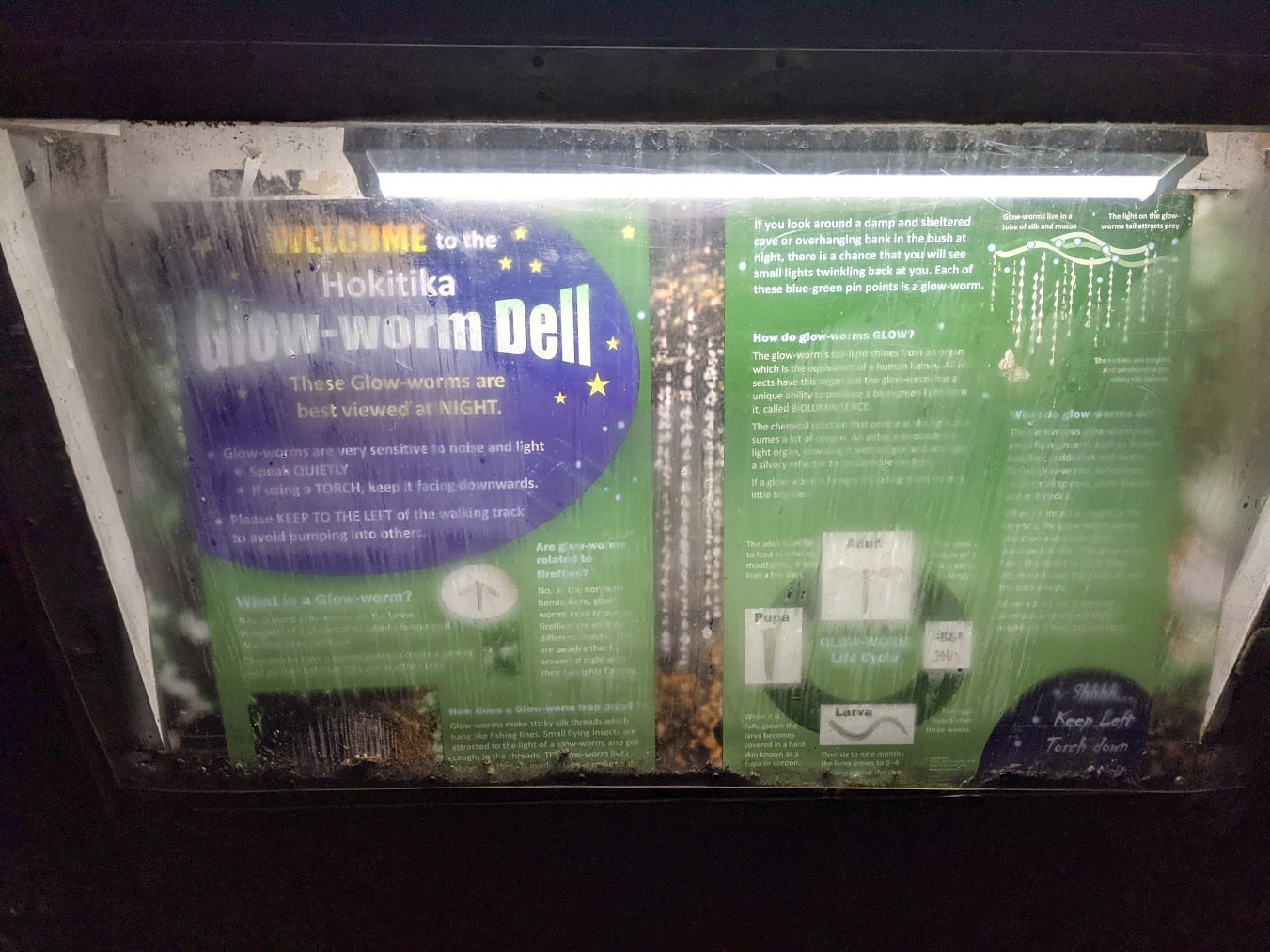 Hokitika Glow-worm Dell This is a picture of glow-worms I swear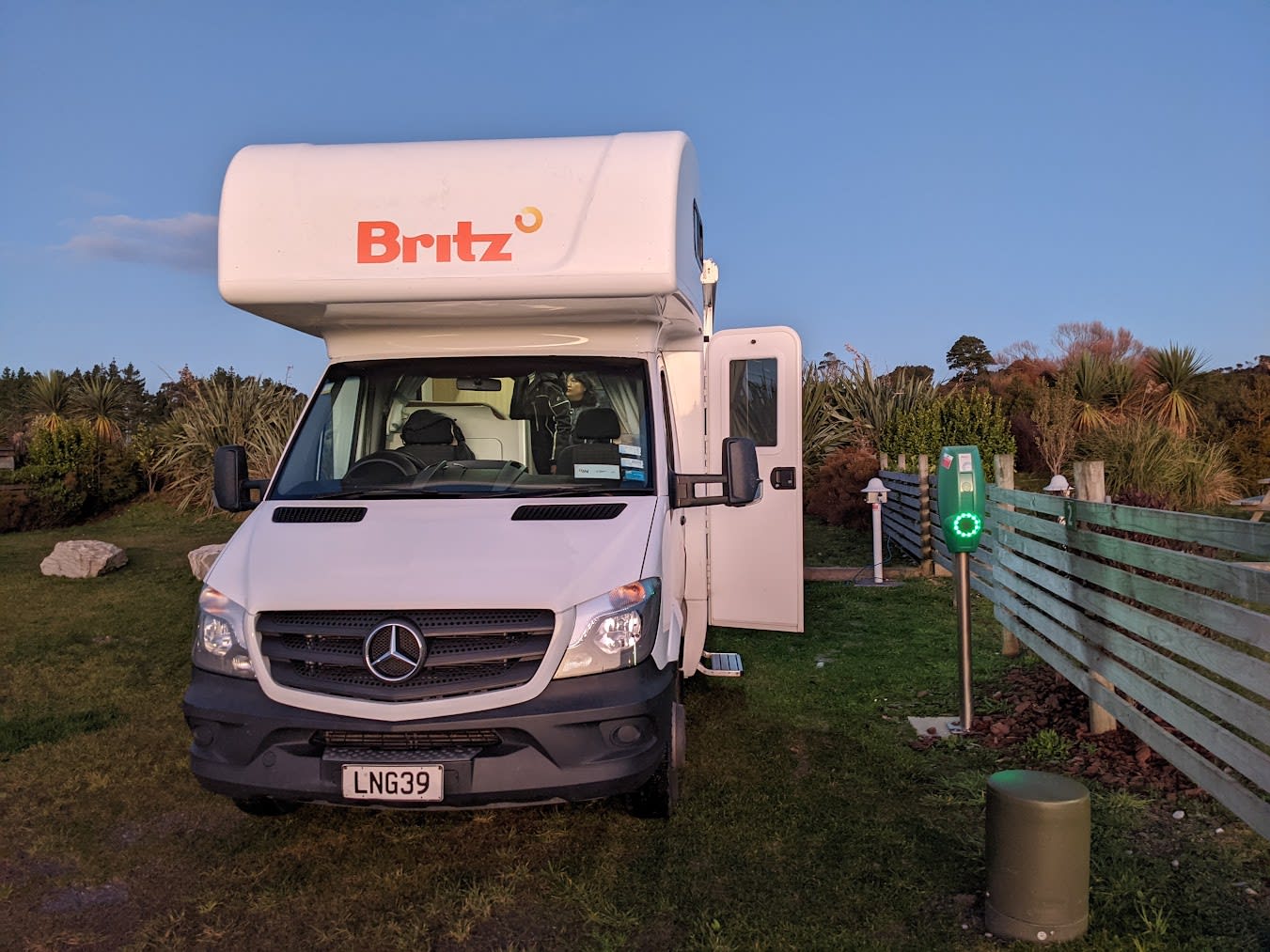 For the night
Day 8 - Hokitika Gorge + Castlehill
Day 8 was more driving, as we made the long trip back towards Christchurch. Fortunately, there were 2 beautiful pit-stops along the way: Hokitika Gorge & Castle Hill.
Hokitika Gorge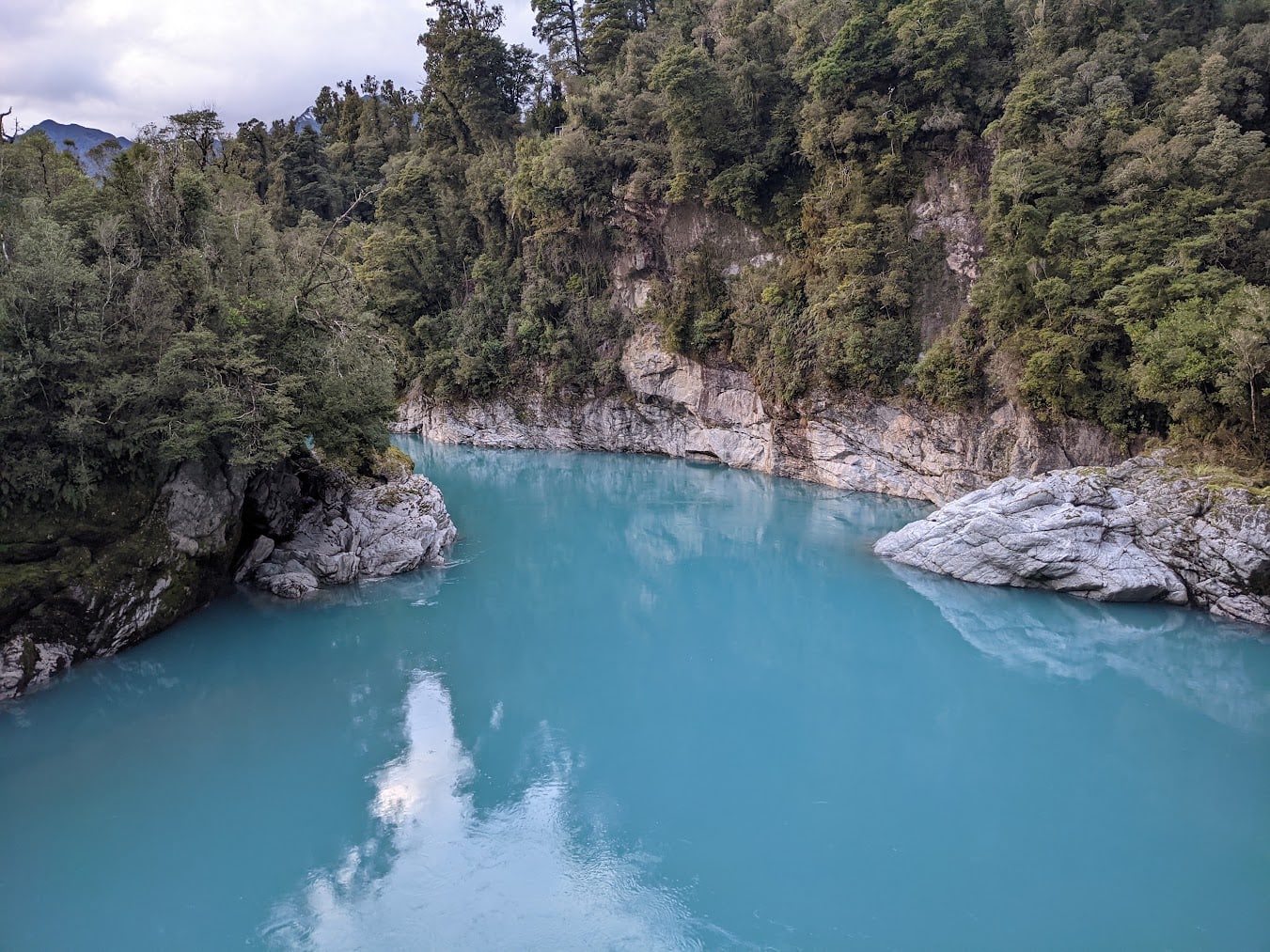 A 2km, 1hour scenic loop that leads you through a beautiful hardwood forest and suspension bridges/viewing platforms that offer a beautiful view of the stunningly-blue Hokitika Gorge.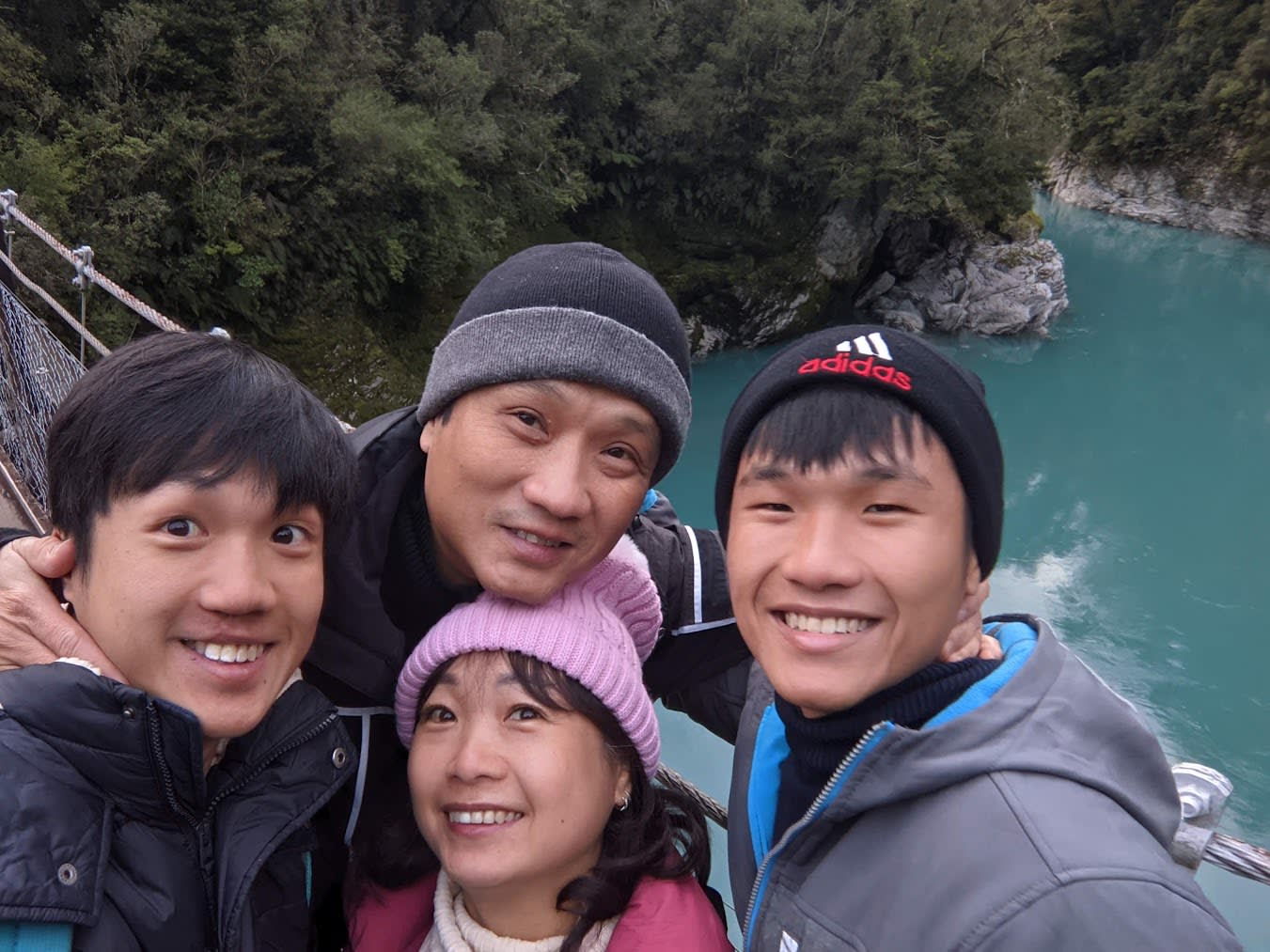 At Hokitika Gorge, atop one of the many suspension bridges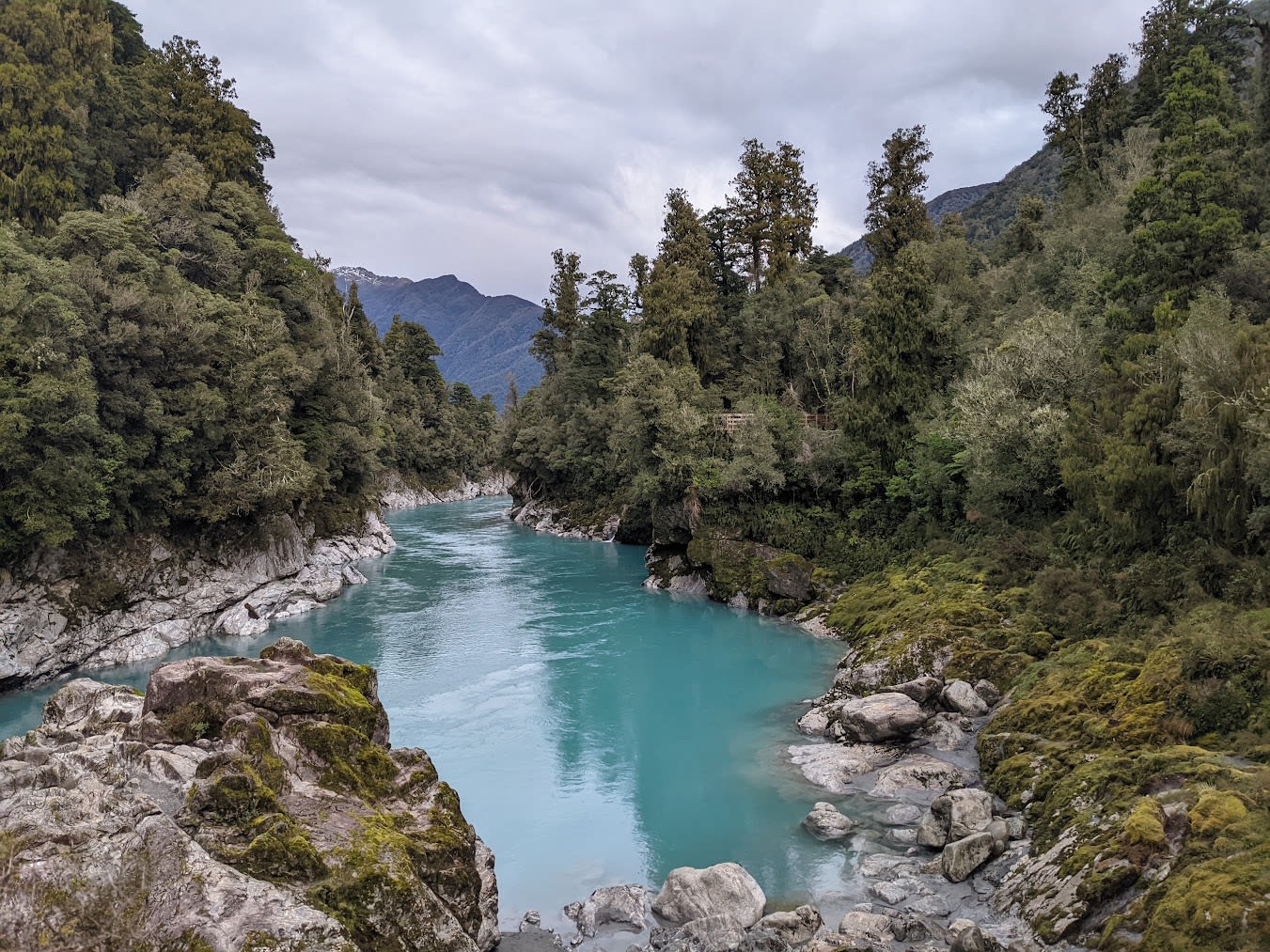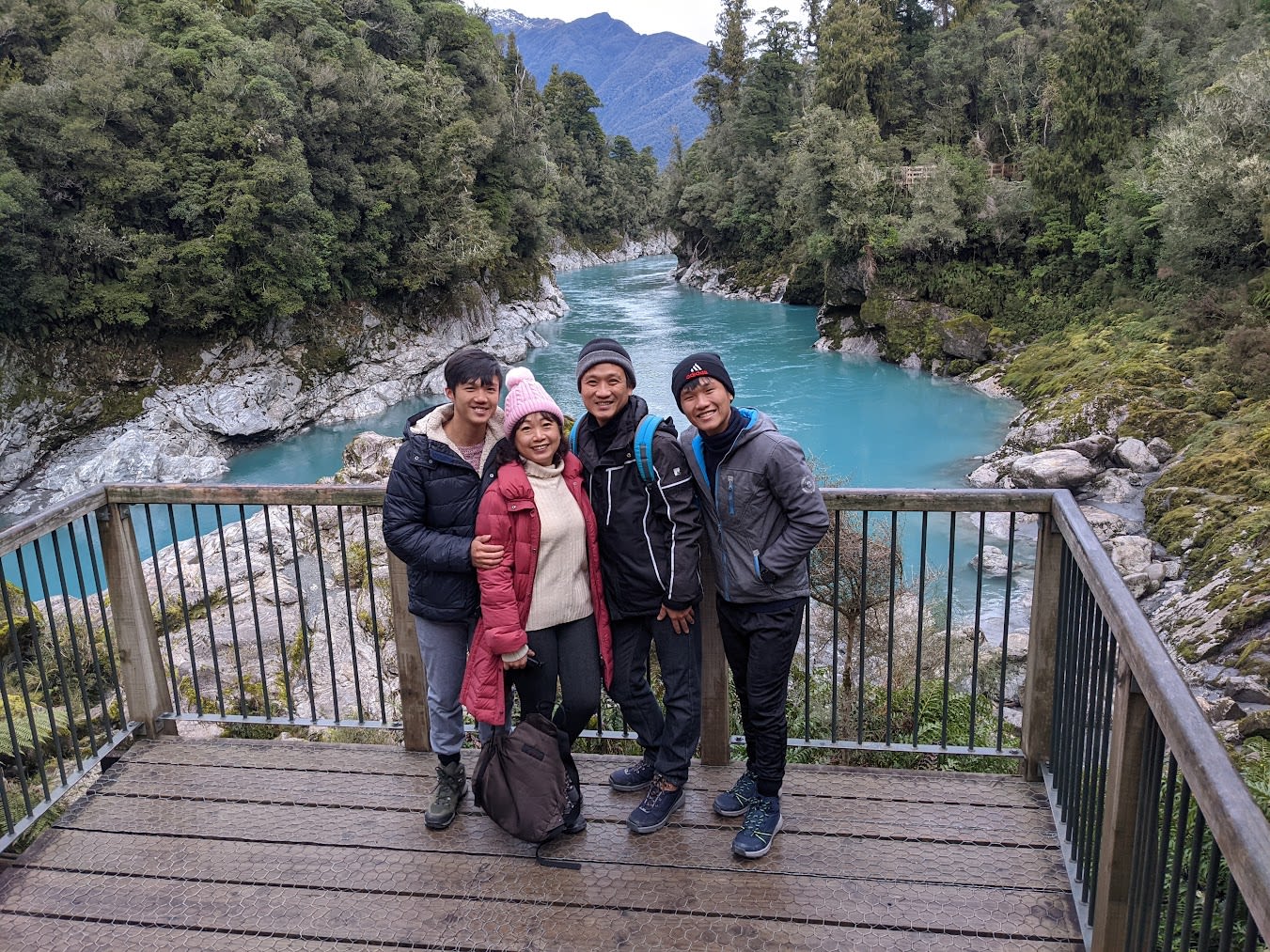 Saw one other family the 1-2 hours we were there, and they helped us capture this photo. Going back to Singapore and seeing the crowd for Bukit Timah Hill now seems absurd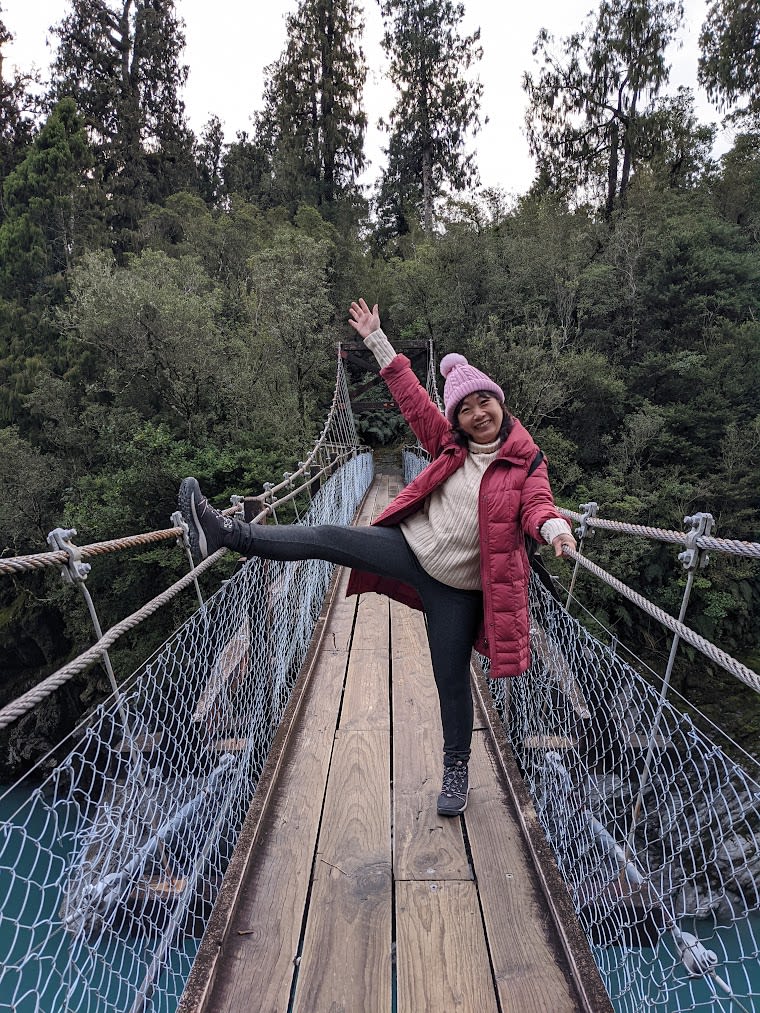 Psh... poser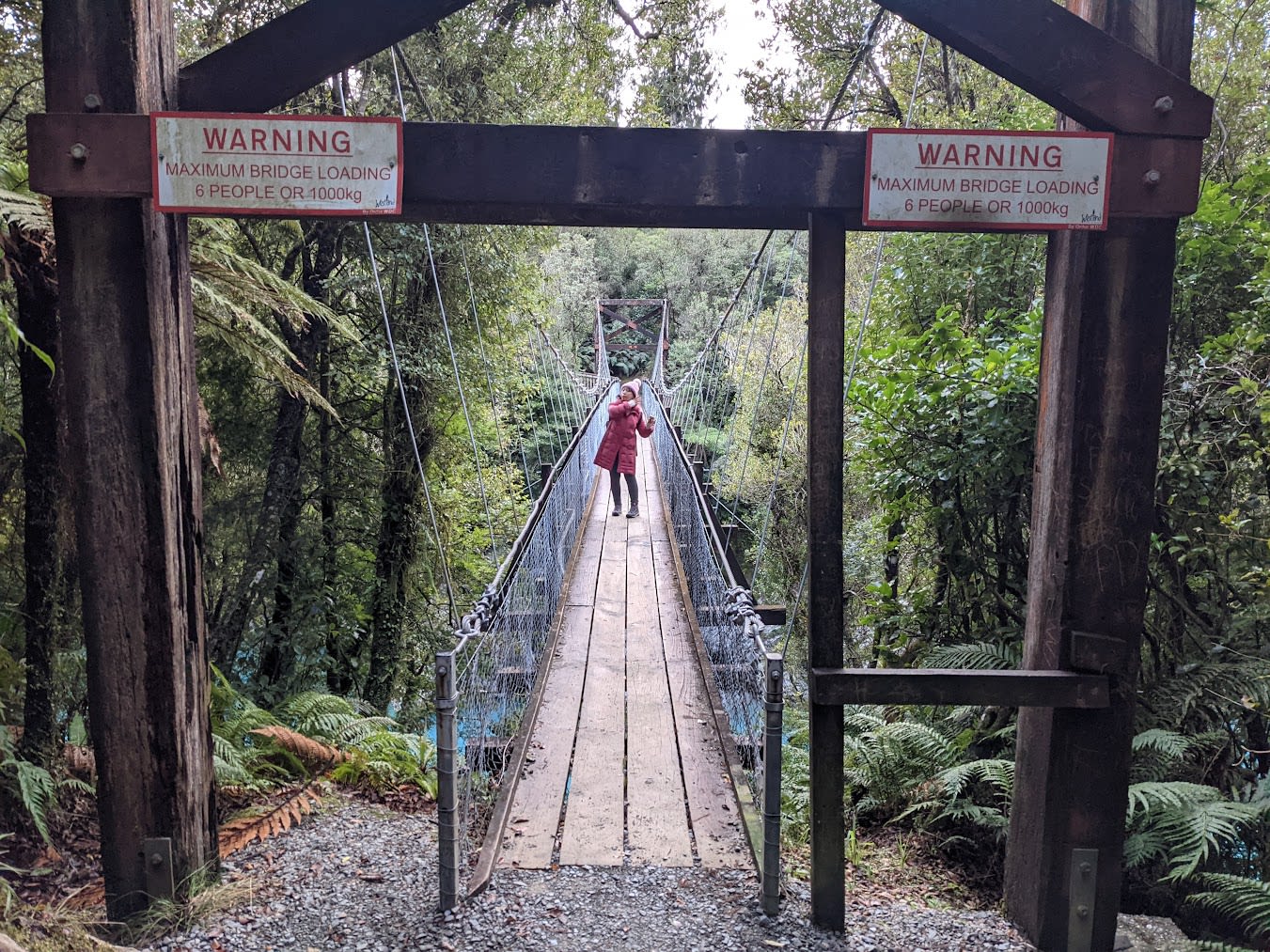 Castle Hill
A natural and wonder of limestone formations along the scenic Arthur's Pass drive. This unique landscape is called a Karst landscape, where limestone rocks were formed after years of sediment compression and shaped by erosion following a large uplifting event. It was also the setting for an iconic scene in the Lord of the Rings.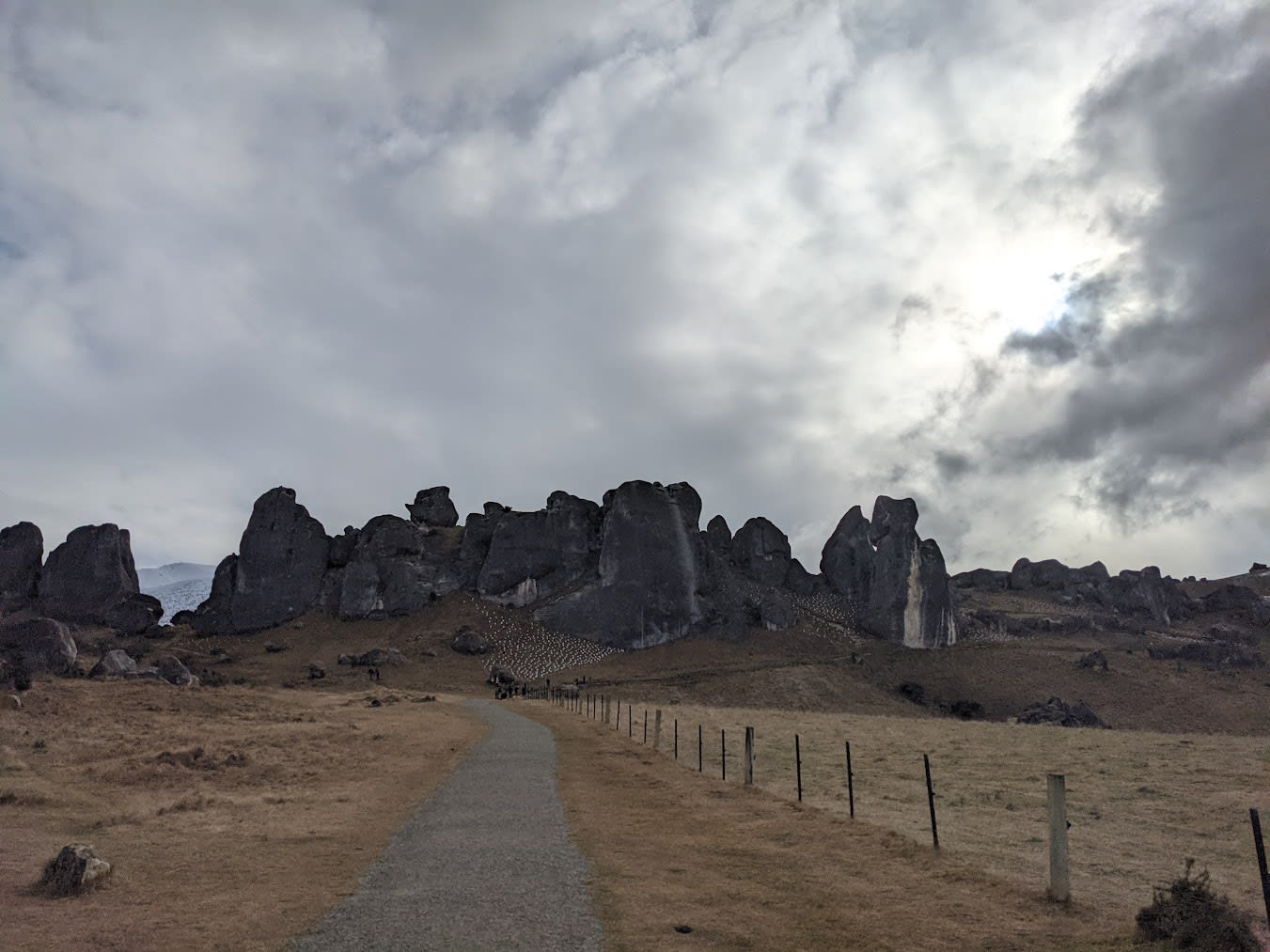 Castle Hill — the place was actually really big and it's difficult to capture the beauty of the place in photos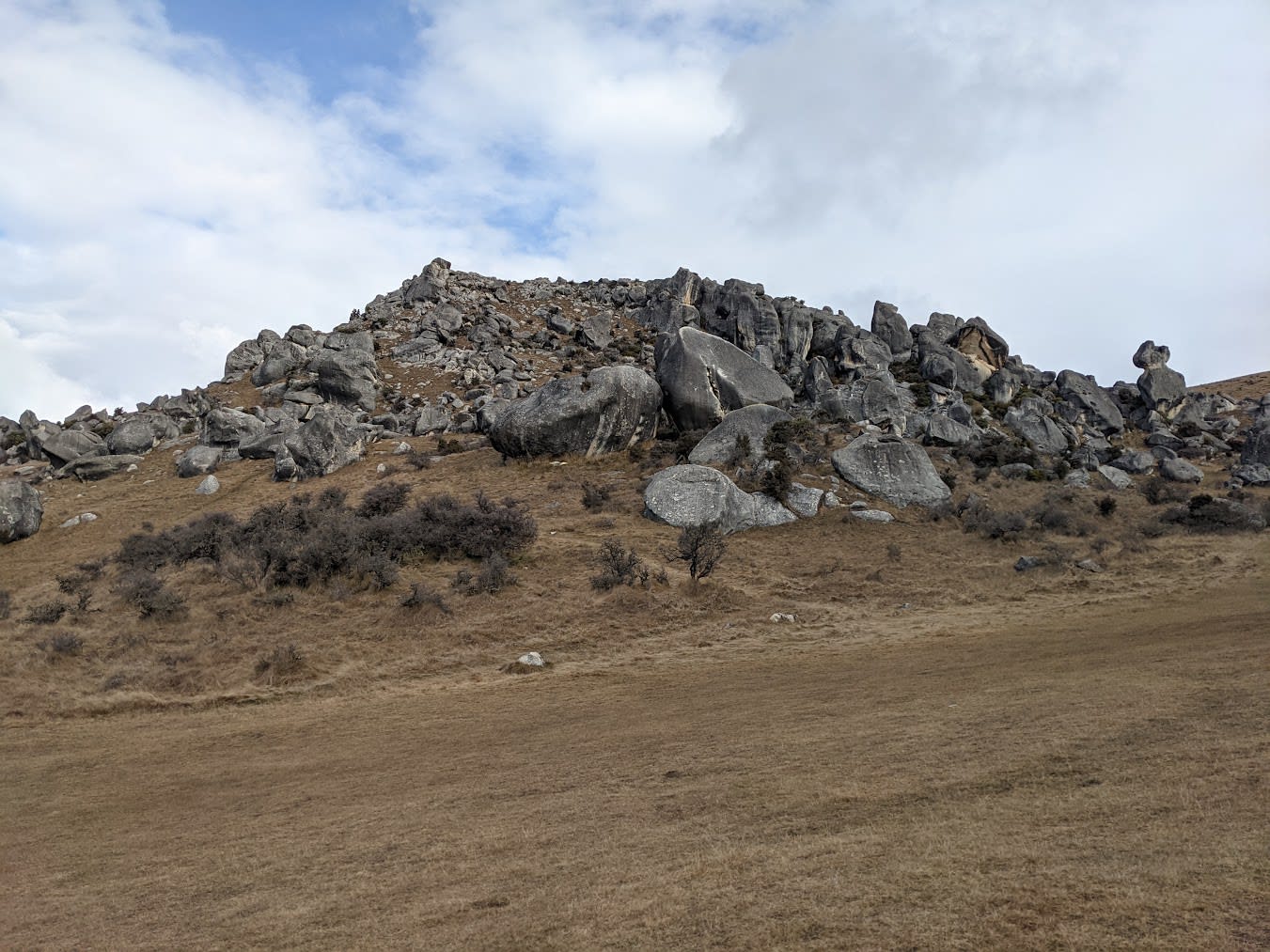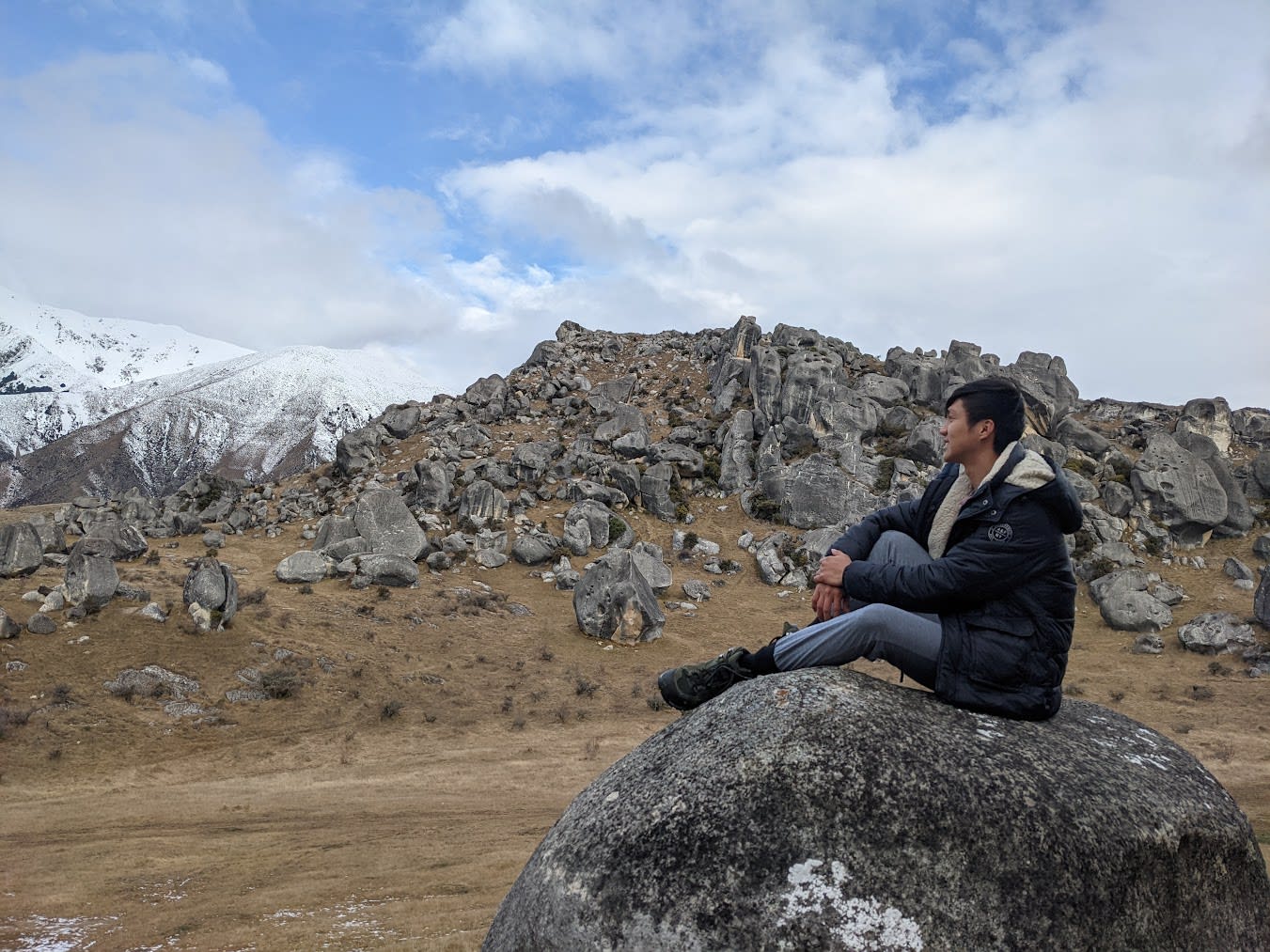 Poser!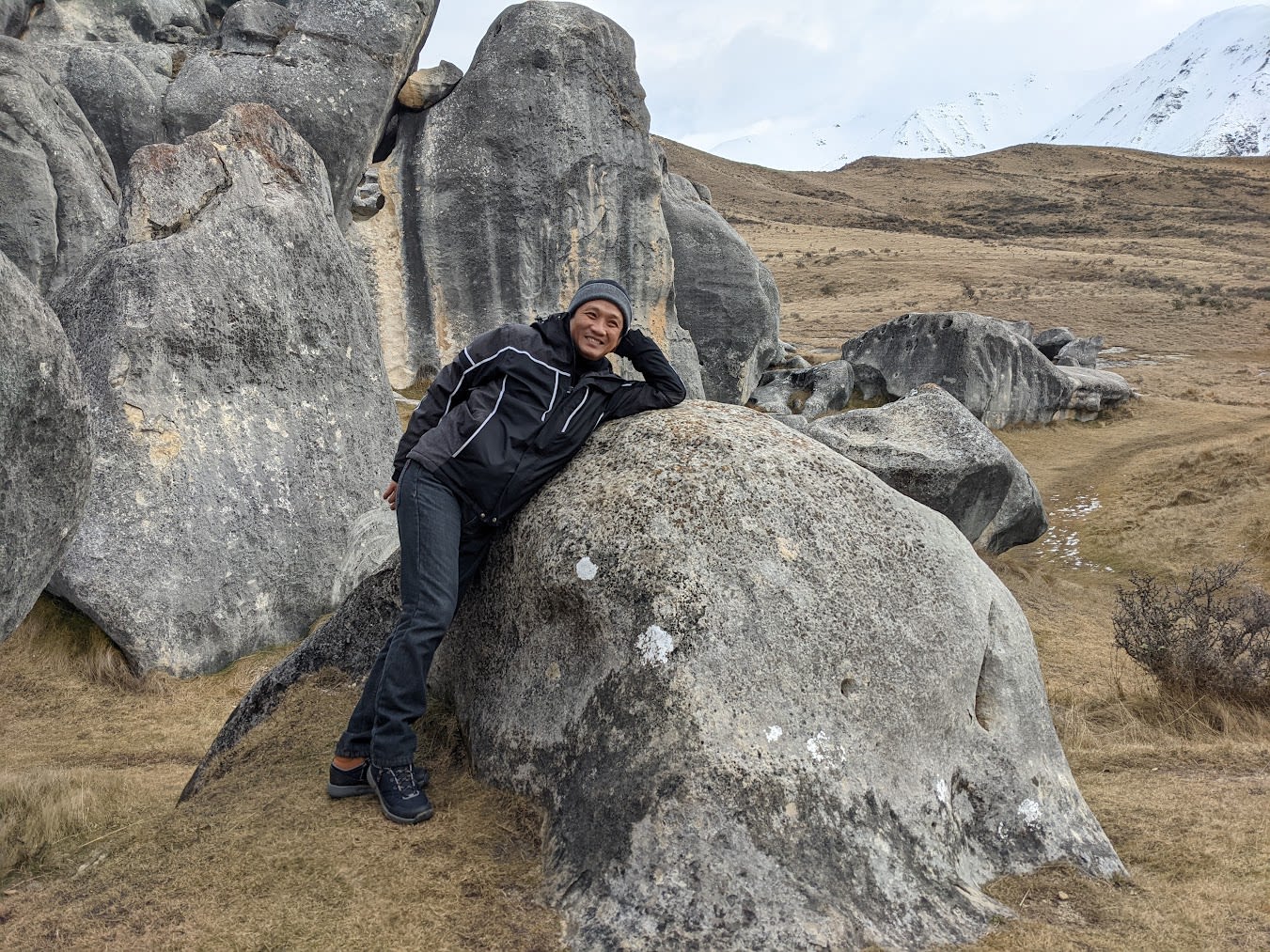 Weak back, cannot climb up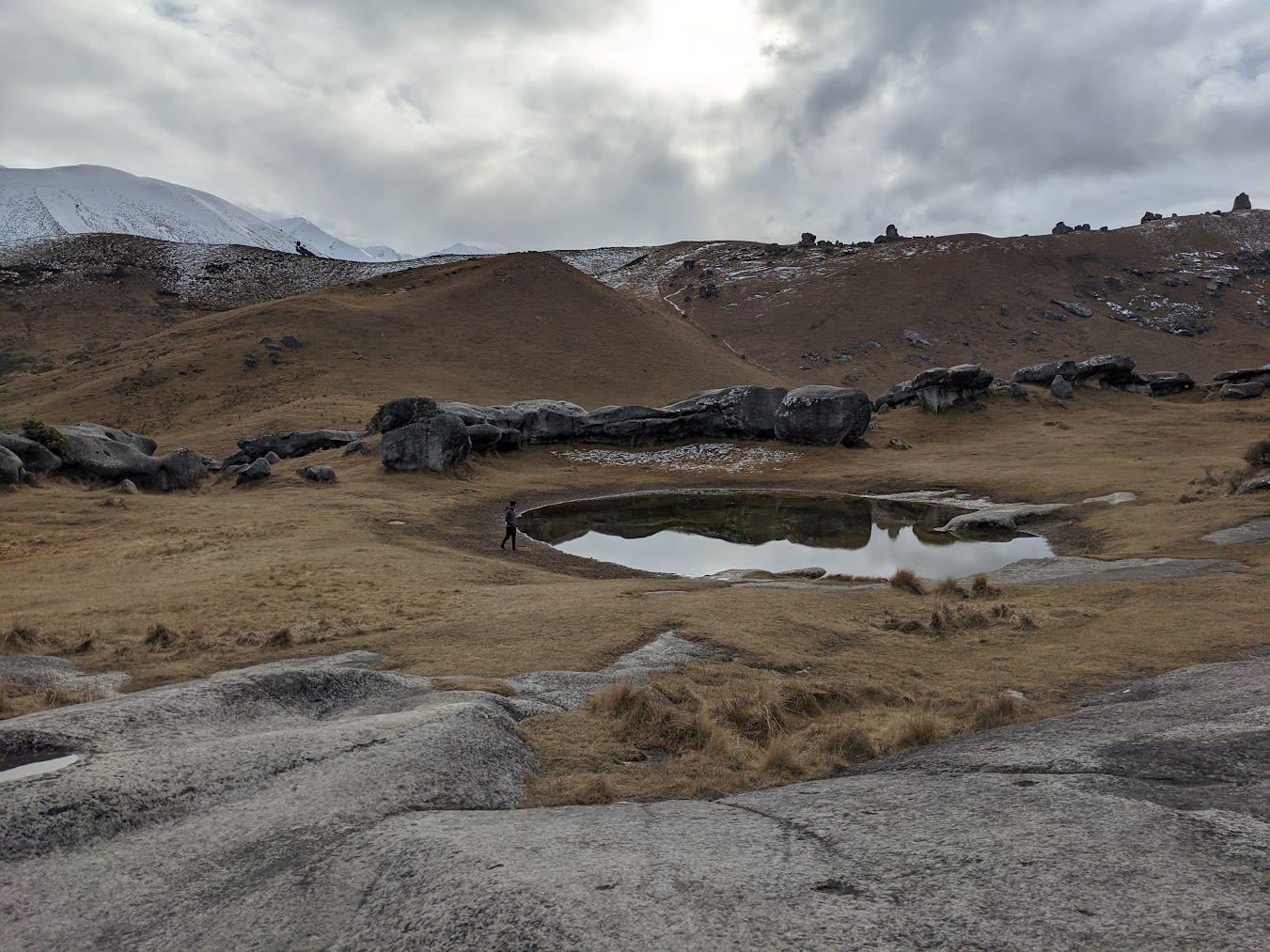 This was our last pit stop before heading back to Christchurch and getting ready for our early flight back the following day.
Day 9 - Flight back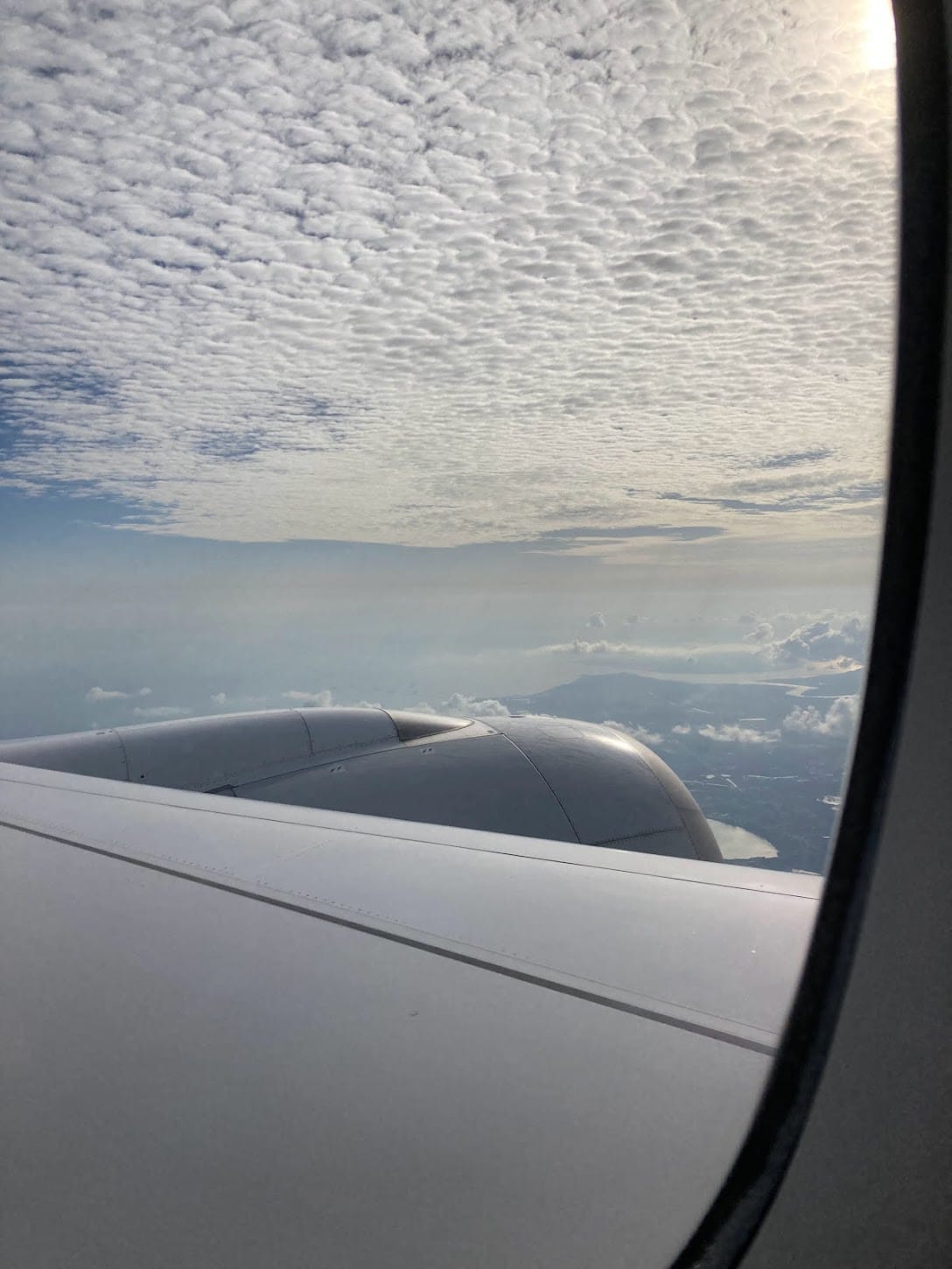 And that concludes our trip to New Zealand. So extremely grateful and thankful for my parents that we were able to embark on this trip together as a family.
It was an absolute blast — my favourite and most memorable trip.
Closing thoughts
It's funny, I've been to so many holidays in my lifetime, and visited so many beautiful places — yet I don't remember shit from most of them.
When I was younger, I just went with the flow, taking things as they come, no clue about the itinerary, asleep in the backseat.
The world is a book and those who do not travel read only one page.
~ Saint Augustine
Now that I'm older, I've really come to enjoy experiencing new things, meeting new people and being new places. Planning and driving a large portion of the trip also made it a lot more memorable. This trip was also the closest our family had been physically — a campervan offers limited refuge — and that also made us grow closer together over shared experiences.
10/10.